Beth Haim Cemetery Records
Today many are researching their ancestry and looking for their roots. A surprising number of persons in the Americas, Jews and non-Jews, can trace their family back to the Jewish community of Curaçao. Do you think you have ancestors from Curaçao?
Search below for those buried in either of the two Jewish cemeteries in Curaçao, Beth Haim Bleinheim and Beth Haim Berg Altena, but before you do so please note the following.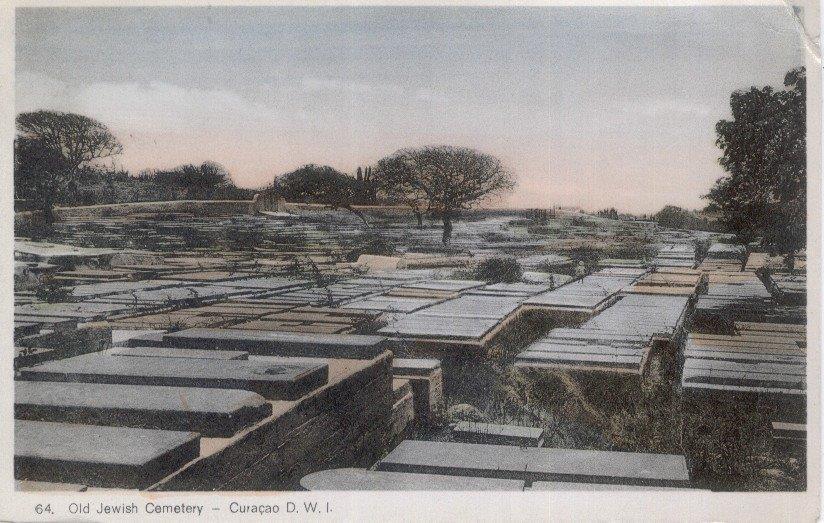 The inscriptions on the approximately 2500 graves at Bleinheim are barely legible today. The Bleinheim records are from the catalogue of burials made by Rabbi. Dr. Isaac S. Emmanuel in the 1940's and 1950's and published in Precious Stones of the Jews of Curaçao in 1957.
In preparing this record, the spelling of names and their abbreviations as well as dates of death faithfully followed Emmanuel's catalogue. It is likely that Dr. Emmanuel equally faithfully relied on what he was able to read and discern of the actual inscriptions.
If you would like to have a certification of burial, contact us through the email button below. We will get back to you with the information and contribution required for the certification document.
If you find an error or want to suggest an edit, please contact us: 
if you do not find the record you are searching for, try an alternative spelling or partial name, i.e. Alvares instead of Alvarez
| Lastname | Firstname | Date of death | Date of burial | Location | Sector | Letter | # |
| --- | --- | --- | --- | --- | --- | --- | --- |
| Abady | Still Born: Son of Salvador | February 15, 1926 | February 15, 1926 | Berg Altena | n/a | Child E | 4 |
| Abady | Still Born: Son of Aron | October 5, 1930 | October 5, 1930 | Berg Altena | n/a | Child E | 6 |
| Abady | Victoria Aboud de Aaron | February 9, 1987 | February 10, 1987 | Berg Altena | n/a | N | 32 |
| Abady | Aron Abraham | February 18, 1965 | February 19, 1965 | Berg Altena | n/a | N | 33 |
| Abaz | Ishac, son of H. R. Semuel | September 4, 1693 | n/a | Bleinheim | VII | B | 1097 |
| Abenatar | Ester, daughter of Yshac | August 23, 1747 | Child | Bleinheim | IV | A | 566 |
| Abenatar | Rachel, daughter of Jahacob | October 7, 1723 | n/a | Bleinheim | VII | C | 1136 |
| Abenatar | Abihail de Ishac | October 9, 1771 | n/a | Bleinheim | VII | D | 1170 |
| Abenatar | Yacob | April 10, 1748 | n/a | Bleinheim | VII | D | 1176 |
| Abenatar | Ester, wife of Jacob | December 23, 1725 | n/a | Bleinheim | VII | D | 1177 |
| Abenatar | Ribca, daughter of Jacob | October 15, 1747 | n/a | Bleinheim | VII | D | 1178 |
| Abenatar | Ribca, daughter of Ishac | August 10, 1751 | Child | Bleinheim | VII | E | 1213 |
| Abenatar | Rachel, daughter of Yshac | August 13, 1749 | Child | Bleinheim | XI | A | 1620 |
| Abenatar Melo | Ester, daughter of Manuel | November 2, 1765 | Child | Bleinheim | VII | E | 1238 |
| Abenathar | Ribca de Isaac | Not recorded | January 31, 1905 | Berg Altena | n/a | E | 26 |
| Abendana Monsanto | David | No date | Child | Bleinheim | III | E | 454 |
| Abendana Monsanto | David | March 9, 1737 | Child | Bleinheim | III | E | 458 |
| Abendana Pereyra | Sara Ribca, wife of David | November 13, 1713 | n/a | Bleinheim | VII | D | 1183 |
| Abendana Pereyra | David | June 18, 1691 | n/a | Bleinheim | VII | D | 1183a |
| Abendana Pereyra | Yosseph | January 5, 1741 | n/a | Bleinheim | XII | B | 1763 |
| Abensur | David | January 14, 1839 | n/a | Bleinheim | VIII | K | 1356 |
| Abinum de Lima | Jeudah | October 9, 1837 | n/a | Bleinheim | I | C | 55 |
| Abinum de Lima | Sara, Daughter of Haim | September 23, 186? | n/a | Bleinheim | I | C | 56 |
| Abinun de Lima | Abigail Lopez Henriquez de Jeudah | July 29, 1890 | July 30, 1890 | Berg Altena | n/a | E | 11 |
| Abinun de Lima | Leah de Moshe | Not recorded | June 3, 1892 | Berg Altena | n/a | E | 15 |
| Abinun de Lima | Ribca de Moshe | Not recorded | November 24, 1893 | Berg Altena | n/a | E | 16 |
| Abinun de Lima | Sarah Cohen Henriquez de Isaac | Not recorded | June 21, 1900 | Berg Altena | n/a | E | 17 |
| Abinun de Lima | Sarah H. | December 18, 1916 | December 19, 1916 | Berg Altena | n/a | E | 31 |
| Abinun de Lima | Rebeca L. | January 29, 1909 | April 2, 1909 | Berg Altena | n/a | F | 39 |
| Abinun de Lima | Henny (Hannah) | May 30, 1928 | June 1, 1928 | Berg Altena | n/a | K | 14 |
| Abinun de Lima | Rodolfina | August 21, 1936 | August 22, 1936 | Berg Altena | n/a | K | 15 |
| Abinun de Lima | Sarah Jesurun de Salomon | August 14, 1919 | August 14, 1919 | Berg Altena | n/a | L | 13 |
| Abinun de Lima | Zoraida Serafina Cohen Henriquez | December 11, 1956 | December 12, 1956 | Berg Altena | n/a | M | 20 |
| Abinun de Lima | Jeudah | February 28, 1924 | April 9, 1924 | Berg Altena | n/a | M | 21 |
| Abinun de Lima | Sylvia Senior de | May 3, 1910 | Not recorded | Berg Altena | n/a | TA | 20 |
| Abinun de Lima | Salomon | April 8, 1898 | Not recorded | Berg Altena | n/a | TA | 21 |
| Abinun de Lima | Mordechay | February 12, 1879 | Not recorded | Berg Altena | n/a | TA | 23 |
| Abinun de Lima | Henriquez | March 11, 1877 | Not recorded | Berg Altena | n/a | TA | 48 |
| Abinun de Lima | Clara Salas | January 26, 1880 | Not recorded | Berg Altena | n/a | TB | 25 |
| Abinun de Lima | Haim Abinun | September 3, 1891 | Not recorded | Berg Altena | n/a | TC | 21 |
| Abinun de Lima | Sarah Daniel C. Hz. | January 22, 1889 | Not recorded | Berg Altena | n/a | TC | 22 |
| Abinun de Lima | Elias | May 18, 1872 | Not recorded | Berg Altena | n/a | TC | 29 |
| Abinun de Lima | Esther | October 7, 1930 | Not recorded | Berg Altena | n/a | TG | 31 |
| Abinun de Lima | David, Jr. | May 18, 1901 | May 19, 1901 | Berg Altena | n/a | E | 30 |
| Abinun de Lima | Salomon, Jr. | October 4, 1938 | October 6, 1938 | Berg Altena | n/a | L | 14 |
| Abinun De Lima | Clara David Senior, wid., Jeudah | October 19, 1885 | n/a | Bleinheim | I | A | 5 |
| Abinun de Lima | Haim | July 28, 1833 | n/a | Bleinheim | I | D | 85 |
| Abinun de Lima | Ester de Josias Dovale, w., Haim | May 23, 1829 | n/a | Bleinheim | I | D | 86 |
| Abinun de Lima | David | August 13, 1795 | n/a | Bleinheim | III | B | 388 |
| Abinun de Lima | Hana, widow of David | February 11, 1830 | n/a | Bleinheim | III | C | 404 |
| Abinun de Lima | Mosseh, son of Haim & Leah | December 2, 1751 | Child | Bleinheim | V | E | 838 |
| Abinun de Lima | Haim | February 28, 1744 | n/a | Bleinheim | VI | A | 938 |
| Abinun de Lima | Sarah Lea, wife of Haim | June 22, 1731 | n/a | Bleinheim | VI | A | 939 |
| Abinun de Lima | Lea, wife of Haim De Mosseh | October 14, 1750 | n/a | Bleinheim | VI | B | 999 |
| Abinun de Lima | Clara, wife of Haim | December 5, 1743 | n/a | Bleinheim | VI | B | 1000 |
| Abinun de Lima | Hannah | October 23, 1847 | n/a | Bleinheim | VIII | G | 1336 |
| Abinun de Lima | Sara | October 15, 1806 | n/a | Bleinheim | IX | D | 1443 |
| Abinun de Lima | Raghel | July 21, 1778 | n/a | Bleinheim | XV | F | 2154 |
| Abinun de Lima | Mordechay | November 6, 1781 | n/a | Bleinheim | XV | F | 2156 |
| Abinun de Lima | Isaac | September 5, 1837 | n/a | Bleinheim | XV | G | 2166 |
| Abinun de Lima | Josias | July 17, 1846 | n/a | Bleinheim | XVI | B | 2190 |
| Abinun de Lima | Abigail Jesurun Lobo, widow of Josias | March 31, 1864 | n/a | Bleinheim | XVI | B | 2191 |
| Abisdid | Sultana | September 29, 1846 | Child | Bleinheim | XIX | D | 2503 |
| Aboab | Moseh | January 20, 1761 | n/a | Bleinheim | XI | B | 1656 |
| Aboab | Sara | October 22, 1756 | n/a | Bleinheim | XIII | A | 1852 |
| Aboab | Lea, wife of Semuel | April 20, 1770 | n/a | Bleinheim | II | C | 269 |
| Aboab | Sarah, wife of Moseh | December 29, 1743 | n/a | Bleinheim | XI | B | 1655 |
| Aboab Cardoso | Lea, daughter of Daniel | February 8, 1716 | n/a | Bleinheim | XIV | A | 1980 |
| Aboab Cardozo | David Hisquiau | April 9, 1740 | n/a | Bleinheim | VI | A | 929 |
| Aboab Cardozo | Ribca, wife of Daniel | May 29, 1755 | n/a | Bleinheim | VII | A | 1036 |
| Aboab Cardozo | Abigail, wife of Abraham | May 12, 1737 | n/a | Bleinheim | VII | C | 1168 |
| Aboab Cardozo | Rahel, wife of Daniel | December 13, 1702 | n/a | Bleinheim | VII | D | 1203 |
| Aboab Cardozo | Daniel | October 7, 1694 | n/a | Bleinheim | VII | D | 1204 |
| Aboab Cardozo | Abraham Hysqvyav Aboab Cardozo, son of Daniel | March 20, 1692 | n/a | Bleinheim | VII | E | 1254 |
| Aboab Cardozo | Davyd Aboab Cardozo, son of Daniel | No date | n/a | Bleinheim | XI | A | 1628 |
| Aboab Cardozo | Ribca, wife of David Abraham | December 9, 1776 | n/a | Bleinheim | XI | A | 1629 |
| Aboab Cardozo | Ester, wife of Daniel | March 19, 1716 | n/a | Bleinheim | XIV | B | 1998 |
| Aboab Cardozo | Daniel | September 15, 1736 | n/a | Bleinheim | XIV | B | 1999 |
| Aboab Cardozo | Lea, wife of Abraham | September 21, 1732 | n/a | Bleinheim | XIV | B | 2000 |
| Aboab Cardozo | Abraham | November 3, 1774 | n/a | Bleinheim | XIV | B | 2001 |
| Aboab Cardozo | Rachel, wife of Abraham | May 5, 1744 | n/a | Bleinheim | XIV | B | 2002 |
| Aboab Cardozo | Selomoh, son of Abraham | August 31, 1739 | Child | Bleinheim | XIV | C | 2008 |
| Aboab Cardozo | Isaac, son of Abraham | August 31, 1738 | Child | Bleinheim | XV | D | 2125 |
| Aboab De Paz | Binjamin | May 7, 1692 | n/a | Bleinheim | XIV | C | 2004 |
| Aboab De Paz | Ribca | August 3, 1719 | n/a | Bleinheim | XIV | C | 2009 |
| Aboab De Paz | Abraham | March 15, 1748 | n/a | Bleinheim | XIV | C | 2010 |
| Aboab Furtado | Mossseh de Benjamin | June 13, 1693 | n/a | Bleinheim | VII | B | 1089 |
| Aboab Osorio | Ragel, wife of Moseh | December 12, 1832 | n/a | Bleinheim | I | E | 115 |
| Aboab Osorio | Moseh | March 25, 1839 | n/a | Bleinheim | I | E | 116 |
| Aboab Osorio | Esther, daughter of Moseh & Ragel | January 7, 1833 | n/a | Bleinheim | I | E | 117 |
| Aboab Osorio | Gracia, wife of Jacob | December 1, 1803 | n/a | Bleinheim | IV | C | 646 |
| Aboab Osorio | Jacob | April 11, 1800 | n/a | Bleinheim | XVI | A | 2168 |
| Aboab Paz | David | January 21, 1732 | n/a | Bleinheim | V | E | 835 |
| Abraams | ? | No date | n/a | Bleinheim | VIII | P | 1402 |
| Abrahams Cohen | Benjamin Mordechay | November 22, 1940 | November 22, 1940 | Berg Altena | n/a | Child F | 6 |
| Abrahams Cohen | Silvie de Moderdechay | March 13, 1942 | March 13, 1942 | Berg Altena | n/a | Child F | 7 |
| Abuab Ozorio | Jacob de David | No date | n/a | Bleinheim | I | C | 61 |
| Ackerman | Pesah (Paul) | April 29, 2016 | May 3, 2016 | Berg Altena | n/a | NN | 27 |
| Ackerman | Abram Gersh | March 25, 1996 | March 27, 1996 | Berg Altena | n/a | EE | 19 |
| Ackerman | Esther Molka Kleiman | December 11, 1996 | December 13, 1996 | Berg Altena | n/a | EE | 18 |
| Acohen de Leon | Reinah | 1870 | n/a | Bleinheim | IX | J | 1496 |
| Ailion | Aron Haim | June 20, 1795 | n/a | Bleinheim | II | C | 239 |
| Ailyon | Selomoh de Iahacob | March 15, 1777 | n/a | Bleinheim | II | C | 263 |
| Aizenberg | Ghers Beer | January 27, 1929 | January 27, 1929 | Berg Altena | n/a | H | 42 |
| Alevi | Ribca, wife of Gabriel | April 17, 1737 | n/a | Bleinheim | XII | B | 1738 |
| Alevi | Ribca, daughter of Abraham | August 17, 1739 | Child | Bleinheim | XII | B | 1745 |
| Alevi | Gabriel, son of Abraham | March 21, 1742 | Child | Bleinheim | XII | B | 1745a |
| Alevy | Gabriel Rephael de Ishac | January 19, 1770 | n/a | Bleinheim | IV | C | 655 |
| Alevy | Abigail Hana, wife of Yshac | January 23, 1744 | n/a | Bleinheim | V | A | 719 |
| Alevy | Ishac | May 1, 1764 | n/a | Bleinheim | V | A | 720 |
| Alevy | Leah, wife of Ishac | November 26, 1774 | n/a | Bleinheim | V | A | 721 |
| Alevy | Debora, daughter of Gabriel | December 18, 1719 | n/a | Bleinheim | XI | E | 1691 |
| Alevy | Gabriel | September 2, 1725 | n/a | Bleinheim | XII | B | 1739 |
| Alevy | Abraham De David | January 13, 1746 | n/a | Bleinheim | XII | C | 1774 |
| Alevy | Sarah de David | September 29, 1782 | n/a | Bleinheim | XII | D | 1804 |
| Alevy | Ribca, wife of Eliao | July 1, 1757 | n/a | Bleinheim | XII | E | 1811 |
| Alevy | Eliao | December 8, 1770 | n/a | Bleinheim | XII | E | 1812 |
| Alevy | Lea, daughter of David | June 29, 1761 | n/a | Bleinheim | XII | E | 1813 |
| Alva | Abraham | January 29, 1767 | n/a | Bleinheim | III | A | 365 |
| Alva | Ieudah | November 30, 1760 | n/a | Bleinheim | III | C | 403 |
| Alva | Ribca, wife of Rÿbÿ Mosseh Haÿm | September 23, 1749 | n/a | Bleinheim | V | D | 827 |
| Alva | Ryby Mosseh Haim | May 19, 1737 | n/a | Bleinheim | V | D | 828 |
| Alvares | Ribca de Manuel | January 30, 1767 | n/a | Bleinheim | III | G | 515 |
| Alvares Corea | Abraham | February 23, 1761 | n/a | Bleinheim | IV | A | 569 |
| Alvares Corea | Mosseh de Imanuel | September 2, 1759 | Child | Bleinheim | V | A | 711 |
| Alvares Correa | Abigail | April 13, 1946 | April 14, 1946 | Berg Altena | n/a | F | 32 |
| Alvares Correa | Rasalina Benjamin | November 26, 1924 | November 27, 1924 | Berg Altena | n/a | F | 33 |
| Alvares Correa | Esther | March 13, 1921 | March 14, 1921 | Berg Altena | n/a | L | 4 |
| Alvares Correa | Clara | July 11, 1917 | July 12, 1917 | Berg Altena | n/a | L | 5 |
| Alvares Correa | Rosa de Isaac | December 19, 1946 | December 20, 1946 | Berg Altena | n/a | N | 13 |
| Alvares Correa | Isaac | September 10, 1915 | September 10, 1915 | Berg Altena | n/a | N | 14 |
| Alvares Correa | Rebecca | September 25, 1959 | September 26, 1959 | Berg Altena | n/a | O | 33 |
| Alvares Correa | Otto | January 23, 1944 | January 23, 1944 | Berg Altena | n/a | P | 31 |
| Alvares Correa | Julia Camilla Penso eshet Isaac James | April 17, 1977 | April 20, 1977 | Berg Altena | n/a | Q | 20 |
| Alvares Correa | Isaac James | March 24, 1954 | March 24, 1954 | Berg Altena | n/a | Q | 21 |
| Alvares Correa | Moises de Jeosuah | November 1, 1959 | November 2, 1959 | Berg Altena | n/a | Q | 23 |
| Alvares Correa | Beatrice Grace | September 18, 1976 | September 19, 1976 | Berg Altena | n/a | QQ | 13 |
| Alvares Correa | Willem Marius Jacobus | February 6, 1976 | February 14, 1976 | Berg Altena | n/a | QQ | 14 |
| Alvares Correa | Jacob Constant Michiel | October 13, 1986 | February 1, 1987 | Berg Altena | n/a | RR | 3 |
| Alvares Correa | Mordechay Raphael | September 4, 1893 | Not recorded | Berg Altena | n/a | TB | 15 |
| Alvares Correa | Mortimer | September 6, 1949 | Not recorded | Berg Altena | n/a | TE | 4 |
| Alvares Correa | Mordechai | No date | n/a | Bleinheim | I | B | 25 |
| Alvares Correa | Mordehay | May 31, 1848 | n/a | Bleinheim | I | D | 72 |
| Alvares Correa | Rachel Alvares Correa, w., Mordechay | January 7, 1888 | n/a | Bleinheim | I | D | 73 |
| Alvares Correa | Mordechay (son of Manuel) | Undecipherable | n/a | Bleinheim | I | D | 74 |
| Alvares Correa | Rebecca, wife of Rafael | January 28, 1843 | n/a | Bleinheim | I | E | 112 |
| Alvares Correa | Clara, wife of Mordechay Raphael | December 28, 1828 | n/a | Bleinheim | I | G | 174 |
| Alvares Correa | Mordechay Raphael | July 4, 1841 | n/a | Bleinheim | I | G | 175 |
| Alvares Correa | Julia de Mordechay | June 30, 1873 | n/a | Bleinheim | I | G | 176 |
| Alvares Correa | Mordechay B. | January 2, 1873 | Child | Bleinheim | I | G | 177 |
| Alvares Correa | Ester de Abraham | February 26, 1769 | n/a | Bleinheim | IV | A | 570 |
| Alvares Correa | Jacob, son of Manuel de Rephael | March 13, 1753 | Child | Bleinheim | V | A | 687 |
| Alvares Correa | Manuel de Rephael | May 29, 1768 | Child | Bleinheim | V | A | 688 |
| Alvares Correa | Sarah, wife of Mordechay | February 28, 1745 | n/a | Bleinheim | V | B | 772 |
| Alvares Correa | Mordechay | May 25, 1750 | n/a | Bleinheim | V | B | 773 |
| Alvares Correa | Gracia, daughter of Manuel | August 19, 1745 | Child | Bleinheim | V | D | 825 |
| Alvares Correa | Jeudith De Rephael | March 26, 1760 | n/a | Bleinheim | VI | A | 936 |
| Alvares Correa | Rephael | May 11, 1733 | n/a | Bleinheim | VI | A | 937 |
| Alvares Correa | Grasia, daughter of Manuel de Rephael | August 23, 1751 | Child | Bleinheim | VI | B | 989 |
| Alvares Correa | Abigail, daughter of Manuel | November 28, 1692 | n/a | Bleinheim | VII | C | 1145 |
| Alvares Correa | Sara | June 9, 1689 | n/a | Bleinheim | VII | D | 1182 |
| Alvares Correa | Rebecca | June 9, 1879 | n/a | Bleinheim | VIII | B | 1276 |
| Alvares Correa | Manuel, Jr | June 12, 1884 | n/a | Bleinheim | VIII | B | 1277 |
| Alvares Correa | Mordechay, son of Mordehay | March 28, 1727 | Child | Bleinheim | XIV | D | 2037 |
| Alvares Correa | Ymanuel, son of Mordehay | March 12, 1727 | Child | Bleinheim | XIV | D | 2042 |
| Alvares Correa | Abigail, daughter of Manuel | September 28, 1709 | n/a | Bleinheim | XV | A | 2064 |
| Alvares Correa | Jahacob | June 25, 1714 | n/a | Bleinheim | XV | A | 2065 |
| Alvares Correa | Ester, daughter of Rephael | January 25, 1726 | Child | Bleinheim | XV | A | 2067 |
| Alvares Correa | Yshack, son of Raphael | 1720 | Child | Bleinheim | XV | A | 2068 |
| Alvares Correa | Yshack, son of Raphael | January 7, 1726 | Child | Bleinheim | XV | A | 2069 |
| Alvares Correa | Ester, wife of Ymanuel | July 23, 1716 | n/a | Bleinheim | XV | A | 2070 |
| Alvares Correa | Batsebah | January 12, 1735 | Child | Bleinheim | XV | A | 2073 |
| Alvares Correa | Ribi Imanuel | January 17, 1717 | n/a | Bleinheim | XV | A | 2075 |
| Alvares Correa | Yshac Rephael | January 15, 1726 | n/a | Bleinheim | XV | A | 2077 |
| Alvares Correa | Gracia, daughter of Mosseh | October 16, 1731 | Child | Bleinheim | XV | B | 2094 |
| Alvares Correa | Grasia, daughter of Abraham | July 17, 1728 | Child | Bleinheim | XV | C | 2109 |
| Alvares Correa | Mosseh | January 6, 1765 | n/a | Bleinheim | XV | C | 2112 |
| Alvares Correa | Ester, wife of Mosseh | January 11, 1765 | n/a | Bleinheim | XV | C | 2113 |
| Alvares Correa | Jeudith, wife of Manuel de Mosseh | April 5, 1769 | n/a | Bleinheim | XV | C | 2119 |
| Alvares Correa | Rephael | December 6, 1802 | n/a | Bleinheim | XV | D | 2121 |
| Alvares Correa | Manuel de Rephael | January 25, 1784 | n/a | Bleinheim | XV | D | 2124 |
| Alvares Correa | Hana, wife of Manuel de Rephael | October 8, 1767 | n/a | Bleinheim | XV | D | 2128 |
| Alvares Correa | Lea, wife of Rephael | March 14, 1765 | n/a | Bleinheim | XV | F | 2141 |
| Alvares Correa | Deborah | March 20, 1735 | Child | Bleinheim | XV | F | 2146 |
| Alvares Correa | Moses Haim | No date | Child | Bleinheim | XV | F | 2150 |
| Alvares Correa | Sarah Pinedo, wife of Benjamin | March 24, 1852 | n/a | Bleinheim | XVIII | A | 2362 |
| Alvares Correa | Benjamin | January 27, 1881 | n/a | Bleinheim | XVIII | A | 2363 |
| Alvares Correa | Abigail H. | October 17, 1918 | n/a | Bleinheim | XVIII | A | 2364 |
| Alvares Correa | Manuel Haim | January 15, 1854 | n/a | Bleinheim | XVIII | A | 2365 |
| Alvares Correa | Sarah de Manuel Haim | January 5, 1859 | n/a | Bleinheim | XVIII | A | 2366 |
| Alvares Correa | Esther de M. M. | June 21, 1859 | n/a | Bleinheim | XVIII | C | 2402 |
| Alvares Correa | Manuel de Mordechay | October 13, 1861 | n/a | Bleinheim | XVIII | C | 2403 |
| Alvares Correa | Manuel de Benjamin | February 1, 1872 | n/a | Bleinheim | XVIII | C | 2404 |
| Alvares Correa | Gabriel | October 14, 1862 | n/a | Bleinheim | XVIII | D | 2425 |
| Alvares Correa | Ester de Mordechay | No date | n/a | Bleinheim | XVIII | D | 2432 |
| Alvares Correa | Mordechay | February 8, 1886 | n/a | Bleinheim | XVIII | D | 2433 |
| Alvares Correa | Sybil Levy Maduro | January 26, 1995 | February 2, 1995 | Berg Altena | n/a | RR | 2 |
| Alvarez Correa | Rosa | July 11, 1944 | Not recorded | Berg Altena | n/a | TB | 14 |
| Alvarez Correa | Henriette L. de | April 4, 1923 | Not recorded | Berg Altena | n/a | TE | 5 |
| Alvarez Correa | Abigail | June 1, 1903 | Not recorded | Berg Altena | n/a | TH | 14 |
| Alvarez Correa | Raquel | July 25, 1897 | Not recorded | Berg Altena | n/a | TH | 18 |
| Alvarez Correa | Benjamin J. | June 9, 1881 | June 9, 1881 | Berg Altena | n/a | Child A | 1 |
| Alvarez Correa | Abigail J. | October 28, 1889 | October 28, 1889 | Berg Altena | n/a | Child A | 6 |
| Alvarez Correa | Rose | January 26, 1893 | Not recorded | Berg Altena | n/a | Child B | 2 |
| Alvarez Correa | Celia | August 12, 1889 | August 12, 1889 | Berg Altena | n/a | Child D | 7 |
| Alvarez Correa | Still Born: Son of Mortimer | March 13, 1907 | March 13, 1907 | Berg Altena | n/a | Child D | 10 |
| Alvarez Correa | Still Born: Son of Mortimer | August 19, 1910 | August 19, 1910 | Berg Altena | n/a | Child D | 12 |
| Alvarez Correa | Hanah Delvalle Henriquez de Benjamin M. | January 18, 1928 | January 19, 1928 | Berg Altena | n/a | E | 33 |
| Alvarez Correa | Daniel | September 21, 1903 | September 22, 1903 | Berg Altena | n/a | F | 30 |
| Alvarez Correa | Michael | Not recorded | June 14, 1943 | Berg Altena | n/a | K | 19 |
| Alvarez Correa | Edward | November 7, 1951 | November 20, 1951 | Berg Altena | n/a | K | 20 |
| Alvarez Correa | Isaac de Jeosua | June 9, 1953 | June 9, 1953 | Berg Altena | n/a | K | 21 |
| Alvarez Correa | David | November 27, 1960 | November 27, 1960 | Berg Altena | n/a | K | 22 |
| Alvarez Correa | Ricot Pinedo de Jeosuah | September 9, 1927 | September 9, 1927 | Berg Altena | n/a | M | 18 |
| Alvarez Correa | Jeosuah | September 12, 1920 | September 13, 1920 | Berg Altena | n/a | M | 19 |
| Alvarez Correa | Elias | September 1, 1912 | September 2, 1912 | Berg Altena | n/a | O | 8 |
| Alvarez Correa | Sarah | July 15, 1972 | Not recorded | Berg Altena | n/a | EE | 1 |
| Alvarez Correa | Joseph | May 20, 1967 | Not recorded | Berg Altena | n/a | EE | 2 |
| Alvarez Correa | Rebecca | February 12, 1990 | February 13, 1990 | Berg Altena | n/a | SS | 0 |
| Alvarez Correa | Sarah | October 10, 1987 | October 12, 1987 | Berg Altena | n/a | SS | 1 |
| Alvarez Correa | John Henry | March 26, 2019 | March 31, 2019 | Berg Altena | n/a | SS | 2 |
| Alvarez Correa | Ofelia Henriquez Morón de | March 15, 1980 | Not recorded | Berg Altena | n/a | TF | 3 |
| Alvarez Correa | Hannah | May 15, 1903 | Not recorded | Berg Altena | n/a | TH | 26 |
| Alvarez Correa | Jacob, Jr. | December 13, 1874 | Not recorded | Berg Altena | n/a | TH | 28 |
| Alvarez Correa | Elias de Isaac | August 23, 1887 | August 23, 1887 | Berg Altena | n/a | Child D | 6 |
| Alvarez Correa | Marius de Manuel Alvarez | Not recorded | July 13, 1889 | Berg Altena | n/a | E | 9 |
| Alvarez Correa | Rosalina Valencia de Marius | Not recorded | September 18, 1930 | Berg Altena | n/a | E | 10 |
| Alvarez Correa | Aaron de M. C. | August 25, 1905 | August 26, 1905 | Berg Altena | n/a | E | 27 |
| Alvarez Correa | Esther (Eliza) de Aaron | Not recorded | November 15, 1899 | Berg Altena | n/a | E | 28 |
| Alvarez Correa | Benjamin | Not recorded | July 26, 1901 | Berg Altena | n/a | E | 32 |
| Alvarez Correa | Manuel | August 26, 1898 | Not recorded | Berg Altena | n/a | TH | 15 |
| Alvarez Correa | Dilia bat Samuel Brandao | January 17, 1960 | Not recorded | Berg Altena | n/a | TD | 23 |
| Alvarez Correa | Rebecca Pinedo | August 26, 1902 | Not recorded | Berg Altena | n/a | TA | 17 |
| Alvarez Correa Brandao | Rachel | August 20, 1922 | Not recorded | Berg Altena | n/a | TF | 23-A |
| Alverez Correa | Judith Gomes Casseres de | August 28, 1930 | Not recorded | Berg Altena | n/a | TG | 9 |
| Alverez Correa | Samuel | May 5, 1907 | Not recorded | Berg Altena | n/a | TG | 10 |
| Amon | Rosa (Rose) de Marchena de | January 22, 1938 | January 23, 1936 | Berg Altena | n/a | Q | 7 |
| Amon | Jacques Nissim | September 11, 1955 | September 12, 1955 | Berg Altena | n/a | Q | 8 |
| Amon | Morris | August 10, 1936 | August 10, 1936 | Berg Altena | n/a | Q | 15 |
| Amon | Raphael | September 27, 1965 | September 28, 1965 | Berg Altena | n/a | LL | 3 |
| Amon | Still Born: Son of Jacob & R. | September 24, 1921 | September 25, 1921 | Berg Altena | n/a | Child C | 0 |
| Amon | Corrine: Daughter of Isaac | Not recorded | October 14, 1935 | Berg Altena | n/a | Child F | 5 |
| Amon | Max Nissim | July 23, 1920 | July 23, 1920 | Berg Altena | n/a | Child E | 3 |
| Amon | Marie Prudhomme | July 27, 1966 | July 27, 1966 | Berg Altena | n/a | LL | 4 |
| Andrade | Andrew | June 14, 1770 | Child | Bleinheim | VI | A | 946 |
| Andrade | Ribca, wife of Abraham | April 11, 1765 | n/a | Bleinheim | VI | B | 997 |
| Andrade | Abraham | August 12, 1765 | n/a | Bleinheim | VI | B | 998 |
| Andrade | Rachel, wife of Mordechay Israel | February 17, 1768 | n/a | Bleinheim | VI | B | 1001 |
| Andrade | Jahacob | July 15, 1737 | n/a | Bleinheim | VI | B | 1004 |
| Andrade | Sara, wife of Iacob de Mordechay Israel | November 22, 1784 | n/a | Bleinheim | VI | C | 1013 |
| Andrade | Iacob de Mordechay | April 8, 1791 | n/a | Bleinheim | VI | C | 1014 |
| Andrade | Ribca, daughter of Mordechay & Rachel | April 10, 1730 | Child | Bleinheim | XI | E | 1689 |
| Andrade | Lea, daughter of Mordechay & Rachel | October 7, 1731 | Child | Bleinheim | XI | E | 1692 |
| Andrade | Sara, daughter of Abraham & Ribca | October 10, 1731 | Child | Bleinheim | XI | E | 1693 |
| Andrade | Rachel, wife of Mordochay | October 3, 1720 | n/a | Bleinheim | XIII | D | 1907 |
| Andrade | David, son of Jacob & Rachel | April 28, 1731 | Child | Bleinheim | XV | C | 2116 |
| Andrade Guadelupe | Iahacob Haim | January 6, 1755 | n/a | Bleinheim | XV | E | 2137 |
| Antunes Paredes | Daniel | December 13, 1741 | n/a | Bleinheim | III | G | 512 |
| Antunes Paredes | Josseph | December 27, 1747 | n/a | Bleinheim | XI | D | 1675 |
| Antunes Paredes | Ioseph Hisquiao | January 31, 1691 | n/a | Bleinheim | XI | D | 1680 |
| Antunes Paredes | Rachel Hana Antunes Paredes, wife of Abraham | September 23, 1693 | n/a | Bleinheim | XI | D | 1681 |
| Antunes Paredes | Abraham | December 25, 1696 | n/a | Bleinheim | XI | E | 1686 |
| Arobas | Raghel | December 13, 1755 | n/a | Bleinheim | IX | B | 1428 |
| Ashendorf | Fridel | October 30, 1976 | Not recorded | Berg Altena | n/a | FF | 6 |
| Ashendorf | Klara | Decmber 2, 2004 | Not recorded | Berg Altena | n/a | FF | FF-B |
| Athias De Neira | Yosseph | November 6, 1741 | n/a | Bleinheim | VI | A | 950 |
| Athias De Neira | Lea, widow of Jacob | October 20, 1760 | n/a | Bleinheim | VI | B | 1006 |
| Athias De Neira | Yahacob | November 1, 1735 | n/a | Bleinheim | VI | B | 1007 |
| Athias De Neira | Sarah, daughter of Benjamin | January 29, 1750 | Child | Bleinheim | VI | C | 1021 |
| Athias Deneira | Deborah | April 6, 1739 | n/a | Bleinheim | VI | A | 951 |
| Athias Robles | Jacob | July 1, 1825 | n/a | Bleinheim | I | F | 149 |
| Athias Robles | Ribca de Jacob | December 25, 1802 | n/a | Bleinheim | VIII | F | 1329 |
| Athiaz De Neyra | Rachel, daughter of Yacob | February 8, 1727 | Child | Bleinheim | XI | E | 1688 |
| Atias | Ester, wife of Joseph | October 20, 1791 | n/a | Bleinheim | II | B | 205 |
| Baiz | Alicia Cohen Henriquez esehet Isaaac | June 2, 1983 | Not recorded | Berg Altena | n/a | TC | 40 |
| Baiz | Isaac | April 29, 1961 | Not recorded | Berg Altena | n/a | TC | 41 |
| Baiz | Isaac | March 21, 1903 | Not recorded | Berg Altena | n/a | TD | 12 |
| Baiz | Rachel P. de | June 2, 1893 | Not recorded | Berg Altena | n/a | TD | 14 |
| Baiz | Abigail L. H. de | December 15, 1935 | Not recorded | Berg Altena | n/a | TE | 8-A |
| Baiz | David | October 1, 1912 | Not recorded | Berg Altena | n/a | TE | 8-B |
| Baiz | Rachel L. | October 3, 1944 | Not recorded | Berg Altena | n/a | TE | 34 |
| Baiz | Esther | September 20, 1963 | Not recorded | Berg Altena | n/a | TE | 35 |
| Baiz | Lelia de Marchena de | July 14, 1969 | Not recorded | Berg Altena | n/a | TE | 38 |
| Baiz | Dr. Henry | July 21, 1921 | Not recorded | Berg Altena | n/a | TF | 6 |
| Baiz | Mary Florence | May 1, 1921 | Not recorded | Berg Altena | n/a | TF | 8 |
| Baiz | Jacob | September 13, 1926 | Not recorded | Berg Altena | n/a | TF | 16 |
| Baiz | Rebecca Naar de | January 14, 1908 | Not recorded | Berg Altena | n/a | TF | 17 |
| Baiz | Julie B. de | December 15, 1939 | Not recorded | Berg Altena | n/a | TF | 28 |
| Baiz | Prospero | November 10, 1948 | Not recorded | Berg Altena | n/a | TF | 29 |
| Bar Jehiel | Moseh | December 9, 1740 | n/a | Bleinheim | VII | D | 1175 |
| Baruch Louzada | Rachel | October 20, 1740 | n/a | Bleinheim | XII | C | 1772 |
| Barug Guerman | Debora | October 1, 1776 | n/a | Bleinheim | IX | B | 1414 |
| Baruh Carvalho | Binyamin | June 2, 1709 | n/a | Bleinheim | XIII | E | 1932 |
| Baruh Louzada | Yacob, son of Abraham | September 14, 1737 | Child | Bleinheim | VII | E | 1223 |
| Baruh Louzada | David Kiskijau | March 25, 1747 | n/a | Bleinheim | X | C | 1546 |
| Baruh Louzada | Hana, widow of David | December 14, 1785 | n/a | Bleinheim | X | C | 1547 |
| Baruh Louzada | Binjamin, son of Ishac | June 9, 1727 | n/a | Bleinheim | XI | B | 1638 |
| Baruh Louzada | Mosseh de Abraham | December 5, 1731 | Child | Bleinheim | XI | B | 1639 |
| Baruh Louzada | Iacob de Abraham | November 12, 1731 | Child | Bleinheim | XI | B | 1640 |
| Baruh Louzada | Moseh | March 4, 1724 | n/a | Bleinheim | XI | C | 1662 |
| Baruh Louzada | Sarah, wife of Mosseh | March 19, 1715 | n/a | Bleinheim | XI | C | 1663 |
| Baruh Louzada | Yshack | November 8, 1721 | n/a | Bleinheim | XII | B | 1736 |
| Baruh Louzada | Mosseh | October 29, 1745 | n/a | Bleinheim | XII | C | 1769 |
| Baruh Louzada | Abigail, wife of Abraham | May 3, 1754 | n/a | Bleinheim | XII | D | 1801 |
| Baruh Louzada | Clara | December 10, 1752 | n/a | Bleinheim | XII | D | 1802 |
| Baruha Louzada | Ester | December 15, 1741 | n/a | Bleinheim | XII | A | 1700 |
| Barzilay Robles | Abraham Hisquiau | October 11, 1760 | n/a | Bleinheim | IV | A | 525 |
| Barzilay Robles | Iacob, son of Abraham | April 11, 1752 | Child | Bleinheim | X | C | 1545 |
| Becher | Ida | July 18, 2012 | Not recorded | Berg Altena | n/a | HH | 4 |
| Becher | Larry | November 13, 1970 | Not recorded | Berg Altena | n/a | II | 3 |
| Becher | Faywel | February 27, 1978 | Not recorded | Berg Altena | n/a | II | 5 |
| Becher | Gershon, son of Ishac Aharon | April 10, 1955 | n/a | Bleinheim | VIII | Q | 1409r |
| Becher | Bertha Bialistocky | March 5, 1969 | Not recorded | Berg Altena | n/a | II | 4 |
| Behar | Enrique (Henri) | June 25, 1974 | June 25, 1974 | Berg Altena | n/a | AA | 9 |
| Belmonte | Rachel | August 30, 1851 | n/a | Bleinheim | I | G | 168 |
| Belmonte | Iacob de Daniel | December 22, 1765 | n/a | Bleinheim | IV | B | 607 |
| Belmonte | Sarah Hanah de Daniel | October 3, 1783 | n/a | Bleinheim | IV | B | 608 |
| Belmonte | Imanuel de Daniel | February 11, 1759 | Child | Bleinheim | IV | C | 650 |
| Belmonte | Jahacob | January 24, 1756 | n/a | Bleinheim | IV | C | 671 |
| Belmonte | Rachel, wife of Jacob | January 25, 1766 | n/a | Bleinheim | IV | C | 672 |
| Belmonte | Ribca, wife of Abraham | February 1, 1777 | n/a | Bleinheim | IV | C | 673 |
| Belmonte | Abraham | March 1, 1761 | n/a | Bleinheim | IV | C | 674 |
| Belmonte | Rachel, wife of Ishac | May 2, 1792 | n/a | Bleinheim | IV | C | 675 |
| Belmonte | Ishac | December 8, 1765 | n/a | Bleinheim | IV | C | 676 |
| Belmonte | Ribca, wife of Jacob | April 25, 1787 | n/a | Bleinheim | V | A | 740 |
| Belmonte | Abm, son of J. | August 5, 1745 | Child | Bleinheim | V | E | 841 |
| Belmonte | Iosseph de Abraham | August 23, 1697 | n/a | Bleinheim | V | E | 903 |
| Belmonte | Rephael, son of Isaque | August 26, 1751 | Child | Bleinheim | VI | B | 994 |
| Belmonte | Rachel, daughter of Abraham | August 30, 1735 | Child | Bleinheim | XIII | F | 1941 |
| Belmonte | Abigail, daughter of Daniel | April 13, 1739 | Child | Bleinheim | XIV | A | 1963 |
| Belmonte | Violanta, daughter of Daniel | February 8, 1746 | Child | Bleinheim | XIV | A | 1964 |
| Belmonte | Rachel, daughter of Abraham | October 21, 1739 | Child | Bleinheim | XIV | A | 1965 |
| Belmonte | Jeosuah, son of Abraham | May 14, 1742 | Child | Bleinheim | XIV | A | 1966 |
| Belmonte | Daniel | September 19, 1787 | n/a | Bleinheim | XV | E | 2129 |
| Benesch | Melanie Berger eshet Julius | October 29, 1997 | October 31, 1997 | Berg Altena | n/a | AA | 15 |
| Benesch | Julius | November 29, 1962 | November 30, 1962 | Berg Altena | n/a | AA | 16 |
| Benvenista | Hazan Mosseh Hisquiau | December 12, 1787 | n/a | Bleinheim | V | A | 736 |
| Benvenista | Sara Hana | April 14, 1788 | Child | Bleinheim | V | A | 737 |
| Benvenista | Haim Iosseph | June 5, 1788 | Child | Bleinheim | V | A | 738 |
| Benvenista | Rachel, wife of Hazan Mosseh Hisquiao | January 1, 1788 | n/a | Bleinheim | V | A | 739 |
| Benveniste | Hana | May 7, 1753 | n/a | Bleinheim | XIV | B | 1985 |
| Bernal | David | August 28, 1740 | n/a | Bleinheim | XII | C | 1788 |
| Bernal | David Ysrael | September 10, 1729 | n/a | Bleinheim | XIII | F | 1955 |
| Bichardi | Lili bat Baruch | January 18, 1927 | January 18, 1927 | Berg Altena | n/a | Child E | 5 |
| Bonan | Hanah Sarah | May 7, 1759 | n/a | Bleinheim | V | A | 700 |
| Bonan | Semuel | September 29, 1748 | Child | Bleinheim | XIV | A | 1960 |
| Bonaparte | Lupu | June 16, 1988 | June 17, 1988 | Berg Altena | n/a | CC | 8 |
| Bonifacio | Henry | February 4, 2004 | February 6, 2004 | Berg Altena | n/a | MM | 16 |
| Bonifacio | Deborah Namias de Crasto eshet Henry | November 17, 1991 | November 18, 1991 | Berg Altena | n/a | MM | 17 |
| Bouwman | Lion | March 10, 1942 | n/a | Bleinheim | VIII | Q | 1409g |
| Brandao | Victor de Mauritz Salomon | August 21, 1982 | August 22, 1982 | Berg Altena | n/a | MM | 3 |
| Brandao | Elsa Levy Maduro eshet Victor | July 10, 1996 | July 12, 1996 | Berg Altena | n/a | MM | 4 |
| Brandao | M. P. | December 12, 1860 | Not recorded | Berg Altena | n/a | TA | 31 |
| Brandao | Jacob Charles | April 17, 1897 | Child | Berg Altena | n/a | TA'2 | 72 |
| Brandao | Samuel Benjamin | January 2, 1929 | Not recorded | Berg Altena | n/a | TC | 10 |
| Brandao | Henriette Nones | February 13, 1918 | Not recorded | Berg Altena | n/a | TC | 12 |
| Brandao | Olga Pinedo de | November 27, 1955 | Not recorded | Berg Altena | n/a | TD | 24 |
| Brandao | Jacob Herbert | October 23, 1943 | Not recorded | Berg Altena | n/a | TD | 25 |
| Brandao | Manfred | April 12, 1972 | Not recorded | Berg Altena | n/a | TF | 1 |
| Brandao | Oswin B. | February 18, 1966 | Not recorded | Berg Altena | n/a | TF | 2 |
| Brandao | Joseph William | May 7, 1925 | Not recorded | Berg Altena | n/a | TF | 26 |
| Brandao | Sarah Delvalle de | August 7, 1949 | Not recorded | Berg Altena | n/a | TF | 27 |
| Brandao | Frank de Mauritz | December 18, 1988 | December 19, 1988 | Berg Altena | n/a | DD | 2 |
| Brandao | Benjamin, son of S. P. & A. | January 5, 1844 | n/a | Bleinheim | XIII | D | 1920 |
| Brandao | George de Jacob | December 12, 1996 | December 18, 1996 | Berg Altena | n/a | NN | 6 |
| Brandao | Louise Perry | May 5, 2006 | June 12, 2006 | Berg Altena | n/a | NN | 9 |
| Brandao | David | August 15, 1876 | Not recorded | Berg Altena | n/a | TD | 18 |
| Brandao Gomes Casseres | Rebecca | July 30, 1855 | n/a | Bleinheim | I | D | 82 |
| Brandes | Nettie | February 28, 1969 | Not recorded | Berg Altena | n/a | GG | 7 |
| Brandes | Samuel | September 21, 1971 | Not recorded | Berg Altena | n/a | GG | 8 |
| Brandon Bravo | Lea, wid. of Joseph | April 28, 1857 | n/a | Bleinheim | I | B | 23 |
| Bronkhorst | Freddy | January 22, 1950 | January 23, 1950 | Berg Altena | n/a | Child G | 7 |
| Bryczka | Rywka | March 30, 1962 | Not recorded | Berg Altena | n/a | II | 13 |
| Bryczka | Boris | March 12, 1981 | March 14, 1981 | Berg Altena | n/a | K | 30 |
| Buena Vivas | Rachel | Not recorded | September 26, 1881 | Berg Altena | n/a | A | 8 |
| Bueno De Mesquita | Joseph de Abraham | December 16, 1856 | n/a | Bleinheim | I | B | 29 |
| Bueno Vivas | Ester, daughter of David | May 23, 1782 | Child | Bleinheim | III | B | 389 |
| Bueno Vivas | Ishac, son of David | May 14, 1782 | Child | Bleinheim | III | B | 390 |
| Bueno Vivas | Sarah de Abraham | September 10, 1778 | n/a | Bleinheim | III | B | 396 |
| Bueno Vivas | Abraham Haim | December 14, 1758 | n/a | Bleinheim | III | B | 397 |
| Bueno Vivas | Eliau, son of Ysaque Haim | July 17, 1728 | Child | Bleinheim | V | E | 855 |
| Bueno Vivas | Ysaque Haim | May 22, 1728 | n/a | Bleinheim | VI | A | 954 |
| Bueno Vivas | Isaac, son of David | August 13, 1753 | Child | Bleinheim | VI | B | 980 |
| Bueno Vivas | Rahel, daughter of Yshak | February 2, 1717 | n/a | Bleinheim | VII | B | 1080 |
| Bueno Vivas | Yeudah, son of Ysaque Haim | May 22, 1728 | Child | Bleinheim | VII | B | 1083 |
| Bueno Vivas | Abraham, son of David | April 4, 1710 | n/a | Bleinheim | VII | C | 1163 |
| Bueno Vivas | Rachel, wife of David | December 15, 1727 | n/a | Bleinheim | XI | B | 1652 |
| Bueno Vivas | David | June 21, 1690 | n/a | Bleinheim | XI | B | 1653 |
| Bueno Vivas | Ioseph Haim | June 14, 1787 | n/a | Bleinheim | XII | C | 1781 |
| Bueno Vivas | Batsebah Hana, wife of Josseph Haim | December 5, 1772 | n/a | Bleinheim | XII | C | 1782 |
| Bueno Vivas | Ester, wife of David | December 8, 1713 | n/a | Bleinheim | XIV | B | 1986 |
| Bueno Vivas | David | March 25, 1726 | n/a | Bleinheim | XIV | B | 1987 |
| Bueno Vivas | David de Abraham | June 16, 1811 | Child | Bleinheim | XVII | B | 2249 |
| Bueno Vivas | Abraham Haim | February 27, 1814 | n/a | Bleinheim | XVII | B | 2250 |
| Bueno Vivas | David | June 17, 1811 | n/a | Bleinheim | XVII | B | 2251 |
| Cahanet Henriquez | Lea | April 9, 1733 | n/a | Bleinheim | VI | B | 1009 |
| Calisch | Marc | May 16, 1890 | Not recorded | Berg Altena | n/a | TG | 19 |
| Caluo | Sarah, wife of Selomoh Haim | October 11, 1760 | n/a | Bleinheim | III | C | 402 |
| Caluo | Jshac Haim | July 14, 1748 | n/a | Bleinheim | III | F | 471 |
| Calvo | Ester, wife of Semuel | July 20, 1789 | n/a | Bleinheim | II | C | 235 |
| Calvo | Simha Milcha, wife of Abraham | September 15, 1764 | n/a | Bleinheim | III | A | 368 |
| Calvo | Sarah, wife of Yshac Calva | May 10, 1742 | n/a | Bleinheim | III | F | 472 |
| Calvo | Mordechai Haim | July 8, 1766 | n/a | Bleinheim | X | L | 1603 |
| Calvo | Mosseh de Iacob | August 14, 1768 | n/a | Bleinheim | X | L | 1604 |
| Calvo | Ester, wife of Mordechai | October 9, 1761 | n/a | Bleinheim | X | M | 1606 |
| Calvo | Iacob Israel | June 22, 1772 | n/a | Bleinheim | X | M | 1607 |
| Calvo | Ester de Jahacob de Mordechay | February 20, 1760 | n/a | Bleinheim | X | M | 1608 |
| Calvo | Mordochay | July 2, 1718 | n/a | Bleinheim | X | M | 1609 |
| Calvo | Iahacob, son of Mordechay Haim | February 15, 1764 | Child | Bleinheim | X | N | 1612 |
| Calvo | Hana Ribca, wife of Ishac | October 20, 1726 | n/a | Bleinheim | XII | B | 1734 |
| Calvo | Ester, wife of Yacob | August 26, 1736 | n/a | Bleinheim | XII | B | 1735 |
| Calvo de Andrade | Iacob | March 30, 1705 | n/a | Bleinheim | XIII | D | 1906 |
| Campos de Leao | Jacob | January 24, 1753 | n/a | Bleinheim | VIII | C | 1294 |
| Capriles | Moises de Abraham | June 24, 1898 | June 24, 1898 | Berg Altena | n/a | A | 22 |
| Capriles | Dr. David Ricardo | March 3, 1902 | March 4, 1902 | Berg Altena | n/a | A | 23 |
| Capriles | Hannah Senior de | July 12, 1917 | July 13, 1917 | Berg Altena | n/a | A | 24 |
| Capriles | Daniel de Abraham | October 13, 1905 | October 14, 1905 | Berg Altena | n/a | A | 34 |
| Capriles | Mordy de Abraham | September 22, 1908 | September 23, 1908 | Berg Altena | n/a | B | 27 |
| Capriles | Esther S. de Mordy Ab. | April 3, 1913 | April 4, 1913 | Berg Altena | n/a | B | 28 |
| Capriles | Isaac David | August 29, 1921 | August 29, 1921 | Berg Altena | n/a | B | 38 |
| Capriles | Ena Capriles de Jacob David | November 10, 1998 | Nov. 13, 1998 | Berg Altena | n/a | F | 50 |
| Capriles | Esther (Hetty) de Isaac | November 15, 0189 | November 15, 1889 | Berg Altena | n/a | G | 3 |
| Capriles | Jacob | July 23, 1890 | July 23, 1890 | Berg Altena | n/a | H | 1 |
| Capriles | Aron | September 28, 1912 | September 29, 1912 | Berg Altena | n/a | H | 37 |
| Capriles | Heraclis de David Ricardo | March 13, 1959 | March 13, 1959 | Berg Altena | n/a | H | 46 |
| Capriles | Rebecca L. P. de Jacobo D. | Not recorded | November 23, 1949 | Berg Altena | n/a | L | 17 |
| Capriles | Jacob David | April 28, 1936 | April 29, 1936 | Berg Altena | n/a | L | 18 |
| Capriles | Amy Gomes Casseres de Manrique | November 27, 1970 | November 29, 1970 | Berg Altena | n/a | L | 21 |
| Capriles | Manrique | July 26, 1937 | July 27, 1937 | Berg Altena | n/a | L | 22 |
| Capriles | Edwin de Manrique | February 26, 1978 | February 28, 1978 | Berg Altena | n/a | L | 30 |
| Capriles | Rachel M. Chumaceiro de Abraham David | February 1, 1932 | February 2, 1932 | Berg Altena | n/a | O | 11 |
| Capriles | Abraham David | February 1, 1936 | February 2, 1936 | Berg Altena | n/a | O | 12 |
| Capriles | Lelia hija de David | September 23, 1943 | September 24, 1943 | Berg Altena | n/a | Q | 4 |
| Capriles | Lelia Adela | May 6, 1964 | May 6, 1964 | Berg Altena | n/a | Q | 30 |
| Capriles | Abigail bat Abraham R. | February 9, 1977 | February 10, 1977 | Berg Altena | n/a | Q | 31 |
| Capriles | Rose bat Abraham R. | June 6, 1979 | June 7, 1979 | Berg Altena | n/a | Q | 32 |
| Capriles | David Abraham | July 6, 1966 | July 9, 1966 | Berg Altena | n/a | LL | 5 |
| Capriles | Felecita Martina eshet David Capriles | November 14, 1979 | November 18, 1979 | Berg Altena | n/a | LL | 6 |
| Capriles | Hertha | March 13, 2001 | March 16, 2001 | Berg Altena | n/a | LL | 9 |
| Capriles | Dick de Jacob | November 11, 1970 | November 11, 1970 | Berg Altena | n/a | LL | 17 |
| Capriles | Hannah Helen Brandao de | August 5, 1971 | August 7, 1971 | Berg Altena | n/a | LL | 18 |
| Capriles | Isaac Haim de Abraham R. | July 17, 1980 | July 19, 1980 | Berg Altena | n/a | LL | 25 |
| Capriles | Hilda Pinedo eshet Isaac Haim | April 30, 1977 | April 30, 1977 | Berg Altena | n/a | LL | 26 |
| Capriles | Lionel (Paps) de Isaac Haim | January 5, 2017 | January 9, 2017 | Berg Altena | n/a | LL | 27 |
| Capriles | Joan da Costa Gomez de Isaac Haim | April 2, 2015 | April 6, 2015 | Berg Altena | n/a | LL | 29 |
| Capriles | James de Jacob | March 28, 1998 | March 31, 1998 | Berg Altena | n/a | LL | 31 |
| Capriles | Donald de Manrique | June 19, 1981 | June 21, 1981 | Berg Altena | n/a | MM | 8 |
| Capriles | Louise Gomes Casseres eshet Donald | February 5, 1995 | February 6, 1995 | Berg Altena | n/a | MM | 9 |
| Capriles | Jossy de Abraham | August 16, 2000 | August 17, 2000 | Berg Altena | n/a | MM | 23-B |
| Capriles | Nora de Marchena eshet Jossy | September 10, 1984 | September 12, 1984 | Berg Altena | n/a | MM | 24 |
| Capriles | Ethel Krijt | March 9, 2017 | March 12, 2017 | Berg Altena | n/a | NN | 20 |
| Capriles | Ismael | December 10, 1903 | Not recorded | Berg Altena | n/a | TE | 18 |
| Capriles | Manases | January 6, 1894 | Not recorded | Berg Altena | n/a | TE | 21 |
| Capriles | Julio J. | June 8, 1893 | Not recorded | Berg Altena | n/a | TE | 22 |
| Capriles | Alex de Abraham David | October 15, 1899 | October 15, 1899 | Berg Altena | n/a | Child B | 8 |
| Capriles | Still Born: Daughter of Jacob D. | August 1, 1905 | August 1, 1905 | Berg Altena | n/a | Child B | 10 |
| Capriles | Still Born: Son of Jacob D. | August 31, 1910 | August 31, 1910 | Berg Altena | n/a | Child C | 11 |
| Capriles | Sheila (Daughter of Dick) | April 24, 1931 | April 24, 1931 | Berg Altena | n/a | Child F | 1 |
| Capriles | Baruch, son of Dr. Joseph | January 8, 1767 | Child | Bleinheim | II | C | 248 |
| Capriles | Jahacob, son of Joseph | November 4, 1768 | Child | Bleinheim | II | C | 249 |
| Capriles | Moseh, son of Joseph | March 30, 1773 | Child | Bleinheim | II | C | 250 |
| Capriles | Ribca, daughter of Joseph | April 2, 1773 | Child | Bleinheim | II | C | 251 |
| Capriles | Aharon, son of Joseph | October 28, 1768 | Child | Bleinheim | II | C | 252 |
| Capriles | Malka | March 1, 1772 | Child | Bleinheim | II | C | 253 |
| Capriles | Mosseh Haim | August 7, 1776 | Child | Bleinheim | II | C | 256 |
| Capriles | Hana, daughter of Dr. Joseph | October 4, 1811 | n/a | Bleinheim | II | D | 281 |
| Capriles | Rachel, wife of Dr. Joseph | June 19, 1778 | n/a | Bleinheim | II | D | 282 |
| Capriles | Dr. Joseph | October 12, 1807 | n/a | Bleinheim | II | D | 283 |
| Capriles | Ester Lea, wife of Iosseph | September 13, 1763 | n/a | Bleinheim | II | D | 284 |
| Capriles | Moseh, son of Jshac | March 31, 1804 | Child | Bleinheim | VIII | D | 1299 |
| Capriles | Sarah Dovale, widow of Isaac | April 11, 1850 | n/a | Bleinheim | VIII | G | 1335 |
| Capriles | Sarah | July 25, 1893 | n/a | Bleinheim | IX | L | 1510 |
| Capriles | Abraham | April 10, 1882 | n/a | Bleinheim | IX | L | 1512 |
| Capriles | Isaac, son of Abraham | November 29, 1875 | n/a | Bleinheim | IX | L | 1513 |
| Capriles | Serafina | October 30, 1875 | n/a | Bleinheim | IX | M | 1524 |
| Capriles, Jr. | Rachel Pinedo de Joseph | November 17, 1888 | November 17, 1888 | Berg Altena | n/a | G | 1 |
| Capriles, Jr. | Joseph (José) | December 9, 1888 | December 9, 1888 | Berg Altena | n/a | G | 2 |
| Cardoze | Gabriel | Not recorded | January 4, 1893 | Berg Altena | n/a | E | 18 |
| Cardoze | Batsebah de Gabriel | Not recorded | June 14, 1899 | Berg Altena | n/a | E | 19 |
| Cardoze | Jacob de Gabriel | January 6, 1921 | January 6, 1921 | Berg Altena | n/a | E | 38 |
| Cardoze | Arabela de Jacob | September 9, 1908 | November 26, 1908 | Berg Altena | n/a | E | 39 |
| Cardoze | Bertha de Gabriel | November 1, 1921 | November 2, 1921 | Berg Altena | n/a | F | 18 |
| Cardoze | Ellen de Gabriel | October 30, 1932 | October 31, 1932 | Berg Altena | n/a | F | 19 |
| Cardoze | Julia de Gabriel | July 7, 1951 | July 7, 1951 | Berg Altena | n/a | F | 20 |
| Cardoze | David | February 5, 1922 | February 5, 1922 | Berg Altena | n/a | N | 21 |
| Cardoze | Morris | March 23, 1946 | March 23, 1946 | Berg Altena | n/a | N | 23 |
| Cardoze | Joseph | August 25, 1931 | August 26, 1931 | Berg Altena | n/a | N | 25 |
| Cardoze | Esther de Morris | July 25, 1912 | July 26, 1912 | Berg Altena | n/a | O | 6 |
| Cardoze | Morris J. | March 13, 1914 | March 14, 1914 | Berg Altena | n/a | O | 7 |
| Cardoze | Rebecca Curiel de David Morris | September 21, 1956 | September 22, 1956 | Berg Altena | n/a | O | 21 |
| Cardoze | David Morris | November 29, 1947 | November 30, 1947 | Berg Altena | n/a | O | 22 |
| Cardoze | Isaac (Ignacio) | January 3, 1941 | January 4, 1941 | Berg Altena | n/a | O | 25 |
| Cardoze | Adeliza | February 21, 1927 | February 22, 1927 | Berg Altena | n/a | P | 12 |
| Cardoze | Eleonor | April 4, 1971 | April 5, 1971 | Berg Altena | n/a | P | 13 |
| Cardoze | Benjamin | August 12, 1957 | August 13, 1957 | Berg Altena | n/a | Q | 13 |
| Cardoze | Morris D. de David | October 8, 1981 | October 11, 1981 | Berg Altena | n/a | Q | 14 |
| Cardoze | Haim of Mordechay | Not recorded | Not recorded | Berg Altena | n/a | Child A | 4 |
| Cardoze | Rosa of Mordechay | July 19, 1887 | July 19, 1887 | Berg Altena | n/a | Child A | 5 |
| Cardoze | Hanah de Gabriel | December 12, 1877 | n/a | Bleinheim | XIX | C | 2481 |
| Cardoze | Ester, wife of Moise | September 21, 1822 | n/a | Bleinheim | XIX | D | 2500 |
| Cardoze | Moise | December 6, 1836 | n/a | Bleinheim | XIX | D | 2501 |
| Cardoze | Abigail | December 17, 1837 | n/a | Bleinheim | XIX | D | 2502 |
| Cardoze | Maurice | December 27, 1826 | Child | Bleinheim | XIX | E | 2507 |
| Cardoze | Moise | April 17, 1842 | n/a | Bleinheim | XIX | E | 2508 |
| Cardoze | Isaac | April 6, 1877 | n/a | Bleinheim | XIX | E | 2509 |
| Cardoze | Rachel of David | March 7, 1860 | n/a | Bleinheim | XIX | F | 2515 |
| Cardoze | Hazan David | January 20, 1871 | n/a | Bleinheim | XIX | F | 2516 |
| Cardozo | Abraham | September 23, 1885 | September 24, 1885 | Berg Altena | n/a | A | 12 |
| Cardozo | Branka | July 7, 1911 | July 7, 1911 | Berg Altena | n/a | A | 13 |
| Cardozo | Daniel Abraham | March 20, 1898 | March 20, 1898 | Berg Altena | n/a | A | 21 |
| Cardozo | Clara, daughter of Doctor Isaac | June 27, 1768 | Child | Bleinheim | II | E | 315 |
| Cardozo | Ribca, daughter of Doctor Isaac | November 14, 1777 | Child | Bleinheim | III | A | 366 |
| Cardozo | Abrm, son of Dottr Ishak | January 30, 1746 | Child | Bleinheim | VII | C | 1132 |
| Cardozo | Lea, daughter Ishac | July 16, 1739 | Child | Bleinheim | XII | A | 1706 |
| Cardozo | Rachel, wife of Dr. Isaac Hisquiau | July 16, 1778 | n/a | Bleinheim | XII | E | 1820 |
| Cardozo | Doctor Ishac Hisquiau | November 24, 1753 | n/a | Bleinheim | XII | E | 1822 |
| Cardozo | Sara, daughter of David | July 10, 1728 | Child | Bleinheim | XIII | A | 1843 |
| Cardozo | Gustavo | November 14, 1970 | November 15, 1970 | Berg Altena | n/a | P | 34 |
| Cardozo | Ribca Hana, daughter of Doctor Isaac | June 23, 1768 | Child | Bleinheim | II | E | 314 |
| Cardozo | Isaac | July 3, 1878 | n/a | Bleinheim | XIX | C | 2486 |
| Cardozo Da Costa | Ester Hanah, wife of Abraham | April 5, 1780 | n/a | Bleinheim | IX | D | 1445 |
| Cardozo Da Costa | Ishac | September 8, 1792 | n/a | Bleinheim | IX | D | 1446 |
| Cardozo Da Costa | Branca | June 20, 1772 | n/a | Bleinheim | IX | D | 1447 |
| Cardozo da Costa | Elias | April 13, 1871 | n/a | Bleinheim | XIX | C | 2485 |
| Cardozo Pereira | David | October 22, 1786 | n/a | Bleinheim | II | C | 247 |
| Carilho | Ester, wife of David | October 5, 1719 | n/a | Bleinheim | VII | B | 1086 |
| Carilho | Eliau | September 22, 1692 | n/a | Bleinheim | VII | D | 1184 |
| Carillo Saldana | Hanah Ribca, wife of Abraham | June 2, 1761 | n/a | Bleinheim | II | C | 268 |
| Carrilho | Yahacob | August 11, 1697 | n/a | Bleinheim | VII | A | 1049 |
| Carvalha | Sara | August 12, 1706 | n/a | Bleinheim | XI | A | 1623 |
| Carvalho | Yshac | October 1, 1741 | n/a | Bleinheim | VI | B | 1005 |
| Casseres | Rachel de | February 8, 1932 | February 9, 1932 | Berg Altena | n/a | O | 19 |
| Casseres | Hannah (Henny) de Casseres | January 6, 1955 | January 7, 1955 | Berg Altena | n/a | O | 20 |
| Casseres | Josiao Rephael de | June 8, 1811 | n/a | Bleinheim | II | C | 233 |
| Casseres | Abigail Hana de Josiao De | September 9, 1796 | n/a | Bleinheim | II | C | 234 |
| Casseres Senior | Abigail de | March 20, 1890 | Not recorded | Berg Altena | n/a | TD | 17 |
| Cassuto | Samuel | October 29, 1947 | n/a | Bleinheim | VIII | Q | 1409p |
| Castelo | Ephraim Haim | July 30, 1771 | n/a | Bleinheim | II | E | 357 |
| Castro | David Jacob D: Jr | June 24, 1841 | n/a | Bleinheim | I | E | 114 |
| Castro Almeida | Semuel de | December 29, 1757 | n/a | Bleinheim | II | C | 274 |
| Causanschi | Haim | June 2, 1977 | Not recorded | Berg Altena | n/a | FF | 8 |
| Cheis | Aron Marco | April 18, 1988 | April 19, 1988 | Berg Altena | n/a | HH | 9 |
| Cheis nee Aklipa | Ana | October 14, 1977 | Not recorded | Berg Altena | n/a | HH | 8 |
| Cohen | Ada Isaacs eshet William | February 2, 1985 | February 5, 1985 | Berg Altena | n/a | MM | 26 |
| Cohen | Sarah de H. A. | May 12, 1879 | n/a | Bleinheim | X | A | 1529 |
| Cohen | Clemente de Abraham | April 21, 1936 | April 24, 1936 | Berg Altena | n/a | G | 44 |
| Cohen | Ezra Haim | Not recorded | July 11, 1934 | Berg Altena | n/a | G | 45 |
| Cohen Henriques | Mordecai | November 29, 1846 | n/a | Bleinheim | I | E | 119 |
| Cohen Henriques | Rephael Ieudah | March 21, 1767 | n/a | Bleinheim | II | B | 215 |
| Cohen Henriques | Mosseh de David | February 1, 1791 | n/a | Bleinheim | IV | C | 653 |
| Cohen Henriques | Binjamin | June 1, 1782 | n/a | Bleinheim | II | A | 195 |
| Cohen Henriquez | Hansi Grünberg | June 5, 2011 | June 7, 2011 | Berg Altena | n/a | TB | 36 |
| Cohen Henriquez | Samuel | April 6, 1907 | Not recorded | Berg Altena | n/a | TF | 10 |
| Cohen Henriquez | Leonor | October 21, 1906 | Not recorded | Berg Altena | n/a | TF | 11 |
| Cohen Henriquez | James | May 16, 1891 | Child | Berg Altena | n/a | TH | 32 |
| Cohen Henriquez | Stillborn son of Abraham | September 20, 1912 | Child | Berg Altena | n/a | TH | 40 |
| Cohen Henriquez | Emma Levy Maduro de | April 4, 1988 | April 6, 1988 | Berg Altena | n/a | Q | 1 |
| Cohen Henriquez | Richard de Abraham | January 11, 1987 | January 13, 1987 | Berg Altena | n/a | Q | 2 |
| Cohen Henriquez | Randolph | February 23, 2000 | February 25, 2000 | Berg Altena | n/a | LL | 41 |
| Cohen Henriquez | Anthony | March 21, 2014 | March 30, 2014 | Berg Altena | n/a | LL | 42 |
| Cohen Henriquez | Esther Monsanto | August 21, 1880 | Not recorded | Berg Altena | n/a | TA | 24 |
| Cohen Henriquez | Daniel | August 19, 1871 | Not recorded | Berg Altena | n/a | TA | 25 |
| Cohen Henriquez | Esther David | January 5, 1895 | Not recorded | Berg Altena | n/a | TA | 28 |
| Cohen Henriquez | David | May 10, 1868 | Not recorded | Berg Altena | n/a | TA | 29 |
| Cohen Henriquez | Moses Haim | July 8, 1870 | Child | Berg Altena | n/a | TA | 40 |
| Cohen Henriquez | Sarah | April 22, 1888 | Child | Berg Altena | n/a | TA'2 | 71 |
| Cohen Henriquez | Alberto | May 7, 1979 | Not recorded | Berg Altena | n/a | TB | 37 |
| Cohen Henriquez | Camila Pinedo de | December 14, 1956 | Not recorded | Berg Altena | n/a | TC | 1 |
| Cohen Henriquez | Julio | March 29, 1964 | Not recorded | Berg Altena | n/a | TC | 2 |
| Cohen Henriquez | Ernest | February 28, 2004 | October 16, 2013 | Berg Altena | n/a | TC | 3 |
| Cohen Henriquez | Mordechay | March 10, 1926 | Not recorded | Berg Altena | n/a | TC | 4 |
| Cohen Henriquez | Dilia Jesurun Henriquez de | August 22, 1922 | Not recorded | Berg Altena | n/a | TC | 5 |
| Cohen Henriquez | Olga Curiel de | September 10, 1968 | Not recorded | Berg Altena | n/a | TC | 6 |
| Cohen Henriquez | Josuah | September 10, 1943 | Not recorded | Berg Altena | n/a | TC | 7 |
| Cohen Henriquez | Agnes Curiel de | August 20, 1911 | Not recorded | Berg Altena | n/a | TC | 8 |
| Cohen Henriquez | Honora | January 22, 1896 | Not recorded | Berg Altena | n/a | TC | 16 |
| Cohen Henriquez | Esther | March 16, 1871 | Not recorded | Berg Altena | n/a | TC | 30 |
| Cohen Henriquez | Ramona Cepeda de | November 9, 1964 | Not recorded | Berg Altena | n/a | TC | 42 |
| Cohen Henriquez | Milton | November 27, 1972 | Not recorded | Berg Altena | n/a | TC | 43 |
| Cohen Henriquez | Abraham | November 22, 1956 | Not recorded | Berg Altena | n/a | TD | 3 |
| Cohen Henriquez | Rachel Delvalle de | September 20, 1912 | Not recorded | Berg Altena | n/a | TD | 4 |
| Cohen Henriquez | Haim Josias | September 30, 1942 | Not recorded | Berg Altena | n/a | TE | 11 |
| Cohen Henriquez | Elmaire | May 24, 1948 | Not recorded | Berg Altena | n/a | TE | 12 |
| Cohen Henriquez | Rebecca | May 23, 1935 | Not recorded | Berg Altena | n/a | TE | 13 |
| Cohen Henriquez | Deborah | March 19, 1935 | Not recorded | Berg Altena | n/a | TE | 14 |
| Cohen Henriquez | Rachel | July 1, 1908 | Not recorded | Berg Altena | n/a | TE | 15 |
| Cohen Henriquez | Mr. Sol | September 13, 1908 | Not recorded | Berg Altena | n/a | TE | 16 |
| Cohen Henriquez | Esther | May 29, 1897 | Not recorded | Berg Altena | n/a | TE | 17 |
| Cohen Henriquez | Estela Salas de | August 15, 1966 | Not recorded | Berg Altena | n/a | TE | 36 |
| Cohen Henriquez | Anjel Jacob | January 30, 1964 | Not recorded | Berg Altena | n/a | TE | 37 |
| Cohen Henriquez | Romelia | July 29, 1952 | Not recorded | Berg Altena | n/a | TF | 7 |
| Cohen Henriquez | Rachel | September 12, 1900 | Not recorded | Berg Altena | n/a | TF | 14 |
| Cohen Henriquez | Dalia | February 16, 1888 | Not recorded | Berg Altena | n/a | TF | 18 |
| Cohen Henriquez | Rachel | September 21, 1890 | Not recorded | Berg Altena | n/a | TF | 19 |
| Cohen Henriquez | Herman | July 4, 1906 | Not recorded | Berg Altena | n/a | TF | 20 |
| Cohen Henriquez | Abigail D. | February 13, 1937 | Not recorded | Berg Altena | n/a | TG | 6 |
| Cohen Henriquez | Rafael | July 23, 1921 | Not recorded | Berg Altena | n/a | TG | 7 |
| Cohen Henriquez | Elmire | September 21, 1901 | Not recorded | Berg Altena | n/a | TG | 23 |
| Cohen Henriquez | Rosaura J. de | January 18, 1968 | Not recorded | Berg Altena | n/a | TH | 2 |
| Cohen Henriquez | Moises | July 6, 1938 | Not recorded | Berg Altena | n/a | TH | 3 |
| Cohen Henriquez | Abigail | May 19, 1928 | Not recorded | Berg Altena | n/a | TH | 8 |
| Cohen Henriquez | Clara | May 19, 1919 | Not recorded | Berg Altena | n/a | TH | 9 |
| Cohen Henriquez | Salomon | August 15, 1912 | Not recorded | Berg Altena | n/a | TH | 10 |
| Cohen Henriquez | Moises D. | May 5, 1878 | Not recorded | Berg Altena | n/a | TH | 27 |
| Cohen Henriquez | | August 25, 1911 | Child | Berg Altena | n/a | TH | 41 |
| Cohen Henriquez | Alexander Th. | March 29, 1886 | Child | Berg Altena | n/a | TA'2 | 56 |
| Cohen Henriquez | Rachel de Jeudah | August 8, 1819 | n/a | Bleinheim | I | B | 35 |
| Cohen Henriquez | Leah, relict of Jacob de Sola | September 15, 1878 | n/a | Bleinheim | I | E | 108 |
| Cohen Henriquez | Leah, relict of Mordecai | October 17, 1878 | n/a | Bleinheim | I | G | 171 |
| Cohen Henriquez | Sara, widow of Riby David de Yeudah | May 10, 1786 | n/a | Bleinheim | II | B | 209 |
| Cohen Henriquez | David D Ieudah | June 11, 1778 | n/a | Bleinheim | II | B | 210 |
| Cohen Henriquez | Haim David de Moseh de David de Jeudah | November 5, 1777 | Child | Bleinheim | II | C | 261 |
| Cohen Henriquez | Mosseh, son of Binjamin | December 18, 1763 | Child | Bleinheim | II | D | 289 |
| Cohen Henriquez | Rachel, daughter of David de Moseh | August 12, 1773 | n/a | Bleinheim | II | D | 304 |
| Cohen Henriquez | David de Mosseh | December 16, 1760 | n/a | Bleinheim | II | D | 305 |
| Cohen Henriquez | Ester de David | May 31, 1802 | n/a | Bleinheim | II | D | 306 |
| Cohen Henriquez | Haim Benjamin de Moseh | February 2, 1765 | n/a | Bleinheim | II | D | 307 |
| Cohen Henriquez | Ribca, daughter of David de Moseh | October 22, 1772 | n/a | Bleinheim | II | D | 310 |
| Cohen Henriquez | Mosseh de Haim Jeudah | September 29, 1766 | n/a | Bleinheim | IV | B | 591 |
| Cohen Henriquez | Josiaõ | August 29, 1793 | Child | Bleinheim | V | E | 899 |
| Cohen Henriquez | Mosseh | November 19, 1744 | n/a | Bleinheim | VI | B | 1008 |
| Cohen Henriquez | David | February 2, 1759 | n/a | Bleinheim | VI | C | 1022 |
| Cohen Henriquez | Yeudah de Mosseh | June 12, 1758 | Child | Bleinheim | VI | C | 1024 |
| Cohen Henriquez | Daniel, son of Moseh & Jeudith | June 28, 1745 | Child | Bleinheim | VI | C | 1025 |
| Cohen Henriquez | Ester, daughter of Mosseh | November 15, 1745 | Child | Bleinheim | VI | C | 1026 |
| Cohen Henriquez | Haim Jeudah de Mosseh | October 16, 1760 | Child | Bleinheim | VI | C | 1028 |
| Cohen Henriquez | Ester de Mosseh Haim | October 1, 1822 | Child | Bleinheim | XIV | D | 2061 |
| Cohen Henriquez | Mosseh | June 24, 1793 | Child | Bleinheim | XV | D | 2127 |
| Cohen Henriquez | Rachel de Mosseh | January 10, 1823 | n/a | Bleinheim | XV | G | 2160 |
| Cohen Henriquez | Hanah de Daniel | December 31, 1853 | n/a | Bleinheim | XVI | B | 2186 |
| Cohen Henriquez | Alfred, son of Salomon Mozes Lansberg | September 3, 1868 | Child | Bleinheim | XVI | B | 2194 |
| Cohen Henriquez | Abigail, daughter of Haim | December 31, 1852 | n/a | Bleinheim | XVI | B | 2195 |
| Cohen Henriquez | David, son of Haim | March 26, 1853 | n/a | Bleinheim | XVI | B | 2196 |
| Cohen Henriquez | Moses Haim | February 15, 1866 | n/a | Bleinheim | XVI | B | 2197 |
| Cohen Henriquez | Deborah, wife of Moses Haim | March 30, 1863 | n/a | Bleinheim | XVI | B | 2198 |
| Cohen Henriquez | Isaac | November 5, 1838 | Child | Bleinheim | XVI | C | 2207 |
| Cohen Henriquez | Selomoh | February 1, 1828 | n/a | Bleinheim | XVI | C | 2208 |
| Cohen Henriquez | Sarah de Selomoh | May 23, 1833 | n/a | Bleinheim | XVI | C | 2209 |
| Cohen Henriquez | Salomoh de Mosseh | February 4, 1836 | n/a | Bleinheim | XVI | C | 2214 |
| Cohen Henriquez | Rachel Hanah de Mosseh | January 25, 1849 | n/a | Bleinheim | XVI | C | 2215 |
| Cohen Henriquez | Rachel de Selomoh | June 26, 1849 | n/a | Bleinheim | XVI | C | 2216 |
| Cohen Henriquez | Semuel | September 16, 1854 | n/a | Bleinheim | XVI | C | 2225 |
| Cohen Henriquez | Sarah da Costa Gomez, wife of Samuel | March 14, 1894 | n/a | Bleinheim | XVI | C | 2226 |
| Cohen Henriquez | Haim Josiau | July 4, 1859 | n/a | Bleinheim | XVI | C | 2227 |
| Cohen Henriquez | Rachel Jesurun, widow of Haim Josias | September 8, 1877 | n/a | Bleinheim | XVI | C | 2228 |
| Cohen Henriquez | Jeudah | April 7, 18-- | n/a | Bleinheim | XVIII | D | 2431 |
| Cohen Henriquez Brandao | Valerie Deshotels | January 4, 2020 | January 8, 2020 | Berg Altena | n/a | LL | 43 |
| Cohen Henriquez Brandao | Hannah | March 6, 1904 | Not recorded | Berg Altena | n/a | TC | 11 |
| Cohen Lobato | Yahacob | April 15, 1719 | n/a | Bleinheim | XIII | F | 1952 |
| Cohen Peixoto | Gracia, w., Daniel | April 30, 1788 | n/a | Bleinheim | I | B | 39 |
| Cohen Peixoto | Abraham | December 9, 1781 | n/a | Bleinheim | III | E | 432 |
| Cohen Peixotto | Rachel, wife of Iosseph | November 23, 1795 | n/a | Bleinheim | I | E | 130 |
| Cohen Pexoto | Daniel, son of Ioseph | March 19, 1784 | Child | Bleinheim | III | D | 409 |
| Cohen Rodriguez | Aharon | March 21, 1731 | n/a | Bleinheim | III | G | 510 |
| Cohen Rodriques | Rachel, wife of Abraham | October 30, 1723 | n/a | Bleinheim | XIII | C | 1863 |
| Correa Osorio | Emanuel Jr. | December 19, 1856 | n/a | Bleinheim | I | D | 79 |
| Costa Andrade | Sara | June 24, 1790 | n/a | Bleinheim | V | A | 689 |
| Crasto | Yahacob | July 9, 1714 | n/a | Bleinheim | XIV | C | 2019 |
| Crivosei | Betty | October 16, 1976 | Not recorded | Berg Altena | n/a | GG | 1 |
| Crivosei | Leah | November 28, 1960 | Not recorded | Berg Altena | n/a | II | 15 |
| Crivosei | Saul | December 5, 1979 | Not recorded | Berg Altena | n/a | II | 16 |
| Curiel | Abraham de Jb. | January 14, 1883 | January 15, 1883 | Berg Altena | n/a | A | 9 |
| Curiel | Jacob A. | August 2, 1900 | August 2, 1900 | Berg Altena | n/a | A | 28 |
| Curiel | Sarah Jb. A. | July 31, 1909 | August 5, 1909 | Berg Altena | n/a | A | 29 |
| Curiel | David de Jacob | August 6, 1905 | August 6, 1905 | Berg Altena | n/a | A | 33 |
| Curiel | Samuel de Jacob | November 18, 1905 | November 18, 1905 | Berg Altena | n/a | A | 35 |
| Curiel | Clara Jb. | January 6, 1926 | January 6, 1926 | Berg Altena | n/a | A | 41 |
| Curiel | Rebecca Jacob | November 3, 1947 | November 4, 1947 | Berg Altena | n/a | A | 42 |
| Curiel | Rachel Rosalinda | January 25, 1957 | January 26, 1957 | Berg Altena | n/a | A | 43 |
| Curiel | CHILD: Estela de Moses E. | December 13, 1902 | December 13, 1902 | Berg Altena | n/a | B | 20 |
| Curiel | Zilah de Moses E. | October 18, 1894 | October 19, 1894 | Berg Altena | n/a | B | 21 |
| Curiel | Moses Ephraim | October 20, 1933 | October 21, 1933 | Berg Altena | n/a | B | 40 |
| Curiel | Rachel de Moses E. | March 29, 1932 | March 30, 1932 | Berg Altena | n/a | B | 41 |
| Curiel | Jacob | September 9, 1960 | September 9, 1960 | Berg Altena | n/a | B | 42 |
| Curiel | Ada Moises | August 25, 1979 | August 27, 1979 | Berg Altena | n/a | B | 43 |
| Curiel | Teresita | September 21, 1951 | September 22, 1951 | Berg Altena | n/a | B | 44 |
| Curiel | Esther de Manuel Penso | June 10, 1929 | June 11, 1929 | Berg Altena | n/a | B | 39 |
| Curiel | Manuel Penso | August 4, 1902 | August 4, 1902 | Berg Altena | n/a | C | 20 |
| Curiel | Ephraim de Elias | 1899 | January 25, 1920 | Berg Altena | n/a | E | 4 |
| Curiel | Adela | Not recorded | January 16, 1956 | Berg Altena | n/a | E | 49 |
| Curiel | Julia de Elias | Not recorded | December 13, 1922 | Berg Altena | n/a | F | 0 |
| Curiel | Mordechai Fidanque | September 23, 1922 | September 24, 1906 | Berg Altena | n/a | F | 35 |
| Curiel | Esther Rodriguez Miranda de | January 31, 1927 | January 31, 1927 | Berg Altena | n/a | F | 36 |
| Curiel | Esther Devalle de Solomon | September 9, 1896 | September 9, 1896 | Berg Altena | n/a | G | 4 |
| Curiel | Salomon Elias | June 30, 1917 | July 1, 1917 | Berg Altena | n/a | G | 5 |
| Curiel | Rebecca de Solomon E. | April 9, 1901 | April 9, 1901 | Berg Altena | n/a | G | 10 |
| Curiel | Roselfina | December 23, 1918 | December 23, 1918 | Berg Altena | n/a | G | 39 |
| Curiel | Manuel Salomon | December 21, 1927 | December 22, 1927 | Berg Altena | n/a | H | 0 |
| Curiel | Celina | August 24, 1929 | August 24, 1929 | Berg Altena | n/a | H | 43 |
| Curiel | Benjamin de Rafael | October 20,1941 | October 20, 1941 | Berg Altena | n/a | H | 45 |
| Curiel | Rebecca Sasso de | July 3, 1938 | July 4, 1938 | Berg Altena | n/a | M | 26 |
| Curiel | Joseph Ephraim | Not recorded | January 7, 1941 | Berg Altena | n/a | M | 27 |
| Curiel | Raquel de Salomon | January 13, 1941 | January 14, 1941 | Berg Altena | n/a | P | 27 |
| Curiel | Sarah de Salomon | February 12, 1960 | February 13, 1960 | Berg Altena | n/a | P | 28 |
| Curiel | Morris Ephraim | October 19, 1957 | October 19, 1957 | Berg Altena | n/a | P | 30 |
| Curiel | Zelma de Marchena eshet Alex | November 15, 1992 | November 17, 1992 | Berg Altena | n/a | Q | 26 |
| Curiel | Alex de Moshe | August 15, 1958 | August 19, 1958 | Berg Altena | n/a | Q | 27 |
| Curiel | Samuel de Joseph y Rebecca | December 23, 2000 | Dec. 26, 2000 | Berg Altena | n/a | MM | 12 |
| Curiel | Esther Joyce | May 27, 1968 | May 28, 1968 | Berg Altena | n/a | MM | 13 |
| Curiel | Ernesto de Samuel | September 13, 1997 | September 15, 1997 | Berg Altena | n/a | NN | 13 |
| Curiel | Romelia Lopez Penha eshet Ephraim | November 22, 1977 | November 24, 1977 | Berg Altena | n/a | QQ | 11 |
| Curiel | Donald | December 17, 2015 | December 23, 2015 | Berg Altena | n/a | QQ | 12 |
| Curiel | Morris Elias de Eliau y Reneta | April 1, 2007 | Aprril 2., 2007 | Berg Altena | n/a | QQ | 15 |
| Curiel | M. P. | August 17, 1886 | August 17, 1886 | Berg Altena | n/a | Child D | 5 |
| Curiel | Manuel Ephraim | June 13, 1893 | June 13, 1893 | Berg Altena | n/a | Child D | 8 |
| Curiel | Ephraim Manuel | August 6, 1893 | August 6, 1893 | Berg Altena | n/a | Child D | 9 |
| Curiel | Still Born: Son of Ephraim | December 5, 1930 | December 5, 1930 | Berg Altena | n/a | Child E | 7 |
| Curiel | Still Born: Daughter of Ephraim | November 16, 1934 | November 16, 1934 | Berg Altena | n/a | Child F | 4 |
| Curiel | Maritza (Daughter of Ephraim) | September 11, 1941 | September 11, 1941 | Berg Altena | n/a | Child G | 3 |
| Curiel | Elias de Moshe | Not recorded | March 17, 1893 | Berg Altena | n/a | E | 20 |
| Curiel | Clara A. Correa de Elias | Not recorded | March 28, 1926 | Berg Altena | n/a | E | 21 |
| Curiel | Abraham de Ishac | July 13, 1763 | Child | Bleinheim | II | B | 213 |
| Curiel | Ribca, daughter of Selomoh de Jacob | December 30, 1763 | Child | Bleinheim | II | B | 214 |
| Curiel | Aharon de Jacob | May 24, 1750 | n/a | Bleinheim | II | D | 302 |
| Curiel | Ribca, wife of Yshac | October 8, 1756 | n/a | Bleinheim | II | D | 303 |
| Curiel | Selomoh | March 2, 1749 | n/a | Bleinheim | II | E | 340 |
| Curiel | Jeosuah | May 31, 1802 | n/a | Bleinheim | III | E | 468 |
| Curiel | Ribca, daughter of Abraham De Selomoh | January 5, 1752 | Child | Bleinheim | IV | A | 542 |
| Curiel | Jacob De Abraham De Jacob | July 25, 1756 | Child | Bleinheim | IV | C | 661 |
| Curiel | Sarah de Selomoh de Abraham | August 24, 1782 | Child | Bleinheim | IX | C | 1442 |
| Curiel | Ishac de Selomoh de Abraham | August 11, 1785 | Child | Bleinheim | IX | D | 1450 |
| Curiel | Eliau, Jr | No date | n/a | Bleinheim | IX | H | 1482 |
| Curiel | Lea Oliveyra | No date | n/a | Bleinheim | IX | H | 1483 |
| Curiel | Rafael N. | February 27, 1909 | n/a | Bleinheim | IX | J | 1494 |
| Curiel | Benjamin | August 9, 1882 | n/a | Bleinheim | IX | L | 1514 |
| Curiel | Hannah Namias de Crasto | February 15, 1911 | n/a | Bleinheim | IX | L | 1515 |
| Curiel | Ester, daughter of Abraham de Selomoh | November 1, 1748 | Child | Bleinheim | XIII | C | 1874 |
| Curiel | David, son of Iacob | March 8, 1736 | Child | Bleinheim | XIII | C | 1875 |
| Curiel | Jahacob Hisquiau | March 20, 1747 | n/a | Bleinheim | XIII | E | 1930 |
| Curiel | Ribca, wife of Iacob | November 30, 1767 | n/a | Bleinheim | XIII | E | 1931 |
| Curiel | Rachel de Eliao | September 20, 1843 | n/a | Bleinheim | XVIII | A | 2355 |
| Curiel | Eliao | April 13, 1847 | n/a | Bleinheim | XVIII | A | 2356 |
| Curiel | Esther Curiel, wife of Ephraim, Jr. | December 5, 1853 | n/a | Bleinheim | XVIII | A | 2357 |
| Curiel | Ephraim, Jr. | August 27, 1917 | n/a | Bleinheim | XVIII | A | 2358 |
| Curiel | Rebecca Judith Fidanque, wife of Ephraim, Jr. | October 20, 1895 | n/a | Bleinheim | XVIII | A | 2359 |
| Curiel | Ephraim | August 4, 1843 | n/a | Bleinheim | XVIII | B | 2379 |
| Curiel | Ribca de Ephraim | February 17, 1857 | n/a | Bleinheim | XVIII | B | 2380 |
| Curiel | Ephraim Moses | January 2, 1880 | n/a | Bleinheim | XVIII | B | 2381 |
| Curiel | Ester Moses | August 20, 1879 | n/a | Bleinheim | XVIII | B | 2382 |
| Curiel | Moisés Elias | July 11, 1908 | n/a | Bleinheim | XVIII | D | 2447 |
| Curiel | Binjamin Haim | Undecipherable | n/a | Bleinheim | XIX | A | 2458 |
| Curiel | Abraham | No date | n/a | Bleinheim | XIX | A | 2459 |
| Curiel | Ribca de Abraham | No date | n/a | Bleinheim | XIX | A | 2460 |
| Curiel | Mozes | January 15, 1908 | n/a | Bleinheim | XIX | A | 2470 |
| Curiel | Mosé | December 27, 1883 | n/a | Bleinheim | XIX | C | 2494 |
| Curiel | Esther Fidanque, wife of Mosé | July 6, 1885 | n/a | Bleinheim | XIX | C | 2495 |
| Curiel | Esther E. B. | No date | n/a | Bleinheim | XIX | F | 2520 |
| Curiel | A. D. E. | No date | n/a | Bleinheim | XIX | F | 2529 |
| Curiel | Rachel | December 28, 1907 | n/a | Bleinheim | XIX | F | 2534 |
| Curiel | Bertha | March 20, 1911 | n/a | Bleinheim | XIX | F | 2535 |
| Curiel | Elaine de Ephraim y Romelia | April 14, 2012 | April 18, 2012 | Berg Altena | n/a | RR | 8 |
| Curiel | Robert | February 20, 2017 | February 22, 2017 | Berg Altena | n/a | RR | 9 |
| Curiel | David de Efraim | March 18, 1985 | March 20, 1985 | Berg Altena | n/a | RR | 11 |
| Curiel | Sarah de Ephraim | Not recorded | July 26, 1880 | Berg Altena | n/a | E | 3 |
| Curiel | Esther | May 14, 1915 | May 14, 1915 | Berg Altena | n/a | N | 11 |
| Curiel | Haim | May 6, 1924 | May 6, 1924 | Berg Altena | n/a | H | 39 |
| Curiel de Henriquez | Clara | July 25, 1971 | July 26, 1971 | Berg Altena | n/a | MM | 11 |
| Curiel de Marchena | Sarah | November 23, 1868 | n/a | Bleinheim | I | E | 103 |
| Curiel Delvalle | Esther de Marchena, w., Ephraiaim | January 15, 1868 | n/a | Bleinheim | I | A | 8 |
| Curiel Delvalle | Ephraim | January 17, 1890 | n/a | Bleinheim | X | H | 1579 |
| Curiel Delvalle | Raquel | September 4, 1887 | n/a | Bleinheim | X | H | 1581 |
| Curiel Querido | Estela | October 12, 1927 | n/a | Bleinheim | XIX | A | 2471 |
| Curiel Senior | Camilla | March 21, 1971 | Not recorded | Berg Altena | n/a | TD | 30 |
| Curiel-Rumay | Elsmarie | April 14, 2016 | April 17, 2016 | Berg Altena | n/a | NN | 14 |
| Curiel, Jr. | Elias | September 6, 1943 | September 6, 1943 | Berg Altena | n/a | P | 29 |
| Da Costa | Abraham | December 6, 1699 | n/a | Bleinheim | XV | B | 2095 |
| Da Costa | Sara | January 18, 1700 | n/a | Bleinheim | XV | B | 2096 |
| da Costa Andrade | Ester de David | December 25, 1805 | n/a | Bleinheim | V | A | 683 |
| da Costa Andrade | David | March 31, 1789 | n/a | Bleinheim | V | A | 684 |
| da Costa Andrade | Jacob | July 9, 1766 | n/a | Bleinheim | V | A | 690 |
| da Costa Andrade | Ribca, wife of Abraham | January 19, 1770 | n/a | Bleinheim | V | C | 777 |
| da Costa Andrade | Mordechay De David | June 14, 1756 | Child | Bleinheim | VI | A | 944 |
| da Costa Andrade | Mordochy Israel | February 20, 1758 | Child | Bleinheim | VI | A | 945 |
| Da Costa Andrade | Ester de Mosseh | March 15, 1822 | n/a | Bleinheim | XIV | C | 2029 |
| da Costa Athias | Iacob | March 14, 1762 | n/a | Bleinheim | V | B | 747 |
| Da Costa De Andrade | Abm | December 9, 1753 | n/a | Bleinheim | V | C | 778 |
| Da Costa De Andrade | Daniel | August 25, 1741 | n/a | Bleinheim | VI | A | 910 |
| Da Costa de Andrade | Sarah | May 23, 1728 | n/a | Bleinheim | VII | D | 1201 |
| Da Costa de Andrade | Yosseph | May 13, 1704 | n/a | Bleinheim | VII | D | 1202 |
| Da Costa de Andrade | Binyamin | August 9, 1749 | n/a | Bleinheim | VII | E | 1249 |
| Da Costa de Andrade | Rachel, wife of Binyamin | February 6, 1777 | n/a | Bleinheim | VII | E | 1250 |
| Da Costa de Andrade | Semuel de Binyamin | April 2, 1787 | n/a | Bleinheim | VII | E | 1251 |
| Da Costa de Andrade | David Hizquiyau, son of Jacob & Sarah | November 21, 1711 | Child | Bleinheim | VII | E | 1252 |
| Da Costa de Andrade | Yosseph Haim de Benjamin | November 20, 1720 | Child | Bleinheim | XIV | A | 1969 |
| Da Costa de Andrade | Do Segundo Yosseph de Benjamin | August 9, 1719 | Child | Bleinheim | XIV | A | 1970 |
| Da Costa de Andrade | Josseph, son of Bynjamin | January 16, 1716 | Child | Bleinheim | XIV | A | 1971 |
| Da Costa de Andrade | Sara, daughter of Benjamin | August 24, 1714 | Child | Bleinheim | XIV | A | 1972 |
| Da Costa de Andrade | Da Segunda Sara, daughter of Binjamin | November 9, 1718 | Child | Bleinheim | XIV | A | 1973 |
| Da Costa Gomes | Ribca, wife of David | March 1, 1765 | n/a | Bleinheim | II | E | 328 |
| Da Costa Gomes | Imanuel de Semuel | February 6, 1761 | n/a | Bleinheim | II | E | 329 |
| Da Costa Gomes | Sarah Hana, daughter of Iosseph | May 29, 1761 | n/a | Bleinheim | II | E | 332 |
| Da Costa Gomes | Gabriel, son of Semuel de Gabriel | March 13, 1767 | Child | Bleinheim | III | A | 379 |
| Da Costa Gomes | Rachel, daughter of Semuel de Gabriel | March 4, 1767 | Child | Bleinheim | III | A | 380 |
| Da Costa Gomes | Haim David | May 20, 1788 | n/a | Bleinheim | IV | A | 522 |
| Da Costa Gomes | Ishac | October 24, 1764 | n/a | Bleinheim | IV | B | 573 |
| Da Costa Gomes | Rachel | December 30, 1789 | n/a | Bleinheim | IV | B | 574 |
| Da Costa Gomes | Rachel, wife of Gabriel | November 21, 1755 | n/a | Bleinheim | IV | B | 576 |
| Da Costa Gomes | Semuel de Manuel | April 19, 1753 | n/a | Bleinheim | IV | B | 577 |
| Da Costa Gomes | Ester, wife of Samuel | September 10, 1782 | n/a | Bleinheim | IV | B | 578 |
| Da Costa Gomes | Iacob de Ioseph | May 13, 1782 | n/a | Bleinheim | XIII | D | 1913 |
| da Costa Gomez | Haim Gabriel | August 11, 1906 | August 11, 1906 | Berg Altena | n/a | B | 24 |
| da Costa Gomez | Rachel | January 26, 1931 | January 27, 1931 | Berg Altena | n/a | B | 25 |
| da Costa Gomez | Abigail | October 29, 1941 | October 30, 1941 | Berg Altena | n/a | B | 26 |
| da Costa Gomez | Esther de Jeosuah | January 17, 1927 | January 17, 1927 | Berg Altena | n/a | D | 7 |
| da Costa Gomez | Leah de Jeosuah | November 23, 1917 | November 24, 1917 | Berg Altena | n/a | D | 8 |
| da Costa Gomez | Jozef de Jeosuah | December 26, 1889 | June 10, 1890 | Berg Altena | n/a | D | 9 |
| da Costa Gomez | Mordehay de Jeosuah | December 10, 1902 | December 10, 1902 | Berg Altena | n/a | D | 11 |
| da Costa Gomez | Rebecca de Jeosuah | March 5, 1912 | March 6, 1912 | Berg Altena | n/a | D | 12 |
| da Costa Gomez | Mordechay de Samuel | Not recorded | December 13, 1894 | Berg Altena | n/a | D | 19 |
| da Costa Gomez | George | June 20, 1975 | June 23, 1975 | Berg Altena | n/a | J | 27 |
| da Costa Gomez | Deborah Levy Maduro de | May 15, 1961 | May 15, 1961 | Berg Altena | n/a | K | 9 |
| da Costa Gomez | Henry | November 15, 1971 | November 17, 1971 | Berg Altena | n/a | K | 10 |
| da Costa Gomez | Adele Rachel B. de Josuah | July 28, 1953 | August 6, 1953 | Berg Altena | n/a | L | 23 |
| da Costa Gomez | Joshua | February 5, 1938 | February 9, 1938 | Berg Altena | n/a | L | 24 |
| da Costa Gomez | Aurora C. Hz. de Haim | February 9, 1920 | February 10, 1920 | Berg Altena | n/a | M | 15 |
| da Costa Gomez | Haim Gabriel | August 11, 1941 | August 12, 1941 | Berg Altena | n/a | M | 16 |
| da Costa Gomez | Rachel Alvarez Correa geb. | March 10, 1956 | March 10, 1956 | Berg Altena | n/a | Q | 22 |
| da Costa Gomez | Anthony | March 29, 2015 | April 1, 2015 | Berg Altena | n/a | LL | 32 |
| da Costa Gomez | Maruja | June 12, 2007 | June 17, 2007 | Berg Altena | n/a | LL | 33-A |
| da Costa Gomez | Frank de Jeosuah | December 9, 2000 | December 9, 2000 | Berg Altena | n/a | RR | 23 |
| da Costa Gomez | Samuel Jr. | January 13, 1902 | January 14, 1902 | Berg Altena | n/a | D | 13 |
| da Costa Gomez | Rebecca Henriquez de Samuel | September 25, 1900 | September 25, 1900 | Berg Altena | n/a | D | 14 |
| Da Costa Gomez | Semuel de Joseph | March 22, 1799 | n/a | Bleinheim | II | E | 330 |
| Da Costa Gomez | Jeudith de Semuel | August 28, 1800 | n/a | Bleinheim | II | E | 331 |
| Da Costa Gomez | Imanuel de Gabriel | June 4, 1796 | n/a | Bleinheim | II | E | 333 |
| Da Costa Gomez | Hana Sarah | March 17, 1757 | n/a | Bleinheim | IV | A | 523 |
| Da Costa Gomez | Semuel de Gabriel | December 15, 1799 | n/a | Bleinheim | IV | A | 526 |
| Da Costa Gomez | Sara de Semuel | March 27, 1812 | n/a | Bleinheim | IV | A | 527 |
| Da Costa Gomez | Semuel, son of Haim Gabriel | November 5, 1793 | Child | Bleinheim | IV | C | 612 |
| Da Costa Gomez | Haim Gabriel | April 27, 1813 | n/a | Bleinheim | IV | C | 615 |
| Da Costa Gomez | Aron de Semuel | November 5, 1784 | n/a | Bleinheim | IV | C | 616 |
| Da Costa Gomez | Ester, widow of Haim Gabriel | November 28, 1861 | n/a | Bleinheim | IV | C | 618 |
| Da Costa Gomez | Lea D. | April 5, 1913 | n/a | Bleinheim | VIII | P | 1409 |
| Da Costa Gomez | Rachel | November 5, 1859 | n/a | Bleinheim | IX | H | 1475 |
| Da Costa Gomez | Esther | No date | Child | Bleinheim | IX | H | 1476 |
| Da Costa Gomez | Gabriel | December 12, 1851 | n/a | Bleinheim | IX | H | 1477 |
| Da Costa Gomez | Ragel, wife of Gabriel | March 16, 1844 | n/a | Bleinheim | IX | H | 1478 |
| Da Costa Gomez | G. de I. | November 12, 1845 | Child | Bleinheim | IX | H | 1479 |
| Da Costa Gomez | Aron | March 4, 1873 | n/a | Bleinheim | X | F | 1560 |
| Da Costa Gomez | Clara | January 7, 1897 | n/a | Bleinheim | X | F | 1561 |
| Da Costa Gomez | Gabriel | December 27, 1924 | n/a | Bleinheim | X | F | 1562 |
| Da Costa Gomez | Rachel | July 25, 1745 | n/a | Bleinheim | XIII | A | 1858 |
| Da Costa Gomez | Hana, daughter of Ioseph | November 15, 1737 | Child | Bleinheim | XIII | C | 1873 |
| Da Costa Gomez | Sarah, wife of Aron | March 3, 1767 | n/a | Bleinheim | XIII | C | 1876 |
| Da Costa Gomez | Aron Hisquiau | August 28, 1719 | n/a | Bleinheim | XIII | C | 1877 |
| Da Costa Gomez | Ishac | July 10, 1811 | n/a | Bleinheim | XIII | C | 1880 |
| Da Costa Gomez | Esther Henriquez Fereira, widow of Gabriel David | February 28, 1814 | n/a | Bleinheim | XIII | C | 1881 |
| Da Costa Gomez | Gabriel David | January 18, 1814 | n/a | Bleinheim | XIII | C | 1882 |
| Da Costa Gomez | Rachel, wife of Ioseph | November 25, 1767 | n/a | Bleinheim | XIII | D | 1910 |
| Da Costa Gomez | Hana Sarah Da Costa Gomes, wife of Iosseph | February 23, 1742 | n/a | Bleinheim | XIII | D | 1911 |
| Da Costa Gomez | Ioseph | November 17, 1760 | n/a | Bleinheim | XIII | D | 1912 |
| Da Costa Gomez | Rachel de Semuel | September 11, 1808 | n/a | Bleinheim | XIII | D | 1914 |
| Da Costa Gomez | Ragel Samuel | No date | n/a | Bleinheim | XVIII | D | 2409 |
| Da Costa Gomez | Samuel & Ragel | No date | n/a | Bleinheim | XVIII | D | 2410 |
| da Costa Gomez de la Penha | Hannah | August 3, 1927 | August 4, 1927 | Berg Altena | n/a | G | 40 |
| Da Costa Gomez de la Penha | Clara | August 12, 1900 | n/a | Bleinheim | VIII | O | 1396 |
| Da Costa Gomez de la Penha | Sarah | April 30, 1881 | n/a | Bleinheim | VIII | O | 1397 |
| Da Costa Gomez de la Penha | Daniel | June 29, 1869 | n/a | Bleinheim | VIII | O | 1398 |
| Da Costa Noble | Rachel, de Jacob | June 28, 1792 | n/a | Bleinheim | IV | A | 518 |
| Da Fonseca | Michael | November 3, 1745 | n/a | Bleinheim | V | D | 822 |
| da Fonseca Bernal | Abraham, son of Semuel | July 18, 1720 | n/a | Bleinheim | XIII | D | 1908 |
| Da Meza | Manuel Haim | March 12, 1764 | n/a | Bleinheim | XII | B | 1761 |
| Da Motta | Abraham | October 4, 1695 | n/a | Bleinheim | VII | A | 1064 |
| Da Motta | Clara, wife of Abraham | January 14, 1718 | n/a | Bleinheim | XII | B | 1737 |
| Da Silva | David | December 4, 1747 | n/a | Bleinheim | V | C | 788 |
| Da Silva Solia | Jacques J. | December 19, 1943 | n/a | Bleinheim | VIII | Q | 1409j |
| Dacosta Gomes | Simha | April 25, 1793 | n/a | Bleinheim | IV | A | 519 |
| Dacosta Gomez | Gabriel | December 2, 1767 | n/a | Bleinheim | IV | B | 575 |
| Dacosta Gomez | Sara, wife of Haim Gabriel | June 25, 1792 | n/a | Bleinheim | IV | C | 614 |
| Dankmeijer | Emile | June 17, 1990 | June 19, 1990 | Berg Altena | n/a | LL | 14 |
| Dankmeijer | Ena Maduro eshet Emile | February 7, 2016 | February 10, 2016 | Berg Altena | n/a | LL | 15 |
| Dario Salas | Oscar de David | September 25, 1997 | September 26, 1997 | Berg Altena | n/a | NN | 38 |
| Dario Salas | Dilia Esther bat David | May 1, 1998 | May 3, 1998 | Berg Altena | n/a | TB | 34-A |
| Dayan | Still Born: Son of Mr & Mrs Armand | October 4, 1989 | October 4, 1989 | Berg Altena | n/a | Child G | 5 |
| De Acosta | Doutor Yschak | November 26, 1718 | n/a | Bleinheim | XIV | C | 2023 |
| De Acosta | Ribca Cardozo, wife of Doctor Yshak | March 18, 1728 | n/a | Bleinheim | XIV | C | 2022 |
| De Acosta Gomez | Semuel | February 11, 1733 | n/a | Bleinheim | XIII | C | 1878 |
| de Andrade | Ishac Hisquiao | June 24, 1780 | n/a | Bleinheim | IV | B | 609 |
| de Andrade | Leah, daughter of Jacob de Mordechay | March 25, 1769 | Child | Bleinheim | VI | A | 943 |
| de Andrade | Iahacob | April 18, 1792 | n/a | Bleinheim | VI | B | 996 |
| de Andrade | Mordochay | April 16, 1734 | n/a | Bleinheim | VI | B | 1003 |
| de Andrade | Mordohai | August 3, 1678 | n/a | Bleinheim | XIV | A | 1981 |
| de Campos Pereira | Abraham | July 23, 1746 | n/a | Bleinheim | III | C | 400 |
| de Campos Pereira | Josseph Haim | August 6, 1762 | n/a | Bleinheim | III | C | 401 |
| de Campos Pereira | Sarah, wife of Abraham | December 2, 1769 | n/a | Bleinheim | III | D | 412 |
| De Campos Pereyra | Ester, daughter of Abraham | September 4, 1727 | n/a | Bleinheim | XII | B | 1748 |
| de Caserez | Abigayl | November 20, 1742 | n/a | Bleinheim | III | F | 475 |
| de Casseres | Solomon | September 26, 1920 | September 27, 1920 | Berg Altena | n/a | N | 18 |
| de Casseres | Dr. Haim Abraham | December 26, 1929 | December 27, 1929 | Berg Altena | n/a | N | 19 |
| De Casseres | Iosiau, son of Binjamien | August 13, 1751 | Child | Bleinheim | III | D | 410 |
| De Casseres | Saul, son of Binjamin | May 31, 1750 | Child | Bleinheim | III | D | 411 |
| De Casseres | Semuel Haim, son of Biniamin | January 3, 1749 | Child | Bleinheim | III | D | 414 |
| De Casseres | Benjamin Rephael de Iosiao | July 14, 1769 | Child | Bleinheim | III | E | 444 |
| De Casseres | Semuel Hisquiau | April 16, 1760 | n/a | Bleinheim | III | F | 474 |
| De Casseres | Rahel Hana | April 2, 1759 | n/a | Bleinheim | III | G | 501 |
| De Casseres | Binyamin | May 4, 1736 | n/a | Bleinheim | VI | A | 906 |
| De Casseres | Ester, wife of Binyamin | November 28, 1735 | n/a | Bleinheim | VI | A | 907 |
| de Casseres | Sarah de Benjamin Hizquiau | June 10, 1796 | n/a | Bleinheim | VI | A | 908 |
| De Casseres | Binyamin Hizquiau | May 24, 1769 | n/a | Bleinheim | VI | A | 909 |
| De Casseres | Michael de Semuel | January 10, 1695 | n/a | Bleinheim | VII | C | 1166 |
| de Casseres | Ribca, wife of Semuel | January 25, 1695 | n/a | Bleinheim | VII | C | 1167 |
| de Casseres | Sara | April 8, 1726 | Child | Bleinheim | XIII | E | 1928 |
| de Casseres | Rybca, daughter of Semuel | May 1, 1727 | Child | Bleinheim | XIII | F | 1945 |
| de Casseres | Benyamin, Jr. | October 26, 1909 | n/a | Bleinheim | XVII | B | 2268 |
| de Casseres | Sarah de Selomoh | January 4, 1827 | n/a | Bleinheim | XVII | C | 2281 |
| de Casseres | Selomoh | April 20, 1821 | n/a | Bleinheim | XVII | C | 2282 |
| de Casseres | Benjamin Rephl de Semuel Hisquiau | July 20, 1821 | n/a | Bleinheim | XVII | C | 2283 |
| de Casseres | Ribca de Benjamin | August 29, 1861 | n/a | Bleinheim | XVII | C | 2284 |
| de Casseres | Semuel Hisquiau | April 23, 1826 | n/a | Bleinheim | XVII | C | 2285 |
| de Casseres | Leah de Semuel Hisquiau | March 19, 1837 | n/a | Bleinheim | XVII | C | 2286 |
| de Casseres | Sarah de Benjamin de Salomon | June 12, 1869 | n/a | Bleinheim | XVII | C | 2287 |
| de Casseres | Ribi Binjamin Hisquiao Besalel | September 5, 1837 | n/a | Bleinheim | XVII | C | 2288 |
| de Casseres | Ester S. | November 18, 1885 | n/a | Bleinheim | XVII | D | 2317 |
| de Casseres | Ribca Sarah, daughter of Samuel H. D. | Undecipherable | n/a | Bleinheim | XVIII | A | 2345 |
| de Casseres | Jeudith S. | March 11, 1906 | n/a | Bleinheim | XIX | C | 2491 |
| de Casseres | Samuel | February 27, 1891 | n/a | Bleinheim | XIX | C | 2492 |
| de Casseres | Leah | March 8, 1932 | n/a | Bleinheim | XIX | F | 2525 |
| de Casseres | Sarah de Semuel | July 6, 1940 | n/a | Bleinheim | XIX | F | 2527 |
| de Casseres | Leah | July 29, 1905 | n/a | Bleinheim | XIX | F | 2528 |
| De Casserez | David | April 27, 1747 | Child | Bleinheim | III | G | 492 |
| De Casserez | Abigail, daughter of Semuel | November 4, 1751 | Child | Bleinheim | III | G | 493 |
| De Casserez | Sara, daughter of Semuel | April 3 - May 2, 1745 | Child | Bleinheim | III | G | 494 |
| De Casserez | Ester, daughter of Semuel | May 17, 1745 | Child | Bleinheim | III | G | 495 |
| de Castro | Ribca de D. Mozes | September 20, 1897 | September 20, 1897 | Berg Altena | n/a | D | 21 |
| de Castro | David de Mozes | March 2, 1907 | March 3, 1907 | Berg Altena | n/a | D | 22 |
| de Castro | Ilva de Isaac de | September 6, 1948 | September 6, 1948 | Berg Altena | n/a | P | 16 |
| de Castro | Grace (Gracia) | October 9, 1936 | October 10, 1936 | Berg Altena | n/a | P | 17 |
| de Castro | Sarah de Jacob | July 25, 1881 | July 26, 1881 | Berg Altena | n/a | A | 6 |
| de Castro | Jacob | November 6, 1891 | November 8, 1891 | Berg Altena | n/a | A | 7 |
| de Castro | Isaac Moises | October 3, 1825 | October 3, 1925 | Berg Altena | n/a | F | 16 |
| de Castro | Rachel de Isaac M. | November 30, 1899 | December 1, 1899 | Berg Altena | n/a | F | 17 |
| de Castro | Esther Osorio | December 3, 1922 | December 4, 1922 | Berg Altena | n/a | F | 34 |
| de Castro | Jeosuah David | November 3, 1925 | November 4, 1925 | Berg Altena | n/a | F | 40 |
| de Castro | Sarah L. H. | August 13, 1911 | August 13, 1911 | Berg Altena | n/a | F | 41 |
| de Castro | Jacob Isaac | February 2, 1909 | February 2, 1909 | Berg Altena | n/a | G | 22 |
| de Castro | Leah Jesurun Sasporta | August 4, 1906 | August 5, 1906 | Berg Altena | n/a | G | 23 |
| de Castro | Batseba bat David | July 31, 1918 | August 1, 1918 | Berg Altena | n/a | L | 11 |
| de Castro | Clara de David | January 7, 1919 | January 7, 1919 | Berg Altena | n/a | L | 12 |
| de Castro | Clara A. C. de Moses | January 10, 1918 | January 11, 1918 | Berg Altena | n/a | M | 11 |
| de Castro | Moises | Not recorded | August 10, 1921 | Berg Altena | n/a | M | 12 |
| de Castro | Abigail H. | February 6, 1931 | February 6, 1931 | Berg Altena | n/a | O | 1 |
| de Castro | Isaac J. | January 3, 1912 | January 4, 1912 | Berg Altena | n/a | O | 2 |
| de Castro | Sarah | November 26, 1933 | November 26, 1933 | Berg Altena | n/a | O | 3 |
| de Castro | Ester bat Jacob | April 15, 1947 | April 16, 1947 | Berg Altena | n/a | O | 4 |
| de Castro | Frank Benjamin | December 25, 1969 | December 27, 1969 | Berg Altena | n/a | O | 5 |
| de Castro | Sarah Selina Pardo de Benjamin | March 26, 1963 | March 27, 1963 | Berg Altena | n/a | O | 16 |
| de Castro | Benjamin de Jacob | May 29, 1948 | May 30, 1948 | Berg Altena | n/a | O | 17 |
| de Castro | Sarah Hannah | February 26, 1915 | February 26, 1915 | Berg Altena | n/a | P | 6 |
| de Castro | Judith | November 14, 1915 | November 14, 1915 | Berg Altena | n/a | P | 7 |
| de Castro | Salomon Isaac | December 9, 1940 | December 10, 1940 | Berg Altena | n/a | P | 18 |
| de Castro | Hannah (Henny) | October 8, 1939 | October 9, 1939 | Berg Altena | n/a | P | 19 |
| de Castro | Moises Isaac | November 1, 1942 | November 1, 1942 | Berg Altena | n/a | P | 20 |
| de Castro | Ena | September 17, 1975 | September 21, 1975 | Berg Altena | n/a | Q | 9 |
| de Castro | Max de Benjamin | April 17, 1984 | April 19, 1984 | Berg Altena | n/a | QQ | 8 |
| de Castro | Still Born: Son of H. N. | Not recorded | Not recorded | Berg Altena | n/a | Child A | 2 |
| de Castro | Still Born: Son of H. N. | Not recorded | Not recorded | Berg Altena | n/a | Child B | 5 |
| de Castro | Gracia Osorio de David | January 19, 1869 | n/a | Bleinheim | I | E | 113 |
| De Castro | Haim Mosseh | March 26, 1761 | n/a | Bleinheim | V | E | 859 |
| de Castro | Jeudith, widow of Haim Mosseh | March 10, 1785 | n/a | Bleinheim | V | E | 860 |
| De Castro | Selomoh de Moseh | October 24, 1746 | Child | Bleinheim | VI | C | 1018 |
| De Castro | Lea, daughter of Mosseh | December 21, 1751 | Child | Bleinheim | VI | C | 1019 |
| de Castro | Moseh de Selomoh de | July 13, 1840 | n/a | Bleinheim | VIII | D | 1306 |
| de Castro | Rachel Moise | March 24, 1866 | n/a | Bleinheim | XVIII | D | 2412 |
| de Castro | Abigail David | March 1, 1863 | Child | Bleinheim | XVIII | D | 2414 |
| de Castro | Mose de David | Undecipherable | n/a | Bleinheim | XVIII | D | 2415 |
| de Castro | Hanah Moses | December 17, 1877 | n/a | Bleinheim | XVIII | D | 2416 |
| de Castro | Rachel Hana de Jacob Salomon | October 24, 1824 | n/a | Bleinheim | XIX | B | 2474 |
| de Castro | Jeudith Hanah | February 15, 1892 | n/a | Bleinheim | XIX | C | 2496 |
| de Castro | Sarah Hana | March 16, 1898 | n/a | Bleinheim | XIX | C | 2497 |
| de Castro | Alice Antoinette Kolinski | September 11, 2008 | September 14, 2008 | Berg Altena | n/a | RR | 0 |
| De Chaves | Mordechay De Mosseh | July 15, 1732 | Child | Bleinheim | IV | C | 681 |
| De Chaves | Abigail | November 26, 1781 | n/a | Bleinheim | VI | A | 930 |
| De Chaves | Ester, wife of Mosseh | February 17, 1736 | n/a | Bleinheim | VI | A | 931 |
| De Chaves | Mosseh de Abraham | December 1, 1761 | n/a | Bleinheim | VI | A | 932 |
| De Chaves | Ribca Sarah, wife of Mosseh | May 25, 1733 | n/a | Bleinheim | VI | A | 933 |
| De Chaves | Abraham | July 11, 1768 | n/a | Bleinheim | VI | A | 934 |
| De Chaves | Rachel Ribca, widow of Abraham | December 27, 1789 | n/a | Bleinheim | VI | A | 935 |
| De Chaves | Ribca, daughter of Abraham | June 23, 1755 | Child | Bleinheim | VI | B | 984 |
| De Chaves | Ester De Mosseh De Abraham | April 6, 1742 | Child | Bleinheim | VI | B | 985 |
| De Chaves | Ester, daughter of Abraham | January 11, 1760 | Child | Bleinheim | VI | B | 987 |
| De Chaves | Ester, daughter of Mosseh de Abraham | July 17, 1740 | Child | Bleinheim | VI | B | 988 |
| De Chaves | Mosseh, son of Abraham | March 6, 1760 | Child | Bleinheim | VI | B | 991 |
| De Chaves | Mordechay | June 11, 1733 | Child | Bleinheim | VI | B | 992 |
| De Chaves | Miriam | June 2, 1754 | Child | Bleinheim | VI | B | 993 |
| De Chaves | Gracia | January 6, 1798 | Child | Bleinheim | VI | B | 995 |
| de Chaves | Ribca, daughter of Abraham | October 19, 1704 | Child | Bleinheim | VII | E | 1230a |
| de Chaves | Sarah, daughter of Abraham | July 8, 1700 | Child | Bleinheim | VII | E | 1231 |
| de Chaves | Rachel, daughter of Jahacob & Sarah | October 10, 1741 | Child | Bleinheim | XI | D | 1682 |
| de Chaves | Ester, wife of Ishac | September 29, 1755 | n/a | Bleinheim | XII | A | 1702 |
| de Chaves | Yshack | November 22, 1721 | n/a | Bleinheim | XII | A | 1703 |
| de Chaves | Aron de Yshac | November 30, 1759 | n/a | Bleinheim | XII | E | 1809 |
| De Chaves | Rachel, wife of Abraham | September 9, 1705 | n/a | Bleinheim | XV | A | 2063 |
| De Chaves | Abraham | August 21, 1732 | n/a | Bleinheim | XV | B | 2092 |
| De Chaves | Rachel, daughter of Mosseh | August 12, 1731 | Child | Bleinheim | XV | B | 2093 |
| De Chaves | Binyamin | March 29, 1737 | n/a | Bleinheim | XV | C | 2104 |
| De Chaves | Binjamin de Mosseh | December 14, 1744 | Child | Bleinheim | XV | F | 2147 |
| De Chaves | David Jacob | March 28, 1822 | n/a | Bleinheim | XVII | E | 2330 |
| de Chavez | Sara | April 7, 1782 | n/a | Bleinheim | XI | C | 1668 |
| de Correa | Rachel Curiel | January 13, 1878 | n/a | Bleinheim | XVII | D | 2312 |
| de Costa Gomez | Jeosuah | March 3, 1882 | March 3, 1882 | Berg Altena | n/a | C | 3 |
| de Costa Gomez | Sarah H. de Jeosuah | July 30, 1896 | July 30, 1896 | Berg Altena | n/a | C | 4 |
| de Crasto | Rachel, wife of Abraham | January 16, 1755 | n/a | Bleinheim | V | B | 757 |
| de Crasto | Jahacob | March 26, 1755 | n/a | Bleinheim | V | C | 796 |
| de Crasto | Mosseh, son of David | May 8, 1740 | Child | Bleinheim | V | E | 851 |
| De Crasto | Mordechay De Imanuel | October 27, 1750 | n/a | Bleinheim | XIV | C | 2015 |
| De Crasto | Lea De Crasto, wife of Iacob | March 18, 1735 | n/a | Bleinheim | XIV | C | 2020 |
| De Crasto | Rachel, daughter of Iacob | February 2, 1730 | n/a | Bleinheim | XIV | C | 2021 |
| De Crasto | Mordochay, son of David | May 23, 1718 | n/a | Bleinheim | XIV | D | 2039 |
| De Crasto | Rachel, daughter of David | September 7, 1719 | n/a | Bleinheim | XIV | D | 2040 |
| De Crasto | Manuel, son of Mordehay | May 20, 1735 | Child | Bleinheim | XIV | D | 2043 |
| De Crasto | Ester, daughter of Mordegay | April 23, 1742 | Child | Bleinheim | XIV | D | 2046 |
| De Crasto | Sarah, wife of Mordechay | November 6, 1748 | n/a | Bleinheim | XV | E | 2131 |
| De Crasto | Mordechay | November 3, 1783 | n/a | Bleinheim | XV | E | 2132 |
| De Crasto | Rachel, wife of Mordechay | December 18, 1765 | n/a | Bleinheim | XV | E | 2133 |
| De Crasto | Mordechay, son of Ishac de Mordechay | October 18, 1763 | Child | Bleinheim | XV | F | 2144 |
| De Crasto | Sarah, daughter of Haim Iahacob | October 26, 1763 | Child | Bleinheim | XV | F | 2145 |
| De Crasto | Eliaõ de Mordechay | February 15, 1764 | n/a | Bleinheim | XV | F | 2148 |
| De Crasto | Haim Iacob | December 29, 1761 | n/a | Bleinheim | XV | F | 2151 |
| De Crasto | Ester de Abraham | October 31, 1790 | n/a | Bleinheim | XV | G | 2161 |
| De Crasto | Grasia De Abraham | July 29, 1790 | n/a | Bleinheim | XV | G | 2162 |
| De Crasto | Mordechai de Haim Iacob | July 3, 1781 | n/a | Bleinheim | XV | G | 2163 |
| De Crasto | Jshac Hisquiau | December 12, 1775 | n/a | Bleinheim | XV | G | 2164 |
| De Crasto | Ieosuah | December 9, 1789 | n/a | Bleinheim | XV | G | 2165 |
| de Crasto | David de Moseh | July 14, 1836 | n/a | Bleinheim | XVIII | A | 2353 |
| de Crasto | Batsebah de David | Undecipherable | n/a | Bleinheim | XVIII | A | 2354 |
| de Faulborn | Olga Lopez Henriquez | November 6, 1961 | November 6, 1961 | Berg Altena | n/a | AA | 14 |
| de Jong | Edna Lopez Penha | July 11, 2006 | July 14, 2006 | Berg Altena | n/a | TF | 40 |
| de Jong | Jan | June 25, 2001 | June 27, 2001 | Berg Altena | n/a | TF | 41 |
| de Jong | Sara, wife of Isaac de Abraham Uri | May 19, 1942 | n/a | Bleinheim | VIII | Q | 1409a |
| de Jongh | Rebecca | May 29, 1966 | Not recorded | Berg Altena | n/a | TA | 12 |
| de Jongh | Bertha Osorio | October 9, 1925 | Not recorded | Berg Altena | n/a | TA | 13 |
| de Jongh | Dr. Salomon Joseph | June 8, 1849 | n/a | Bleinheim | XVII | E | 2337 |
| de Jongh | Rebecca Delvalle, widow of Dr. Salomon Joseph | September 23, 1888 | n/a | Bleinheim | XVII | E | 2338 |
| de La Roza | Binjamin | December 14, 1749 | n/a | Bleinheim | IX | B | 1418 |
| de Laroza | Ishac Haim | June 2, 1761 | Child | Bleinheim | IX | C | 1436 |
| De Leao | Jahacob Hisquiao | February 24, 1760 | n/a | Bleinheim | VII | A | 1067 |
| de Leao | Abraham Hisquiao | June 18, 1694 | n/a | Bleinheim | VII | B | 1111 |
| De Leao | Abraham Yskiau | June 18, 1695 | n/a | Bleinheim | VII | B | 1112 |
| De Leao | Raquel | January 2, 1698 | n/a | Bleinheim | VII | B | 1113 |
| de Leao | Reyna, wife of Abraham | October 30, 1732 | n/a | Bleinheim | XIII | C | 1870 |
| de Leaõ | Samuel | February 22, 1701 | n/a | Bleinheim | XV | A | 2076 |
| de Leao Laguna | Catharina Ouds | March 2, 1918 | Not recorded | Berg Altena | n/a | TF | 9-A |
| de Leao Laguna | Mozes Lopes | December 31, 1917 | Not recorded | Berg Altena | n/a | TF | 9-B |
| de Leon | Hannah | Not recorded | June 9, 1889 | Berg Altena | n/a | A | 15 |
| de Leon | Sarah | Not recorded | April 9, 1901 | Berg Altena | n/a | A | 30 |
| de Leon | Lunah | January 17, 1906 | January 17, 1906 | Berg Altena | n/a | A | 36 |
| de Leon | Rachel | November 27, 1909 | November 27, 1909 | Berg Altena | n/a | A | 37 |
| de Leon | Sophia | October 15, 1917 | October 15, 1917 | Berg Altena | n/a | A | 38 |
| de Leon | Sarah Jesurun | December 16, 1900 | Not recorded | Berg Altena | n/a | TA | 32 |
| de Leon | Dr. Salomon | January 18, 1865 | Not recorded | Berg Altena | n/a | TA | 33 |
| de Leon | Sarah, wife of Abraham | October 22, 1737 | n/a | Bleinheim | VII | B | 1114 |
| de Leon | Yshack, son of Abraham & Sarah | February 13, 1715 | n/a | Bleinheim | VII | B | 1115 |
| de Leon | Leah | 1872 | n/a | Bleinheim | IX | F | 1462 |
| de Leon | Anjel | January 22, 1857 | Child | Bleinheim | XVII | A | 2246 |
| de Leon | Morris S. | March 5, 1863 | n/a | Bleinheim | XVII | B | 2270 |
| de Lima | Elias Hizquiao de Haim A. | March 21, 1860 | Child | Bleinheim | I | D | 78 |
| de Lima | Clara A. | March 10, 1890 | n/a | Bleinheim | VIII | F | 1318 |
| de Lima Dovale | Rachel | June 13, 1833 | n/a | Bleinheim | VIII | F | 1325 |
| de Marchena | Enrique | January 6, 1945 | January 6, 1945 | Berg Altena | n/a | B | 37 |
| de Marchena | Benjamin | November 28, 1887 | November 29, 1887 | Berg Altena | n/a | E | 5 |
| de Marchena | Clara de Benjamin | April 23, 1890 | April 24, 1890 | Berg Altena | n/a | E | 6 |
| de Marchena | Ricot | July 7, 1928 | July 7, 1928 | Berg Altena | n/a | G | 0 |
| de Marchena | Abraham Isaac | May 26, 1898 | May 27, 1898 | Berg Altena | n/a | G | 6 |
| de Marchena | Leah Alvarez Correa de Abraham Isaac | April 12, 1899 | April 12, 1899 | Berg Altena | n/a | G | 7 |
| de Marchena | Esther | July 1, 1902 | July 2, 1902 | Berg Altena | n/a | G | 11 |
| de Marchena | Ricot | March 31, 1912 | March 31, 1912 | Berg Altena | n/a | G | 12 |
| de Marchena | Leah | January 5, 1913 | January 6, 1913 | Berg Altena | n/a | G | 13 |
| de Marchena | Sarah S. | November 22, 1968 | November 23, 1968 | Berg Altena | n/a | J | 23 |
| de Marchena | Moises | February 4, 1950 | February 5, 1950 | Berg Altena | n/a | J | 24 |
| de Marchena | Ernesto | December 30, 1951 | December 31, 1951 | Berg Altena | n/a | K | 25 |
| de Marchena | Abigail M. Chumaceiro de Ephraim | October 28, 1863 | October 28, 1932 | Berg Altena | n/a | M | 22 |
| de Marchena | Efraim | May 14, 1931 | May 14, 1931 | Berg Altena | n/a | M | 23 |
| de Marchena | Alicia de Ic | December 14, 1946 | December 18, 1946 | Berg Altena | n/a | N | 5 |
| de Marchena | Clara Lopez Penha | November 29, 1913 | November 30, 1913 | Berg Altena | n/a | N | 6 |
| de Marchena | Isaac M. | December 6, 1924 | December 6, 1924 | Berg Altena | n/a | N | 7 |
| de Marchena | Arturo P. | September 20, 1945 | September 22, 1945 | Berg Altena | n/a | N | 8 |
| de Marchena | Julia Alvarez Correa | January 6, 1934 | January 6, 1934 | Berg Altena | n/a | N | 9 |
| de Marchena | Elias | November 30, 1914 | December 1, 1914 | Berg Altena | n/a | N | 10 |
| de Marchena | Oscar | June 30, 1918 | July 1, 1918 | Berg Altena | n/a | O | 13 |
| de Marchena | Elvira de Marchena | November 19, 1967 | November 20, 1967 | Berg Altena | n/a | P | 23 |
| de Marchena | Mordechai (Guigui) | January 25, 1953 | January 25, 1953 | Berg Altena | n/a | P | 24 |
| de Marchena | Carlos | February 20, 2014 | Febr. 24, 2014 | Berg Altena | n/a | AA | 12 |
| de Marchena | Roberto | March 17, 1998 | March 20, 1998 | Berg Altena | n/a | AA | 17 |
| de Marchena | Armando de Moshe y Sarah | July 6, 2010 | July 8, 2010 | Berg Altena | n/a | MM | 40 |
| de Marchena | Still Born: Son of M. B. | Not recorded | Not recorded | Berg Altena | n/a | Child B | 4 |
| de Marchena | Lucila Pinedo de David Jr. | January 11, 1932 | January 12, 1932 | Berg Altena | n/a | Q | 5 |
| de Marchena | David Jr. | May 23, 1932 | May 24, 1932 | Berg Altena | n/a | Q | 6 |
| de Marchena | Mario de Ephraim | November 9, 1971 | November 10, 1971 | Berg Altena | n/a | LL | 22 |
| de Marchena | Atilio de Ephraim | July 23, 1977 | July 24, 1977 | Berg Altena | n/a | LL | 23 |
| de Marchena | Sara Capriles | Not recorded | March 7, 1975 | Berg Altena | n/a | LL | 24 |
| de Marchena | Still Born: Son of David, Jr. | Not recorded | Not recorded | Berg Altena | n/a | Child B | 3 |
| De Marchena | Jael Curiel | April 6, 1892 | n/a | Bleinheim | I | A | 6 |
| De Marchena | Mordechay | July 6, 1875 | n/a | Bleinheim | I | A | 7 |
| De Marchena | Moises Jr. | October 21, 1875 | n/a | Bleinheim | I | A | 10 |
| De Marchena | Isaac | February 28, 1877 | n/a | Bleinheim | I | B | 21 |
| De Marchena | Ester de Isaac | April 29, 1864 | n/a | Bleinheim | I | B | 22 |
| de Marchena | Mosseh de Isaac | No date | n/a | Bleinheim | I | B | 24 |
| de Marchena | Mordehay | No date | n/a | Bleinheim | I | B | 26 |
| de Marchena | Eliao de Abraham de | April 12, 1823 | n/a | Bleinheim | I | B | 37 |
| de Marchena | Ragel de Isaac de | January 8, 1824 | n/a | Bleinheim | I | B | 38 |
| de Marchena | Ishac de Abraham | April 7, 1821 | n/a | Bleinheim | I | C | 64 |
| de Marchena | Ester de Ishac | Junuary 11, 1822 | n/a | Bleinheim | I | C | 65 |
| de Marchena | Abraham M. | August 17, 1908 | n/a | Bleinheim | I | E | 104 |
| de Marchena | Mosseh Hisquiao de Ishac de Abraham | April 19, 1776 | Child | Bleinheim | IV | A | 547 |
| de Marchena | Ester | June 7, 1771 | n/a | Bleinheim | VII | A | 1033 |
| de Marchena | Ishac | November 16, 1730 | n/a | Bleinheim | VII | A | 1035 |
| de Marchena | Aron | March 5, 1716 | n/a | Bleinheim | VII | A | 1038 |
| de Marchena | Ishack | July 14, 1711 | n/a | Bleinheim | VII | A | 1045 |
| de Marchena | Abraham | December 5, 1801 | n/a | Bleinheim | VII | B | 1074 |
| de Marchena | Rachel de Abraham | June 2, 1794 | n/a | Bleinheim | VII | B | 1075 |
| de Marchena | Rachel de Isaac de Abraham | April 29, 1768 | Child | Bleinheim | VII | B | 1098 |
| de Marchena | Ishac De Ishac | March 4, 1760 | Child | Bleinheim | VII | B | 1102 |
| de Marchena | Mordechay, son of Isak & Ester | December 3, 1731 | Child | Bleinheim | VII | B | 1108 |
| de Marchena | Abraham, son of Ishac de Abraham | April 28, 1768 | Child | Bleinheim | VII | B | 1109 |
| de Marchena | Rachel, wife of Ishac | March 24, 1787 | n/a | Bleinheim | VII | C | 1119 |
| de Marchena | Rachel, daughter of Yshac | October 9, 1691 | n/a | Bleinheim | VII | D | 1182a |
| de Marchena | Sara Simha, wife of Abraham | April 25, 1691 | n/a | Bleinheim | VII | D | 1187 |
| de Marchena | David Rephael | September 21, 1692 | n/a | Bleinheim | VII | D | 1188 |
| de Marchena | Ester de Gabriel | May 31, 1852 | n/a | Bleinheim | VIII | K | 1357 |
| de Marchena | Rachel Penso | October 14, 1927 | n/a | Bleinheim | IX | M | 1525 |
| de Marchena | Sara | January 21, 1689 | n/a | Bleinheim | XI | A | 1630 |
| de Marchena | Mose | August 8, 1847 | n/a | Bleinheim | XVIII | C | 2385 |
| de Marchena | Abigail de Mose | November 6, 1816 | n/a | Bleinheim | XVIII | C | 2386 |
| de Marchena | Abraham | August 29, 1848 | n/a | Bleinheim | XVIII | C | 2387 |
| de Marchena | Ester de Abraham | November 21, 1814 | n/a | Bleinheim | XVIII | C | 2388 |
| De Matos Gutteres | Sarah, wife of Aron | November 27, 1747 | n/a | Bleinheim | III | F | 488 |
| De Mattos | David | January 3, 1751 | n/a | Bleinheim | III | E | 433 |
| De Mattos | Sara Ribca | November 20, 1743 | n/a | Bleinheim | III | E | 434 |
| De Medina | Moseh De Ishac | September 11, 1780 | n/a | Bleinheim | IV | C | 611 |
| De Medina | Ester | June 4, 1763 | n/a | Bleinheim | XIII | D | 1903 |
| De Medina | Selomoh | January 6, 1717 | n/a | Bleinheim | XIII | D | 1904 |
| de Medina | Ishac Rephael | March 20, 1775 | n/a | Bleinheim | XIII | E | 1929 |
| de Mendes | Sara | February 14, 1840 | n/a | Bleinheim | XVIII | C | 2394 |
| de Mendez | Gracia | June 30, 1899 | n/a | Bleinheim | VIII | H | 1341 |
| de Mercado | Grasia | May 25, 1707 | n/a | Bleinheim | XI | C | 1665 |
| de Meza | Ragel | February 9, 1736 | n/a | Bleinheim | XII | B | 1762 |
| De Meza | Abraham H. | April 30, 1846 | n/a | Bleinheim | XVII | E | 2335 |
| De Meza | Esther wife of Abraham H. | March 11, 1854 | n/a | Bleinheim | XVII | E | 2336 |
| De Meza Myerston | Rebecca | July 17, 1894 | n/a | Bleinheim | XVII | E | 2339 |
| De Molina | Hazan Ribi David | August 22, 1781 | n/a | Bleinheim | V | A | 714 |
| De Molina | Ribca, widow of David | April 20, 1787 | n/a | Bleinheim | V | A | 715 |
| De Molina | Moseh | January 11, 1766 | n/a | Bleinheim | V | B | 760 |
| De Molina | Abraham | April 12, 1746 | n/a | Bleinheim | V | B | 761 |
| De Molina | Hizquiau Iahacob | April 18, 1769 | n/a | Bleinheim | V | E | 875 |
| de Molina | Simha | October 4, 1766 | n/a | Bleinheim | VII | A | 1039 |
| de Molina | Ribca, daughter of David & Ribca | March 3, 1736 | Child | Bleinheim | VII | B | 1084 |
| de Molina | Abraham | August 21, 1691 | n/a | Bleinheim | VII | D | 1198 |
| de Molina | Clara | October 27, 1787 | n/a | Bleinheim | VIII | B | 1262 |
| de Molina | Aron | June 11, 1789 | n/a | Bleinheim | VIII | B | 1263 |
| de Montes | Abraham, son of David | July 2, 1758 | Child | Bleinheim | VII | E | 1222 |
| de Penso | Jael Suares | November 8, 1867 | n/a | Bleinheim | VIII | C | 1280 |
| De Ribera | Abraham | December 8, 1740 | n/a | Bleinheim | V | C | 789 |
| De Sarate | Iacob Haim Ysrael | February 5, 1737 | n/a | Bleinheim | XIII | D | 1905 |
| de Sola | Grace | April 14, 1888 | April 14, 1888 | Berg Altena | n/a | F | 10 |
| de Sola | Amethyst | December 1, 1898 | December 1, 1898 | Berg Altena | n/a | F | 11 |
| de Sola | Raquel de Jos. | August 2, 1895 | August 3, 1895 | Berg Altena | n/a | F | 12 |
| de Sola | Jacob Joshua | June 21, 1895 | June 21, 1895 | Berg Altena | n/a | F | 14 |
| de Sola | Joshua de Moshe | May 20, 1896 | May 21, 1896 | Berg Altena | n/a | F | 15 |
| de Sola | Moses | September 30, 1912 | September 30, 1912 | Berg Altena | n/a | G | 16 |
| de Sola | Rachel Roselfina | July 18, 1906 | July 19, 1906 | Berg Altena | n/a | G | 18 |
| de Sola | Haim Salomon | February 18, 1921 | February 19, 1921 | Berg Altena | n/a | G | 19 |
| de Sola | Sarah A. de Lima de Haim | July 30, 1907 | July 31, 1907 | Berg Altena | n/a | G | 20 |
| de Sola | Esther | December 29, 1916 | December 29, 1916 | Berg Altena | n/a | M | 8 |
| de Sola | Sarah de Josuah | April 3, 1953 | April 4, 1953 | Berg Altena | n/a | M | 9 |
| de Sola | Rebecca de Josuah | November 8, 1953 | November 9, 1953 | Berg Altena | n/a | M | 10 |
| de Sola | Rose Alvarez Correa de Abraham | December 8, 1954 | December 9, 1954 | Berg Altena | n/a | N | 26 |
| de Sola | Abraham | September 20, 1932 | September 21, 1932 | Berg Altena | n/a | N | 27 |
| de Sola | Ribca Ellen (Rebecca) | October 17, 1927 | October 18, 1927 | Berg Altena | n/a | P | 14 |
| de Sola | Florence | May 3, 1930 | May 3, 1930 | Berg Altena | n/a | P | 15 |
| de Sola | Edmund Marius | Not recorded | August 21, 1975 | Berg Altena | n/a | MM | 10 |
| de Sola | Samuel Maduro | February 3, 1940 | February 4, 1940 | Berg Altena | n/a | NN | 3 |
| de Sola | Deborah Beatriz Salas eshet Samuel | February 17, 1996 | February 20, 1996 | Berg Altena | n/a | NN | 4 |
| de Sola | Infant of Abraham and Rose | March 15, 1905 | March 15, 1905 | Berg Altena | n/a | Child A | 7 |
| de Sola | Still Born: Son of Jacob Haim | Not recorded | August 23, 1908 | Berg Altena | n/a | Child B | 11 |
| de Sola | Madeleine Lückmann eshet Jaime Hernan | September 1, 2016 | September 5, 2016 | Berg Altena | n/a | NN | 22 |
| de Sola | Elias Jacob Jr. | July 16, 1893 | July 16, 1893 | Berg Altena | n/a | F | 13 |
| de Sola | Leah, Daughter of Joshua and Abigail | December 27, 1872 | Child | Bleinheim | I | B | 30 |
| De Sola | Rachel, Daughter of Joshua and Abigail | August 18, 1876 | n/a | Bleinheim | I | C | 52 |
| De Sola | Hannah | May 15, 1836 | n/a | Bleinheim | I | D | 83 |
| De Sola | Jeosuah | February 9, 1839 | n/a | Bleinheim | I | D | 84 |
| de Sola | Leonie, daughter of Benjamin and Leah | September 28, 1868 | Child | Bleinheim | I | E | 105 |
| de Sola | George, son of Moses and Roselfina | January 8, 1874 | Child | Bleinheim | I | E | 106 |
| de Sola | Jacob | June 26, 1867 | n/a | Bleinheim | I | E | 107 |
| de Sola | Abigail Leon, daughter of Josuah | August 6, 1837 | n/a | Bleinheim | I | E | 118 |
| De Sola | Mordecai | May 28, 1859 | Child | Bleinheim | I | G | 161 |
| De Sola | Isaac Jesurun | March 13, 1875 | Child | Bleinheim | I | G | 162 |
| De Sola | Haim H. De Sola, son of Joshua & Abigail | February 4, 1865 | Child | Bleinheim | I | G | 163 |
| De Sola | Oliver B. Jr | March 2, 1875 | Child | Bleinheim | I | G | 164 |
| de Sola | Hisquiao Binjamin de Ishac | May 14, 1791 | n/a | Bleinheim | II | E | 322 |
| de Sola | Benjamin Haim de Jacob | January 15, 1786 | Child | Bleinheim | III | A | 384 |
| de Sola | Rachel, daughter of Jacob | April 20, 1795 | n/a | Bleinheim | III | A | 385 |
| de Sola | Jahacob | September 30, 1812 | n/a | Bleinheim | III | A | 386 |
| de Sola | Ester, daughter of Jeosuah | September 19, 1812 | n/a | Bleinheim | III | D | 413 |
| de Sola | Ishac de Iacob | December 23, 1774 | Child | Bleinheim | IV | C | 648 |
| De Sola | Henny | August 15, 1924 | n/a | Bleinheim | IX | M | 1516 |
| De Sola | Daniel | January 30, 1896 | n/a | Bleinheim | IX | M | 1517 |
| De Sola | Sarah | March 31, 1898 | n/a | Bleinheim | IX | M | 1518 |
| De Sola | Joshua | April 11, 1878 | n/a | Bleinheim | IX | M | 1519 |
| De Sola | Abigail Cohen Henriquez, wife of Joshua | January 3, 1901 | n/a | Bleinheim | IX | M | 1520 |
| De Sola | Leah B. | October 27, 1878 | n/a | Bleinheim | IX | M | 1521 |
| De Sola | Benjamin, Jr | March 21, 1922 | n/a | Bleinheim | IX | M | 1522 |
| de Sola | Aaron | March 24, 1824 | n/a | Bleinheim | XVI | B | 2179 |
| de Solas | Lea | December 30, 1817 | n/a | Bleinheim | III | A | 387 |
| De Solas | Dr. Benjamin de Benjamin | October 23, 1817 | n/a | Bleinheim | XVI | C | 2202 |
| de Solla | Hisquiau Iahacob Haim de Ishac | July 7, 1788 | n/a | Bleinheim | II | E | 321 |
| De Sosa Mendes | Ester De Sosa, wife of Abraham | February 21, 17007 | n/a | Bleinheim | XV | C | 2106 |
| De Sousa Mendes | Abraham | September 27, 1709 | n/a | Bleinheim | XV | C | 2105 |
| de Souza Brito | Hana Rachel | March 23, 1768 | n/a | Bleinheim | XIV | D | 2055 |
| de Souza Britto | Leah, wife of David | August 30, 1785 | n/a | Bleinheim | III | B | 394 |
| De Souza Britto | Gabriel | June 15, 1790 | n/a | Bleinheim | XV | F | 2155 |
| De Souza Britto | Clara de Gabriel | February 25, 1830 | n/a | Bleinheim | XV | F | 2157 |
| de Waard | Theo | March 4, 2013 | March 6, 2013 | Berg Altena | n/a | LL | 47 |
| Deleon | Isaac de Jacob | January 5, 1804 | n/a | Bleinheim | IX | D | 1444 |
| Delgado | Daniel | November 28, 1716 | n/a | Bleinheim | XIII | A | 1855 |
| Delvalle | Sarah Penso | December 19, 1960 | December 20, 1960 | Berg Altena | n/a | C | 39 |
| Delvalle | Harold de Eliao | December 14, 1979 | December 16, 1979 | Berg Altena | n/a | C | 40 |
| Delvalle | Alvin | January 12, 1968 | January 13, 1968 | Berg Altena | n/a | C | 45 |
| Delvalle | Vera | April 4, 1995 | April 7, 1995 | Berg Altena | n/a | C | 46 |
| Delvalle | Salomon de Jacob Shalom | February 6, 1940 | February 7, 1940 | Berg Altena | n/a | E | 45 |
| Delvalle | Judith bat Jacob | August 1, 1954 | August 10, 1954 | Berg Altena | n/a | E | 46 |
| Delvalle | Jacob Benjamin | March 10, 1920 | March 11, 1920 | Berg Altena | n/a | F | 27 |
| Delvalle | Hannah de Jacob | | July 13, 1901 | Berg Altena | n/a | F | 28 |
| Delvalle | Joshua Henriquez | January 8, 1930 | February 5, 1930 | Berg Altena | n/a | G | 26 |
| Delvalle | Jacob hijo de Benjamin Jacob | September 12, 1910 | September 13, 1910 | Berg Altena | n/a | H | 21 |
| Delvalle | Benjamin Jacob | September 27, 1949 | September 27, 1949 | Berg Altena | n/a | H | 23 |
| Delvalle | Serafina Maduro Lopez de | March 5, 1975 | March 6, 1975 | Berg Altena | n/a | H | 24 |
| Delvalle | Hannah bat Benjamin Jacob | January 6, 1997 | January 8, 1997 | Berg Altena | n/a | H | 25 |
| Delvalle | Zoraya Cohen Henriquez eshet Alberto | November 20, 1993 | November 21, 1993 | Berg Altena | n/a | AA | 18 |
| Delvalle | Eunice | May 3, 2020 | May 5, 2020 | Berg Altena | n/a | AA | 20 |
| Delvalle | Ruth de Benjamin | November 21, 2003 | November 23, 2003 | Berg Altena | n/a | LL | 34 |
| Delvalle | Frank de Elias | March 23, 1992 | March 24, 1992 | Berg Altena | n/a | MM | 21 |
| Delvalle | Rebecca Robles eshet Frank | September 8, 1995 | September 10, 1995 | Berg Altena | n/a | MM | 22 |
| Delvalle | Elias Penso | February 12, 1927 | February 12, 1927 | Berg Altena | n/a | C | 38 |
| Delvalle | Jacob | June 30, 1877 | n/a | Bleinheim | X | H | 1580 |
| Delvalle | Elias | June 18, 1900 | n/a | Bleinheim | X | H | 1582 |
| Delvalle | Dilia | November 18, 1912 | n/a | Bleinheim | X | H | 1583 |
| Delvalle | Abigail | 1896 | n/a | Bleinheim | XVII | D | 2319 |
| Delvalle | Hana Ribca Adel | August 16, 1839 | n/a | Bleinheim | XVIII | C | 2390 |
| Delvalle | Simcha Mendes Chumaceiro de | May 23, 1913 | October 18, 1916 | Berg Altena | n/a | N | 15 |
| Delvalle | Jacob | August 5, 1928 | August 6, 1928 | Berg Altena | n/a | N | 16 |
| Delvalle | Raquel | August 6, 1928 | August 7, 1928 | Berg Altena | n/a | N | 17 |
| Delvalle de Jongh | Abraham | July 3, 1917 | Not recorded | Berg Altena | n/a | TA | 14 |
| Delvalle Henriquez | David | November 10, 1937 | November 11, 1937 | Berg Altena | n/a | E | 43 |
| Delvalle Henriquez | Clara Alvarez Correa eshet David | August 1, 1925 | August 2, 1925 | Berg Altena | n/a | E | 44 |
| Delvalle Henriquez | Delia | February 11, 1919 | February 12, 1919 | Berg Altena | n/a | G | 30 |
| Delvalle Henriquez | Leah | September 24, 1927 | September 25, 1927 | Berg Altena | n/a | G | 31 |
| Delvalle Henriquez | Jeudith | June 5, 1929 | June 6, 1929 | Berg Altena | n/a | G | 32 |
| Delvalle Henriquez | Ricot | April 12, 1939 | April 13, 1939 | Berg Altena | n/a | G | 33 |
| Delvalle Henriquez | Rachel Rosalvina | September 22, 1942 | September 23, 1942 | Berg Altena | n/a | J | 13 |
| Delvalle Henriquez | Salomon | September 30, 1946 | October 1, 1946 | Berg Altena | n/a | J | 14 |
| Delvalle Henriquez | Henry | January 18, 1946 | January 18, 1946 | Berg Altena | n/a | J | 17 |
| Delvalle Henriquez | David de Moise | February 14, 1949 | February 17, 1949 | Berg Altena | n/a | M | 0 |
| Delvalle Henriquez | Mary Penso | May 14, 1918 | May 14, 1918 | Berg Altena | n/a | M | 1 |
| Delvalle Henriquez | M. | June 9, 1913 | June 30, 1913 | Berg Altena | n/a | M | 2 |
| Delvalle Henriquez | Henny Alvarez Correa de Abraham | August 2, 1926 | August 2, 1926 | Berg Altena | n/a | M | 4 |
| Delvalle Henriquez | Abraham | August 5, 1913 | August 6, 1913 | Berg Altena | n/a | M | 5 |
| Delvalle Henriquez | Alberto de Manuel | November 21, 1979 | November 22, 1979 | Berg Altena | n/a | AA | 19 |
| Delvalle Henriquez | Salomon | April 1, 1903 | April 2, 1903 | Berg Altena | n/a | F | 31 |
| Delvalle Henriquez | Abigail P. | December 28, 1892 | n/a | Bleinheim | VIII | A | 1258 |
| Diament | Samuel | July 20, 1963 | Not recorded | Berg Altena | n/a | II | 14 |
| Dias | Abraham | June 12, 1750 | n/a | Bleinheim | V | E | 847 |
| Dias | David Rephael | May 28, 1731 | n/a | Bleinheim | VI | A | 941 |
| Dias Coitiño | Rahel, daughter of Abraham | February 27, 1743 | Child | Bleinheim | III | E | 441 |
| Dias Cotiño | Rachel, wife of Abraham | September 21, 1742 | n/a | Bleinheim | VI | B | 967 |
| Dias Coutiño | Sarah Hana, wife of Abraham | September 26, 1746 | n/a | Bleinheim | VI | B | 964 |
| Dias Guadalupe | Jacob | December 17, 1754 | n/a | Bleinheim | V | A | 699 |
| Dias Guadalupe | Sara | December 20, 1754 | n/a | Bleinheim | V | C | 791 |
| Diaz | Abigail, wife of Abraham | October 28, 1780 | n/a | Bleinheim | V | E | 846 |
| Diaz | Yeudith Dias, wife of David Rephael | August 15, 1739 | n/a | Bleinheim | VI | A | 940 |
| Diaz Carvalho | Jahacob Haim | November 24, 1743 | n/a | Bleinheim | VI | B | 963 |
| Diwan | Marco | July 31, 1954 | July 31, 1954 | Berg Altena | n/a | F | 49 |
| Djerment | Berisch | April 21, 1948 | n/a | Bleinheim | VIII | Q | 1409m |
| Do Vale | David | June 26, 1741 | n/a | Bleinheim | VI | B | 966 |
| Do Vale | Rahel | February 26, 1678 | n/a | Bleinheim | XIII | F | 1944 |
| Dorer | Issaia | March 16, 1972 | Not recorded | Berg Altena | n/a | HH | 6 |
| Dorer | Lea Tocman | October 19, 1994 | Not recorded | Berg Altena | n/a | HH | 5 |
| Douale | Sara, daughter of Iosiau | December 4, 1754 | Child | Bleinheim | III | E | 447 |
| Dovale | Sally J. | February 3, 1876 | Not recorded | Berg Altena | n/a | TG | 28 |
| Dovale | Esther J. | December 3, 1909 | Not recorded | Berg Altena | n/a | TH | 11 |
| Dovale | Sally | March 16, 1907 | Not recorded | Berg Altena | n/a | TH | 12 |
| Dovale | Esther | April 10, 1899 | Not recorded | Berg Altena | n/a | TH | 13 |
| Dovale | David J. | December 25, 1897 | Not recorded | Berg Altena | n/a | TH | 16 |
| Dovale | Rebecca Alva | June 17, 1898 | Not recorded | Berg Altena | n/a | TH | 17 |
| Dovale | Ricot | January 29, 1883 | Not recorded | Berg Altena | n/a | TH | 21 |
| Dovale | Hannah | December 21, 1882 | Not recorded | Berg Altena | n/a | TH | 22 |
| Dovale | Rebecca | November 2, 1902 | Not recorded | Berg Altena | n/a | TH | 23 |
| Dovale | Abraham J. | April 19, 1881 | Not recorded | Berg Altena | n/a | TH | 24 |
| Dovale | David H. | October 6, 1880 | Not recorded | Berg Altena | n/a | TH | 25 |
| Dovale | David, son of Iosiav | November 17, 1750 | Child | Bleinheim | III | E | 443 |
| Dovale | Sara, daughter of Iosiau | November 17, 1750 | Child | Bleinheim | III | E | 448 |
| Dovale | Hanah, daughter of Eliao | May 14, 1791 | Child | Bleinheim | III | E | 465 |
| Dovale | Abraham | October 9, 1757 | n/a | Bleinheim | III | E | 467 |
| Dovale | Sara, wife of Josiau | March 8, 1788 | n/a | Bleinheim | III | F | 481 |
| Dovale | Josiau | February 1, 1773 | n/a | Bleinheim | III | F | 482 |
| Dovale | Ester | July 17, 1729 | n/a | Bleinheim | V | E | 845 |
| Dovale | leudah, son of David Haim | March 23, 1793 | Child | Bleinheim | VIII | D | 1300 |
| Dovale | David Haim | January 9, 1827 | n/a | Bleinheim | VIII | E | 1312 |
| Dovale | Ribca Alva, wife of David Haim | June 30, 1840 | n/a | Bleinheim | VIII | E | 1313 |
| Dovale | Jeudah Haim | May 15, 1844 | n/a | Bleinheim | VIII | F | 1324 |
| Dovale | E. J. | No date | n/a | Bleinheim | VIII | F | 1326 |
| Dovale | M. J. | No date | n/a | Bleinheim | VIII | F | 1327 |
| Dovale | Sarah Abinun de Lima de Isaac | October 25, 1884 | n/a | Bleinheim | VIII | M | 1375 |
| Dovale | Isaac Josias | June 19, 1871 | n/a | Bleinheim | VIII | M | 1376 |
| Dovale | L. J. | No date | n/a | Bleinheim | VIII | N | 1386 |
| Dovale | S. de J. | No date | n/a | Bleinheim | VIII | P | 1406 |
| Dovale | Heni | April 11, 1907 | n/a | Bleinheim | VIII | P | 1407 |
| Dovale | Sarah de David | April 10, 1862 | n/a | Bleinheim | XVII | B | 2271 |
| Dovale | David | March 18, 1860 | n/a | Bleinheim | XVII | B | 2272 |
| Dovale Mendez | Estherlinda | July 14, 1963 | Not recorded | Berg Altena | n/a | TF | 34 |
| E. D. M. | | No date | n/a | Bleinheim | VIII | P | 1403 |
| Enriquez Cotino | Iacob De Yshack | November 9, 1686 | n/a | Bleinheim | XIII | D | 1887 |
| Ergas | David | October 1, 1762 | n/a | Bleinheim | IX | C | 1430 |
| Eskenazi | Sara Amon eshet Mauricio | August 1, 1989 | August 2, 1989 | Berg Altena | n/a | QQ | 0 |
| Eskenazi | Mauricio de Abraham | June 13, 1978 | June 14, 1978 | Berg Altena | n/a | QQ | 1 |
| Ettedgui | Lillian de Sola de Salomon A. | November 2, | November 3, 1949 | Berg Altena | n/a | M | 13 |
| Ettedgui | Salomon A. | February 25, 1918 | February 26, 1918 | Berg Altena | n/a | M | 14 |
| Ettedqui | Still Born: Son of Solomon | January 10, 1910 | January 10, 1910 | Berg Altena | n/a | Child A | 11 |
| Ezra | Meriam Naar, Relict of Michael | March 29, 1863 | n/a | Bleinheim | XVII | D | 2321 |
| Faerman | Clara | September 30, 2011 | Not recorded | Berg Altena | n/a | FF | FF-A |
| Faerman | Josif | December 25, 1973 | Not recorded | Berg Altena | n/a | HH | 3 |
| Faerman | Ruchel | August 28, 1964 | Not recorded | Berg Altena | n/a | HH | 15 |
| Farro Mesquita | Mosseh | February 7, 1763 | n/a | Bleinheim | IV | C | 669 |
| Fefel | Nathan | Not recorded | May 11, 1916 | Berg Altena | n/a | H | 38 |
| Feigenbaum | Isaac | October 6, 1963 | October 7, 1963 | Berg Altena | n/a | K | 29 |
| Fidanque | Rachel Osorio de Gabriel | January 26, 1888 | January 26, 1888 | Berg Altena | n/a | F | 7 |
| Fidanque | Rachel Emma | March 9, 1929 | March 10, 1929 | Berg Altena | n/a | G | 41 |
| Fidanque | Esther | March 16, 1941 | March 16, 1941 | Berg Altena | n/a | G | 42 |
| Fidanque | Rebecca de Joseph | November 18, 1891 | November 18, 1891 | Berg Altena | n/a | H | 2 |
| Fidanque | David | October 28, 1896 | October 29, 1896 | Berg Altena | n/a | H | 5 |
| Fidanque | Sarah | February 22, 1907 | February 22, 1907 | Berg Altena | n/a | H | 8 |
| Fidanque | Batzebah Hana, daughter of Abraham Haim | November 27, 1783 | Child | Bleinheim | II | E | 356 |
| Fidanque | Batsebah Hana, wife of Yacob | March 23, 1772 | n/a | Bleinheim | IV | A | 555 |
| Fidanque | Iahacob | July 11, 1791 | n/a | Bleinheim | IV | A | 556 |
| Fidanque | Mosseh Hisquiau | December 18, 1776 | n/a | Bleinheim | IV | A | 557 |
| Fidanque | Sara, wife of Josseph | July 5, 1768 | n/a | Bleinheim | IV | B | 597 |
| Fidanque | Josseph | April 6, 1748 | n/a | Bleinheim | IV | B | 598 |
| Fidanque | Haim Eliau | February 12, 1762 | n/a | Bleinheim | IV | B | 599 |
| Fidanque | Joseph de Eliao | December 9, 1753 | Child | Bleinheim | IV | C | 660 |
| Fidanque | Abraham, son of Jacob & Batzebah | November 7, 1754 | n/a | Bleinheim | IV | C | 662 |
| Fidanque | Ishac, son of Joseph & Sara | July 30, 1724 | Child | Bleinheim | V | E | 869 |
| Fidanque | Mordechay Hisquiao | October 30, 1826 | n/a | Bleinheim | XIII | D | 1915 |
| Fidanque | Ribcah de Mordechai | August 19, 1845 | n/a | Bleinheim | XIII | D | 1916 |
| Fidanque | Mordechai de Joseph | January 6, 1849 | Child | Bleinheim | XIII | D | 1917 |
| Fidanque | Joseph | August 3, 1857 | n/a | Bleinheim | XIII | F | 1957 |
| Fidanque | Rauel Pardo de Ioseph | November 11, 1863 | n/a | Bleinheim | XIII | F | 1958 |
| Fischer | Frederick D'Alois | December 26, 1981 | December 27, 1981 | Berg Altena | n/a | MM | 18 |
| Fischer | Nelly Cardoze eshet Frederick | August 12, 1981 | August 16, 1981 | Berg Altena | n/a | RR | 4 |
| Fisher | Therese | Not recorded | September 23, 1970 | Berg Altena | n/a | LL | 16 |
| Flores | Moseh Haim | October 4, 1773 | n/a | Bleinheim | VI | C | 1015 |
| Flores | Ester, wife of Abraham | November 15, 1770 | n/a | Bleinheim | VI | C | 1016 |
| Flores | Ester de Abraham | February 28, 1744 | Child | Bleinheim | VI | C | 1017 |
| Flores | Mosseh de Abraham | May 16, 1742 | Child | Bleinheim | VI | C | 1017a |
| Flores | Mosseh, son of Abraham | May 14, 1745 | Child | Bleinheim | VI | C | 1020 |
| Fontein | Stella de Bernard | April 19, 2005 | April 20, 2005 | Berg Altena | n/a | TB | 38 |
| Fontein | Bernard | June 25, 1979 | Not recorded | Berg Altena | n/a | TB | 39 |
| Francisca | Ismael Ben Abraham | November 4, 1986 | November 6, 1986 | Berg Altena | n/a | MM | 27 |
| Franco Atias | Haim | March 8, 1700 | n/a | Bleinheim | V | E | 901 |
| Frank | Meijer | August 22, 2005 | August 25, 2005 | Berg Altena | n/a | MM | 38 |
| Frank | Gail Green | February 6, 1968 | February 9, 1968 | Berg Altena | n/a | L | 29 |
| Frankel | Joseph Johnny | May 31, 2013 | Not recorded | Berg Altena | n/a | DD | DD-D |
| Fresco | Eliazar | February 6, 1941 | n/a | Bleinheim | VIII | P | 1399a |
| Frois | Master Morris, son of Mr Mordecai & Mrs Cynthia | August 26, 1823 | Child | Bleinheim | XVI | B | 2177 |
| Frois de Andrade | Ester, daughter of Mosseh | July 22, 1785 | Child | Bleinheim | III | C | 407 |
| Frois de Andrade | Moseh | February 11, 1803 | n/a | Bleinheim | XVI | B | 2176 |
| Frois de Meza | Abraham Hisquiau | July 12, 1794 | n/a | Bleinheim | II | C | 240 |
| Frois de Meza Gomes | Ester de Abraham | August 1, 1804 | n/a | Bleinheim | II | B | 202 |
| Fruchter | Samuel | August 29, 1978 | Not recorded | Berg Altena | n/a | HH | 1 |
| Fruchter | Fanny | July 15, 1977 | Not recorded | Berg Altena | n/a | HH | 2 |
| Frymerman | Laje | June 5, 1942 | n/a | Bleinheim | VIII | Q | 1409h |
| Fuhrmann | Frieda Spritzer de | August 17, 1973 | August 21, 1973 | Berg Altena | n/a | AA | 21 |
| Fuhrmann | Charles Edward | November 1, 1989 | November 3, 1989 | Berg Altena | n/a | AA | 22 |
| Fundam | Abigail, daughter of Mordechay | July 28, 1743 | Child | Bleinheim | IV | C | 652 |
| Fundam | Mordechay Haim | August 15, 1763 | n/a | Bleinheim | XII | B | 1767 |
| Fundam | Sara, daughter of Mordechay | August 3, 1739 | Child | Bleinheim | XIII | D | 1897 |
| Fundao | Ester, wife of Mordechay | September 19, 1779 | n/a | Bleinheim | XII | B | 1768 |
| Fundaõ | David de Mordechay | October 11, 1768 | n/a | Bleinheim | XII | A | 1730 |
| Fvndaó | Abraham de Mordechay | May 14, 1782 | n/a | Bleinheim | III | A | 371 |
| Gabay Henriques | Abraham, son of Iacob | April 22, 1760 | Child | Bleinheim | III | E | 457 |
| Gabay Henriquez | Rachel Henriquez Juliao, wife of Iahacob | March 2, 1790 | n/a | Bleinheim | II | C | 238 |
| Gabison | Iosseph | February 6, 1752 | Child | Bleinheim | X | C | 1540 |
| Gabyson | Mordehay, son of Jacob | March 19, 1752 | Child | Bleinheim | X | C | 1539 |
| Gandelman | Haim, son of Binjamin | January 18, 1939 | n/a | Bleinheim | VIII | P | 1399 |
| Gandelman | Morris | November 19, 1996 | November 21, 1996 | Berg Altena | n/a | AA | 7 |
| Gaon | Rachel, wife of Yshak | May 1, 1690 | n/a | Bleinheim | VII | D | 1186 |
| Garbay Henriquez | Ribca, daughter of Jahacob | October 5, 1751 | n/a | Bleinheim | III | E | 435 |
| Garcia | Rachel, widow of Iahacob | April 16, 1802 | n/a | Bleinheim | II | C | 241 |
| Garcia de Pas | Iacob | May 21, 1774 | n/a | Bleinheim | II | D | 290 |
| Garcia de Paz | Sarah Ribca | September 16, 1761 | n/a | Bleinheim | II | D | 287 |
| Garcia de Paz | Lea, daughter of Jacob | March 31, 1763 | Child | Bleinheim | II | D | 288 |
| Gartner | Herman | February 23, 1975 | Not recorded | Berg Altena | n/a | FF | 19 |
| Gartner | Olivia | July 6, 2013 | Not recorded | Berg Altena | n/a | FF | FF-E |
| Gärtner-Gurel | Ruth | February 22, 2017 | Not recorded | Berg Altena | n/a | EE | 22 |
| Gavai Ferro | Huziyahu | August 15, 1723 | n/a | Bleinheim | XIII | F | 1954 |
| Geiger | Rachmiel | February 27, 1978 | Not recorded | Berg Altena | n/a | DD | 3 |
| Geiger | Mina | October 30, 1994 | November 1, 1994 | Berg Altena | n/a | DD | 4 |
| Geiger | Chaim | October 29, 2010 | Not recorded | Berg Altena | n/a | DD | DD-B |
| Gershoff | Norman Nachum de Israel y Sophie | November 21, 2008 | November 28, 2008 | Berg Altena | n/a | MM | 29 |
| Gershoff | Ursula Rebecca eshet Norman | March 5, 1987 | March 6, 1987 | Berg Altena | n/a | MM | 30 |
| Gerstenbluth | Jacob Gabriel (Bill) | February 16, 2011 | February 17, 2011 | Berg Altena | n/a | CC | 15 |
| Gerstenbluth | Etla (Tila) | November 3, 2014 | November 4, 2014 | Berg Altena | n/a | CC | 16 |
| Ghitman | Saul | December 19, 1980 | Not recorded | Berg Altena | n/a | EE | 7 |
| Glenn | Alexander S. | November 13, 1977 | November 13, 1977 | Berg Altena | n/a | LL | 7 |
| Glenn | Helen Capriles eshet Alexander | April 10, 1984 | April 12, 1984 | Berg Altena | n/a | LL | 8 |
| Godschalk | Hartog (Harry) de Moshe | February 1, 2001 | February 4, 2001 | Berg Altena | n/a | MM | 43 |
| Godschalk | Elaine Henriquez eshet Harry | August 24, 2013 | August 27, 2013 | Berg Altena | n/a | MM | 44 |
| Godschalk | Marshal (Moshe) Steven de Harry | June 11, 1994 | June 15, 1994 | Berg Altena | n/a | MM | 45 |
| Gomes | Sara Hana, wife of Rephael | February 26, 1758 | n/a | Bleinheim | IV | A | 529 |
| Gomes | Rephael | February 28, 1768 | n/a | Bleinheim | IV | A | 530 |
| Gomes | Luna, daughter of Raphael | March 27, 1742 | Child | Bleinheim | X | D | 1552 |
| Gomes | Ymanuel | February 15, 1715 | n/a | Bleinheim | XII | A | 1710 |
| Gomes | Grasia | February 20, 1744 | n/a | Bleinheim | XII | A | 1711 |
| Gomes Casseres | Benjamin (mistakenly Cassereres on tomb) | September 22, 1877 | Not recorded | Berg Altena | n/a | TC | 26 |
| Gomes Casseres | Rachel Jesurun | March 1, 1921 | March 2, 1921 | Berg Altena | n/a | A | 40 |
| Gomes Casseres | Selina | July 11, 1878 | Child | Berg Altena | n/a | TA | 52 |
| Gomes Casseres | Jeosuah | October 28, 1881 | Child | Berg Altena | n/a | TA'2 | 54 |
| Gomes Casseres | Ruth Salas eshet Charles | September 13, 2012 | September 16, 2012 | Berg Altena | n/a | TA'2 | 60 |
| Gomes Casseres | Charles | September 7, 2006 | September 10, 2006 | Berg Altena | n/a | TA'2 | 61 |
| Gomes Casseres | David | July 23, 1872 | Child | Berg Altena | n/a | TA'2 | 66 |
| Gomes Casseres | Jacobo | July 17, 1872 | Child | Berg Altena | n/a | TA'2 | 67 |
| Gomes Casseres | Rachel Pereira Brandao | August 9, 1900 | Not recorded | Berg Altena | n/a | TD | 19 |
| Gomes Casseres | Jose Gomes Casseres | August 2, 1898 | Not recorded | Berg Altena | n/a | TD | 20 |
| Gomes Casseres | Dilia de Jose | August 28, 1872 | Not recorded | Berg Altena | n/a | TD | 21 |
| Gomes Casseres | Estela | December 21, 1941 | Not recorded | Berg Altena | n/a | TD | 22 |
| Gomes Casseres | Sefora C. H. | July 7, 1980 | Not recorded | Berg Altena | n/a | TG | 2 |
| Gomes Casseres | Benjamin, Jr. | March 7, 1955 | Not recorded | Berg Altena | n/a | TG | 3 |
| Gomes Casseres | Rebecca Naar | October 25, 1934 | Not recorded | Berg Altena | n/a | TG | 11 |
| Gomes Casseres | Manuel Gomes Casseres | October 18, 1900 | Not recorded | Berg Altena | n/a | TG | 12 |
| Gomes Casseres | Rachel Naar | May 11, 1931 | Not recorded | Berg Altena | n/a | TG | 14 |
| Gomes Casseres | Isaac | July 18, 1899 | Not recorded | Berg Altena | n/a | TG | 15 |
| Gomes Casseres | David de Daniel (two gravestones, same person) | November 25, 1841 | n/a | Bleinheim | I | D | 80 |
| Gomes Casseres | David de Daniel (two gravestones, same person) | November 25, 1841 | n/a | Bleinheim | I | D | 81 |
| Gomes Casseres | Daniel de David | July 21, 1835 | n/a | Bleinheim | I | D | 89 |
| Gomes Casseres | Sarah, wife of Daniel de David | December 5, 1826 | n/a | Bleinheim | I | F | 148 |
| Gomes Casseres | David | July 4, 1786 | n/a | Bleinheim | III | A | 362 |
| Gomes Casseres | Abigail Hana, wife of David | November 18, 1770 | n/a | Bleinheim | III | A | 363 |
| Gomes Casseres | Mosseh de David | March 25, 1754 | Child | Bleinheim | V | E | 852 |
| Gomes Casseres | Doitor Yshack | August 3, 1693 | n/a | Bleinheim | VII | B | 1110 |
| Gomes Casseres | Miriam Rachel, wife of David | May 25, 1806 | n/a | Bleinheim | XVI | C | 2217 |
| Gomez | Abraham Hisquiau | August 31, 1764 | n/a | Bleinheim | II | E | 337 |
| Gomez | Luna | March 9, 1749 | n/a | Bleinheim | IV | A | 533 |
| Gomez | Semuel | April 6, 1743 | n/a | Bleinheim | VI | A | 949 |
| Gomez | Ishak de Mordechay | November 9, 1764 | n/a | Bleinheim | VII | A | 1041 |
| Gomez | Luna, daughter of Rephael | July 12, 1737 | Child | Bleinheim | X | D | 1551 |
| Gomez Casseres | Leah, daughter of Daniel | February 24, 1761 | n/a | Bleinheim | II | D | 285 |
| Gomez Casseres | Sarah, widow of Abraham | February 20, 1761 | n/a | Bleinheim | V | E | 902 |
| Gomez Casseres | Lea, wife of Jahacob | August 29, 1756 | n/a | Bleinheim | VII | A | 1065 |
| Gomez Casseres | Jacob | February 21, 1761 | n/a | Bleinheim | VII | A | 1066 |
| Gomez Casseres | Ribca, wife of Doitor Yshac | April 19, 1735 | n/a | Bleinheim | VII | B | 1116 |
| Gonsales | Binjamin Haim | June 16, 1748 | n/a | Bleinheim | V | D | 813a |
| Gottfried | Sigbert | March 9, 1999 | March 11, 1999 | Berg Altena | n/a | CC | 11 |
| Gracia | Jacob, son of Gerson | July 16, 1739 | Child | Bleinheim | X | D | 1550 |
| Grassian | Ernestina | March 2, 1942 | n/a | Bleinheim | VIII | Q | 1409e |
| Grijnstein | Frieda | January 25, 1988 | January 27, 1988 | Berg Altena | n/a | FF | 21 |
| Grijnstein | Yitzhak Aizik | May 19, 1963 | Not recorded | Berg Altena | n/a | GG | 20 |
| Groisman | Ruth | January 27, 1994 | Not recorded | Berg Altena | n/a | DD | 9 |
| Groisman | Ovsia | October 26, 1999 | October 28, 1999 | Berg Altena | n/a | DD | 10 |
| Groisman | Miriam | February 18, 1977 | Not recorded | Berg Altena | n/a | GG | 4 |
| Groisman | Aizic | June 5, 1986 | Not recorded | Berg Altena | n/a | II | 8 |
| Groisman | Sura | September 18, 1966 | Not recorded | Berg Altena | n/a | II | 9 |
| Groissman | Raizal | August 13, 1948 | n/a | Bleinheim | VIII | O | 1390a |
| Groissman | Berl | February 25, 1942 | n/a | Bleinheim | VIII | Q | 1409d |
| Grünberg | Ricca | September 17, 1966 | Not recorded | Berg Altena | n/a | TB | 35 |
| Guadalupe Andrade | Rachel, wife of Iacob Hisqueao | April 25, 1738 | n/a | Bleinheim | XV | B | 2100 |
| Guadalupe de Andrade | Iacob Hisquaiu | March 8, 1760 | n/a | Bleinheim | XV | B | 2099 |
| Guadalupe de Andrade | David, son of Jacob & Rachel | September 16, 1735 | Child | Bleinheim | XV | C | 2110 |
| Haber | Abraham Wolfe | June 11, 1942 | n/a | Bleinheim | VIII | Q | 1409k |
| Hacohen | Sevi bar Aysik | August 2, 1930 | n/a | Bleinheim | VIII | M | 1372 |
| Halas | Ragel | August 30, 1767 | n/a | Bleinheim | XV | A | 2083 |
| Halas | Rachel, daughter of Mordechay | November 3, 1751 | Child | Bleinheim | XV | A | 2084 |
| Halas | Clara, daughter of Jshac | December 17, 1707 | Child | Bleinheim | XV | A | 2085 |
| Halas | Ishac | June 3, 1724 | n/a | Bleinheim | XV | A | 2086 |
| Halas | David | October 8, 1786 | n/a | Bleinheim | XV | B | 2097 |
| Halas | Lea, wife of David | July 18, 1775 | n/a | Bleinheim | XV | B | 2098 |
| Halas | Jacob De Jshac | April 20, 1738 | n/a | Bleinheim | XV | B | 2102 |
| Halas | Mordechay Rephael | April 5, 1755 | n/a | Bleinheim | XV | E | 2134 |
| Hartogh | Willy | May 30, 2005 | June 1, 2005 | Berg Altena | n/a | G | 47 |
| Hartz-Isacson | R. S. | February 17, 1947 | n/a | Bleinheim | VIII | P | 1401 |
| Hen | Binjamin Hisquija | September 17, 1692 | n/a | Bleinheim | VII | E | 1244 |
| Henriques | Leah, daughter of Jacob | September 21, 1751 | Child | Bleinheim | III | E | 446 |
| Henriques | Jeosuah, son of Moseh | December 26, 1744 | Child | Bleinheim | III | E | 451 |
| Henriques | Ester | October 25, 1744 | n/a | Bleinheim | III | F | 476 |
| Henriques | Mosseh | August 18, 1782 | n/a | Bleinheim | III | F | 477 |
| Henriques | Ester Abigail, wife of Binjamin Rephael | September 21, 1783 | n/a | Bleinheim | IV | C | 626 |
| Henriques | Binjamin Rephael | October 22, 1783 | n/a | Bleinheim | IV | C | 627 |
| Henriques | Rachel Hana, wife of Binjamin Rephael | February 7, 1759 | n/a | Bleinheim | IV | C | 628 |
| Henriques | Yeosuah Rephael | February 21, 1754 | n/a | Bleinheim | IV | C | 630 |
| Henriques | Lea de Mordechay de Jacob | September 29, 1765 | Child | Bleinheim | V | C | 794 |
| Henriques | Sarah, wife of Jacob | February 21, 1755 | n/a | Bleinheim | V | C | 797 |
| Henriques | Lea Ribca, wife of Jahacob | March 18, 1746 | n/a | Bleinheim | V | C | 799 |
| Henriques | Jacob De Mordechay | March 26, 1822 | n/a | Bleinheim | VI | B | 971 |
| Henriques | Sara Ribca de Jacob de Mordechay | January 21, 1798 | n/a | Bleinheim | VI | B | 973 |
| Henriques | Ishac Haim, son of Mordechay | October 14, 1767 | Child | Bleinheim | VI | C | 1027 |
| Henriques | Abigail, daughter of Jehosuah | February 1, 1726 | Child | Bleinheim | VII | B | 1100 |
| Henriques | Ester, daughter of Mordechay | March 5, 1761 | Child | Bleinheim | VII | D | 1189 |
| Henriques | Lea, daughter of Yeosuah | December 23, 1716 | n/a | Bleinheim | VII | D | 1190 |
| Henriques | Sara, daughter of Mordehay | November 17, 1713 | n/a | Bleinheim | VII | D | 1193 |
| Henriques | Ribca, daughter of Jeosuah | March 26, 1717 | n/a | Bleinheim | VII | D | 1194 |
| Henriques | Yeosuah, son of Mordechay | December 11, 1753 | Child | Bleinheim | VII | E | 1233 |
| Henriques | Mordehay, son of Yehosua | October 27, 1721 | Child | Bleinheim | VII | E | 1240 |
| Henriques | Ester, daughter of Mordehay | August 14, 1752 | Child | Bleinheim | VII | E | 1242 |
| Henriques | Mordehay Hisquiah | February 28, 1715 | n/a | Bleinheim | VII | E | 1245 |
| Henriques | Yeosua | November 6, 1704 | n/a | Bleinheim | VII | E | 1246 |
| Henriques | Rachel, daughter of Jeosuah de Mordehay Hisquiau | March 30, 1727 | Child | Bleinheim | VII | E | 1253 |
| Henriques | Mordehay Hisquiya | December 17, 1699 | n/a | Bleinheim | XI | A | 1624 |
| Henriques | Ribka, wife of Mordoghay Hisquiya | November 29, 1679 | n/a | Bleinheim | XI | A | 1625 |
| Henriques | Jacob, son of Jeosuah | September 15, 1721 | Child | Bleinheim | XI | B | 1650 |
| Henriques | Binjamin | February 23, 1742 | Child | Bleinheim | XIV | C | 2006 |
| Henriques | Ester de Jeosuah Rephael | January 2, 1823 | n/a | Bleinheim | XVII | C | 2275 |
| Henriques | Ribca de Jeosuah Rephael | November 20, 1819 | n/a | Bleinheim | XVII | C | 2276 |
| Henriques | Jeosuah Rephael | January 5, 1825 | n/a | Bleinheim | XVII | C | 2277 |
| Henriques | Joseph de David D. | October 23, 1854 | Child | Bleinheim | XVII | D | 2306 |
| Henriques | Mordechay D. | February 14, 1866 | n/a | Bleinheim | XVII | D | 2307 |
| Henriques | Abraham de Isaac | March 6, 1838 | n/a | Bleinheim | XVII | E | 2327 |
| Henriques | Debora de Mosseh | June 4, 1819 | n/a | Bleinheim | XVIII | B | 2368 |
| Henriques | Lea de Joseph | January 2, 1827 | n/a | Bleinheim | I | G | 180 |
| Henriques | Ieosuah de Jacob | March 13, 1769 | n/a | Bleinheim | II | A | 193 |
| Henriques | Mordechay de Jacob | July 14, 1808 | n/a | Bleinheim | II | A | 194 |
| Henriques | Binjamin De Mordechay | March 15, 1764 | Child | Bleinheim | II | B | 211 |
| Henriques | Ishac | September 29, 1802 | n/a | Bleinheim | II | E | 316 |
| Henriques | Ester de Ishac | November 9, 1825 | n/a | Bleinheim | II | E | 317 |
| Henriques Covtiño | Ester, wife of Yshak | November 27, 1761 | n/a | Bleinheim | III | C | 399 |
| Henriques De Mesquita | Hana | March 26, 1722 | n/a | Bleinheim | VII | D | 1179 |
| Henriques De Mesquita | Abraham | January 27, 1715 | n/a | Bleinheim | VII | E | 1228 |
| Henriques Farro | Abraham Haim | May 28, 1771 | n/a | Bleinheim | IV | C | 668 |
| Henriques Farro | Haham Ishac | July 10, 1762 | n/a | Bleinheim | IV | C | 670 |
| Henriques Feriera | Iacob de Isaac | July 14, 1822 | n/a | Bleinheim | XVII | A | 2234 |
| Henriques Franco | Jahacob | December 6, 1719 | n/a | Bleinheim | XIV | A | 1974 |
| Henriques Juliao | Jeudith, daughter of Ishac | September 1, 1745 | n/a | Bleinheim | III | E | 431 |
| Henriques Juliao | Abraham Haim | January 27, 1742 | n/a | Bleinheim | VI | B | 979 |
| Henriques Juliao | Rachel | January 24, 1871 | n/a | Bleinheim | IX | H | 1484 |
| Henriques Juliao | Jacob | May 30, 1863 | n/a | Bleinheim | IX | H | 1485 |
| Henriques Juliao | David de David | December 29, 1830 | n/a | Bleinheim | XVII | B | 2253 |
| Henriques Morao | Yshack | January 14, 1674 | n/a | Bleinheim | XI | B | 1657 |
| Henriques Morao | Abraham Haim de Iacob & Lea | 1730? Undecipherable | Child | Bleinheim | XIII | D | 1888 |
| Henriques Morao | Abraham, son of Jacon de Abraham | September 3, 1727 | Child | Bleinheim | XIII | D | 1889 |
| Henriques Morao | Abraham, son of Yacob | September 3, 1728 | Child | Bleinheim | XIII | D | 1893 |
| Henriques Morao | Iahacob | February 14, 1761 | n/a | Bleinheim | XIII | D | 1901 |
| Henriques Moraõ | Sara, wife of Yahacob | November 23, 1704 | n/a | Bleinheim | XIII | C | 1864 |
| Henriques Moron | Lea, wife of Yahacob | July 25, 1742 | n/a | Bleinheim | XIII | D | 1900 |
| Henriques Omoso | Lea, daughter of Mordochai | October 21, 1704 | n/a | Bleinheim | VII | D | 1192 |
| Henriquez | Abraham de Benjamin | June 8, 1905 | June 9, 1905 | Berg Altena | n/a | A | 32 |
| Henriquez | Mordechay Jeosuah | August 25, 1898 | August 25, 1898 | Berg Altena | n/a | C | 19 |
| Henriquez | Leah de Mordy | July 13, 1909 | July 13, 1909 | Berg Altena | n/a | H | 11 |
| Henriquez | Rachel de Jacob | March 25, 1961 | March 26, 1961 | Berg Altena | n/a | J | 3 |
| Henriquez | Atala eshet Benjamin | July 27, 1976 | Not recorded | Berg Altena | n/a | K | 17 |
| Henriquez | Benjamin J. | November 14,1942 | November 14, 1942 | Berg Altena | n/a | K | 18 |
| Henriquez | Esther bat Jeosuah | July 18, 1925 | July 19, 1925 | Berg Altena | n/a | L | 10 |
| Henriquez | Sarah Jeosuah. | Not recorded | October 9, 1920 | Berg Altena | n/a | L | 15 |
| Henriquez | Rachel Jeosuah | February 28, 1921 | May 1, 1921 | Berg Altena | n/a | L | 16 |
| Henriquez | Abigail Hz. De | Not recorded | February 11, 1916 | Berg Altena | n/a | M | 6 |
| Henriquez | Jacobo de Mordechay | December 6, 1939 | December 7, 1939 | Berg Altena | n/a | M | 7 |
| Henriquez | Vivian | March 10, 1999 | March 14, 1999 | Berg Altena | n/a | LL | 39 |
| Henriquez | Tanya | April 3, 1999 | April 11, 1999 | Berg Altena | n/a | NN | 8 |
| Henriquez | Rebecca D. C. | January 28, 1894 | Not recorded | Berg Altena | n/a | TA | 26 |
| Henriquez | Esther | June 4, 1869 | Not recorded | Berg Altena | n/a | TA | 27 |
| Henriquez | Julio | October 14, 1877 | Child | Berg Altena | n/a | TA | 50 |
| Henriquez | Abraham | April 8, 1910 | Not recorded | Berg Altena | n/a | TB | 11 |
| Henriquez | Alberto | October 5, 1896 | Not recorded | Berg Altena | n/a | TB | 13 |
| Henriquez | Judith C. de | March 31, 1897 | Not recorded | Berg Altena | n/a | TB | 21 |
| Henriquez | Benjamin | January 11, 1883 | Not recorded | Berg Altena | n/a | TB | 22 |
| Henriquez | Gladys Salas eshet Hector | October 24, 2000 | October 27. 2000 | Berg Altena | n/a | TB | 33 |
| Henriquez | Hector Baiz | September 5, 1963 | Not recorded | Berg Altena | n/a | TB | 34 |
| Henriquez | Max F. | December 6, 1995 | Not recorded | Berg Altena | n/a | TG | 43 |
| Henriquez | May Alvarez Correa eshet Max | October 5, 1999 | Not recorded | Berg Altena | n/a | TG | 44 |
| Henriquez | Eduardo | December 29, 1909 | Not recorded | Berg Altena | n/a | Child B | 12 |
| Henriquez | Still Born: Son of Jb M. | October 10, 1892 | October 15, 1892 | Berg Altena | n/a | Child C | 6 |
| Henriquez | Beatriz de Jacobo M. | April 28, 1900 | August 14, 1904 | Berg Altena | n/a | Child C | 9 |
| Henriquez | Emma de Jacobo M. | November 17, 1901 | August 14, 1904 | Berg Altena | n/a | Child C | 10 |
| Henriquez | Josuah de M. | October 15, 1872 | October 15, 1872 | Berg Altena | n/a | Child D | 2 |
| Henriquez | Daniel de M. | December 17, 1866 | December 17, 1866 | Berg Altena | n/a | Child D | 3 |
| Henriquez | Margretha Anna Ulrici eshet Vivian | July 1, 2017 | July 3, 2017 | Berg Altena | n/a | LL | 40 |
| Henriquez | Mordehay Jozef | July 10, 1886 | n/a | Bleinheim | I | C | 42 |
| Henriquez | Josiao de Joseph | November 22, 1855 | n/a | Bleinheim | I | C | 47 |
| Henriquez | David | No date | n/a | Bleinheim | I | E | 100 |
| Henriquez | Branca | No date | n/a | Bleinheim | I | E | 101 |
| Henriquez | Joseph de Mordehay | June 30, 1846 | n/a | Bleinheim | I | G | 179 |
| Henriquez | Abigail de Mordij | July 30, 1876 | n/a | Bleinheim | I | G | 181 |
| Henriquez | Mordechay | August 28, 1824 | n/a | Bleinheim | I | G | 182 |
| Henriquez | David de Jacob | January 9, 1780 | n/a | Bleinheim | II | A | 190 |
| Henriquez | Sarah Ribcah de David | September 23, 1790 | n/a | Bleinheim | II | A | 191 |
| Henriquez | Lea, wife of Mordechay de Jacob | August 23, 1796 | n/a | Bleinheim | II | A | 192 |
| Henriquez | Sara de Jeosuah De Mordj | April 29, 1742 | Child | Bleinheim | III | E | 449 |
| Henriquez | Ieossuah de Mordechay Hisquiao | May 5, 1780 | n/a | Bleinheim | IV | A | 537 |
| Henriquez | Rirbca, wife of Ieossuah de Mordechay Hisquiao | January 26, 1782 | n/a | Bleinheim | IV | A | 538 |
| Henriquez | Sara de Mordechay | February 26, 1805 | n/a | Bleinheim | IV | B | 581 |
| Henriquez | Jacob De Mordechay De Iacob | March 12, 1764 | Child | Bleinheim | IV | C | 619 |
| Henriquez | Haim Jacob de Mordechay de Jacob | February 27, 1778 | Child | Bleinheim | IV | C | 623 |
| Henriquez | Ester, wife of Jeosua Rephael | March 19, 1768 | n/a | Bleinheim | IV | C | 629 |
| Henriquez | Mordechay | April 29, 1785 | n/a | Bleinheim | IV | C | 632 |
| Henriquez | Jacob Haim de Mordechay | April 22, 1771 | Child | Bleinheim | V | A | 705 |
| Henriquez | Iahacob | August 28, 1760 | n/a | Bleinheim | V | C | 798 |
| Henriquez | Mordechay | November 21, 1739 | Child | Bleinheim | VI | A | 919 |
| Henriquez | Mosseh | September 27, 1739 | Child | Bleinheim | VI | A | 919a |
| Henriquez | Ribca, daughter of Jacob | February 6, 1755 | Child | Bleinheim | VI | B | 982 |
| Henriquez | Lea, daughter of Iahacob | February 18, 1757 | Child | Bleinheim | VI | B | 983 |
| Henriquez | David de Mordechay | April 22, 1763 | Child | Bleinheim | VII | D | 1191 |
| Henriquez | Mordechay De Yacob | April 22, 1742 | Child | Bleinheim | VII | E | 1235 |
| Henriquez | Leah, wife of Yeosuah | November 21, 1711 | n/a | Bleinheim | VII | E | 1247 |
| Henriquez | Mordij de Mordij | August 18, 1847 | n/a | Bleinheim | VIII | L | 1369 |
| Henriquez | Rachel de Mordij | November 23, 1856 | n/a | Bleinheim | VIII | L | 1370 |
| Henriquez | Rachel, daughter of Jacob & Abigail L. | May 28, 1876 | n/a | Bleinheim | VIII | N | 1385 |
| Henriquez | Jacob D. | September 1, 1890 | n/a | Bleinheim | IX | J | 1502 |
| Henriquez | Raghel Henriques, wife of Mordoghay Hisquiau | April 24, 1758 | n/a | Bleinheim | XI | A | 1626 |
| Henriquez | Ribca, daughter of Jeosua | February 11, 1735 | Child | Bleinheim | XI | B | 1647 |
| Henriquez | Binjamin de Jeosuah | March 14, 1733 | n/a | Bleinheim | XI | B | 1648 |
| Henriquez | Rachel de Benjamin | February 21, 1858 | n/a | Bleinheim | XVII | A | 2245 |
| Henriquez | Sarah, wife of Abraham de Isaac | August 11, 1830 | n/a | Bleinheim | XVII | E | 2326 |
| Henriquez | Esther Delvalle, widow of Abram Isaac | December 11, 1881 | n/a | Bleinheim | XVII | E | 2328 |
| Henriquez | Sarah, widow of Benjamin | February 7, 1860 | n/a | Bleinheim | XVII | E | 2329 |
| Henriquez | Benjamin de Mordechay | December 15, 1839 | n/a | Bleinheim | XVII | E | 2331 |
| Henriquez | David D | October 17, 1881 | n/a | Bleinheim | XVIII | A | 2348 |
| Henriquez | Jeosuah | April 25, 1847 | n/a | Bleinheim | XVIII | A | 2351 |
| Henriquez | Leah de Jeosuah Rephael | January 30, 1831 | n/a | Bleinheim | XVIII | A | 2352 |
| Henriquez | Clara Jeosuah Rafael | November 24, 1889 | n/a | Bleinheim | XVIII | C | 2397 |
| Henriquez | Jeosuah Rafael | May 28, 1871 | n/a | Bleinheim | XVIII | C | 2398 |
| Henriquez | Esther Jacob | 1875 | n/a | Bleinheim | XVIII | D | 2440 |
| Henriquez | Jacob | December 31, 1869 | n/a | Bleinheim | XVIII | D | 2441 |
| Henriquez | Sarah N. | September 17, 1909 | n/a | Bleinheim | XVIII | D | 2442 |
| Henriquez | Joseph | December 24, 1862 | n/a | Bleinheim | XVIII | D | 2443 |
| Henriquez | Sarah, wife of Joseph | October 21, 1872 | n/a | Bleinheim | XVIII | D | 2444 |
| Henriquez | Abigail | May 1, 1925 | n/a | Bleinheim | XIX | A | 2461 |
| Henriquez | Mordechaij Cadet | May 9, 1897 | n/a | Bleinheim | XIX | A | 2463 |
| Henriquez | Sarah | November 4, 1940 | n/a | Bleinheim | XIX | A | 2463a |
| Henriquez | Rebecca | April 17, 1925 | n/a | Bleinheim | XIX | C | 2488 |
| Henriquez | | Not recorded | Child | Berg Altena | n/a | TH | 38 |
| Henriquez Coitino | Jacob, son of Semuel & Ribca | November 24, 1715 | Child | Bleinheim | XIII | E | 1925 |
| Henriquez Cotino | Abraham | June 26, 1787 | n/a | Bleinheim | II | B | 198 |
| Henriquez Cotino | Abraham de Isaac de Abraham | April 19, 1788 | Child | Bleinheim | II | B | 200 |
| Henriquez Cotino | Jeudith | January 21, 1765 | n/a | Bleinheim | VI | C | 1029 |
| Henriquez Cotino | Ribca, daughter of Jacob & Rachel | November 21, 1744 | Child | Bleinheim | XIII | A | 1842 |
| Henriquez Cotino | Moseh, son of Isaak | December 1, 1753 | Child | Bleinheim | XIII | A | 1845 |
| Henriquez Cotino | Yshak | November 4, 1720 | n/a | Bleinheim | XIII | D | 1898 |
| Henriquez Cotiño | Mosseh Hisquiau | October 11, 1762 | n/a | Bleinheim | III | E | 464 |
| Henriquez Cotiño | Ester, Hanã, wife of Mosseh | January 1, 1755 | n/a | Bleinheim | III | E | 466 |
| Henriquez Cotiño | Ishak, son of Jshak | March 9, 1753 | Child | Bleinheim | XIII | D | 1890 |
| Henriquez Cotiño | Ribca Dovále, widow of Yshak | July 30, 1775 | n/a | Bleinheim | XIII | D | 1899 |
| Henriquez Curiel | Leah | September 21, 1879 | n/a | Bleinheim | XVIII | D | 2439 |
| Henriquez De Souza | Daniel de Abraham | March 30, 1760 | Child | Bleinheim | X | F | 1569 |
| Henriquez Fereira | Abraham | December 30, 1761 | n/a | Bleinheim | II | E | 342 |
| Henriquez Fereira | Iahacob | April 21, 1780 | n/a | Bleinheim | V | A | 716 |
| Henriquez Fereira | Clara, widow of Jacob | December 27, 1832 | n/a | Bleinheim | V | A | 718 |
| Henriquez Fereira | Ester de Ishak | March 28, 1767 | n/a | Bleinheim | V | A | 722 |
| Henriquez Fereira | Ishak | September 2, 1746 | n/a | Bleinheim | V | A | 723 |
| Henriquez Fereyra | Sarah, wife of Abraham | January 27, 1767 | n/a | Bleinheim | II | D | 311 |
| Henriquez Ferreira | Mosseh, son of Ishac & Ribca | No date | Child | Bleinheim | IV | C | 638 |
| Henriquez Ferreyra | Jahacob, son of Abraham & Sarah | October 18, 1751 | Child | Bleinheim | IV | C | 651 |
| Henriquez Juliao | Esther | December 19, 1917 | December 19, 1917 | Berg Altena | n/a | H | 29 |
| Henriquez Juliao | Ester Gomes, wife of Ishac | October 10, 1783 | n/a | Bleinheim | II | C | 236 |
| Henriquez Juliao | Ishac | March 7, 1783 | n/a | Bleinheim | II | C | 237 |
| Henriquez Juliao | Abraham, son of David | February 26, 1765 | Child | Bleinheim | V | C | 782 |
| Henriquez Juliao | Ester Hana | April 8, 1763 | n/a | Bleinheim | V | C | 783 |
| Henriquez Juliao | David de Abraham Haim | December 1, 1825 | n/a | Bleinheim | XVI | B | 2189 |
| Henriquez Juliao | Jeudith | June 28, 18422 | n/a | Bleinheim | XVII | B | 2248 |
| Henriquez Juliao | Rachel, wife of Mosseh | February 3, 1814 | n/a | Bleinheim | XVII | B | 2252 |
| Henriquez Juliao | Abigail de Isaac | June 13, 1821 | n/a | Bleinheim | XVII | B | 2254 |
| Henriquez Juliao | David | June 22, 1819 | n/a | Bleinheim | XVII | B | 2255 |
| Henriquez Juliao | Abraham de Aaron | September 1, 1856 | n/a | Bleinheim | XVII | B | 2256 |
| Henriquez Juliao | Abraham | January 3, 1857 | n/a | Bleinheim | XVII | C | 2297 |
| Henriquez Juliao | Ester | August 20, 1854 | n/a | Bleinheim | XVII | D | 2322 |
| Henriquez Juliao | Aaron de Abraham | November 16, 1861 | n/a | Bleinheim | XVIII | C | 2405 |
| Henriquez Juliao | Hanah, widow of Aaron | August 28, 1873 | n/a | Bleinheim | XVIII | C | 2406 |
| Henriquez Juliao | Rachel | October 22, 1917 | n/a | Bleinheim | XVIII | D | 2426 |
| Henriquez Juliao | Ester | September 5, 1908 | n/a | Bleinheim | XVIII | D | 2427 |
| Henriquez Juliao | Jeudith | September 17, 1878 | n/a | Bleinheim | XVIII | D | 2428 |
| Henriquez Juliao | Clara | April 3, 1921 | n/a | Bleinheim | XVIII | D | 2448 |
| Henriquez Juliaõ | Rachel, wife of David | June 3, 1802 | n/a | Bleinheim | II | B | 197 |
| Henriquez Juliaõ | Ribca, wife of Abraham | September 2, 1799 | n/a | Bleinheim | II | B | 201 |
| Henriquez Melhado | Sarah | January 20, 1732 | n/a | Bleinheim | XI | D | 1669 |
| Henriquez Morao | Sara, wife of Nagson | May 7, 1801 | n/a | Bleinheim | I | E | 126 |
| Henriquez Morao | Aron | January 29, 1784 | n/a | Bleinheim | II | B | 227 |
| Henriquez Morao | Abraham Haim | January 21, 1770 | n/a | Bleinheim | II | B | 231 |
| Henriquez Morao | Yevdid | December 25, 1756 | n/a | Bleinheim | III | F | 485 |
| Henriquez Morao | Jacob, son of Jacob & Bath Sebah | July 1, 1753 | Child | Bleinheim | IV | C | 658 |
| Henriquez Morao | Abraham Haim, son of Jacob & Batsebah | September 5, 1747 | Child | Bleinheim | IV | C | 659 |
| Henriquez Morao | Sarah, daughter of Aron & Ester | February 23, 1742 | Child | Bleinheim | V | A | 728 |
| Henriquez Morao | Sarah | January 8, 1755 | n/a | Bleinheim | VIII | C | 1292 |
| Henriquez Morao | Ribca, wife of Yshak | March 12, 1694 | n/a | Bleinheim | XIII | D | 1886 |
| Henriquez Morao | Ester Hana, wife of Jacob | May 3, 1743 | n/a | Bleinheim | XIII | D | 1902 |
| Henriquez Morao | Rachel | January 4, 1736 | Child | Bleinheim | XIII | E | 1921 |
| Henriquez Morao | Ishak, son of Jacob & Lea | November 19, 1733 | Child | Bleinheim | XIII | E | 1922 |
| Henriquez Morao | Mordoghay, son of Iacob & Lea | February 1, 1732 | Child | Bleinheim | XIII | E | 1923 |
| Henriquez Morao | Sarah, daughter of Ishac & Judith | May 2, 1747 | Child | Bleinheim | XIII | E | 1926 |
| Henriquez Morao | Yahacob, son of Yshack & Jeudith | July 10, 1743 | Child | Bleinheim | XIII | E | 1927 |
| Henriquez Moraõ | Ishac De Jahacob | August 4, 1751 | n/a | Bleinheim | III | F | 486 |
| Henriquez Moraõ | Yacob | November 21, 1708 | n/a | Bleinheim | XIII | C | 1865 |
| Henriquez Moraõ | Ribca Hana, wife of Abraham | February 1, 1716 | n/a | Bleinheim | XIII | C | 1868 |
| Henriquez Moron | Ester de Aron | January 9, 1782 | n/a | Bleinheim | II | B | 228 |
| Henriquez Moron | Sara, daughter of Abraham & Abigail | June 23, 1766 | Child | Bleinheim | VII | B | 1082 |
| Henriquez Moron | Ester, daughter of Abraham | December 15, 1763 | Child | Bleinheim | VII | C | 1127 |
| Henriquez Moron | Sara, daughter of Aron & Ester | August 22, 1739 | n/a | Bleinheim | VII | C | 1128 |
| Henriquez Moron | Ester, daughter of Abraham & Abigail | September 23, 1759 | Child | Bleinheim | VII | C | 1130 |
| Henriquez Moron | Rachel, daughter of Abraham & Abigail | August 11, 1766 | Child | Bleinheim | VII | C | 1157 |
| Henriquez Moron | Clara Isaac | December 28, 1863 | n/a | Bleinheim | VIII | J | 1348 |
| Henriquez Moron | Isaac | March 9, 1859 | n/a | Bleinheim | VIII | J | 1349 |
| Henriquez Moron | Samuel | April 9, 1851 | n/a | Bleinheim | VIII | J | 1350 |
| Henriquez Moron | Jeudith | November 14, 1713 | n/a | Bleinheim | XIII | C | 1866 |
| Henryqes | Mordohay son of Yeosua de Mordohai Hyskiav | June 30, 1731 | Child | Bleinheim | VII | D | 1197 |
| Henryqes | Rahel, daughter of Yeosua De Mordohay Hiskiau | November 26, 1731 | Child | Bleinheim | VII | E | 1234 |
| Henryqes | Lea, daughter of Yosua de Mordohai Hyskiav | July 17, 1731 | Child | Bleinheim | VII | E | 1239 |
| Hildebrando Moreno | Isaac | February 19, 1903 | February 19, 1903 | Berg Altena | n/a | A | 31 |
| Hirschberg Karter | Victoria | July 28, 1962 | Not recorded | Berg Altena | n/a | HH | 16 |
| Hirschberg Montevenado | Mordechai | April 25, 1948 | n/a | Bleinheim | VIII | P | 1403a |
| Hoch | Rosa | April 14, 1965 | April 15, 1965 | Berg Altena | n/a | A | 44 |
| Hoepelman | A.M. | January 3, 1892 | Not recorded | Berg Altena | n/a | TA | 22 |
| Hoheb | Leah de David Haim | November 6, 1821 | n/a | Bleinheim | II | C | 271 |
| Hoheb | Daughter of Moseh Hisquiau | March 28, 1776 | Child | Bleinheim | II | C | 272 |
| Hoheb | David Haim | October 25, 1774 | n/a | Bleinheim | II | E | 351 |
| Hoheb | Sarah Hana, daughter of Semuel | April 7, 1772 | n/a | Bleinheim | II | E | 352 |
| Hoheb | Joseph Hisquiau | October 28, 1781 | n/a | Bleinheim | III | A | 377 |
| Hoheb | Sara Hana, wife of Iosseph Hisquiau | October 10, 1783 | n/a | Bleinheim | III | C | 405 |
| Hoheb | Batsebah, daughter of Semuel | September 21, 1767 | n/a | Bleinheim | IV | C | 664 |
| Hoheb | Jael Leah, wife of David | December 15, 1745 | n/a | Bleinheim | VI | A | 924 |
| Hoheb | David | June 23, 1733 | n/a | Bleinheim | VI | A | 925 |
| Hoheb | Hanah Leah, wife of Semuel | May 19, 1740 | n/a | Bleinheim | VI | B | 976 |
| Hoheb | Semuel de David | May 23, 1789 | n/a | Bleinheim | VI | B | 977 |
| Hoheb | Ester de Semuel | January 1, 1798 | n/a | Bleinheim | VI | B | 978 |
| Hoheb | Hana, daughter of David | June 13, 1723 | Child | Bleinheim | XI | A | 1618 |
| Idanha de Casseres | Rephael | December 23, 1782 | n/a | Bleinheim | II | B | 204 |
| Idanha De Casserez | Samuel | March 27, 1754 | n/a | Bleinheim | V | B | 748 |
| Idanha De Casserez | Simha | January 5, 1768 | n/a | Bleinheim | V | B | 749 |
| Idanha De Casserez | Abigail Hana | August 6, 1761 | n/a | Bleinheim | V | B | 750 |
| Iehuda Leao | Rachel, wife of Michael | March 27, 1785 | n/a | Bleinheim | IV | A | 535 |
| Iesurun Saportaz | Ishac | March 12, 1783 | n/a | Bleinheim | II | A | 196 |
| Ieuda Leao | Abigail Hana, wife of Michael De Eliao | March 10, 1756 | n/a | Bleinheim | IV | A | 539 |
| Ieuda Leao | Eliao, son of Michael & Abigael Hana | March 5, 1760 | Child | Bleinheim | IV | A | 541 |
| Ieudah Leao | Leah, daughter of Eliao | June 24, 17785 | Child | Bleinheim | II | D | 296 |
| Ieudah Leao | Sara, daughter of Eliao | May 29, 1785 | Child | Bleinheim | II | D | 297 |
| Ieudah Leaó | Benjamin de Semuel | June 17, 1783 | n/a | Bleinheim | II | A | 188 |
| Ieudah Leaó | Ishac de Eliaó | August 9, 1782 | n/a | Bleinheim | II | A | 189 |
| Ieudah Leaõ | Semuel | August 26, 1785 | n/a | Bleinheim | IV | A | 536 |
| Israel | Sara | 1753 | n/a | Bleinheim | n/a | n/a | No tombstone |
| Israel Monsanto | Ribca Abigail, wife of Abraham | July 9, 1760 | n/a | Bleinheim | III | B | 395 |
| Israel Monsanto | Ester | June 11, 1757 | n/a | Bleinheim | III | D | 418 |
| Israel Monsanto | Ishac | September 12, 1758 | n/a | Bleinheim | III | D | 419 |
| Israel Monsanto | Iahb | October 1, 1778 | n/a | Bleinheim | III | D | 421 |
| Israel Monsanto | Jeudit | June 29, 1738 | Child | Bleinheim | III | E | 440 |
| Israel Monsanto | Rachel, daughter of Ishac | July 3, 1745 | Child | Bleinheim | III | E | 442 |
| Israel Ricardo | Son of David | July 13, 1757 | Child | Bleinheim | II | B | 212 |
| Israel Ricardo | David | February 6, 1778 | n/a | Bleinheim | II | D | 300 |
| Israel Ricardo | Sara Ribca Hana, wife of David | January 20, 1763 | n/a | Bleinheim | II | D | 301 |
| Israel Ricardo | Daniel | September 10, 1749 | n/a | Bleinheim | IV | A | 544 |
| Israel Santacroos | Iacob | August 29, 1759 | n/a | Bleinheim | III | G | 506 |
| Israel Santacroos | Jeudah, son of Abraham | February 3, 1740 | n/a | Bleinheim | VI | A | 915 |
| Israel Santacroos | Yeudith, daughter of Aharon | October 1, 1744 | n/a | Bleinheim | VII | B | 1077 |
| Israel Santacroos | Bathseba, daughter of Aharon | July 21, 1739 | Child | Bleinheim | VII | C | 1124 |
| Israel Santacroos | Rachel, daughter of Aharon | January 28, 1726 | Child | Bleinheim | XIV | D | 2048 |
| Israel Santacroos | Ester, wife of Aharon Haim | August 1, 1794 | n/a | Bleinheim | XIV | D | 2056 |
| Israel Santacroos | Mosseh Haim | March 15, 1802 | n/a | Bleinheim | XIV | D | 2057 |
| Israel Santacroos | Jeudith Ribca, wife of Aharon | January 1, 1726 | n/a | Bleinheim | XV | A | 2081 |
| Israel Santacroos | Aron Hisquiao | July 12, 1766 | n/a | Bleinheim | XV | A | 2082 |
| Isrel Monsanto | Ieudith | October 28, 1736 | n/a | Bleinheim | III | E | 438 |
| Jacobowitz | Anna | August 5, 1945 | n/a | Bleinheim | VIII | Q | 1409f |
| Jessurun Cardoze | Uri (Son of Rabbi Isaac) | November 25, 1941 | November 25, 1941 | Berg Altena | n/a | Child G | 4 |
| Jessurun Cardozo | David | May 26, 1960 | May 27, 1960 | Berg Altena | n/a | P | 33 |
| Jessurun Cardozo | Samuel | July 16, 1948 | July 17, 1948 | Berg Altena | n/a | J | 20 |
| Jesurun | Rachel Jesurun Henriquez de Elias, Jr. | April 18, 1925 | April 18, 1925 | Berg Altena | n/a | C | 0 |
| Jesurun | Sarah | February 6, 1921 | February 7, 1921 | Berg Altena | n/a | A | 39 |
| Jesurun | Edward de Abraham | December 2, 1934 | December 2, 1934 | Berg Altena | n/a | B | 0 |
| Jesurun | Rachel de M. | February 16, 1888 | February 16, 1888 | Berg Altena | n/a | B | 1 |
| Jesurun | Grace de M. | November 18, 1882 | November 18, 1882 | Berg Altena | n/a | B | 2 |
| Jesurun | Benjamin de Daniel | November 28, 1904 | November 28, 1904 | Berg Altena | n/a | C | 14 |
| Jesurun | Sarah bat Daniel | July 4, 1916 | July 4, 1916 | Berg Altena | n/a | C | 15 |
| Jesurun | Rachel bat Daniel | February 14, 1918 | February 15, 1918 | Berg Altena | n/a | C | 16 |
| Jesurun | Abigail bat Daniel | May 6, 1920 | May 7, 1920 | Berg Altena | n/a | C | 17 |
| Jesurun | Rosabella | August 5, 1917 | August 5, 1917 | Berg Altena | n/a | C | 37 |
| Jesurun | Emeline de Abraham | December 27, 1930 | December 28, 1930 | Berg Altena | n/a | D | 0 |
| Jesurun | Rachel de Abraham B. | September 30, 1881 | September 30, 1881 | Berg Altena | n/a | D | 1 |
| Jesurun | Abraham de Benjamin | January 10, 1896 | January 10, 1896 | Berg Altena | n/a | D | 2 |
| Jesurun | Sarah Jesurun de D. A. | June 21, 1883 | June 21, 1883 | Berg Altena | n/a | D | 4 |
| Jesurun | David de A. | April 22,1886 | April 22, 1886 | Berg Altena | n/a | D | 5 |
| Jesurun | Dr. Abraham de David | May 17, 1903 | May 17, 1903 | Berg Altena | n/a | D | 6 |
| Jesurun | Rachel Benjamin | April 15, 1899 | April 16, 1899 | Berg Altena | n/a | D | 23 |
| Jesurun | Esther | November 26, 1911 | November 26, 1911 | Berg Altena | n/a | G | 36 |
| Jesurun | Hannah | June 7, 1914 | June 8, 1914 | Berg Altena | n/a | H | 30 |
| Jesurun | Luci | November 4, 1936 | November 5, 1936 | Berg Altena | n/a | L | 19 |
| Jesurun | Benjamin Abraham | February 19, 1936 | February 20, 1936 | Berg Altena | n/a | L | 20 |
| Jesurun | Victor | September 7, 1945 | September 8, 1945 | Berg Altena | n/a | L | 28 |
| Jesurun | Rose Capriles de | December 19, 1922 | December 20, 1922 | Berg Altena | n/a | P | 10 |
| Jesurun | Abraham | March 20, 1918 | March 21, 1918 | Berg Altena | n/a | P | 11 |
| Jesurun | Arthuro D. | November 26, 1872 | Child | Berg Altena | n/a | TA | 44 |
| Jesurun | Estela D. | July 24, 1876 | Child | Berg Altena | n/a | TA | 45 |
| Jesurun | Rosalvia D. | November 18, 1876 | Child | Berg Altena | n/a | TA | 46 |
| Jesurun | Adolfo D. | November 26, 1877 | Child | Berg Altena | n/a | TA | 51 |
| Jesurun | D. A. | May 31, 1867 | Child | Berg Altena | n/a | TA'2 | 63 |
| Jesurun | Horacio | February 10, 1874 | Child | Berg Altena | n/a | TA'2 | 64 |
| Jesurun | Ernesto | February 13, 1874 | Child | Berg Altena | n/a | TA'2 | 65 |
| Jesurun | Alfredo | December 15, 1940 | Not recorded | Berg Altena | n/a | TE | 2 |
| Jesurun | Clara A. | November 1, 1924 | Not recorded | Berg Altena | n/a | TE | 3 |
| Jesurun | Abigail | March 4, 1877 | Not recorded | Berg Altena | n/a | TE | 23 |
| Jesurun | Clara Pinedo de | September 16, 1883 | Not recorded | Berg Altena | n/a | TE | 24 |
| Jesurun | Jacob Haim de A. | January 22, 1875 | Not recorded | Berg Altena | n/a | TE | 25 |
| Jesurun | Abraham de Jacob H. | September 24, 1886 | Not recorded | Berg Altena | n/a | TE | 26 |
| Jesurun | Esther A. | October 6, 1873 | Not recorded | Berg Altena | n/a | TE | 27 |
| Jesurun | Charles | July 23, 1933 | Not recorded | Berg Altena | n/a | TF | 33 |
| Jesurun | Willy | January 22, 1934 | Not recorded | Berg Altena | n/a | TF | 35 |
| Jesurun | Zilia | October 15, 1931 | Not recorded | Berg Altena | n/a | TG | 35 |
| Jesurun | David | October 17, 1936 | Not recorded | Berg Altena | n/a | TG | 36 |
| Jesurun | Clara | June 19, 1952 | Not recorded | Berg Altena | n/a | TG | 37 |
| Jesurun | Jacob | May 19, 1942 | Not recorded | Berg Altena | n/a | TG | 38 |
| Jesurun | Abigail Polly de | December 1, 1933 | Not recorded | Berg Altena | n/a | TG | 39 |
| Jesurun | Albert | April 3, 1963 | Not recorded | Berg Altena | n/a | TG | 40 |
| Jesurun | Morris | April 11, 1963 | Not recorded | Berg Altena | n/a | TG | 41 |
| Jesurun | Julio David | May 18, 1941 | Not recorded | Berg Altena | n/a | TH | 1 |
| Jesurun | Henriquez | January 21, 1935 | Not recorded | Berg Altena | n/a | TH | 4 |
| Jesurun | Jenny | November 28, 1934 | Not recorded | Berg Altena | n/a | TH | 5 |
| Jesurun | Julia | June 13, 1902 | Not recorded | Berg Altena | n/a | TH | 19 |
| Jesurun | Dr. Moises J. Jesurun | January 19, 1886 | Not recorded | Berg Altena | n/a | TH | 20 |
| Jesurun | Jacob | Not recorded | Child | Berg Altena | n/a | TH | 33 |
| Jesurun | | March 5, 1905 | Child | Berg Altena | n/a | TH | 34 |
| Jesurun | Still Born: Son of Abraham D. | April 7, 1891 | April 7, 1891 | Berg Altena | n/a | Child C | 5 |
| Jesurun | Still Born: Son of Abraham D. | November 22, 1892 | November 22, 1892 | Berg Altena | n/a | Child C | 7 |
| Jesurun | Jacob Jr. | December 7, 1869 | n/a | Bleinheim | I | B | 18 |
| Jesurun | Rachel Penha De | April 10, 1895 | n/a | Bleinheim | I | B | 19 |
| Jesurun | Jeosuah | October 1, 1884 | n/a | Bleinheim | I | B | 20 |
| Jesurun | Daniel, son of Abraham Benjamin | July 5, 1869 | Child | Bleinheim | I | C | 46 |
| Jesurun | Benjamin Jr. | July 9, 1889 | n/a | Bleinheim | I | D | 68 |
| Jesurun | Leah de Marchena, w., Benjamin Jr. | December 7, 1856 | n/a | Bleinheim | I | D | 69 |
| Jesurun | Eliao | No date | n/a | Bleinheim | I | D | 71 |
| Jesurun | Meriam Penso, wife of Jeoshuah | November 21, 1864 | n/a | Bleinheim | I | E | 109 |
| Jesurun | Abigail, wife of Jeoshuah | September 28, 1854 | n/a | Bleinheim | I | E | 110 |
| Jesurun | Abigail J. | September 25, 1862 | n/a | Bleinheim | I | E | 111 |
| Jesurun | Ribca Hana de Abraham | September 23, 1823 | n/a | Bleinheim | I | E | 122 |
| Jesurun | Abraham | October 3, 1848 | n/a | Bleinheim | I | E | 123 |
| Jesurun | Rachel, wife of Abraham | July 7, 1820 | n/a | Bleinheim | I | E | 124 |
| Jesurun | Rachel, daughter of Benjamin Jr | December 16, 1838 | Child | Bleinheim | I | E | 125 |
| Jesurun | Jacob Benjamin | November 8, 1856 | n/a | Bleinheim | I | F | 139 |
| Jesurun | Leah, daughter of Benjamin | February 25, 1854 | n/a | Bleinheim | I | F | 140 |
| Jesurun | Daniel | January 4, 1889 | n/a | Bleinheim | I | F | 141 |
| Jesurun | Leah de Daniel | May 9, 1850 | n/a | Bleinheim | I | F | 142 |
| Jesurun | Abigail de Sola, wife of Benjamin | March 23, 1864 | n/a | Bleinheim | I | F | 143 |
| Jesurun | Benjamin | September 25, 1839 | n/a | Bleinheim | I | F | 144 |
| Jesurun | Ragel Hannah, daughter of Benjamin | July 8, 1834 | n/a | Bleinheim | I | F | 145 |
| Jesurun | Ester de Abraham | May 17, 1830 | n/a | Bleinheim | I | F | 147 |
| Jesurun | Haham Rephael | September 28, 1748 | n/a | Bleinheim | V | A | 733 |
| Jesurun | Ester | January 15, 1759 | n/a | Bleinheim | V | A | 734 |
| Jesurun | Ishac de Iacob | July 27, 1756 | n/a | Bleinheim | V | E | 870 |
| Jesurun | Abraham de Iacob | February 12, 1767 | n/a | Bleinheim | VII | A | 1040 |
| Jesurun | Ahron, son of Iahacob | August 22, 1751 | n/a | Bleinheim | VII | A | 1042 |
| Jesurun | Jahacob | February 10, 1742 | n/a | Bleinheim | VII | A | 1043 |
| Jesurun | Ester, wife of Iahacob | March 27, 1752 | n/a | Bleinheim | VII | A | 1044 |
| Jesurun | Rachel Hana Jesurun, wife of H. H. Raphael | November 18, 1720 | n/a | Bleinheim | VII | C | 1140 |
| Jesurun | David | February 14, 1691 | n/a | Bleinheim | VII | D | 1195 |
| Jesurun | Sarah Pardo, widow of Benjamin, Jr | August 21, 1906 | n/a | Bleinheim | VIII | G | 1331 |
| Jesurun | Moises de David A. | March 7, 1855 | n/a | Bleinheim | IX | A | 1411 |
| Jesurun | Branca, daughter of Moseh | October 10, 1751 | Child | Bleinheim | X | C | 1544 |
| Jesurun | Sara, daughter of Jacob | July 25, 1730 | Child | Bleinheim | XI | D | 1676 |
| Jesurun | Meriam, daughter of Abraham de David | August 24, 1758 | n/a | Bleinheim | XI | D | 1679 |
| Jesurun | Mordechaj, son of Iacob | October 25, 1734 | Child | Bleinheim | XII | A | 1705 |
| Jesurun | Ribca, wife of Abraham | June 26, 1746 | n/a | Bleinheim | XII | B | 1740 |
| Jesurun | Abraham | February 14, 1731 | n/a | Bleinheim | XII | B | 1741 |
| Jesurun | Batseba de Abraham | February 26, 1761 | Child | Bleinheim | XII | B | 1742 |
| Jesurun | Debora de Abraham | August 15, 1760 | Child | Bleinheim | XII | B | 1742a |
| Jesurun | Rachel de Jacob de David | May 7, 1761 | Child | Bleinheim | XII | B | 1743 |
| Jesurun | Benjamin | May 8, 1745 | n/a | Bleinheim | XII | C | 1773 |
| Jesurun | Ishac | July 9, 1790 | n/a | Bleinheim | XII | C | 1776 |
| Jesurun | Sara Hana, wife of Isaac | February 9, 1743 | n/a | Bleinheim | XII | C | 1777 |
| Jesurun | Mosseh Hisquiau | July 30, 1787 | n/a | Bleinheim | XII | D | 1797 |
| Jesurun | Rachel, wife of Abraham De David | November 22, 1764 | n/a | Bleinheim | XII | D | 1806 |
| Jesurun | Abraham de David | November 22, 1803 | n/a | Bleinheim | XII | D | 1807 |
| Jesurun | Sara, wife of David | January 15, 1774 | n/a | Bleinheim | XII | E | 1814 |
| Jesurun | David | June 4, 1787 | n/a | Bleinheim | XII | E | 1815 |
| Jesurun | David de Abraham | November 20, 1826 | n/a | Bleinheim | XII | F | 1831 |
| Jesurun | Sara Hana de David | July 30, 1801 | n/a | Bleinheim | XII | F | 1832 |
| Jesurun | Ester de Ishac | August 31, 1785 | n/a | Bleinheim | XII | F | 1833 |
| Jesurun | Rachel, daughter of Abraham | April 28, 1780 | n/a | Bleinheim | XII | F | 1834 |
| Jesurun | Abraham de Jacob | October 6, 1818 | n/a | Bleinheim | XIV | C | 2030 |
| Jesurun | Ester de Abraham de Jacob | April 20, 1846 | n/a | Bleinheim | XIV | C | 2031 |
| Jesurun | Sarah de Iacob de David | February 27, 1796 | n/a | Bleinheim | XV | F | 2149 |
| Jesurun | Lea Hana, wife of Jahacob | September 10, 1763 | n/a | Bleinheim | XV | F | 2152 |
| Jesurun | Iahacob de David | May 25, 1804 | n/a | Bleinheim | XV | F | 2153 |
| Jesurun | Leah de Moises Abraham | April 26, 1880 | n/a | Bleinheim | XVI | B | 2199 |
| Jesurun | Moises Abraham | July 14, 1853 | n/a | Bleinheim | XVI | B | 2200 |
| Jesurun | Moises de Moises | August 8, 1848 | n/a | Bleinheim | XVI | B | 2201 |
| Jesurun | Ester de Anjel J. | March 6, 1919 | n/a | Bleinheim | XVI | C | 2229 |
| Jesurun | Dr. Anjel J. | October 6, 1893 | n/a | Bleinheim | XVI | C | 2230 |
| Jesurun | Estela de Anjel | February 24, 1864 | n/a | Bleinheim | XVI | C | 2231 |
| Jesurun | Gabriel | August 30, 1848 | n/a | Bleinheim | XVI | C | 2232 |
| Jesurun | Abigail de D. M. | April 18, 1860 | n/a | Bleinheim | XVII | A | 2247 |
| Jesurun | David M. | January 24, 1884 | n/a | Bleinheim | XVII | B | 2273 |
| Jesurun | Rachel de David M. | July 13, 1907 | n/a | Bleinheim | XVII | B | 2274 |
| Jesurun | Abigail de Jacob | March 14, 1844 | n/a | Bleinheim | XIX | A | 2452 |
| Jesurun | Ribca de Jacob | October 15, 1845 | n/a | Bleinheim | XIX | A | 2453 |
| Jesurun | Leah de Jacob | March 19, 1849 | n/a | Bleinheim | XIX | A | 2454 |
| Jesurun | Mose Hisquiao | July 17, 1850 | n/a | Bleinheim | XIX | A | 2455 |
| Jesurun | Leah de Mose Hisquiao de Jacob | August 30, 1861 | n/a | Bleinheim | XIX | A | 2456 |
| Jesurun | Judith | August 6, 1877 | n/a | Bleinheim | XIX | A | 2457 |
| Jesurun | Rachel David | 1878 | n/a | Bleinheim | XIX | A | 2464 |
| Jesurun | Daniel, Jr. | October 5, 1873 | n/a | Bleinheim | XIX | A | 2465 |
| Jesurun | Ribca Rodriguez Miranda, widow of Daniel, Jr. | January 16, 1874 | n/a | Bleinheim | XIX | A | 2466 |
| Jesurun | Sarah | December 6, 1905 | n/a | Bleinheim | XIX | F | 2526 |
| Jesurun Cardoze | Batsebah | January 16, 1891 | n/a | Bleinheim | XIX | E | 2510 |
| Jesurun De Oliveira | Iahacob Hisquiau | September 15, 1788 | n/a | Bleinheim | II | C | 259 |
| Jesurun de Oliveyra | Jeudit, wife of Iahacob Hisquiau | November 1, 1818 | n/a | Bleinheim | II | C | 260 |
| Jesurun Enriques | Daniel De Joseph | February 21, 1786 | n/a | Bleinheim | III | E | 461 |
| Jesurun Gabay | Abraham | December 10, 1722 | n/a | Bleinheim | XIII | F | 1953 |
| Jesurun Henriques | Efraim de Joseph | March 26, 1783 | n/a | Bleinheim | III | A | 383 |
| Jesurun Henriques | Binjamin, son of Iacob de Iosseph | June 4, 1769 | Child | Bleinheim | III | D | 427 |
| Jesurun Henriques | Eliau Israel | August 12, 1759 | n/a | Bleinheim | IV | A | 551 |
| Jesurun Henriques | Sara, wife of Abraham | December 13, 1758 | n/a | Bleinheim | IV | A | 552 |
| Jesurun Henriques | Abraham | July 9, 1753 | n/a | Bleinheim | IV | A | 553 |
| Jesurun Henriques | Ester, wife of Eliao Israel | May 14, 1784 | n/a | Bleinheim | IV | B | 595 |
| Jesurun Henriques | Lea Hana, wife of Jahacob | December 28, 1747 | n/a | Bleinheim | IV | C | 656 |
| Jesurun Henriques | Leah, daughter of Iahacob de Iosseph | July 3, 1762 | Child | Bleinheim | V | C | 802 |
| Jesurun Henriques | Abraham, son of Yacob de Yosseph | May 13, 1763 | Child | Bleinheim | V | C | 803 |
| Jesurun Henriques | Rachel, daughter Iahacob De Iosseph | November 30, 1760 | Child | Bleinheim | V | C | 805 |
| Jesurun Henriques | Rachel, widow of Jacob De Efraim | March 1, 1744 | n/a | Bleinheim | VI | A | 917 |
| Jesurun Henriques | Binjamin, son of Jacob de Benjamin | January 3, 1709 | n/a | Bleinheim | VII | A | 1057 |
| Jesurun Henriques | Batseba, daughter of Jacob de David | June 22, 1707 | n/a | Bleinheim | VII | A | 1061 |
| Jesurun Henriques | Sara, daughter of Eliau Israel | April 26, 1745 | n/a | Bleinheim | VII | B | 1091 |
| Jesurun Henriques | Ester, wife of Ephraim | June 26, 1679 | n/a | Bleinheim | XI | A | 1627 |
| Jesurun Henriques | Ester, daughter of Abraham | May 22, 1732 | Child | Bleinheim | XIV | D | 2049 |
| Jesurun Henriquez | Elias | November 27, 1881 | November 27, 1881 | Berg Altena | n/a | C | 1 |
| Jesurun Henriquez | Delia de Elias | April 8, 1884 | April 8, 1884 | Berg Altena | n/a | C | 2 |
| Jesurun Henriquez | Leah de Mordy | April 17, 1903 | April 17, 1903 | Berg Altena | n/a | C | 18 |
| Jesurun Henriquez | Rachel de Abraham | October 19, 1855 | n/a | Bleinheim | I | G | 172 |
| Jesurun Henriquez | Abraham | September 8, 1829 | n/a | Bleinheim | I | G | 173 |
| Jesurun Henriquez | Binjin de Eliao Israel | May 12, 1765 | n/a | Bleinheim | II | E | 350 |
| Jesurun Henriquez | Binjamin de Iosseph | November 21, 1755 | n/a | Bleinheim | III | C | 406 |
| Jesurun Henriquez | Benjamin, son of Jacob de Joseph | March 23, 1776 | Child | Bleinheim | III | D | 426 |
| Jesurun Henriquez | Hisquiaõ Ioseph de Jacob de Ioseph | October 6, 1781 | n/a | Bleinheim | III | D | 428 |
| Jesurun Henriquez | Iosseph, son of Ephraim | March 15, 1765 | Child | Bleinheim | III | E | 445 |
| Jesurun Henriquez | Semuel, son of Yosseph | December 29, 1746 | Child | Bleinheim | III | E | 452 |
| Jesurun Henriquez | Sara, daughter of Abraham | February 14, 1756 | n/a | Bleinheim | IV | A | 554 |
| Jesurun Henriquez | Hisquiau David | September 17, 1778 | n/a | Bleinheim | IV | B | 596 |
| Jesurun Henriquez | Jacob | December 11, 1753 | n/a | Bleinheim | IV | C | 663 |
| Jesurun Henriquez | Rachel, daughter of Iacob de Iosseph | February 16, 1769 | Child | Bleinheim | V | E | 858 |
| Jesurun Henriquez | Batsebah, daughter of Iacob de Iosseph | December 11, 1765 | Child | Bleinheim | V | E | 864 |
| Jesurun Henriquez | Jacob de Menaseh | April 30, 1754 | n/a | Bleinheim | V | E | 883 |
| Jesurun Henriquez | Yacob de Ephraim | July 17, 1738 | n/a | Bleinheim | VI | A | 916 |
| Jesurun Henriquez | Ephraim | December 3, 1754 | n/a | Bleinheim | VI | A | 918 |
| Jesurun Henriquez | Sara Hana | October 22, 1733 | n/a | Bleinheim | VI | A | 923 |
| Jesurun Henriquez | Ester de Josseph | July 1, 1790 | n/a | Bleinheim | VI | B | 972 |
| Jesurun Henriquez | Batseba, wife of Binjamin | June 25, 1699 | n/a | Bleinheim | VII | A | 1053 |
| Jesurun Henriquez | Binjamin | September 26, 1718 | n/a | Bleinheim | VII | A | 1054 |
| Jesurun Henriquez | Lea, daughter of Eliau | October 29, 1719 | n/a | Bleinheim | VII | A | 1055 |
| Jesurun Henriquez | Menaseh | December 21, 1685 | n/a | Bleinheim | XIII | F | 1947 |
| Jesurun Henriquez | Ester, wife of Menaseh | September 14, 1717 | n/a | Bleinheim | XIII | F | 1948 |
| Jesurun Henriquez | Ester, daughter of Eliao | November 3, 1732 | Child | Bleinheim | XIV | D | 2050 |
| Jesurun Henriquez | Eliau de Jacob de Eliau Jsrael | July 29, 1758 | Child | Bleinheim | XV | E | 2136 |
| Jesurun Henriquez | Rachel Lopez Penha, widow of Elias | September 13, 1844 | n/a | Bleinheim | XVI | B | 2180 |
| Jesurun Henriquez | Eliao | October 8, 1830 | n/a | Bleinheim | XVI | B | 2181 |
| Jesurun Henriquez | Hanah, wife of Jeosuah | March 29, 1832 | n/a | Bleinheim | XVI | C | 2203 |
| Jesurun Henriquez | Jeosuah | January 29, 1815 | n/a | Bleinheim | XVI | C | 2204 |
| Jesurun Henriquez | Josuah | July 4, 1862 | n/a | Bleinheim | XVII | E | 2343 |
| Jesurun Henriquez | Sarah Cohen Henriquez, widow of Jeosuah | August 16, 1870 | n/a | Bleinheim | XVII | E | 2344 |
| Jesurun Henriquez | Y. Y. | May 30, 1872 | n/a | Bleinheim | XVIII | A | 2360 |
| Jesurun Henriquez | Rafael | July 4, 1869 | n/a | Bleinheim | XVIII | A | 2361 |
| Jesurun Henriquez | Eliáo | May 17, 1861 | Child | Bleinheim | XVIII | A | 2367 |
| Jesurun Henriquez | Rebecca | March 18, 1915 | n/a | Bleinheim | XVIII | D | 2438 |
| Jesurun Henriquez | Jeudith | February 11, 1930 | n/a | Bleinheim | XIX | E | 2511 |
| Jesurun Lobo | Joseph | March 17, 1811 | n/a | Bleinheim | XVII | A | 2233 |
| Jesurun Lobo | Abigail, wife of Abraham | January 2, 1828 | n/a | Bleinheim | XVII | A | 2235 |
| Jesurun Lobo | A. | May 12, 1832 | n/a | Bleinheim | XVII | A | 2236 |
| Jesurun Lobo | D. | May 28, 1830 | n/a | Bleinheim | XVII | B | 2257 |
| Jesurun Oliveira | Ribca | 1905 | n/a | Bleinheim | XIX | F | 2522 |
| Jesurun Pinto | Sara, daughter of Semuel | March 22, 1790 | Child | Bleinheim | II | C | 257 |
| Jesurun Pinto | Ieudith Hannah de Semuel | September 6, 1792 | n/a | Bleinheim | II | C | 258 |
| Jesurun Pinto | Moses | May 4, 1877 | n/a | Bleinheim | IX | H | 1486 |
| Jesurun Pinto | Abraham | February 21, 1827 | n/a | Bleinheim | XVIII | C | 2391 |
| Jesurun Saportas | Mosseh | June 14, 1771 | n/a | Bleinheim | II | B | 203 |
| Jesurun Saportas | Rachel, wife of Isaac | July 28, 1772 | n/a | Bleinheim | II | B | 216 |
| Jesurun Saportas | Lea, wife of Rephael | July 6, 1783 | n/a | Bleinheim | II | B | 217 |
| Jesurun Saportas | Moseh | March 22, 1794 | n/a | Bleinheim | II | B | 221 |
| Jesurun Saportas | Gracia, daughter of Iahacob | March 11, 1788 | Child | Bleinheim | II | C | 262 |
| Jesurun Saportas | Deborah, wife of Abraham | January 10, 1762 | n/a | Bleinheim | V | B | 776 |
| Jesurun Sasporta | Esther | August 31, 1903 | September 1, 1903 | Berg Altena | n/a | B | 17 |
| Jesurun Sasportas | Sarah, wife of Daniel | March 27, 1826 | n/a | Bleinheim | XIX | B | 2473 |
| Jeuda Leao | David, son of Eliau & Abigail | December 24, 1731 | Child | Bleinheim | VII | C | 1141 |
| Jeuda Leaõ | Abraham De Eliau | March 9, 1755 | n/a | Bleinheim | IV | C | 643 |
| Jeuda Leaõ | Clara, wife of Jacob | October 2, 1723 | n/a | Bleinheim | XII | A | 1716 |
| Jeuda Leaõ | Abigail, wife of Eliao | November 27, 1767 | n/a | Bleinheim | XII | B | 1758 |
| Jeuda Leaõ | David | November 21, 1738 | n/a | Bleinheim | XII | C | 1789 |
| Jeuda Leaõ | Lea Clara, wife of Semuel De Yahacob | February 23, 1744 | n/a | Bleinheim | XII | C | 1793 |
| Jeuda Leao Pereira | Semuel | October 31, 1756 | Child | Bleinheim | IV | C | 642 |
| Jeudah Leao | Sarah, wife of Semuel de Eliau | January 1, 1762 | n/a | Bleinheim | II | E | 339 |
| Jeudah Leao | Yeudit, daughter of Semuel de Jacob | January 4, 1754 | Child | Bleinheim | V | E | 877 |
| Jeudah Leao | Abraham, son of Isaac de Jacob | April 2, 1769 | Child | Bleinheim | V | E | 879 |
| Jeudah Leao | Ragel, De Iahacob | March 29, 1730 | n/a | Bleinheim | VII | B | 1079 |
| Jeudah Leao | Rachel de Iahacob | September 12, 1727 | n/a | Bleinheim | VII | B | 1090 |
| Jeudah Leao | Iahacob, son of Abraham de Jacob | November 8, 1751 | Child | Bleinheim | VII | C | 1164 |
| Jeudah Leao | Mordehay, son of Jshac de Eliao | September 1, 1763 | Child | Bleinheim | VII | E | 1218 |
| Jeudah Leao | Semuel de Ishac | January 17, 1760 | | Bleinheim | VII | E | 1226 |
| Jeudah Leao | Ester, daughter of Eliao | January 26, 1726 | Child | Bleinheim | VII | E | 1230 |
| Jeudah Leao | Ribca, daughter of Samuel & Sara | February 14, 1761 | Child | Bleinheim | XI | D | 1678 |
| Jeudah Leao | Jacob | August 14, 1759 | n/a | Bleinheim | XII | A | 1717 |
| Jeudah Leao | Ribca Hana, wife of Yacob | December 5, 1734 | n/a | Bleinheim | XII | A | 1718 |
| Jeudah Leao | Rybca Hana de Yacob | January 25, 1735 | n/a | Bleinheim | XII | A | 1723 |
| Jeudah Leao | Ester, wife of Samuel | April 2, 1735 | n/a | Bleinheim | XII | B | 1756 |
| Jeudah Leao | Eliaõ | July 18, 1739 | n/a | Bleinheim | XII | B | 1757 |
| Jeudah Leao | Ribca de Abraham | February 14, 1788 | n/a | Bleinheim | XII | E | 1824 |
| Jeudah Leao | Mosseh, son of Michael De Eliao | January 4, 1764 | Child | Bleinheim | XII | E | 1829 |
| Jeudah Leao | David, son of Eliao Rahel | January 15, 1726 | Child | Bleinheim | XIII | A | 1846 |
| Jeudah Leao | Rachel, daughter Yacob | March 24, 1720 | n/a | Bleinheim | XIII | A | 1849 |
| Jeudah Leao | Rahel, wife of Eliao | January 31, 1726 | n/a | Bleinheim | XIII | C | 1867 |
| Jeudah Leao | Benjamin, son of Eliao & Rahel | March 31, 1727 | Child | Bleinheim | XIII | D | 1894 |
| Jeudah Leaó | Abigail, daughter of Michael de Eliau | No date | Child | Bleinheim | XII | C | 1790 |
| Jeudah Leaõ | Racel de Iahacob | August 1, 1732 | n/a | Bleinheim | VII | E | 1214 |
| Jeudah Leaõ | Clara, daughter of Semuel de Jahacob | July 23, 1751 | Child | Bleinheim | VII | E | 1217 |
| Jeudah Leaõ | Lea, daughter of Semuel & Sara | February 5, 1755 | Child | Bleinheim | VII | E | 1227 |
| Jeudah Leaõ | Mosseh, son of Michael de Eliau | No date | Child | Bleinheim | VII | E | 1236 |
| Jeudah Leaõ | Jahacob, son of Semuel de Jahacob | May 1, 1750 | Child | Bleinheim | XII | B | 1752 |
| Jeudah Leaõ | Eliao, son of Semuel & Sara | October 8, 1747 | Child | Bleinheim | XII | B | 1753 |
| Jeudah Leaõ | Clara, daughter of Semuel de Jahacob | June 27, 1747 | Child | Bleinheim | XII | B | 1754 |
| Jeudah Leaõ | Clara de Abraham de Jahacob | July 3, 1745 | n/a | Bleinheim | XII | B | 1755 |
| Jeudah Leaõ | Grasia, wife of Semuel de Iahacob | August 25, 1752 | n/a | Bleinheim | XII | C | 1791 |
| Jeudah Leaõ | Abraham de Yacob | July 28, 1781 | n/a | Bleinheim | XII | E | 1825 |
| Jeudah Leaõ | Sara, daughter of Yacob | April 18, 1722 | n/a | Bleinheim | XIII | A | 1847 |
| Jeudah Leaõ | Lea, daughter of Yacob | August 11, 1723 | n/a | Bleinheim | XIII | D | 1895 |
| Jeudah Senior | Esther de Solomon | October 3, 1928 | October 4, 1928 | Berg Altena | n/a | B | 31 |
| Jeudah Senior, Jr. | Solomon de | August 19, 1909 | August 19, 1909 | Berg Altena | n/a | B | 30 |
| Johai | Delicia Capon de Hesquia | June 17, 1947 | June 26, 1947 | Berg Altena | n/a | P | 21 |
| Johai | Hesquia Johai | October 5, 1935 | October 5, 1935 | Berg Altena | n/a | P | 22 |
| Josub | Zalman Aron | January 22, 1976 | Not recorded | Berg Altena | n/a | FF | 16 |
| Josub | Manya | May 15, 2013 | Not recorded | Berg Altena | n/a | FF | FF-D |
| Judah Leao | Semuel | June 24, 1693 | n/a | Bleinheim | VII | A | 1052 |
| Juliao | Abigail, wife of Abraham | December 19, 1866 | n/a | Bleinheim | VIII | E | 1310 |
| Julien | Moses | May 1, 1852 | n/a | Bleinheim | XVII | D | 2320 |
| Karilho | David | April 30, 1691 | n/a | Bleinheim | VII | D | 1185 |
| Karner | Franz | December 26, 1981 | December 28, 1981 | Berg Altena | n/a | MM | 1 |
| Karner | Winifred M. Chumaceiro eshet Frans | May 16, 1989 | May 18, 1989 | Berg Altena | n/a | MM | 2 |
| Katz | Charlotta | October 21, 1990 | October 22, 1990 | Berg Altena | n/a | FF | 12 |
| Katz | Jehuda Leon | December 8, 1968 | Not recorded | Berg Altena | n/a | GG | 12 |
| Katz | Esther | June 20, 1980 | Not recorded | Berg Altena | n/a | HH | 10 |
| Katz | Abraham | April 19, 1966 | Not recorded | Berg Altena | n/a | HH | 11 |
| Keizer | Ester Israel | May 22, 1779 | n/a | Bleinheim | II | E | 336 |
| Keizer | Selomoh Israel | December 29, 1785 | n/a | Bleinheim | XIII | A | 1853 |
| Keizer | Ester, daughter of Selomoh | April 10, 1766 | Child | Bleinheim | XIII | C | 1872 |
| Kelber | Jacob | November 10, 1960 | Not recorded | Berg Altena | n/a | II | 18 |
| Kelber | Yuda | October 7, 1981 | Not recorded | Berg Altena | n/a | RR | 7 |
| Keyzer | Mosseh Israel | August 13, 1756 | n/a | Bleinheim | XIII | A | 1854 |
| Kirzner | Socher | November 26, 1997 | Not recorded | Berg Altena | n/a | EE | 17 |
| Kirzner Shusterman | Fania | February 18, 2012 | Not recorded | Berg Altena | n/a | EE | 16 |
| Kisilevich | Sonia | May 4, 2000 | May 8, 2000 | Berg Altena | n/a | AA | 4 |
| Kisilevich | Jaime Chaim Shalom | July 14, 1997 | July 15, 1997 | Berg Altena | n/a | AA | 5 |
| Klein | Hannah R. | November 14, 1896 | November 15, 1896 | Berg Altena | n/a | Child B | 6 |
| Klein | Rozette de Aaron | July 7, 1896 | July 7, 1896 | Berg Altena | n/a | C | 10 |
| Knoot | Jacob | August 31, 2002 | September 2, 2002 | Berg Altena | n/a | NN | 17 |
| Kornmehl | David | May 22, 1950 | May 23, 1950 | Berg Altena | n/a | Q | 19 |
| Kywi | Erna Esther eshet Max | April 23, 1992 | April 26, 1992 | Berg Altena | n/a | GG | 10 |
| Kywi | Max | February 4, 1972 | February 6, 1972 | Berg Altena | n/a | GG | 11 |
| L. Maduro | Esther de Mordechay | October 13, 1885 | October 13, 1885 | Berg Altena | n/a | Child D | 4 |
| Lacs | Zacarias | September 2, 1989 | Not recorded | Berg Altena | n/a | EE | 13 |
| Lacs-Rabinovici | Marieta | August 31, 2004 | Not recorded | Berg Altena | n/a | EE | 12 |
| Laguna | De Leao | March 25, 1888 | Child | Berg Altena | n/a | TA'2 | 57 |
| Lansberg | Dr. Solomon Moshe | August 12, 1901 | August 12, 1901 | Berg Altena | n/a | E | 34 |
| Lansberg | Esther Cohen Henriquez | May 30, 1905 | May 30, 1905 | Berg Altena | n/a | E | 35 |
| Lansberg | Haim | December 20, 1933 | December 20, 1933 | Berg Altena | n/a | E | 36 |
| Lansberg | Morris Salomon | May 3, 1911 | May 4, 1911 | Berg Altena | n/a | E | 41 |
| Lansberg | Jane Judith Alvarez Correa de | April 9, 1948 | April 9, 1948 | Berg Altena | n/a | N | 28 |
| Lansberg | Eduard Salomon | September 8, 1958 | September 9, 1958 | Berg Altena | n/a | N | 29 |
| Lansberg | Elsa Rosalind | February 27, 1969 | February 27, 1969 | Berg Altena | n/a | N | 30 |
| Lansberg | Editha | December 26, 1989 | December 28, 1989 | Berg Altena | n/a | N | 31 |
| Lansberg | Albertina Henriquez de | May 31, 1953 | June 1, 1953 | Berg Altena | n/a | O | 31 |
| Lansberg | Salomon Mozes | November 20, 1977 | November 21, 1977 | Berg Altena | n/a | O | 32 |
| Lansberg | Alfred de Mauritz | January 19, 1895 | January 20, 1895 | Berg Altena | n/a | Child C | 8 |
| Leao Nunes | Ester, wife of Abraham de | October 1, 1776 | n/a | Bleinheim | II | C | 242 |
| Leefmans | Benjamin | | July 8, 1890 | Berg Altena | n/a | A | 16 |
| Leizer Keis | Hersh | October 18, 1964 | Not recorded | Berg Altena | n/a | HH | 13 |
| Leon | Jacob Joseph | November 28, 1936 | Not recorded | Berg Altena | n/a | K | 16 |
| Leon | Mauricio | Not recorded | Child | Berg Altena | n/a | TA | 47 |
| Leon | Zaida | November 23, 1880 | Child | Berg Altena | n/a | TA | 53 |
| Leon | Julia S. | May 27, 1884 | Child | Berg Altena | n/a | TA'2 | 55 |
| Leon | Aminta de David | February 3, 1888 | Child | Berg Altena | n/a | TA'2 | 70 |
| Leon | Leah de Marchena de | May 8, 1931 | Not recorded | Berg Altena | n/a | TG | 4 |
| Leon | Cheri M. | June 16, 1923 | Not recorded | Berg Altena | n/a | TG | 5 |
| Levantou | Nissim Isidoro | Jne 8, 1957 | June 8, 1957 | Berg Altena | n/a | AA | 11 |
| Levantou | Elisa Almoslinos | May 14, 1946 | May 15, 1946 | Berg Altena | n/a | J | 15 |
| Levantou | Yontov de Joseph | August 22, 1950 | August 22, 1950 | Berg Altena | n/a | J | 15 A |
| Levi | Esther Levy Maduro de David | August 6, 1894 | August 7, 1894 | Berg Altena | n/a | E | 24 |
| Levi | Sara, daughter of David | September 15, 1699 | n/a | Bleinheim | XI | E | 1690 |
| Levi | Gabriel De David | October 11, 1749 | n/a | Bleinheim | XII | C | 1775 |
| Levi | David | February 26, 1758 | n/a | Bleinheim | XII | D | 1805 |
| Levi | Lea Levi, wife of Davyd | December 20, 1694 | n/a | Bleinheim | XI | E | 1687 |
| Levi Maduro | Sara, daughter of Abraham De Isaac | December 16, 1751 | Child | Bleinheim | IV | C | 613 |
| Levi Maduro | Irmiao Hisquiao | December 5, 1767 | n/a | Bleinheim | IV | C | 617 |
| Levi Maduro | Iahacob de Selomoh | March 20, 1783 | n/a | Bleinheim | V | A | 692 |
| Levi Maduro | Hanah, wife of Iahacob de Selomoh | March 13, 1783 | n/a | Bleinheim | V | A | 693 |
| Levi Maduro | Selomo Hizquiau | January 1, 1758 | n/a | Bleinheim | V | A | 709 |
| Levi Maduro | Ishac | March 3, 1756 | n/a | Bleinheim | V | B | 756 |
| Levi Maduro | Sarah Hana, wife of Abraham De Ishac | July 17, 1765 | n/a | Bleinheim | V | C | 780 |
| Levi Maduro | Ishac de Abraham De Ishac | October 29, 1755 | Child | Bleinheim | V | C | 781 |
| Levi Maduro | Sarah de Isaac de Jacob | June 5, 1767 | Child | Bleinheim | V | C | 800 |
| Levi Maduro | Yahacob, son of Yshac De Iahacob | August 27, 1756 | Child | Bleinheim | V | C | 807 |
| Levi Maduro | Ester, daughter of Selomo | June 8, 1737 | Child | Bleinheim | V | D | 814 |
| Levi Maduro | Mosseh, son of Semuel de Isaac | December 10, 1751 | Child | Bleinheim | V | D | 815 |
| Levi Maduro | Ribca, wife of Abraham de Ishac | October 27, 1750 | n/a | Bleinheim | V | D | 818 |
| Levi Maduro | Semuel Hizquiau | December 7, 1754 | n/a | Bleinheim | V | D | 820 |
| Levi Maduro | Ribca, wife of Selomoh | February 27, 1768 | n/a | Bleinheim | V | E | 836 |
| Levi Maduro | Ribi Selomoh de Semuel | March 19, 1760 | n/a | Bleinheim | V | E | 837 |
| Levi Maduro | Sarah, daughter of Semuel de Isaac | August 8, 1744 | n/a | Bleinheim | V | E | 840 |
| Levi Maduro | Abraham De Aron | February 23, 1741 | n/a | Bleinheim | VII | D | 1173 |
| Levi Maduro | Ester Hana, daughter of Selomoh | June 15, 1755 | n/a | Bleinheim | X | G | 1574 |
| Levi Maduro | Iacob Haim, son of Mordechai | March 25, 1772 | Child | Bleinheim | X | N | 1610 |
| Levi Maduro | Iacob, son of Mordechai | November 12, 1768 | Child | Bleinheim | X | N | 1611 |
| Levi Maduro | Rachel, widow of Selomoh de Aharon | February 3, 1745 | n/a | Bleinheim | XI | A | 1616 |
| Levi Maduro | Jeremiau | May 4, 1710 | n/a | Bleinheim | XI | D | 1671 |
| Levi Maduro | Mosseh (Hazan & Ribi) | November 10, 1708 | n/a | Bleinheim | XI | D | 1673 |
| Levi Maduro | Ester, daughter Yshak | February 17, 1726 | n/a | Bleinheim | XI | D | 1674 |
| Levi Maduro | Sarah | February 10, 1733 | n/a | Bleinheim | XI | E | 1684 |
| Levi Maduro | Yrimeyahu Haim | August 17, 1731 | n/a | Bleinheim | XIV | B | 1997 |
| Levi Mendes | David | September 7, 1715 | n/a | Bleinheim | XII | A | 1704 |
| Levinson | Judith | April 4, 1911 | April 5, 1911 | Berg Altena | n/a | H | 18 |
| Levy | Elkah | May 14, 1911 | May 15, 1911 | Berg Altena | n/a | E | 25 |
| Levy | Ishac de Selomoh | August 14, 1759 | Child | Bleinheim | V | E | 839 |
| Levy | D., Jr | November 25, 1832 | n/a | Bleinheim | VIII | J | 1347 |
| Levy | Rachel, daughter of David | September 21, 1731 | n/a | Bleinheim | XI | D | 1677 |
| Levy | Manuel Hisquiau | March 4, 1754 | n/a | Bleinheim | XII | D | 1803 |
| Levy | Abraham, son of David & Sara | October 9, 1726 | Child | Bleinheim | VII | E | 1225 |
| Levy Maduro | Salomé Abinun de Lima de Mordechay | August 14, 1918 | August 15, 1918 | Berg Altena | n/a | L | 6 |
| Levy Maduro | Estrella | October 10, 1962 | October 10, 1962 | Berg Altena | n/a | L | 7 |
| Levy Maduro | Aurora | November 5, 1961 | November 6, 1961 | Berg Altena | n/a | L | 8 |
| Levy Maduro | Romelia | July 13, 1967 | July 13, 1967 | Berg Altena | n/a | L | 9 |
| Levy Maduro | Benjamin | December 22, 1966 | December 23, 1966 | Berg Altena | n/a | N | 0 |
| Levy Maduro | Adela Naar de | October 20, 1918 | November 2, 1918 | Berg Altena | n/a | N | 1 |
| Levy Maduro | Moses S. | March 17, 1911 | March 18, 1911 | Berg Altena | n/a | N | 2 |
| Levy Maduro | Sarah Jesurun Henriquez | January 3, 1938 | January 3, 1938 | Berg Altena | n/a | N | 3 |
| Levy Maduro | Elias S. | April 24, 1911 | April 25, 1911 | Berg Altena | n/a | N | 4 |
| Levy Maduro | Emma Penha de | August 28, 1935 | August 29, 1935 | Berg Altena | n/a | P | 1 |
| Levy Maduro | Mordechay S. | November 15, 1918 | November 23, 1918 | Berg Altena | n/a | P | 2 |
| Levy Maduro | Rebecca | November 24, 1971 | November 25, 1971 | Berg Altena | n/a | P | 3 |
| Levy Maduro | Rebecca (Bequita) | December 9, 1865 | December 9, 1965 | Berg Altena | n/a | P | 4 |
| Levy Maduro | Salomon Mordechay | January 21, 1938 | January 22, 1938 | Berg Altena | n/a | P | 5 |
| Levy Maduro | Charles | October 4, 1947 | December 28, 1957 | Berg Altena | n/a | Q | 10 |
| Levy Maduro | Salomon Elias | March 10, 1951 | March 11, 1951 | Berg Altena | n/a | Q | 11 |
| Levy Maduro | Montefiore Mozes Mordechai | January 1, 1956 | January 1, 1956 | Berg Altena | n/a | Q | 12 |
| Levy Maduro | Salomon Abraham | March 9, 1967 | March 10, 1967 | Berg Altena | n/a | LL | 12 |
| Levy Maduro | Rachel Louise Brandao eshet Salomon A. | April 25, 1987 | April 27, 1987 | Berg Altena | n/a | LL | 13 |
| Levy Maduro | Rebecca Maduro eshet Joshua | April 13, 1992 | April 20, 1992 | Berg Altena | n/a | QQ | 2 |
| Levy Maduro | Jossy | May 27, 1964 | May 27, 1964 | Berg Altena | n/a | QQ | 4 |
| Levy Maduro | Moses J. | Not recorded | January 17, 1881 | Berg Altena | n/a | A | 4 |
| Levy Maduro | Isaac | Not recorded | February 6, 1900 | Berg Altena | n/a | A | 26 |
| Levy Maduro | Mordy | April 6, 1902 | April 6, 1902 | Berg Altena | n/a | A | 27 |
| Levy Maduro | Isaac | March 13, 1885 | Not recorded | Berg Altena | n/a | B | 11 |
| Levy Maduro | Manuel S. | Not recorded | November 14, 1932 | Berg Altena | n/a | E | 0 |
| Levy Maduro | Salomon de Eliao | Not recorded | September 20, 1883 | Berg Altena | n/a | E | 1 |
| Levy Maduro | Rebecca Curiel de Salomon | Not recorded | July 23, 1922 | Berg Altena | n/a | E | 2 |
| Levy Maduro | Ephraim S. E. | Not recorded | August 12, 1893 | Berg Altena | n/a | E | 22 |
| Levy Maduro | Serafina Jesurun eshet Ephraim S.E. | March 8, 1952 | March 9, 1952 | Berg Altena | n/a | E | 23 |
| Levy Maduro | Jacob Ic. | September 8, 1909 | September 9, 1909 | Berg Altena | n/a | H | 12 |
| Levy Maduro | Judith Jn Lindo de Jacob | June 12, 1918 | June 12, 1918 | Berg Altena | n/a | H | 13 |
| Levy Maduro | Estela J. | February 28, 1930 | September 26, 1932 | Berg Altena | n/a | H | 14 |
| Levy Maduro | Milton H. | October 26, 1948 | October 27, 1948 | Berg Altena | n/a | J | 21 |
| Levy Maduro | Delia Capriles eshet Milton | February 4, 1997 | February 5, 1997 | Berg Altena | n/a | J | 22 |
| Levy Maduro | David de Mordechay | July 2, 1921 | July 3, 1921 | Berg Altena | n/a | K | 8 |
| Levy Maduro | Rachel de Lima de | January 18, 1927 | January 19, 1927 | Berg Altena | n/a | K | 13 |
| Levy Maduro | Clara de Marchena | February 25, 1988 | February 28, 1988 | Berg Altena | n/a | M | 25 |
| Levy Maduro | Mordechai (Mordy) de Salomon M. | March 23, 1982 | March 25, 1982 | Berg Altena | n/a | Q | 3 |
| Levy Maduro | David Richard | December 30, 1995 | January 2, 1996 | Berg Altena | n/a | MM | 19 |
| Levy Maduro | Rachel Moron eshet Richard | January 23, 1992 | January 24, 1992 | Berg Altena | n/a | MM | 20 |
| Levy Maduro | George J. Memorial Plaque | February 9, 1945 | Dachau Camp | Berg Altena | n/a | QQ | 3 |
| Levy Maduro | Lea, wife of Semuel De Moss | April 20, 1827 | n/a | Bleinheim | II | A | 185 |
| Levy Maduro | Semuel de Mos | October 24, 1790 | n/a | Bleinheim | II | A | 186 |
| Levy Maduro | Ieudit Leah, wife of Semuel de Selomoh | September 21, 1767 | n/a | Bleinheim | II | E | 334 |
| Levy Maduro | Sarah Hana, wife of Semuel de Selomoh | January 11, 1763 | n/a | Bleinheim | II | E | 335 |
| Levy Maduro | Rachel, wife of Mosseh | December 17, 1766 | n/a | Bleinheim | III | A | 359 |
| Levy Maduro | Mosseh de Semuel | November 23, 1766 | n/a | Bleinheim | III | A | 360 |
| Levy Maduro | Rachel, wife of Selomoh | September 24, 1760 | n/a | Bleinheim | III | G | 513 |
| Levy Maduro | Selomoh De Semuel | February 2, 1731 | n/a | Bleinheim | III | G | 514 |
| Levy Maduro | Debora, wife of Semuel de Selomoh | July 17, 1783 | n/a | Bleinheim | IV | A | 528 |
| Levy Maduro | Deborah de Isaac de Jacob | April 27, 1771 | Child | Bleinheim | IV | A | 543 |
| Levy Maduro | Ester de Isaac de Jacob | June 5, 1770 | Child | Bleinheim | IV | B | 583 |
| Levy Maduro | Ribi Ishac de Semuel | May 3, 1784 | n/a | Bleinheim | IV | C | 620 |
| Levy Maduro | Ester, wife of Ishac de Semuel | July 30, 1759 | n/a | Bleinheim | IV | C | 621 |
| Levy Maduro | Sarah De Semuel De Isaac | May 11, 1775 | Child | Bleinheim | IV | C | 622 |
| Levy Maduro | Ester De Semuel De Isaac | December 27, 1764 | n/a | Bleinheim | IV | C | 624 |
| Levy Maduro | Ester, wife of Abraham de Selomoh | August 18, 1767 | n/a | Bleinheim | IV | C | 625 |
| Levy Maduro | David Hisquiau | January 3, 1762 | n/a | Bleinheim | IV | C | 634 |
| Levy Maduro | Haim Jacob de Isaac | July 15, 1768 | Child | Bleinheim | IV | C | 647 |
| Levy Maduro | Abraham, son of Semuel De Isaac | April 18, 1751 | Child | Bleinheim | V | A | 686 |
| Levy Maduro | Abraham Haim de Selomoh | December 11, 1774 | n/a | Bleinheim | V | A | 691 |
| Levy Maduro | Mosseh de Isaac de Jacob | March 9, 1778 | Child | Bleinheim | V | A | 712 |
| Levy Maduro | Hana, wife of Jahacob | May 28, 1754 | n/a | Bleinheim | V | B | 753 |
| Levy Maduro | Haim Iacob | December 16, 1770 | n/a | Bleinheim | V | B | 754 |
| Levy Maduro | Sarah, wife of Ishac | January 25, 1765 | n/a | Bleinheim | V | B | 755 |
| Levy Maduro | Rachel, wife of Abraham de Isaac | November 26, 1763 | n/a | Bleinheim | V | C | 779 |
| Levy Maduro | …, son of Isaac De Jahacob | December 27, 1760 | Child | Bleinheim | V | C | 801 |
| Levy Maduro | Semuel de Ishac de Iahacob | February 4, 1766 | Child | Bleinheim | V | C | 806 |
| Levy Maduro | Sarah, daughter of Semuel de Isaac | June 1, 1746 | Child | Bleinheim | V | D | 816 |
| Levy Maduro | Sarah, daughter of Abraham de Isaac | February 8, 1759 | Child | Bleinheim | V | D | 817 |
| Levy Maduro | …son of Selomoh De Mordehay | October 17, 1731 | Child | Bleinheim | V | D | 819 |
| Levy Maduro | …son of Semuel De Mordehay | October 17, 1731 | n/a | Bleinheim | V | D | 819a |
| Levy Maduro | Ribi Semuel | April 6, 1752 | n/a | Bleinheim | V | E | 842 |
| Levy Maduro | Ester, wife of Hasan R. Semuel | March 29, 1748 | n/a | Bleinheim | V | E | 843 |
| Levy Maduro | Ribca, daughter of Abraham de Isaac | January 19, 1763 | Child | Bleinheim | VI | A | 920 |
| Levy Maduro | Mosseh, son of Abraham de Isaac | January 2, 1764 | Child | Bleinheim | VI | A | 921 |
| Levy Maduro | Mosseh De Aron | March 23, 1772 | n/a | Bleinheim | VII | D | 1174 |
| Levy Maduro | Abigail | June 28, 1867 | n/a | Bleinheim | VIII | G | 1332 |
| Levy Maduro | Mordechay | April 25, 1825 | n/a | Bleinheim | VIII | K | 1361 |
| Levy Maduro | David | January 10, 1832 | n/a | Bleinheim | VIII | K | 1362 |
| Levy Maduro | Miriam | August 28, 1848 | n/a | Bleinheim | VIII | M | 1378 |
| Levy Maduro | Samuel, Jr | December 15, 1898 | n/a | Bleinheim | VIII | P | 1404 |
| Levy Maduro | Esther de Moises | No date | n/a | Bleinheim | IX | E | 1459 |
| Levy Maduro | Jeudith | April 4, 1866 | n/a | Bleinheim | X | K | 1593 |
| Levy Maduro | Ester de Selomo de Eliao | March 9, 18544 | Child | Bleinheim | X | K | 1594 |
| Levy Maduro | Mordechay de Eliao | October 5, 1842 | n/a | Bleinheim | X | L | 1600 |
| Levy Maduro | Esther de Eliao | September 3, 1857 | n/a | Bleinheim | X | L | 1601 |
| Levy Maduro | Eliao | July 16, 1830 | n/a | Bleinheim | X | L | 1602 |
| Levy Maduro | Esther de Mordochay | June 23, 1774 | n/a | Bleinheim | X | M | 1605 |
| Levy Maduro | Selomoh de Aharon | January 9, 1740 | n/a | Bleinheim | XI | A | 1617 |
| Levy Maduro | Aaron | July 15, 1727 | n/a | Bleinheim | XI | D | 1670 |
| Levy Maduro | Ester Levy Maduro, wife of Ribi Mosseh | September 25, 1719 | n/a | Bleinheim | XI | D | 1672 |
| Levy Maduro | Sara de Mosseh de Yscak | March 21, 1739 | Child | Bleinheim | XI | E | 1685 |
| Levy Maduro | Selomoh de Mosseh | April 15, 1751 | n/a | Bleinheim | XII | A | 1695 |
| Levy Maduro | Debora, wife of Selomoh de Mosseh | November 28, 1727 | n/a | Bleinheim | XII | A | 1696 |
| Levy Maduro | Deborah, daughter Abraham & Ester | November 8, 1744 | Child | Bleinheim | XII | A | 1697 |
| Levy Maduro | Selomoh de Mosseh de Yschack | April 9, 1742 | Child | Bleinheim | XIV | C | 2007 |
| Levy Maduro Calvo | Jacob | August 7, 1854 | n/a | Bleinheim | X | K | 1595 |
| Levy Maduro Peixotto | Rachel, wife of Moseh | August 14, 1793 | n/a | Bleinheim | II | A | 184 |
| Levy Suares | Sara | February 27, 1746 | n/a | Bleinheim | V | D | 824 |
| Liebman | Aron | February 26, 1951 | n/a | Bleinheim | VIII | O | 1390b |
| Limvers | Flerida de N. de Crasto eshet Simon | June 28, 1988 | June 30, 1988 | Berg Altena | n/a | MM | 32 |
| Limvers | Ivar Gabriel de Simon | October 12, 1993 | October 14, 1993 | Berg Altena | n/a | MM | 33 |
| Linder | Fanny | June 16, 1967 | Not recorded | Berg Altena | n/a | II | 10 |
| Linder | Elias | May 7, 1975 | Not recorded | Berg Altena | n/a | II | 11 |
| Lindo | Rebecca Senior de | January 19, 1915 | January 19, 1915 | Berg Altena | n/a | O | 9 |
| Lindo | Sarah J. | No date | n/a | Bleinheim | VIII | N | 1383 |
| Lindo | Grace, widow of Benjamin | September 23, 1825 | n/a | Bleinheim | XVIII | B | 2377 |
| Lobo | Rachel Reneta | December 1, 1870 | Child | Bleinheim | XVII | A | 2243 |
| Lopes | Ribi Eliao | March 4, 1781 | n/a | Bleinheim | V | E | 895 |
| Lopes | Ester Hana, wife of Hazan Eu | September 19, 1766 | n/a | Bleinheim | V | E | 896 |
| Lopes | Simha de Eliao | February 9, 1777 | Child | Bleinheim | XIV | A | 1967 |
| Lopes | Haham Eliau (Morenu Arav) | July 22, 1713 | n/a | Bleinheim | XIV | D | 2033 |
| Lopes Castro | Daniel | September 20, 1772 | n/a | Bleinheim | IV | A | 571 |
| Lopes da Fonseca | Lea de David | February 5, 1820 | n/a | Bleinheim | I | E | 127 |
| Lopes da Fonseca | Rachel Simha | December 5, 1763 | n/a | Bleinheim | V | B | 774 |
| Lopes da Fonseca | Haham Jahacob | March 11, 1815 | n/a | Bleinheim | V | B | 775 |
| Lopes da Fonseca | Semuel | November 24, 1765 | Child | Bleinheim | VII | A | 1060 |
| Lopes da Fonseca | Ribi David | August 2, 1805 | n/a | Bleinheim | VII | A | 1063 |
| Lopes Da Fonseca | Binjamin | October 20, 1755 | n/a | Bleinheim | XII | D | 1800 |
| Lopes Da Fonseca | Haham Hasalem Ryby Mosseh Hizquiau | January 24, 1752 | n/a | Bleinheim | XIII | F | 1946 |
| Lopes Da Fonseca | Menasseh | Jly 17, 1731 | n/a | Bleinheim | XIV | B | 1989 |
| Lopes Da Fonseca | Ribi Yahacob | February 5, 1738 | n/a | Bleinheim | XIV | B | 1990 |
| Lopes Da Fonseca | Riby Abraham Haim | August 5, 1722 | n/a | Bleinheim | XIV | D | 2034 |
| Lopes De Leaõ | Abraham | August 31, 1731 | n/a | Bleinheim | XII | A | 1712 |
| Lopes De Leaõ | Sara Hana, wife of Abraham | August 7, 1729 | n/a | Bleinheim | XII | A | 1713 |
| Lopes Dias | Sarah, wife of Abraham de Iacob | March 19, 1766 | n/a | Bleinheim | II | E | 346 |
| Lopes Dias | Yahacob | January 18, 1773 | n/a | Bleinheim | IV | A | 545 |
| Lopes Dias | Abigail, daughter of David | September 22, 1783 | Child | Bleinheim | IV | B | 590 |
| Lopes Dias | Jacob, son of David | n/a | Child | Bleinheim | IV | C | 641 |
| Lopes Dias | Mosseh | November 10, 1745 | n/a | Bleinheim | V | C | 792 |
| Lopes Dias | Aron Hisquiau | July 16, 1735 | n/a | Bleinheim | V | D | 829 |
| Lopes Dias | Abraham Haim de Moseh | July 12, 1780 | n/a | Bleinheim | VII | C | 1165 |
| Lopes Dias | Sarah Hana, wife of David | February 4, 1716 | n/a | Bleinheim | XIV | B | 1988 |
| Lopes Diaz | Ishac | April 9, 1749 | n/a | Bleinheim | IV | A | 546 |
| Lopes Fonca | Iacob, son of David de Iacob | May 22, 1765 | Child | Bleinheim | XIV | D | 2045 |
| Lopes Fonseca | Ester David | August 22, 1841 | n/a | Bleinheim | I | A | 11 |
| Lopes Fonseca | Ishac, son of David de Jacob | February 2, 1774 | Child | Bleinheim | IV | C | 682 |
| Lopes Fonseca | Leah, wife of Ruby Aharon | May 24, 1781 | n/a | Bleinheim | V | B | 745 |
| Lopes Fonseca | Sara Hana | October 3, 1787 | n/a | Bleinheim | V | E | 897 |
| Lopes Fonseca | Leah | January 27, 1772 | n/a | Bleinheim | V | E | 898 |
| Lopes Fonseca | Eliau, son of Iahacob | April 11, 1769 | Child | Bleinheim | VII | A | 1059 |
| Lopes Henriques | Binjamin | July 4, 1780 | n/a | Bleinheim | V | A | 702 |
| Lopes Henriques | David de Selomoh | No date | n/a | Bleinheim | VI | B | 1012 |
| Lopes Henriques | Debora Sara, wife of David | June 9, 1726 | n/a | Bleinheim | VII | A | 1032 |
| Lopes Henriques | Yeosua, son of Moshe | September 12, 1693 | n/a | Bleinheim | VII | D | 1196 |
| Lopes Henriques | Leah, daughter of Benjamin | May 13, 1737 | Child | Bleinheim | VII | E | 1229 |
| Lopes Henriques | Ribca, duaghter of Abraham | February 19, 1764 | Child | Bleinheim | VII | E | 1241 |
| Lopes Henriques | Arturo | December 23, 1950 | n/a | Bleinheim | VIII | L | 1365a |
| Lopes Henriques | Mosseh | November 4, 1707 | n/a | Bleinheim | XI | B | 1641 |
| Lopes Henriques | Rachel, wife of Mosseh | January 25, 1715 | n/a | Bleinheim | XI | B | 1642 |
| Lopes Henriques | Ribca, daughter of Mosseh | December 27, 1752 | Child | Bleinheim | XI | B | 1646 |
| Lopes Henriques | Ribca, daughter of David | July 25, 1719 | Child | Bleinheim | XIV | C | 2005 |
| Lopes Henriques | Ieossuah, son of Selomoh | September 26, 1755 | Child | Bleinheim | XV | A | 2074 |
| Lopes Henriques | Mordechay | November 2, 1789 | n/a | Bleinheim | XV | D | 2122 |
| Lopes Henriques | Ieudit, wife of Mordechay | July 19, 1788 | n/a | Bleinheim | XV | D | 2123 |
| Lopes Henriques | Jacob | August 5, 1848 | n/a | Bleinheim | XVII | A | 2239 |
| Lopes Henriques | Josias | June 29, 1862 | n/a | Bleinheim | XVII | A | 2241 |
| Lopes Henriquez | Ribca, wife of Binjamin | December 19, 1761 | n/a | Bleinheim | V | A | 701 |
| Lopes Henriquez | Ribca, daughter of Mosseh | June 17, 1754 | Child | Bleinheim | V | C | 793 |
| Lopes Henriquez | Remains of 2 Infant Children of J & R | 1863 | n/a | Bleinheim | XIV | D | 2060 |
| Lopes Henriquez | Iacob de Selomoh | March 13, 1783 | n/a | Bleinheim | XV | F | 2140 |
| Lopes Lagüna | Sara | July 29, 1744 | n/a | Bleinheim | XIII | C | 1879 |
| Lopes Matos | Jeudit | January 26, 1755 | n/a | Bleinheim | VIII | C | 1291 |
| Lopes Peña | Abraham | September 1, 1782 | n/a | Bleinheim | VI | A | 926 |
| Lopes Penha | Ribca, wife of Isaac D'Yah Hisquiau | November 21, 1779 | n/a | Bleinheim | II | E | 318 |
| Lopes Penha | Isaac de Jacob Hisquiau | May 15, 1781 | n/a | Bleinheim | II | E | 319 |
| Lopes Penha | Mosseh | December 24, 1782 | n/a | Bleinheim | II | E | 320 |
| Lopes Penha | Ribca, daughter of Isaac de Jacob Hisquiau | November 7, 1781 | Child | Bleinheim | III | A | 373 |
| Lopes Penha | Eliao Haim | December 30, 1793 | n/a | Bleinheim | III | D | 422 |
| Lopes Penha | Ribca de Eliao Haim | October 10, 1794 | n/a | Bleinheim | III | D | 423 |
| Lopes Raphael | Rachel, wife of Abraham | September 13, 1785 | n/a | Bleinheim | III | A | 378 |
| Lopes Salsedo | Yacob | July 12, 1693 | n/a | Bleinheim | VII | B | 1104 |
| Lopes Salsedo | …, wife of Yacob | July 5 - August 2, 1693 | n/a | Bleinheim | VII | B | 1105 |
| Lopes Silva | Yahacob | November 23, 1732 | n/a | Bleinheim | XIII | A | 1857 |
| Lopez | Elias | June 16, 1848 | n/a | Bleinheim | I | C | 48 |
| Lopez | Aron De Abraham | January 19, 1734 | n/a | Bleinheim | III | G | 502 |
| Lopez | Abraham | September 7, 1728 | n/a | Bleinheim | XIII | C | 1862 |
| Lopez | Miryam, daughter of Haim Eliaó | May 4, 1769 | Child | Bleinheim | XIV | A | 1968 |
| Lopez | Eliaó Rephael | April 20, 1763 | n/a | Bleinheim | XIV | A | 1977 |
| Lopez | Rachel, wife of Haham Eliau | May 20, 1699 | n/a | Bleinheim | XIV | D | 2032 |
| Lopez da Fonseca | Reby Aharon | January 13, 1746 | n/a | Bleinheim | V | B | 746 |
| Lopez Da Fonseca | Ribi Jshak | April 25, 1742 | n/a | Bleinheim | XIV | A | 1975 |
| Lopez Da Fonseca | Rachel de Mosseh Hisquiau | June 1, 1762 | n/a | Bleinheim | XIV | A | 1976 |
| Lopez Da Fonseca | Davyd Rephael (Hazan & Raby) | July 28, 1707 | n/a | Bleinheim | XIV | C | 2011 |
| Lopez Da Fonseca | Rahel, wife of Abraham Haim | December 2, 1755 | n/a | Bleinheim | XIV | D | 2035 |
| Lopez Da Fonseca | Eliau de Aharon | July 6, 1737 | Child | Bleinheim | XIV | D | 2044 |
| Lopez Da Silva | Sarah, wife of Abraham | July 19, 1736 | n/a | Bleinheim | XII | A | 1731 |
| Lopez Da Silva | Abraham | November 6, 1737 | n/a | Bleinheim | XII | A | 1732 |
| Lopez Dias | Ishac, son of Jahacob & Rachel | October 25, 1749 | n/a | Bleinheim | II | E | 343 |
| Lopez Dias | Ribca Simha, wife of Abraham de Jacob | November 11, 1763 | n/a | Bleinheim | II | E | 344 |
| Lopez Dias | Sarah, wife of Ishac | February 24, 1749 | n/a | Bleinheim | IV | A | 548 |
| Lopez Dias | Raghel, wife of Abraham | June 25, 1762 | n/a | Bleinheim | IV | A | 549 |
| Lopez Dias | Rachel, wife of Iahacob | May 30, 1781 | n/a | Bleinheim | IV | B | 589 |
| Lopez Dias | Jacob, son of Abraham & Ribca Simha | April 11, 1764 | Child | Bleinheim | IV | C | 639 |
| Lopez Dias | Semuel | June 4, 1743 | Child | Bleinheim | XIV | A | 1961 |
| Lopez Diaz | David de Ishak | January 21, 1766 | n/a | Bleinheim | IV | A | 550 |
| Lopez Fonca | David de Abraham | October 4, 1783 | n/a | Bleinheim | XIV | A | 1978 |
| Lopez Fonca | Ribca, wife of Iacob | November 5, 1780 | n/a | Bleinheim | XIV | B | 1991 |
| Lopez Fonseca | Engracia A. Correa de | January 28, 1923 | Not recorded | Berg Altena | n/a | TB | 4 |
| Lopez Fonseca | Ragel de David | March 17, 1847 | n/a | Bleinheim | I | C | 49 |
| Lopez Fonseca | Leah | No date | n/a | Bleinheim | XVII | C | 2292 |
| Lopez Henriques | Mossseh Rephael | February 27, 1757 | n/a | Bleinheim | IV | B | 580 |
| Lopez Henriques | Sara, daughter of Benjamin | March 22, 1744 | Child | Bleinheim | XI | B | 1645 |
| Lopez Henriquez | Ametis de Lima de Isaac | December 15, 1902 | December 16, 1902 | Berg Altena | n/a | F | 26 |
| Lopez Henriquez | Rachel Rosalinda | January 5, 1869 | January 5, 1910 | Berg Altena | n/a | F | 24 |
| Lopez Henriquez | Leonidas | May 28, 1904 | May 28, 1904 | Berg Altena | n/a | F | 25 |
| Lopez Henriquez | Rebecca | May 29, 1931 | May 29, 1931 | Berg Altena | n/a | F | 42 |
| Lopez Henriquez | Isaac | March 24, 1922 | March 24, 1922 | Berg Altena | n/a | F | 43 |
| Lopez Henriquez | Julia Salas vda. Isaac | August 5, 1954 | Not recorded | Berg Altena | n/a | F | 44 |
| Lopez Henriquez | Leah | July 16, 1929 | July 16, 1929 | Berg Altena | n/a | F | 45 |
| Lopez Henriquez | Estela | January 30, 1937 | January 31, 1937 | Berg Altena | n/a | F | 46 |
| Lopez Henriquez | Miriam | October 23, 1937 | October 23, 1937 | Berg Altena | n/a | F | 47 |
| Lopez Henriquez | Hannah | December 28, 1940 | December 29, 1940 | Berg Altena | n/a | F | 48 |
| Lopez Henriquez | Estela | | July 2, 1932 | Berg Altena | n/a | J | 7 |
| Lopez Henriquez | Josias de Isaac | March 1, 1994 | March 4, 1994 | Berg Altena | n/a | LL | 52 |
| Lopez Henriquez | Sonia | April 21, 2012 | April 24, 2012 | Berg Altena | n/a | TA | 4 |
| Lopez Henriquez | Adelaida Valencia de | June 25, 1971 | Not recorded | Berg Altena | n/a | TA | 6 |
| Lopez Henriquez | Julio | May 22, 1930 | Not recorded | Berg Altena | n/a | TA | 7 |
| Lopez Henriquez | Julia H. de | May 7, 1936 | Not recorded | Berg Altena | n/a | TA | 8 |
| Lopez Henriquez | David, Jr. | March 24, 1925 | Not recorded | Berg Altena | n/a | TA | 9 |
| Lopez Henriquez | Arturo | September 16, 1936 | Not recorded | Berg Altena | n/a | TA | 3 |
| Lopez Henriquez | Mosseh Binjamin | November 21, 1757 | Child | Bleinheim | V | A | 704 |
| Lopez Henriquez | Esther | January 9, 1906 | n/a | Bleinheim | VIII | O | 1391 |
| Lopez Henriquez | Rebecca Jacon | July 17, 1892 | n/a | Bleinheim | VIII | O | 1392 |
| Lopez Henriquez | Rachel de Josias | December 3, 1893 | n/a | Bleinheim | VIII | O | 1393 |
| Lopez Henriquez | Josias | February 25, 1904 | n/a | Bleinheim | VIII | O | 1394 |
| Lopez Henriquez | Ester, daughter of Benjamin | January 10, 1744 | Child | Bleinheim | XI | C | 1664 |
| Lopez Henriquez | David Hisuiau | April 18, 1746 | n/a | Bleinheim | XV | C | 2114 |
| Lopez Henriquez | Moseh de David Hisquiau | January 30, 1772 | n/a | Bleinheim | XV | C | 2115 |
| Lopez Henriquez | Grasia, widow of Mosseh de David | September 14, 1779 | n/a | Bleinheim | XV | C | 2118 |
| Lopez Henriquez | Ribca, wife of Selomoh | May 16, 1777 | n/a | Bleinheim | XV | F | 2142 |
| Lopez Henriquez | Selomoh | December 7, 1776 | n/a | Bleinheim | XV | F | 2143 |
| Lopez Henriquez | Rachel de Casseres, wife of David Hisquiao | January 26, 1830 | n/a | Bleinheim | XVI | A | 2171 |
| Lopez Henriquez | Riby David Hisquivao | August 22, 1822 | n/a | Bleinheim | XVI | A | 2172 |
| Lopez Henriquez | Abigail de Josias | January 2, 1880 | n/a | Bleinheim | XVI | B | 2192 |
| Lopez Henriquez | Sarah, wife of Isaac | May 11, 1864 | n/a | Bleinheim | XVII | A | 2238 |
| Lopez Henriquez | Abigail, relict of Jacob | November 9, 1877 | n/a | Bleinheim | XVII | A | 2240 |
| Lopez Henriquez | Rosalina | December 17, 1875 | Child | Bleinheim | XVII | B | 2263 |
| López Henriquez | Amelia | February 7, 1920 | Not recorded | Berg Altena | n/a | TA | 10 |
| Lopez Laguna | David | November 15, 1774 | n/a | Bleinheim | XIII | D | 1909 |
| Lopez Peña | Rachel, wife of Abraham | August 5, 1790 | n/a | Bleinheim | III | G | 503 |
| Lopez Peña | Jshac | January 18, 1731 | n/a | Bleinheim | III | G | 516 |
| Lopez Penha | Julius, Jr. | March 15, 1950 | Not recorded | Berg Altena | n/a | TE | 28 |
| Lopez Penha | Rebecca Levy Maduro | August 9, 1980 | Not recorded | Berg Altena | n/a | TE | 29 |
| Lopez Penha | Esther Ellin de Castro de | April 4, 1948 | April 4, 1948 | Berg Altena | n/a | Q | 16 |
| Lopez Penha | David Haim | December 31, 1942 | December 31, 1942 | Berg Altena | n/a | Q | 17 |
| Lopez Penha | Isolina Curiel eshet Isaac | April 14, 2002 | April 18, 2002 | Berg Altena | n/a | QQ | 9 |
| Lopez Penha | Isaac de David Haim | September 13, 1969 | September 14, 1969 | Berg Altena | n/a | QQ | 10 |
| Lopez Penha | Rebecca Henriquez de | August 18, 1925 | Not recorded | Berg Altena | n/a | TD | 9 |
| Lopez Penha | David | August 20, 1904 | Not recorded | Berg Altena | n/a | TD | 10 |
| Lopez Penha | Julius | May 10, 1934 | Not recorded | Berg Altena | n/a | TE | 6 |
| Lopez Penha | Edward | June 30, 1937 | Not recorded | Berg Altena | n/a | TE | 30 |
| Lopez Penha | Jael L. M. de | October 31, 1979 | Not recorded | Berg Altena | n/a | TE | 31 |
| Lopez Penha | Nora | April 12, 1976 | Not recorded | Berg Altena | n/a | TE | 32 |
| Lopez Penha | Sarah | September 21, 1978 | Not recorded | Berg Altena | n/a | TE | 33 |
| Lopez Penha | Henry | February 15, 1963 | Not recorded | Berg Altena | n/a | TF | 36 |
| Lopez Penha | Still Born: Daughter of Isaac C. | January 22, 1945 | January 22, 1945 | Berg Altena | n/a | Child F | 8 |
| Lopez Penha | Hanah Rachel | No date | n/a | Bleinheim | IX | E | 1454 |
| Lopez Penha | Aaron | September 8, 1862 | n/a | Bleinheim | IX | E | 1457 |
| Lopez Penha | Joseph | April 4, 1865 | n/a | Bleinheim | IX | F | 1463 |
| Lopez Penha | Clara de E. | No date | Child | Bleinheim | IX | F | 1464 |
| Lopez Penha | Abigail Mm | No date | n/a | Bleinheim | IX | G | 1468 |
| Lopez Penha | Ester M. | February 17, 1863 | n/a | Bleinheim | IX | G | 1469 |
| Lopez Penha | Abraham Oriel | September 30, 1862 | n/a | Bleinheim | IX | G | 1470 |
| Lopez Penha | Rachel Levy Maduro de | July 8, 1875 | n/a | Bleinheim | IX | G | 1471 |
| Lopez Penha | Haim Daniel | February 2, 1897 | n/a | Bleinheim | IX | G | 1472 |
| Lopez Penha | Rachel Curiel de | September 20, 1927 | n/a | Bleinheim | IX | G | 1473 |
| Lopez Penha | Jeudith de Eliezer | No date | n/a | Bleinheim | IX | H | 1487 |
| Lopez Penha | Eliezer H. | July 16, 1893 | n/a | Bleinheim | IX | H | 1488 |
| Lopez Penha | Jacob J. | November 7, 1878 | n/a | Bleinheim | IX | H | 1489 |
| Lopez Penha | Abigail | No date | n/a | Bleinheim | IX | H | 1490 |
| Lopez Penha | Selomit | No date | n/a | Bleinheim | IX | H | 1491 |
| Lopez Penha | Rebecca | July 14, 1925 | n/a | Bleinheim | X | E | 1557 |
| Lopez Penha | Esther | January 26, 1932 | n/a | Bleinheim | X | E | 1558 |
| Lopez Penha | Sarah, widow of Jacob | January 8, 1864 | n/a | Bleinheim | XV | A | 2087 |
| Lopez Penha | Jacob | June 17, 1843 | n/a | Bleinheim | XV | A | 2088 |
| Lopez Penha | Ribi Daniel | January 26, 1826 | n/a | Bleinheim | XV | A | 2090 |
| López Penha | (Rabino) Moises | January 1, 1854 | n/a | Bleinheim | IX | E | 1455 |
| López Penha | Clara | November 20, 1869 | n/a | Bleinheim | IX | E | 1456 |
| López Penha | Isaac | December 5, 1927 | n/a | Bleinheim | IX | G | 1474 |
| Lopez Raphael | Lea Ricardo, wife of Joseph | January 11, 1832 | n/a | Bleinheim | n/a | n/a | No tombstone |
| Lopez Rephael | Abraam | December 12, 1784 | n/a | Bleinheim | III | A | 381 |
| Lopez Rephael | Moseh, son of Abraham | May 23, 1751 | Child | Bleinheim | X | D | 1548 |
| Lopez Senior | Sarah A. Correa de Josias | June 3, 1930 | June 3, 1947 | Berg Altena | n/a | K | 6 |
| Lopez Senior | Josias Isaac | October 15, 1918 | December 24, 1919 | Berg Altena | n/a | K | 7 |
| Lückmann | Elsie (Elsita) Levy Maduro | December 31, 2016 | January 5, 2017 | Berg Altena | n/a | TD | 35 |
| Machoro | Ribi Ishac de Salomoh | September 17, 1745 | n/a | Bleinheim | VI | B | 1010 |
| Machoro | Ribca, wife of Ribi Ishac De Selomoh | August 14, 1730 | n/a | Bleinheim | VI | B | 1011 |
| Machoro | Selomoh de Ribi Ishac | March 4, 1742 | Child | Bleinheim | VII | B | 1106 |
| Machoro de Leao | Ribca, wife of David | November 4, 1722 | n/a | Bleinheim | XII | A | 1699 |
| Machoro de Leao | David | March 28, 1731 | n/a | Bleinheim | XII | A | 1701 |
| Machoro de Leaó | Hana | February 7, 1767 | n/a | Bleinheim | II | C | 264 |
| Machoro de Leaó | Yshac | January 24, 1758 | n/a | Bleinheim | II | C | 265 |
| Maduro Brandao | Sarita | September 30, 1980 | Not recorded | Berg Altena | n/a | DD | 1 |
| Maduro De Sola | Semuel | February 3, 1940 | n/a | Bleinheim | IX | M | 1523 |
| Maduro Lopez | Jacob de Josias | January 14, 1903 | January 15, 1903 | Berg Altena | n/a | F | 21 |
| Maduro Lopez | Rachel S. | February 7, 1907 | February 7, 1907 | Berg Altena | n/a | F | 22 |
| Maduro Lopez | Romenia de Jacob | August 21, 1963 | August 21, 1963 | Berg Altena | n/a | H | 20 |
| Maduro Lopez | Silvanio Samuel de Jacob | May 17, 1971 | May 18, 1971 | Berg Altena | n/a | H | 26 |
| Maduro Lopez | Susanna Maria | March 16, 1976 | March 16, 1976 | Berg Altena | n/a | H | 27 |
| Maduro Lopez | Eveline S. de S. S. | May 28, 1918 | May 29, 1918 | Berg Altena | n/a | H | 28 |
| Maduro Lopez | Ida | February 23, 1977 | Not recorded | Berg Altena | n/a | TD | 7 |
| Maduro Penso | Salomon | February 19, 1956 | February 19, 1956 | Berg Altena | n/a | B | 29 |
| Mae | M. | No date | n/a | Bleinheim | VIII | H | 1346 |
| Marache | Mosseh, son of Jacob | June 29, 1761 | Child | Bleinheim | XV | A | 2071 |
| Marache | Ribca, daughter of Jacob | October 18, 1763 | Child | Bleinheim | XV | A | 2072 |
| Marache | Raquel, wife of Mosseh | January 26, 1708 | n/a | Bleinheim | XV | C | 2107 |
| Marache | Ester, wife of Mosseh | September 28, 1769 | n/a | Bleinheim | XV | C | 2108 |
| Marache | Iahacob | June 30, 1735 | n/a | Bleinheim | XV | C | 2111 |
| Marche | Rahel | August 11, 1745 | n/a | Bleinheim | X | B | 1532 |
| Marchena | Ribca | June 7, 1708 | n/a | Bleinheim | VII | A | 1046 |
| Marchena | Mosseh | March 30, 1698 | n/a | Bleinheim | VII | A | 1047 |
| Marchena | Abraham | April 2, 1698 | n/a | Bleinheim | VII | A | 1048 |
| Martines Ledesma | Sarah | August 29, 1761 | n/a | Bleinheim | III | G | 509 |
| Matos | … | 1698-1699 | n/a | Bleinheim | XV | A | 2062a |
| Medina Pereira | Abraham | July 1, 1776 | n/a | Bleinheim | IV | C | 610 |
| Meir | Dan | October 29, 1985 | October 29, 1985 | Berg Altena | n/a | LL | 30 |
| Meit | Pinhos | October 16, 2004 | Not recorded | Berg Altena | n/a | CC | 2 |
| Meit | Isuhar B. | June 26, 1979 | Not recorded | Berg Altena | n/a | CC | 3 |
| Meit | Chaika Alexandrouich (eshet) M. | January 16, 1987 | Not recorded | Berg Altena | n/a | CC | 4 |
| Meit | Ita | June 26, 2002 | Not recorded | Berg Altena | n/a | DD | DD-C |
| Meit | Itzik | April 19, 1974 | Not recorded | Berg Altena | n/a | FF | 22 |
| Meit, Jr. | Moises | March 4, 1994 | Not recorded | Berg Altena | n/a | DD | 12 |
| Melamed | (Haham) Hay Ezekiel | December 17, 1901 | n/a | Bleinheim | X | K | 1591 |
| Mendes | Isaac Semuel | January 5, 1747 | n/a | Bleinheim | V | A | 698 |
| Mendes | Ester, daughter of Ishac | July 7, 1761 | Child | Bleinheim | VII | C | 1154 |
| Mendes Chumaceiro | Abraham | August 119, 1902 | August 19, 1902 | Berg Altena | n/a | C | 22 |
| Mendes Chumaceiro | Abigail Lopez Henriquez de Abraham | June 2, 1930 | June 3, 1930 | Berg Altena | n/a | C | 23 |
| Mendes Chumaceiro | Rev. Joseph Haim | October 5, 1905 | October 5, 1905 | Berg Altena | n/a | G | 27 |
| Mendes Chumaceiro | Eudora Rachel Sampson de | February 4, 1904 | February 5, 1904 | Berg Altena | n/a | G | 28 |
| Mendes Chumaceiro | Abigael (Habita) | February 9, 1911 | February 24, 1911 | Berg Altena | n/a | G | 29 |
| Mendes Chumaceiro | Abigail Lopez Penha de | March 2, 1966 | March 2, 1966 | Berg Altena | n/a | L | 25 |
| Mendes Chumaceiro | Isaac Haim de Abraham R. | December 30, 1938 | December 30, 1938 | Berg Altena | n/a | L | 26 |
| Mendes Chumaceiro | Jeanette eshet Norman | July 1, 1995 | July 3, 1995 | Berg Altena | n/a | LL | 2 |
| Mendes Chumaceiro | Frank | Decembr 20, 1987 | December 21, 1987 | Berg Altena | n/a | MM | 6 |
| Mendes Chumaceiro | Stella Gomes Casseres eshet Frank | October 24, 2009 | October 29, 2009 | Berg Altena | n/a | MM | 7 |
| Mendes Chumaceiro | Eugenie | October 26, 1946 | October 27, 1946 | Berg Altena | n/a | J | 10 |
| Mendes Chumaceiro | Sarah de Marchena de | April 14, 1943 | April 15, 1943 | Berg Altena | n/a | J | 11 |
| Mendes Chumaceiro | Josias | November 19, 1941 | November 19, 1941 | Berg Altena | n/a | J | 12 |
| Mendes Chumaceiro | Hilda bat Josias | November 4, 1986 | November 7, 1986 | Berg Altena | n/a | J | 19 |
| Mendes Chumaceiro | Norman de Isaac | December 11, 1990 | December 13, 1990 | Berg Altena | n/a | LL | 1 |
| Mendes Chumaceiro | Abraham Elias | December 3, 1896 | December 3, 1896 | Berg Altena | n/a | Child B | 7 |
| Mendes Chumaceiro | Abigail de Marchena de | December 17, 1985 | December 18, 1985 | Berg Altena | n/a | J | 18 |
| Mendes da Costa | Elishebah Brandon, wife of Obadiah | June 10, 1848 | n/a | Bleinheim | XVIII | C | 2395 |
| Mendes da Costa | Obadiah | April 21, 1851 | n/a | Bleinheim | XVIII | C | 2396 |
| Mendes de Castro | Ester, daughter of Daniel | September 7, 1762 | Child | Bleinheim | V | A | 685 |
| Mendes de Castro | Ribca Rachel, wife of Daniel | December 4, 1763 | n/a | Bleinheim | V | C | 784 |
| Mendes de Castro | Daniel | April 16, 1784 | n/a | Bleinheim | V | C | 785 |
| Mendes de Castro | Ester, wife of Daniel | May 7, 1762 | n/a | Bleinheim | V | C | 786 |
| Mendes de Castro | Iahacob | December 20, 1755 | n/a | Bleinheim | V | C | 787 |
| Mendes de Castro | Ester Leah, wife of Ishac | August 20, 1728 | n/a | Bleinheim | VI | A | 948 |
| Mendes de Castro | Abraham | October 10, 1763 | n/a | Bleinheim | VI | B | 968 |
| Mendes de Castro | Salomon | February 11, 1880 | n/a | Bleinheim | XVIII | D | 2436 |
| Mendes de Sola | Hahaham Riby David | April 3, 1745 | n/a | Bleinheim | V | A | 731 |
| Mendes Gama | Jshak | January 9, 1721 | n/a | Bleinheim | XIII | F | 1949 |
| Mendes Gama | Sarah Hana Mendes Gama, wife of Ishak | September 10, 1730 | n/a | Bleinheim | XIII | F | 1950 |
| Mendes Gama | Abraham Haym | July 22, 1726 | n/a | Bleinheim | XIII | F | 1951 |
| Mendes Machado | Ester | July 4, 1748 | n/a | Bleinheim | X | O | 1613 |
| Mendes Machado | Ishac Rephael | March 5, 1760 | n/a | Bleinheim | X | O | 1614 |
| Mendes Monsanto | Ester Tovar, widow of Jacob | March 14, 1798 | n/a | Bleinheim | II | D | 278 |
| Mendes Monsanto | Ester | September 10, 1781 | Child | Bleinheim | II | D | 280 |
| Mendes Monsanto | Jahacob | May 14, 1780 | n/a | Bleinheim | II | E | 324 |
| Mendes Monsanto | Rachel De Jacob | December 30, 1763 | Child | Bleinheim | IV | A | 566a |
| Mendes Monsanto | Moses | June 21, 1814 | n/a | Bleinheim | XIX | D | 2498 |
| Mendes Monsanto | Abigail | April 8, 1812 | n/a | Bleinheim | XIX | D | 2499 |
| Mendes Monsanto | Aaron | July 26, 1826 | n/a | Bleinheim | XIX | F | 2512 |
| Mendes Monsanto | Rachel, wife of David | February 15, 1860 | n/a | Bleinheim | XIX | F | 2513 |
| Mendes Monsanto | David | February 17, 1862 | n/a | Bleinheim | XIX | F | 2514 |
| Mendes Monsanto | Joseph | January 14, 1938 | n/a | Bleinheim | XIX | F | 2530 |
| Mendes Monsanto | Leah J. | October 27, 1902 | n/a | Bleinheim | XIX | F | 2531 |
| Mendes Monsanto | Abraham Alphonso | March 28, 1910 | n/a | Bleinheim | XIX | F | 2532 |
| Mendes Morao | Benjamin, son of Mosseh | March 10, 1752 | Child | Bleinheim | VII | E | 1216 |
| Mendes Solla | Lea | August 28, 1770 | n/a | Bleinheim | V | A | 735 |
| Mendez | Leonor Jesurun de David Dovale | July 18, 1936 | July 18, 1936 | Berg Altena | n/a | K | 11 |
| Mendez | David Dovale | July 24, 1944 | July 25, 1944 | Berg Altena | n/a | K | 12 |
| Mendez de Castro | Elyezer De Yshac | October 24, 1727 | Child | Bleinheim | VI | A | 942 |
| Mendez de Castro | Yshak | January 13, 1733 | n/a | Bleinheim | VI | A | 947 |
| Mendez de Sola | Haham Rephael Semuel | May 6, 1761 | n/a | Bleinheim | V | A | 732 |
| Mendez Monsanto | Clara Lopez Penha, widoe of Moses | April 30, 1831 | n/a | Bleinheim | XIII | C | 1885 |
| Mendez Pinedo | Raquel Dovale | October 7, 1896 | October 8, 1896 | Berg Altena | n/a | A | 20 |
| Mercado | David | June 13, 1761 | n/a | Bleinheim | IX | C | 1432 |
| Metsch | Bernardo Bruno | July 1, 1978 | Not recorded | Berg Altena | n/a | EE | 5 |
| Metsch | Tonia | July 4, 2003 | Not recorded | Berg Altena | n/a | EE | 6 |
| Meyer | David | Not recorded | August 22, 1880 | Berg Altena | n/a | A | 5 |
| Meyerston | Still Born: Son of A. R. (M) | November 14, 1906 | November 14, 1906 | Berg Altena | n/a | Child A | 10 |
| Meyerston | Hugh | March 9, 1915 | March 10, 1915 | Berg Altena | n/a | Child B | 1 |
| Miedema | Joyce da Costa Gomez-Miedema | July 12, 2002 | July 15, 2002 | Berg Altena | n/a | SS | 19 |
| Milstein | David Gershon | June 29, 1998 | July 2, 1998 | Berg Altena | n/a | CC | 9 |
| Milstein | Shlom Dawidow | September 23, 1976 | Not recorded | Berg Altena | n/a | GG | 6 |
| Milstein-Rosenfeld | Fruma | December 8, 1985 | Not recorded | Berg Altena | n/a | GG | 5 |
| Molina | Jahacob | December 5, 1716 | n/a | Bleinheim | VII | B | 1076 |
| Molina | Mordohai, son of Yahacob | November 19, 1704 | n/a | Bleinheim | VII | D | 1199 |
| Molina | Lea, daughter of Yahacob | August 1, 1704 | n/a | Bleinheim | VII | D | 1200 |
| Molina | Leã, wife of Abraham | August 27, 1707 | n/a | Bleinheim | VII | E | 1248 |
| Molina Monsanto | Sara de Abraham de | October 21, 1756 | n/a | Bleinheim | X | B | 1533 |
| Molina Monsanto | Abraham | January 15, 1744 | n/a | Bleinheim | X | B | 1534 |
| Mones | (Ribi) Ishac Haim | June 11, 1770 | n/a | Bleinheim | IX | C | 1441 |
| Monis | Rachel Hanah, wife of Abraham | December 5, 1748 | n/a | Bleinheim | IX | B | 1425 |
| Monis | Abraham | October 5, 1781 | n/a | Bleinheim | IX | B | 1426 |
| Monsanto | Mosseh Hisquiau | September 10, 1788 | n/a | Bleinheim | III | A | 375 |
| Monsanto | Ribcah, widow of Moseh | August 5, 1839 | n/a | Bleinheim | III | A | 376 |
| Monsanto | Iosiau | December 21, 1787 | n/a | Bleinheim | III | D | 420 |
| Monsanto | Rephael, son of Mosseh | August 3, 1783 | Child | Bleinheim | III | E | 455 |
| Monsanto | Mosseh | November 11, 1747 | n/a | Bleinheim | IV | A | 531 |
| Monsanto | Abraham Israel | December 10, 1694 | n/a | Bleinheim | VII | B | 1117 |
| Monsanto | Sarah, wife of Isaac | August 23, 1839 | n/a | Bleinheim | XVI | B | 2183 |
| Monsanto | Ishac | July 10, 1844 | n/a | Bleinheim | XVI | B | 2185 |
| Montes | Abraham Haim de David | March 7, 1777 | n/a | Bleinheim | X | F | 1571 |
| Morales | Iacob | December 12, 1785 | n/a | Bleinheim | I | B | 40 |
| Morales | Ishac David | June 15, 1782 | n/a | Bleinheim | III | A | 361 |
| Morales | Hana Lea Sara, wife of David | June 5, 1774 | n/a | Bleinheim | III | A | 364 |
| Morales | Abraham | December 9, 1757 | n/a | Bleinheim | X | B | 1535 |
| Morales | Abigail de David | December 21, 1812 | n/a | Bleinheim | XVII | D | 2304 |
| Moreno | Arturo de Elias | November 25, 1902 | November 25, 1902 | Berg Altena | n/a | G | 14 |
| Moreno | Mary P. Brandao de | July 4, 1914 | July 5, 1914 | Berg Altena | n/a | G | 37 |
| Moreno | Julia | April 14, 1933 | April 14, 1933 | Berg Altena | n/a | G | 38 |
| Moreno | Alice Brandao de | Not recorded | April 22, 1952 | Berg Altena | n/a | O | 28 |
| Moreno | Norma Curiel eshet Rene | February 9, 1998 | February 12, 1998 | Berg Altena | n/a | QQ | 19 |
| Moreno | Rene | August 21, 1986 | August 22, 1986 | Berg Altena | n/a | QQ | 20 |
| Moreno | Irene Capriles eshet Ivan, Sr. | December 12, 2002 | December 15, 2002 | Berg Altena | n/a | RR | 20 |
| Moreno | Ivan de Elias y Henny | November 13, 2014 | November 16, 2014 | Berg Altena | n/a | RR | 21 |
| Moreno | Estela MORENO | March 20, 1879 | n/a | Bleinheim | VIII | D | 1295 |
| Moreno Brandao | Henny Haydee de E. | February 5, 1980 | February 7, 1980 | Berg Altena | n/a | O | 26 |
| Moreno Brandao | Elias | September 22, 1943 | September 23, 1943 | Berg Altena | n/a | O | 27 |
| Moreno Brandao | Rosa Amalia Pinedo de | April 20, 1931 | Not recorded | Berg Altena | n/a | TB | 1 |
| Moreno Henriques | Ahron de Binjamin | May 19, 1778 | n/a | Bleinheim | II | D | 275 |
| Moreno Henriques | Ester | June 15, 1772 | n/a | Bleinheim | II | E | 312 |
| Moreno Henriques | Binjamin | March 30, 1749 | n/a | Bleinheim | VII | B | 1069 |
| Moreno Henriques | Daniel | April 27, 1723 | n/a | Bleinheim | VII | B | 1071 |
| Moreno Henriques | Abraham, son of Daniel | March 19, 1726 | n/a | Bleinheim | VII | B | 1072 |
| Moreno Henriques | Yshak de Yacob | April 30, 1727 | Child | Bleinheim | VII | C | 1120 |
| Moreno Henriques | Lea, duaghter of Binjamin | June 14, 1747 | Child | Bleinheim | VII | C | 1123 |
| Moreno Henriques | Lea de Aron | No date | n/a | Bleinheim | XII | E | 1830 |
| Moreno Henriques | Abigail, daughter of Aharon | April 16, 1714 | n/a | Bleinheim | XIII | A | 1850 |
| Moreno Henriquez | Ishac Haim de Benjamin | March 11, 1767 | n/a | Bleinheim | II | E | 313 |
| Moreno Henriquez | Ribca, daughter of Aron de Benjamin | March 9, 1776 | Child | Bleinheim | III | A | 367 |
| Moreno Henriquez | Rachel, wife of Daniel | November 28, 1745 | n/a | Bleinheim | VII | B | 1070 |
| Moreno Henriquez | Jacob MORENO HENRIQUEZ | July 8, 1859 | n/a | Bleinheim | VIII | D | 1296 |
| Moreno Namias | Rachel | July 31, 1897 | n/a | Bleinheim | VIII | N | 1387 |
| Morón | Clara Pinedo de | June 14, 1936 | June 15, 1936 | Berg Altena | n/a | C | 25 |
| Morón | Serafina | December 4, 1899 | December 4, 1899 | Berg Altena | n/a | A | 25 |
| Morón | Isaac H. | May 12, 1905 | May 13, 1905 | Berg Altena | n/a | C | 24 |
| Morón | Alfred John | June 29, 1997 | July 1, 1997 | Berg Altena | n/a | NN | 44 |
| Morón | Prospero | June 28, 1949 | June 28, 1949 | Berg Altena | n/a | D | 40 |
| Morón | Esther Regina Laguna de | October 28, 1913 | October 28, 1913 | Berg Altena | n/a | D | 41 |
| Morón | Amelia | June 26, 1942 | June 27, 1942 | Berg Altena | n/a | D | 42 |
| Morón | Alfredo | July 7, 1937 | July 7, 1937 | Berg Altena | n/a | D | 43 |
| Morón | Angelina | September 5, 1940 | September 6, 1940 | Berg Altena | n/a | D | 44 |
| Morón | Alfred de Prospero | February 7, 1977 | February 8, 1977 | Berg Altena | n/a | D | 45 |
| Morón | Olga eshet Alfred | May 18, 1985 | May 20, 1985 | Berg Altena | n/a | D | 46 |
| Motta | Benjamin, son of Selomoh | April 1, 1760 | Child | Bleinheim | II | C | 273 |
| Motta | Moseh | November 29, 1779 | n/a | Bleinheim | II | E | 353 |
| Motta | Abraham de Mosseh | September 26, 1775 | n/a | Bleinheim | II | E | 354 |
| Motta | Sara Hana, wife of Mosseh | April 29, 1772 | n/a | Bleinheim | II | E | 355 |
| Motta | Abraham | August 3, 1769 | n/a | Bleinheim | IV | A | 558 |
| Motta | Ishac De Mosseh | May 15, 1763 | n/a | Bleinheim | IV | A | 559 |
| Motta | Ester, daughter of Selomoh | October 21, 1751 | Child | Bleinheim | IV | A | 560 |
| Motta | Aron, son of Ishac | August 17, 1768 | Child | Bleinheim | IV | A | 561 |
| Motta | Rachel, daughter of Selomoh | April 10, 1750 | Child | Bleinheim | IV | A | 562 |
| Motta | Abraham, son of Ishac | August 28, 1768 | Child | Bleinheim | IV | A | 563 |
| Motta | Rachel, wife of Selomoh | November 19, 1749 | n/a | Bleinheim | IV | A | 564 |
| Motta | Ribca Hanah, wife of Selomoh | December 21, 1754 | n/a | Bleinheim | IV | A | 565 |
| Motta | Ishac Haim | July 29, 1772 | n/a | Bleinheim | IV | B | 600 |
| Motta | Debora, wife of Ishac | October 13, 1762 | n/a | Bleinheim | IV | B | 601 |
| Motta | Beniamin | March 23, 1748 | n/a | Bleinheim | IV | B | 602 |
| Motta | Ester, wife of Binjamin | November 26, 1747 | n/a | Bleinheim | IV | B | 603 |
| Motta | Rachel Hana, wife of Aron | September 15, 1768 | n/a | Bleinheim | IV | B | 604 |
| Motta | Aharon | February 2, 1781 | n/a | Bleinheim | IV | B | 605 |
| Motta | Benjamin Haim | August 30, 1780 | n/a | Bleinheim | IV | B | 606 |
| Motta | Selomoh | December 30, 1765 | Child | Bleinheim | IV | C | 665 |
| Motta | Jacob, son of Mosseh | April 22, 1763 | Child | Bleinheim | IV | C | 667 |
| Motta | Iahacob, son of Benjamin | November 11, 1727 | n/a | Bleinheim | V | E | 850 |
| Motta | Mordechay | October 14, 1823 | n/a | Bleinheim | XVI | B | 2178 |
| Motta de Castro | Aaron | Not recorded | February 9, 1895 | Berg Altena | n/a | A | 19 |
| Myerston | Morris | September 6, 1898 | May 5, 1900 | Berg Altena | n/a | D | 24 |
| Myerston | Abigail Abinun de Lima de | September 24, 1909 | September 24, 1909 | Berg Altena | n/a | D | 25 |
| Myerston | Arturo R. | December 21, 1918 | December 22, 1918 | Berg Altena | n/a | J | 5 |
| Myerston | Jacob | January 2, 1911 | Not recorded | Berg Altena | n/a | TE | 10 |
| Myerston | Max Arthur | August 27, 1903 | August 27, 1903 | Berg Altena | n/a | Child A | 8 |
| Myerston | Archibald Arthur Myerston | September 16, 1905 | September 17, 1905 | Berg Altena | n/a | Child A | 9 |
| Myerston | Mehir Marcus | No date | Child | Bleinheim | XVI | C | 2210 |
| Myerston | Mehir Marcus, son of A.D.M. and Abigail | October 30, 1840 | Child | Bleinheim | XVI | C | 2211 |
| Myerston | Isaac Julio, son of A.D.M. & Abigail | June 7, 1853 | Child | Bleinheim | XVII | D | 2316 |
| Naar | Esther de Josuah | November 23, 1866 | Child | Berg Altena | n/a | TA'2 | 62 |
| Naar | Oswald | January 22, 1920 | Not recorded | Berg Altena | n/a | TF | 12 |
| Naar | A. J. | January 9, 1905 | Not recorded | Berg Altena | n/a | TF | 13 |
| Naar | Abigail Henriquez de | November 13, 1898 | Not recorded | Berg Altena | n/a | TF | 21 |
| Naar | Jacob Jeosuah | July 25, 1877 | Not recorded | Berg Altena | n/a | TF | 22 |
| Naar | Sarah Pereira Brandao de | March 21, 1906 | Not recorded | Berg Altena | n/a | TF | 24 |
| Naar | Jeosuah, Jr. | April 10, 1874 | Not recorded | Berg Altena | n/a | TF | 25 |
| Naar | Esther | January 21, 1863 | Child | Bleinheim | I | D | 70 |
| Naar | Esther | No date | Child | Bleinheim | I | D | 76 |
| Naar | Esther, wife of Abraham | October 18, 1854 | n/a | Bleinheim | I | E | 120 |
| Naar | Abraham Haim | March 25, 1824 | n/a | Bleinheim | I | E | 121 |
| Naar | Abraham | October 25, 1845 | n/a | Bleinheim | I | F | 146 |
| Naar | Mordechay (Riby) | August 27, 1782 | n/a | Bleinheim | II | B | 208 |
| Naar | Leah, daughter of David | November 16, 1791 | n/a | Bleinheim | II | D | 291 |
| Naar | Ribca, daughter of David | November 17, 1792 | n/a | Bleinheim | II | D | 292 |
| Naar | Sarah, wife of David | May 2, 1792 | n/a | Bleinheim | II | D | 293 |
| Naar | Jahacob de Jeoshuah | November 7, 1780 | n/a | Bleinheim | II | D | 294 |
| Naar | Sarah, wife of Iacob de Ieosuah | August 30, 1780 | n/a | Bleinheim | II | D | 295 |
| Naar | Sarah, wife of Ieosuah | February 25, 1767 | n/a | Bleinheim | II | D | 298 |
| Naar | Ieosuah | August 16, 1766 | n/a | Bleinheim | II | D | 299 |
| Naar | Sarah, daughter of Abraham de Benjamin | 1764 | Child | Bleinheim | II | D | 308 |
| Naar | Hezra | November 9, 1781 | n/a | Bleinheim | II | E | 338 |
| Naar | Abraham Israel | April 15, 1779 | n/a | Bleinheim | IV | A | 540 |
| Naar | Miriam, daughter of Abraham de Jesosuah | November 25, 1763 | Child | Bleinheim | IV | B | 582 |
| Naar | Benaiau Israel | January 30, 1758 | n/a | Bleinheim | IV | B | 587 |
| Naar | Ribca, daughter of Benjamin | February 5, 1757 | n/a | Bleinheim | IV | B | 588 |
| Naar | Ester, wife of Moseh | October 9, 1751 | n/a | Bleinheim | IV | C | 631 |
| Naar | Mosseh Israel | December 3, 1755 | n/a | Bleinheim | IV | C | 633 |
| Naar | Ribca Sarah, wife of Ieosuah | July 26, 1775 | n/a | Bleinheim | IV | C | 654 |
| Naar | Lea, wife of Abraham | March 10, 1749 | n/a | Bleinheim | V | A | 703 |
| Naar | Abraham | June 30, 1753 | n/a | Bleinheim | V | A | 706 |
| Naar | Iacob de Eliau | June 15, 1762 | n/a | Bleinheim | V | A | 710 |
| Naar | Grazia, wife of Jacob De Eliau | September 26, 1758 | n/a | Bleinheim | V | A | 713 |
| Naar | Rachel Hana, wife of Binjamin | March 19, 1748 | n/a | Bleinheim | V | B | 751 |
| Naar | Binjamin | January 21, 1756 | n/a | Bleinheim | V | B | 752 |
| Naar | Raguel, daughter of Jahacob | February 4, 1760 | Child | Bleinheim | VI | B | 986 |
| Naar | Sara, daughter of Jahacob | February 6, 1760 | Child | Bleinheim | VI | B | 990 |
| Naar | Yahacob, son of Abraham | January 30, 1708 | n/a | Bleinheim | VII | B | 1103 |
| Naar | Ribca Hana | March 8, 1692 | n/a | Bleinheim | VII | D | 1180 |
| Naar | Yahacob | June 11, 1692 | n/a | Bleinheim | VII | E | 1243 |
| Naar | Benjamin de Jacob de Abraham | March 26, 1753 | Child | Bleinheim | XI | A | 1619 |
| Naar | Abraham de Binjamin | January 11, 1735 | Child | Bleinheim | XI | B | 1643 |
| Naar | Lea | April 7, 1706 | n/a | Bleinheim | XI | B | 1644 |
| Naar | Lea, daughter of Jacob de Abraham | September 15, 1745 | Child | Bleinheim | XI | B | 1649 |
| Naar | Sara, daughter of Jacob de Abraham | October 10, 1751 | Child | Bleinheim | XI | B | 1651 |
| Naar | Ester, daughter of Binjamin | November 19, 1744 | Child | Bleinheim | XV | E | 2135 |
| Naar | Abigail de Jeosuah de Jacob | August 30, 1830 | n/a | Bleinheim | XVI | A | 2173 |
| Naar | Abigail Hana, wife of Jacob de Jeosuah | September 7, 1804 | n/a | Bleinheim | XVI | A | 2174 |
| Naar | Jacob Haim Jeosuah | July 22, 1859 | n/a | Bleinheim | XVI | A | 2175 |
| Naar | Jeoshuah de Yahacob | September 10, 1812 | n/a | Bleinheim | XVI | C | 2218 |
| Naar | Lea de Ieosuah | May 28, 1838 | n/a | Bleinheim | XVI | C | 2219 |
| Naar | Julie Jacob | June 20, 1864 | n/a | Bleinheim | XVIII | D | 2419 |
| Naar | Jeudith Jacob | July 15, 1862 | n/a | Bleinheim | XVIII | D | 2420 |
| Naar | Jeosuah of Jacob | November 2, 1856 | n/a | Bleinheim | XVIII | D | 2421 |
| Naar | Jeudith Jeosuah | March 15, 1885 | n/a | Bleinheim | XVIII | D | 2422 |
| Naar Cohen Henriquez | Jacob | January 24, 1938 | Not recorded | Berg Altena | n/a | TF | 30 |
| Naar Cohen Henriquez A. Correa | Sarah | June 24, 1970 | Not recorded | Berg Altena | n/a | TF | 31 |
| Naar Henriquez | Sara Hana | January 15, 1755 | n/a | Bleinheim | V | A | 694 |
| Naar Henriquez | Mosseh | July 16, 1784 | n/a | Bleinheim | V | A | 695 |
| Naar Henriquez | Ribca, wiffe of Iacob | April 22, 1765 | n/a | Bleinheim | V | A | 696 |
| Naar Henriquez | Iahacob | May 1, 1749 | n/a | Bleinheim | V | A | 697 |
| Naar Henriquez | Rachel | January 17, 1901 | n/a | Bleinheim | XIX | A | 2462 |
| Naar Henriquez | Jeosuah | November 6, 1937 | n/a | Bleinheim | XIX | C | 2487 |
| Nahamias de Crasto | Ribca | January 4, 1701 | n/a | Bleinheim | VII | C | 1155 |
| Nahamias de Crasto | Eliau | March 27, 1692 | n/a | Bleinheim | VII | C | 1161 |
| Nahamias de Crasto | Sara, wife of Eliahu | December 19, 1693 | n/a | Bleinheim | VII | C | 1162 |
| Namias de Crasto | Haim | November 16, 1905 | November 17, 1905 | Berg Altena | n/a | B | 22 |
| Namias de Crasto | Judith de Haim | August 13, 1919 | August 13, 1919 | Berg Altena | n/a | B | 23 |
| Namias de Crasto | Aaron | October 13, 1907 | October 14, 1907 | Berg Altena | n/a | C | 33 |
| Namias de Crasto | Raquel C. | August 17, 1960 | August 18, 1960 | Berg Altena | n/a | C | 35 |
| Namias de Crasto | Benjamin | November 1, 1938 | November 1, 1938 | Berg Altena | n/a | C | 41 |
| Namias de Crasto | Esther | May 21, 1939 | May 22, 1939 | Berg Altena | n/a | C | 42 |
| Namias de Crasto | Leonor | August 9, 1960 | August 10, 1960 | Berg Altena | n/a | C | 43 |
| Namias de Crasto | Alicia | June 24, 1976 | June 25, 1976 | Berg Altena | n/a | C | 44 |
| Namias de Crasto | Sarah Curiel | January 19, 1953 | January 20, 1953 | Berg Altena | n/a | D | 36 |
| Namias de Crasto | Sarah de Moises | December 1, 1914 | December 2, 1914 | Berg Altena | n/a | D | 37 |
| Namias de Crasto | Raymond | February 7, 1933 | February 7, 1933 | Berg Altena | n/a | G | 43 |
| Namias de Crasto | Abigail | November 23, 1902 | November 23, 1902 | Berg Altena | n/a | H | 7 |
| Namias de Crasto | Isaac | August 23, 1912 | August 24, 1912 | Berg Altena | n/a | H | 33 |
| Namias de Crasto | Serafina d. Haim | January 14, 1927 | January 14, 1927 | Berg Altena | n/a | H | 40 |
| Namias de Crasto | Adela | July 10, 1927 | July 10, 1927 | Berg Altena | n/a | H | 41 |
| Namias de Crasto | Ellin | August 27, 1930 | August 28, 1930 | Berg Altena | n/a | H | 44 |
| Namias de Crasto | Sarah Pinedo de Mauricio | Not recorded | June 13, 1972 | Berg Altena | n/a | P | 25 |
| Namias de Crasto | Amilcar de Mauricio | September 10, 1982 | September 12, 1982 | Berg Altena | n/a | MM | 14 |
| Namias de Crasto | Rebecca Curiel eshet Amilcar | October 9, 1984 | October 12, 1984 | Berg Altena | n/a | MM | 15 |
| Namias de Crasto | Mauricio Haim de Mauricio | January 28, 1992 | January 29, 1992 | Berg Altena | n/a | NN | 15 |
| Namias de Crasto | Amelia Maria Spencer eshet Mauricio | October 13, 1990 | October 16, 1990 | Berg Altena | n/a | NN | 16 |
| Namias de Crasto | Still Born: Son of Amilcar | July 25, 1934 | July 29, 1934 | Berg Altena | n/a | Child F | 3 |
| Namias de Crasto | Still Born: Daughter of Amilcar | April 22, 1945 | April 22, 1945 | Berg Altena | n/a | Child F | 9 |
| Namias de Crasto | Salomon, Jr. | May 6, 1905 | Not recorded | Berg Altena | n/a | D | 34 |
| Namias de Crasto | Iacob Hisquiau | March 6, 1776 | n/a | Bleinheim | II | B | 224 |
| Namias de Crasto | David | April 12, 1756 | n/a | Bleinheim | IV | B | 592 |
| Namias de Crasto | Lea | December 18, 1768 | n/a | Bleinheim | IV | B | 593 |
| Namias de Crasto | Haim Eliao de David | April 27, 1765 | n/a | Bleinheim | IV | B | 594 |
| Namias de Crasto | Mordehay Hisquiao De David | August 26, 1733 | Child | Bleinheim | V | E | 853 |
| Namias de Crasto | Rachel De David | April 27, 1730 | Child | Bleinheim | V | E | 854 |
| Namias de Crasto | Ester, daughter of Mordechay & Rahel | July 8, 1699 | Child | Bleinheim | VII | C | 1160 |
| Namias de Crasto | Batseba, daughter of Mordehay & Rahel | September 9, 1699 | Child | Bleinheim | VII | C | 1160a |
| Namias de Crasto | Rabi David | October 21, 1843 | n/a | Bleinheim | VIII | E | 1316 |
| Namias de Crasto | Abigail, wife of David | August 22, 1820 | n/a | Bleinheim | VIII | E | 1317 |
| Namias de Crasto | Isaac | March 25, 1884 | n/a | Bleinheim | VIII | N | 1388 |
| Namias de Crasto | Lea de David | June 4, 1849 | n/a | Bleinheim | IX | A | 1410 |
| Namias de Crasto | Jacobo | March 31, 1862 | n/a | Bleinheim | IX | G | 1465 |
| Namias de Crasto | Judith Penso de | May 3, 1900 | n/a | Bleinheim | IX | J | 1498 |
| Namias de Crasto | David | December 16, 1879 | n/a | Bleinheim | IX | J | 1499 |
| Namias de Crasto | Rebecca Henriquez Juliao, widow of Rephael | November 16, 1909 | n/a | Bleinheim | IX | J | 1500 |
| Namias de Crasto | Raphael | November 13, 1884 | n/a | Bleinheim | IX | J | 1501 |
| Namias de Crasto | J. J. | No date | n/a | Bleinheim | IX | K | 1503 |
| Namias de Crasto | Hannah de Rafel | January 2, 1838 | n/a | Bleinheim | IX | K | 1504 |
| Namias de Crasto | Rafel | October 6, 1837 | n/a | Bleinheim | IX | K | 1505 |
| Namias de Crasto | Mordechay de Abraham | January 20, 1913 | n/a | Bleinheim | X | G | 1573 |
| Namias de Crasto | Rachel, daughter of Iacob De Manuel | October 5, 1761 | Child | Bleinheim | XIII | D | 1892 |
| Namias de Crasto | Jahacob | December 8, 1744 | n/a | Bleinheim | XIV | C | 2014 |
| Namias de Crasto | Eliaú Rephael | April 2, 1717 | n/a | Bleinheim | XIV | C | 2016 |
| Namias de Crasto | Mordochay Hisquiau | May 5, 1716 | n/a | Bleinheim | XIV | C | 2017 |
| Namias de Crasto | Rachel Hana, wife of Mordochay | December 25, 1723 | n/a | Bleinheim | XIV | C | 2018 |
| Namias de Crasto | Abraham de David | April 20, 1727 | Child | Bleinheim | XIV | D | 2038 |
| Namias de Crasto | Lea, daughter of Jahacob De Jmanuel | January 23, 1754 | Child | Bleinheim | XIV | D | 2047 |
| Namias de Crasto | Jeudith de Haim | April 5, 1861 | n/a | Bleinheim | XIX | C | 2483 |
| Namias Maduro | Sarah | May 15, 1899 | n/a | Bleinheim | VIII | P | 1405 |
| Nones | Julia Anna | January 13, 1904 | January 13, 1904 | Berg Altena | n/a | G | 15 |
| Nones | Caroline Hanah | May 20, 1920 | May 21, 1920 | Berg Altena | n/a | H | 15 |
| Nones | Hannah (Anna) Leonore | October 28, 1933 | October 29, 1933 | Berg Altena | n/a | J | 8 |
| Nones | Rose Daphne | Not recorded | October 14, 1944 | Berg Altena | n/a | J | 9 |
| Not recorded | Julie | Not recorded | Child | Berg Altena | n/a | TA | 38 |
| Nunes | Debora, wife of Moseh | June 4, 1725 | n/a | Bleinheim | XII | A | 1698 |
| Nunes | Mosseh, son of Abraham | April 29, 1746 | n/a | Bleinheim | XII | B | 1733 |
| Nunes | Mosch, son of Jshac | November 19, 1739 | Child | Bleinheim | XII | C | 1771 |
| Nunes Da Fonseca | Ieudith - oldest tombstone in cemetery | January 18, 1668 | n/a | Bleinheim | III | E | formerly 430 |
| Nunes de Fonseca | David | March 31, 1712 | n/a | Bleinheim | XIV | C | 2012 |
| Nunes de Fonseca | Abigayl | May 29, 1715 | n/a | Bleinheim | XIV | C | 2013 |
| Nunes de Fonseca | Mordehay Raphael de David | September 2, 1733 | Child | Bleinheim | XIV | D | 2041 |
| Nunes Lopes | Rachel, wife of Ishac | March 3, 1761 | n/a | Bleinheim | IX | C | 1434 |
| Nunes Redondo | Ester, wife of Abraham | June 4, 1760 | n/a | Bleinheim | II | C | 266 |
| Nunes Redondo | Abraham | July 2, 1766 | n/a | Bleinheim | II | C | 267 |
| Nunes Redondo | Abigail Aboab Cardozo, wife of Selomoh | June 18, 1757 | n/a | Bleinheim | V | A | 707 |
| Nunes Redondo | Selomoh | July 6, 1755 | n/a | Bleinheim | V | A | 708 |
| Nunes Redondo | Sarah, wife of Ishac | September 6, 1776 | n/a | Bleinheim | XII | D | 1798 |
| Nunes Redondo | Ishak | June 8, 1759 | n/a | Bleinheim | XII | D | 1799 |
| Nunes Vaz | Leah | August 2, 1867 | Not recorded | Berg Altena | n/a | TA | 30 |
| Nunes Vaz | Leah P. | October 19, 1872 | Not recorded | Berg Altena | n/a | TB | 27 |
| Nunez Lopez | Ishac | August 9, 1762 | n/a | Bleinheim | IX | C | 1433 |
| Oberman | Carlita | September 9, 2011 | Not recorded | Berg Altena | n/a | DD | 15 |
| Oberman | Trajtel | March 11, 2008 | Not recorded | Berg Altena | n/a | DD | 16 |
| Oberman | Josef | June 24, 1964 | Not recorded | Berg Altena | n/a | GG | 19 |
| Oberman | Miriam Sarah | December 29, 1962 | Not recorded | Berg Altena | n/a | GG | 21 |
| Oeb Brandon | Hisquiau Joseph Aron | January 31, 1857 | n/a | Bleinheim | I | B | 27 |
| Oppenheimer | Adelheid (Schmidt) | September 21, 1941 | n/a | Bleinheim | VIII | Q | 1409c |
| Orobio De Matos | Sara, wife of Abraham | February 21, 1716 | n/a | Bleinheim | XIII | C | 1871 |
| Orobio De Matos | Dor Yshac Raphael | October 29, 1698 | n/a | Bleinheim | XV | A | 2062 |
| Osorio | Jacob Haim | July 2, 1885 | July 2, 1885 | Berg Altena | n/a | F | 4 |
| Osorio | Rebecca de Jacob Haim | March 21, 1908 | March 22, 1908 | Berg Altena | n/a | F | 5 |
| Osorio | Clara de Jacob Haim | June 5, 1925 | June 6, 1925 | Berg Altena | n/a | F | 6 |
| Osorio | David | December 23, 1888 | December 24, 1888 | Berg Altena | n/a | F | 8 |
| Osorio | Esther Vda. de David | February 15, 1906 | February 15, 1906 | Berg Altena | n/a | F | 9 |
| Osorio | Alix Murray de David | December 30, 1909 | December 30, 1909 | Berg Altena | n/a | Child D | 11 |
| Osorio | Emanuel C. | May 1, 1873 | n/a | Bleinheim | I | B | 28 |
| Osorio | Judith | September 7, 1870 | n/a | Bleinheim | I | C | 50 |
| Osorio | Miss Judith | September 7, 1870 | n/a | Bleinheim | I | C | 51 |
| Osorio | Solomon Isaac | February 11, 1875 | Child | Bleinheim | I | D | 75 |
| Osorio | Jacobo Haim | December 19, 1855 | Child | Bleinheim | I | D | 77 |
| Osorio | Jacob David | 1885 | n/a | Bleinheim | XVII | D | 2313 |
| Osorio | Clara David | 1908 | n/a | Bleinheim | XVII | D | 2314 |
| Osorio | Isaac, Jr. | March 5, 1904 | n/a | Bleinheim | XIX | F | 2518 |
| Osorio | Julia Curiel, wife of Isaac, Jr. | May 18, 1904 | n/a | Bleinheim | XIX | F | 2519 |
| Osorio | Gabriel de Isaac | No date | n/a | Bleinheim | XIX | G | 2536 |
| Osorio | Esther de Isaac | January 11, 1876 | n/a | Bleinheim | XIX | F | 2517 |
| Osorio de Castro | Mose | March 28, 1849 | Child | Bleinheim | XVIII | D | 2413 |
| Osorio de Curiel | Clara | August 21, 1885 | August 21, 1885 | Berg Altena | n/a | A | 11 |
| Pais | Aäron | March 22, 2017 | March 24, 2017 | Berg Altena | n/a | NN | 25 |
| Pancer | Stephen Michael | April 13, 2005 | April 17, 2005 | Berg Altena | n/a | LL | 55 |
| Pardo | Sarah de Isaac | March 31, 1882 | April 1, 1882 | Berg Altena | n/a | B | 8 |
| Pardo | Abigail Josiah | June 11, 1882 | June 11, 1882 | Berg Altena | n/a | B | 9 |
| Pardo | Hanna Jos. | May 14, 1884` | May 14, 1884 | Berg Altena | n/a | C | 6 |
| Pardo | Abigail J. | August 21, 1885 | August 22, 1885 | Berg Altena | n/a | C | 7 |
| Pardo | Rose | Not recorded | September 4, 1973 | Berg Altena | n/a | E | 47 |
| Pardo | Rodolfo | June 18, 1956 | June 19, 1956 | Berg Altena | n/a | E | 48 |
| Pardo | Ribca de Isaac | May 9, 1892 | May 9, 1892 | Berg Altena | n/a | H | 3 |
| Pardo | Clara de Josiao | July 11, 1893 | July 11, 1893 | Berg Altena | n/a | H | 4 |
| Pardo | Judith (de Isaac) Pardo | April 13, 1897 | April 14, 1897 | Berg Altena | n/a | H | 6 |
| Pardo | Leonie Alvares Correa de | May 21, 1945 | May 22, 1945 | Berg Altena | n/a | O | 14 |
| Pardo | Jos David | June 7, 1923 | June 8, 1923 | Berg Altena | n/a | O | 15 |
| Pardo | Morris Correa | May 20, 1929 | May 21, 1929 | Berg Altena | n/a | O | 18 |
| Pardo | Delia de Jos D. | October 15, 1890 | October 15, 1890 | Berg Altena | n/a | Child C | 4 |
| Pardo | Isaac de Mordechay | January 29, 1843 | n/a | Bleinheim | I | C | 53 |
| Pardo | Leah de Isaac | December 18, 1850 | n/a | Bleinheim | I | C | 54 |
| Pardo | David Josias | No date | n/a | Bleinheim | I | F | 132 |
| Pardo | Esther Josias | No date | n/a | Bleinheim | I | F | 133 |
| Pardo | Rachel | No date | n/a | Bleinheim | I | F | 134 |
| Pardo | Isaac Josias | No date | n/a | Bleinheim | I | F | 135 |
| Pardo | Sarah Hana de Haim Jossiao | May 4, 1792 | n/a | Bleinheim | III | A | 369 |
| Pardo | Haim Josiao | September 26, 1798 | n/a | Bleinheim | III | A | 370 |
| Pardo | Clara, daughter of Isaac Jr. | September 27, 1821 | Child | Bleinheim | III | A | 372 |
| Pardo | Abigail Pardo Vaz Faro, wife of Ishac | October 15, 1782 | n/a | Bleinheim | III | A | 374 |
| Pardo | Saul | April 21, 1793 | n/a | Bleinheim | III | B | 391 |
| Pardo | Rachel, wife of Saul | November 11, 1770 | n/a | Bleinheim | III | B | 392 |
| Pardo | Ahron de Isaac | March 25, 1814 | n/a | Bleinheim | III | B | 393 |
| Pardo | Joshiahu | May 22, 1755 | n/a | Bleinheim | III | D | 415 |
| Pardo | Sara Ribca, daughter of Saul | January 6, 1764 | Child | Bleinheim | III | D | 416 |
| Pardo | Ester | January 17, 1780 | n/a | Bleinheim | III | D | 417 |
| Pardo | Rachel, daughter of Iosiao | August 18, 1806 | Child | Bleinheim | III | D | 424 |
| Pardo | Mordechai, son of Ischac | August 9, 1806 | Child | Bleinheim | III | D | 425 |
| Pardo | Saul de Iosiau | November 9, 1787 | Child | Bleinheim | III | E | 439 |
| Pardo | Ester, daughter of Savl | August 5, 1758 | Child | Bleinheim | III | E | 450 |
| Pardo | Abigail, daughter of Mordechai | February 23, 1782 | Child | Bleinheim | III | E | 453 |
| Pardo | Iosiau, son of Ishak | December 24, 1751 | Child | Bleinheim | III | E | 456 |
| Pardo | Josiau Haim, son of Ishak | January 20, 1754 | Child | Bleinheim | III | E | 460 |
| Pardo | Sara Haim, daughter of Saul | July 27, 1723 | n/a | Bleinheim | VII | B | 1085 |
| Pardo | Mordechay | October 17, 1837 | n/a | Bleinheim | VIII | C | 1288 |
| Pardo | Rachel de Mordechay | July 1, 1813 | n/a | Bleinheim | VIII | D | 1301 |
| Pardo | Sara Hana de Iosiao | January 21, 1824 | n/a | Bleinheim | VIII | D | 1302 |
| Pardo | Josiao de Mordechay | April 29, 1862 | n/a | Bleinheim | VIII | D | 1303 |
| Pardo | Ysaac, Cadet | December 8, 1863 | n/a | Bleinheim | VIII | F | 1321 |
| Pardo | David, Jr | October 25, 1891 | n/a | Bleinheim | VIII | F | 1322 |
| Pardo | Sarah M. Penso, widow of David, Jr | August 1, 1900 | n/a | Bleinheim | VIII | F | 1323 |
| Pardo | Isaac, Jr, son of Aron Pardo & Hannah Abendana Belmonte | May 14, 1842 | n/a | Bleinheim | XIII | B | 1861 |
| Pardo | Saul | April 17, 1702 | n/a | Bleinheim | XIII | F | 1943 |
| Pardo | Solomon | December 13, 1858 | n/a | Bleinheim | XIX | E | 2505 |
| Pardo | Rebecca Mendez Monsanto, Relict of Salomon | December 13, 1873 | n/a | Bleinheim | XIX | E | 2506 |
| Pardo | Ester, widow of Isaac, Cadet | May 4, 1895 | n/a | Bleinheim | VIII | F | 1320 |
| Pareyra | Ester, daughter of Yshack | November 22, 1739 | Child | Bleinheim | VII | C | 1152 |
| Penha | Esther Naar de | May 31, 1920 | Not recorded | Berg Altena | n/a | TE | 7 |
| Penso | Esther Hannah Levy Maduro de | June 10, 1940 | June 11, 1940 | Berg Altena | n/a | C | 32 |
| Penso | Esther Elias | June 21, 1908 | June 21, 1908 | Berg Altena | n/a | C | 27 |
| Penso | Jael Elias | September 5, 1909 | September 5, 1909 | Berg Altena | n/a | C | 28 |
| Penso | Rachel | April 17, 1911 | April 17, 1911 | Berg Altena | n/a | C | 29 |
| Penso | Rebecca | March 22, 1965 | March 23, 1965 | Berg Altena | n/a | C | 30 |
| Penso | Moises Haim | October 12, 1924 | October 12, 1924 | Berg Altena | n/a | C | 31 |
| Penso | Jesurún | November 28, 1894 | November 29, 1894 | Berg Altena | n/a | D | 17 |
| Penso | Sarah Naar Viuda de Jesurun | October 14, 1930 | October 15, 1930 | Berg Altena | n/a | D | 18 |
| Penso | Ida de Manuel | July 16, 1951 | July 17, 1951 | Berg Altena | n/a | D | 26 |
| Penso | Manuel de Elias | March 4, 1908 | March 5,1908 | Berg Altena | n/a | D | 27 |
| Penso | Sarah de Manuel Elias | October 29, 1901 | October 30, 1901 | Berg Altena | n/a | D | 28 |
| Penso | Jacob de Elias | March 19, 1912 | March 19, 1912 | Berg Altena | n/a | D | 30 |
| Penso | Grace Alvarez Correa de | June 29, 1937 | November 9, 1937 | Berg Altena | n/a | D | 31 |
| Penso | Abigail Devalle Vda. de E. | November 28, 1937 | December 4, 1937 | Berg Altena | n/a | K | 3 |
| Penso | Elias Manuel | September 6, 1926 | September 7, 1926 | Berg Altena | n/a | K | 4 |
| Penso | Ilva | June 13, 1931 | Not recorded | Berg Altena | n/a | TF | 15 |
| Penso | Rachel D. de | October 23, 1914 | Not recorded | Berg Altena | n/a | TG | 21 |
| Penso | Joseph Penso | January 4, 1889 | Not recorded | Berg Altena | n/a | TG | 22 |
| Penso | Ribca Jesurun de | October 21, 1897 | Not recorded | Berg Altena | n/a | TG | 26 |
| Penso | Isaac Moises | July 22, 1878 | Not recorded | Berg Altena | n/a | TG | 27 |
| Penso | Julia | January 21, 1927 | Not recorded | Berg Altena | n/a | TH | 6 |
| Penso | Liana | April 30, 1922 | Not recorded | Berg Altena | n/a | TH | 7 |
| Penso | Still Born: Son of Elias M. (P) | Not recorded | Not recorded | Berg Altena | n/a | Child B | 9 |
| Penso | Michael | December 26, 1891 | December 26, 1891 | Berg Altena | n/a | Child C | 2 |
| Penso | Marius | April 14, 1889 | April 14, 1899 | Berg Altena | n/a | Child C | 3 |
| Penso | Isaac de Eliao | August 7, 1830 | n/a | Bleinheim | I | B | 34 |
| Penso | Sara de Ishac de Eliao | May 20, 1822 | n/a | Bleinheim | I | B | 36 |
| Penso | Lea de Mosseh | January 15, 1826 | Child | Bleinheim | I | D | 95 |
| Penso | Ester Miryam, wife of Eliao de Mosseh | December 28, 1767 | n/a | Bleinheim | II | B | 229 |
| Penso | Abigail, daughter of Mordechay de Mosseh | July 6, 1769 | Child | Bleinheim | II | C | 254 |
| Penso | Ribca, daughter of Mordechay de Mosseh | April 21, 1769 | Child | Bleinheim | II | C | 255 |
| Penso | Mordechay | June 19, 1763 | n/a | Bleinheim | II | D | 286 |
| Penso | Abigail, wife of Mordechay de Mosseh | March 17, 1769 | n/a | Bleinheim | IV | B | 584 |
| Penso | Mordechay de Mosseh | March 29, 1790 | n/a | Bleinheim | IV | B | 585 |
| Penso | Sara Hana, wife of Mordechay de Mosseh | December 20, 1761 | n/a | Bleinheim | IV | B | 586 |
| Penso | Sara, widow of Mosseh | February 5, 1810 | n/a | Bleinheim | V | A | 741 |
| Penso | Moseh | December 15, 1792 | n/a | Bleinheim | V | A | 744 |
| Penso | Raghel de Ishac | June 19, 1787 | n/a | Bleinheim | V | B | 762 |
| Penso | Ishac | August 7, 1761 | n/a | Bleinheim | V | B | 763 |
| Penso | Ribca, daughter of Moseh Hisquiau | October 3, 1762 | n/a | Bleinheim | VII | B | 1073 |
| Penso | Ymanuel de Mosse | October 13, 1781 | Child | Bleinheim | VII | C | 1122 |
| Penso | Mosseh Hisquiao | March 2, 1754 | n/a | Bleinheim | VII | C | 1125 |
| Penso | Ribca, wife of Mosseh | November 5, 1745 | n/a | Bleinheim | VII | C | 1126 |
| Penso | Abraham de Mosseh | July 22, 1739 | n/a | Bleinheim | VII | C | 1129 |
| Penso | Binjamin Hizquiau | March 23, 1730 | n/a | Bleinheim | VII | C | 1133 |
| Penso | Abraham | July 24, 1726 | n/a | Bleinheim | VII | C | 1134 |
| Penso | Sarah, wife of Abraham | November 4, 1754 | n/a | Bleinheim | VII | C | 1135 |
| Penso | Abraham Yshak | October 6, 1736 | Child | Bleinheim | VII | C | 1143 |
| Penso | Yschak De Mosseh | June 21, 1739 | Child | Bleinheim | VII | C | 1148 |
| Penso | Abraham de Rephael | April 20, 1788 | Child | Bleinheim | VII | C | 1149 |
| Penso | Mordechai, son of Mosseh | February 6, 1737 | Child | Bleinheim | VII | C | 1151 |
| Penso | Abraham Haim Hizquiau | February 9, 1755 | n/a | Bleinheim | VII | D | 1169 |
| Penso | Eliaõ | October 20, 1726 | n/a | Bleinheim | VII | E | 1210 |
| Penso | Romelia | February 2, 1879 | Child | Bleinheim | VIII | A | 1255 |
| Penso | Elias | October 24, 1875 | n/a | Bleinheim | VIII | A | 1256 |
| Penso | Sarah | November 11, 1883 | n/a | Bleinheim | VIII | A | 1257 |
| Penso | Jacob Haim | February 24, 1871 | n/a | Bleinheim | VIII | B | 1259 |
| Penso | Meriam de Jacob H. | March 22, 1864 | n/a | Bleinheim | VIII | B | 1260 |
| Penso | Elias M. | March 17, 1878 | n/a | Bleinheim | VIII | B | 1261 |
| Penso | Ester de Mosé | March 12, 1841 | n/a | Bleinheim | VIII | B | 1264 |
| Penso | Haim M. | January 27, 1912 | n/a | Bleinheim | VIII | C | 1278 |
| Penso | Benjamin | March 10, 1875 | n/a | Bleinheim | VIII | C | 1279 |
| Penso | Mose de Eliao | December 4, 1855 | n/a | Bleinheim | VIII | C | 1281 |
| Penso | Yael de Mosseh de Eliao | November 28, 1855 | n/a | Bleinheim | VIII | C | 1282 |
| Penso | Abraham de Eliau | January 31, 1785 | Child | Bleinheim | VIII | C | 1283 |
| Penso | Mordechay de Eliao | June 3, 1785 | Child | Bleinheim | VIII | C | 1284 |
| Penso | Iael Hanah de Eliao | November 1, 1788 | n/a | Bleinheim | VIII | C | 1285 |
| Penso | Eliao | July 18, 1823 | n/a | Bleinheim | VIII | C | 1286 |
| Penso | Mois de Eliao | January 28, 1841 | Child | Bleinheim | VIII | C | 1287 |
| Penso | Mosseh de Mosseh | November 16, 1804 | n/a | Bleinheim | VIII | D | 1298 |
| Penso | Eliao de Isaac | February 7, 1822 | Child | Bleinheim | XVII | E | 2324 |
| Penso | Ester de Manuel | April 16, 1817 | n/a | Bleinheim | XVIII | B | 2374 |
| Penso | Manuel | December 25, 1864 | n/a | Bleinheim | XVIII | B | 2375 |
| Penso | Lea de Manuel | December 22, 1831 | n/a | Bleinheim | XVIII | B | 2376 |
| Penso Curiel | Rebecca de Manuel | June 30, 1909 | July 1, 1909 | Berg Altena | n/a | C | 21 |
| Penso Naar | Jael | May 22, 1893 | Not recorded | Berg Altena | n/a | TG | 16 |
| Pereira | Jeudith bat Samuel | May 22, 1888 | May 23, 1888 | Berg Altena | n/a | C | 8 |
| Pereira | Isaac Haim Pereira | August 14, 1901 | August 14, 1901 | Berg Altena | n/a | C | 12 |
| Pereira | Moises | Not recorded | September 25, 1888 | Berg Altena | n/a | E | 7 |
| Pereira | Johebet de Moises | Not recorded | March 1, 1888 | Berg Altena | n/a | E | 8 |
| Pereira | Hannah (Rodriguez) | January 17, 1912 | January 18, 1912 | Berg Altena | n/a | H | 19 |
| Pereira | Jeudith | March 10, 1944 | May 10, 1944 | Berg Altena | n/a | H | 31 |
| Pereira | Esther | December 9, 1912 | December 9, 1912 | Berg Altena | n/a | H | 32 |
| Pereira | Ana Lindo de | February 1, 1941 | February 1, 1941 | Berg Altena | n/a | O | 10 |
| Pereira | Hana, wife of Ishac | September 10, 1787 | n/a | Bleinheim | IV | A | 520 |
| Pereira | Ribca Hana, daughter of Jacob | August 28, 1753 | Child | Bleinheim | IV | C | 637 |
| Pereira | Sara, wife of Eliau | October 8, 1753 | n/a | Bleinheim | V | B | 766 |
| Pereira | Eliao | January 14, 1744 | n/a | Bleinheim | V | B | 767 |
| Pereira | David De Eliau | March 21, 1747 | n/a | Bleinheim | V | B | 768 |
| Pereira | Ishak de Iacob | March 1, 1747 | Child | Bleinheim | V | E | 872 |
| Pereira | Ester, daughter of Iacob | November 15, 1748 | Child | Bleinheim | V | E | 872a |
| Pereira | Rahel, wife of Yshak | October 1, 1693 | n/a | Bleinheim | VII | A | 1050 |
| Pereira | Yshak | May 21, 1701 | n/a | Bleinheim | VII | A | 1051 |
| Pereira | Yshack, son of Eliao | November 14, 1703 | Child | Bleinheim | VII | A | 1056 |
| Pereira | Elyao D Mordechay | December 29, 1729 | Child | Bleinheim | VII | B | 1078 |
| Pereira | Ishak de Mordechai | August 11, 1727 | Child | Bleinheim | VII | B | 1081 |
| Pereira | Yshak de Mordechai | December 10, 1726 | Child | Bleinheim | VII | B | 1092 |
| Pereira | Yshack, son of Eliao | November 15, 1702 | Child | Bleinheim | VII | B | 1093 |
| Pereira | David, son of Eliao | September 10, 1707 | Child | Bleinheim | VII | B | 1094 |
| Pereira | Rachel, daughter of Eliao | June 10, 1698 | Child | Bleinheim | VII | B | 1095 |
| Pereira | Jahacob Haim, son of Ishack | July 21, 1743 | Child | Bleinheim | VII | B | 1099 |
| Pereira | Ribca Sara, wife of Jacob | June 19, 1721 | n/a | Bleinheim | VII | C | 1139 |
| Pereira | Ribca de Mordehay | October 17, 1738 | Child | Bleinheim | VII | C | 1150 |
| Pereira | Eliau de Mordechay | November 8, 1732 | Child | Bleinheim | VII | C | 1158 |
| Pereira | Abigail, daughter of Ishac | December 14, 1738 | Child | Bleinheim | VII | C | 1159 |
| Pereira | David Haim, son of Yacob | March 16, 1727 | Child | Bleinheim | VII | E | 1211 |
| Pereira | Ishac de Mordechai | June 12, 1736 | Child | Bleinheim | VII | E | 1212 |
| Pereira | Rachel, daughter of Mordechay | May 15, 1732 | Child | Bleinheim | VII | E | 1215 |
| Pereira | Rachel, daughter of Yshac | September 2, 1734 | Child | Bleinheim | VII | E | 1220 |
| Pereira | Yacob, son of Yshac | April 25, 1757 | Child | Bleinheim | VII | E | 1224 |
| Pereira | Abraham, son of Yshac | July 28, 1737 | Child | Bleinheim | VII | E | 1237 |
| Pereira | Sarah de Jacob Haim | April 11, 1869 | n/a | Bleinheim | VIII | G | 1337 |
| Pereira | Jacob Haim | November 26, 1877 | n/a | Bleinheim | VIII | G | 1338 |
| Pereira | Samuel H. | February 19, 1884 | n/a | Bleinheim | VIII | G | 1339 |
| Pereira | Mordechay M. | October 14, 1870 | n/a | Bleinheim | VIII | H | 1345 |
| Pereira | Hanah M. | November 2, 1877 | n/a | Bleinheim | X | K | 1592 |
| Pereira | Eliao Haim | June 27, 1787 | n/a | Bleinheim | XII | A | 1719 |
| Pereira | Eliau De Yahacob | June 13, 1737 | Child | Bleinheim | XII | A | 1725 |
| Pereira | Jacob, son of Iacob | October 17, 1740 | Child | Bleinheim | XII | A | 1726 |
| Pereira | Iahacob de Eliao | March 24, 1778 | n/a | Bleinheim | XII | B | 1759 |
| Pereira | Ester, wife of Yahacob | June 26, 1740 | n/a | Bleinheim | XII | B | 1760 |
| Pereira | Ribca, wife of Iacob de Eliau | October 14, 1758 | n/a | Bleinheim | XII | C | 1792 |
| Pereira | Ester de Eliau Haim | November 21, 1787 | n/a | Bleinheim | XII | E | 1826 |
| Pereira | Iacob de Eliao Haim | October 24, 1789 | n/a | Bleinheim | XII | E | 1827 |
| Pereira | Ishac, son of Eliao Haim | No date | Child | Bleinheim | XII | E | 1828 |
| Pereira | Ribca, daughter of Eliau | January 23, 1722 | n/a | Bleinheim | XIV | D | 2051 |
| Pereira | Ester, wife of Jacob de Isaac Haim | March 27, 1805 | n/a | Bleinheim | XVI | A | 2169 |
| Pereira | Clara de Isaac Haim | December 20, 1814 | n/a | Bleinheim | XVI | B | 2184 |
| Pereira | Hannah de Samuel | November 10, 1869 | n/a | Bleinheim | XVI | C | 2223 |
| Pereira | Samuel, Jr. | September 25, 1858 | n/a | Bleinheim | XVII | C | 2300 |
| Pereira | Isaac S. | December 5, 1859 | n/a | Bleinheim | XVII | C | 2301 |
| Pereira | Sadoc | May 28, 1859 | n/a | Bleinheim | XVII | C | 2302 |
| Pereira | Moises S. | December 18, 1877 | Child | Bleinheim | XVII | C | 2303 |
| Pereira | Ester de David | July 8, 1797 | n/a | Bleinheim | II | E | 327 |
| Pereira Athias | Rachel, wife of Mosseh | May 3, 1742 | n/a | Bleinheim | III | F | 470 |
| Pereira Atias | Rahel Hana | February 20, 1705 | n/a | Bleinheim | XIV | D | 2036 |
| Pereira Brandao | Caroline | August 13, 1891 | Not recorded | Berg Altena | n/a | TC | 19 |
| Pereira Brandao | Alcida C. H. de | July 25, 1908 | Not recorded | Berg Altena | n/a | TG | 24 |
| Pereira Brandao | Elias, Jr. | October 21, 1878 | Not recorded | Berg Altena | n/a | TG | 25 |
| Pereira Brandao | Jael | October 20, 1911 | Not recorded | Berg Altena | n/a | TB | 10 |
| Pereira Brandao | Joseph | August 24, 1909 | Not recorded | Berg Altena | n/a | TC | 9 |
| Pereira Brandao | Jacob | February 25, 1902 | Not recorded | Berg Altena | n/a | TC | 13 |
| Pereira Brandao | Rosafine | September 17, 1898 | Not recorded | Berg Altena | n/a | TC | 14 |
| Pereira Brandao | Esther | April 30, 1889 | Not recorded | Berg Altena | n/a | TC | 20 |
| Pereira Brandao | Ribca | December 26, 1878 | Not recorded | Berg Altena | n/a | TC | 25 |
| Pereira Brandao | Joseph James | March 3, 1895 | Not recorded | Berg Altena | n/a | TE | 19 |
| Pereira Brandao | Benjamin, Jr. | January 27, 1875 | Not recorded | Berg Altena | n/a | TF | 23-B |
| Pereira Brandao | Benjamin | February 13, 1900 | Not recorded | Berg Altena | n/a | TG | 13 |
| Pereira Brandao | Jose Jr. | April 26, 1864 | n/a | Bleinheim | I | C | 58 |
| Pereira Brandao | Merian de Mosseh de Eliao Penso, w., Joseph Junior | January 15, 1825 | n/a | Bleinheim | I | C | 59 |
| Pereira Brandao | Miryam B. | September 2, 1827 | n/a | Bleinheim | I | D | 87 |
| Pereira Brandao | Lea, wife of Iosseph | September 15, 1757 | n/a | Bleinheim | XII | E | 1810 |
| Pereira Brandao | Ester | April 7, 1863 | n/a | Bleinheim | XIII | C | 1884 |
| Pereira Brandao | Joseph Isaac | May 20, 1856 | n/a | Bleinheim | XIII | E | 1933 |
| Pereira Brandao | Hannah | June 30, 1846 | n/a | Bleinheim | XIII | E | 1934 |
| Pereira Brandaõ | Jael de Moseh Penso, w., Joseph | March 28, 1854 | n/a | Bleinheim | I | C | 57 |
| Pereira Brandaõ | Rachel Calvo, wife of Benjamin | June 20, 1850 | n/a | Bleinheim | XIX | C | 2479 |
| Pereira Brandaõ | Benjamin | December 13, 1810 | n/a | Bleinheim | XIX | C | 2480 |
| Pereira Brandão | Eliao | February 2, 1861 | n/a | Bleinheim | XVI | C | 2213 |
| Pereyra | Hisquiau Iahacob de Mordechay | June 8, 1791 | n/a | Bleinheim | V | A | 717 |
| Pereyra | Ester, wife of Mordechay | April 6, 1771 | n/a | Bleinheim | V | B | 764 |
| Pereyra | Mordechay | Apri 1, 1757 | n/a | Bleinheim | V | B | 765 |
| Pereyra | Yshak Haym | March 1, 1750 | n/a | Bleinheim | V | B | 771 |
| Pereyra | Rachel, daughter of Yahacob | February 16, 1722 | n/a | Bleinheim | VII | C | 1137 |
| Pereyra | Rachel, daughter of Mordechay | June 26, 1732 | Child | Bleinheim | VII | C | 1156 |
| Pereyra | Rachel de Mordechay | April 25, 1742 | Child | Bleinheim | VII | E | 1232 |
| Pereyra | Ishac de Iacob | September 5, 1774 | n/a | Bleinheim | IV | A | 521 |
| Pereyra Athias | Mosseh | January 4, 1756 | n/a | Bleinheim | III | F | 469 |
| Pereyra Brandão | Hana Ribcah Cohen Henriquez, wife of Elião | May 7, 1834 | n/a | Bleinheim | XVI | C | 2212 |
| Pereyra de Paris | Moseh | September 29, 1748 | n/a | Bleinheim | IX | B | 1420 |
| Perreyra | Jacob | March 4, 1753 | n/a | Bleinheim | VII | C | 1138 |
| Pessoa | Sarah, daughter of Abraham de David | August 30, 1751 | Child | Bleinheim | III | D | 408 |
| Pessoa | Mosseh, son of Abraham | June 21, 1729 | Child | Bleinheim | VII | E | 1208 |
| Pieters | Flora | September 22, 2016 | September 27, 2016 | Berg Altena | n/a | AA | 2 |
| Pieters | Walfried | Not recorded | Not recorded | Berg Altena | n/a | AA | 3 |
| Pimentel | | No date | Child | Bleinheim | XIII | D | 1919 |
| Pimsler | Samuel | March 28, 1986 | March 30, 1986 | Berg Altena | n/a | A | 45 |
| Pinedo | Lucila de Morris | October 25, 1898 | June 25, 1903 | Berg Altena | n/a | Child C | 1 |
| Pinedo | Miriam Alvarez Correa de | October 29, 1911 | October 30, 1911 | Berg Altena | n/a | C | 36 |
| Pinedo | Henny Alvarez Correa de | February 13, 1942 | February 18, 1942 | Berg Altena | n/a | G | 25 |
| Pinedo | Emma Lopez Maduro de | November 30, 1936 | December 1, 1936 | Berg Altena | n/a | M | 24 |
| Pinedo | Jacob R. | February 9, 1884 | February 9, 1884 | Berg Altena | n/a | B | 10 |
| Pinedo | Estela de David | April 6, 1907 | April 7, 1907 | Berg Altena | n/a | B | 19 |
| Pinedo | Isaac A. | September 26, 1883 | September 27, 1883 | Berg Altena | n/a | F | 1 |
| Pinedo | Gabriel Is. | December 2, 1884 | January 22, 1888 | Berg Altena | n/a | F | 3 |
| Pinedo | Abraham Haim | January 4, 1896 | November 9, 1904 | Berg Altena | n/a | G | 21 |
| Pinedo | Rebecca Curiel de | November 17, 1949 | November 18, 1949 | Berg Altena | n/a | O | 29 |
| Pinedo | Mozes Michael | September 28, 1945 | September 29, 1945 | Berg Altena | n/a | O | 30 |
| Pinedo | Jacob Isaac | December 21, 1940 | December 22, 1940 | Berg Altena | n/a | P | 26 |
| Pinedo | Michael Herbert | October 23, 1987 | Not recorded | Berg Altena | n/a | NN | 10 |
| Pinedo | Enid bat Moshe Lansberg eshet Michael | April 21, 2013 | April 24,2013 | Berg Altena | n/a | NN | 11 |
| Pinedo | Ellen | January 11, 1910 | Not recorded | Berg Altena | n/a | TA | 15 |
| Pinedo | Rodolfo | December 30, 1906 | Not recorded | Berg Altena | n/a | TA | 16 |
| Pinedo | Eduardo | July 15, 1883 | Child | Berg Altena | n/a | TA'2 | 69 |
| Pinedo | Alvarez C. | May 8, 1924 | Not recorded | Berg Altena | n/a | TB | 2 |
| Pinedo | Mario | January 4, 1953 | Not recorded | Berg Altena | n/a | TB | 3 |
| Pinedo | Enrique | November 30, 1922 | Not recorded | Berg Altena | n/a | TB | 6 |
| Pinedo | Murray R. | October 6, 1897 | Not recorded | Berg Altena | n/a | TB | 17 |
| Pinedo | Clara Alvarez Correa de | May 15, 1894 | Not recorded | Berg Altena | n/a | TB | 18 |
| Pinedo | Nilda Delvalle eshet Isidore | November 1, 1997 | November 6, 1997 | Berg Altena | n/a | TD | 26 |
| Pinedo | Glenda | December 8, 1946 | Not recorded | Berg Altena | n/a | TD | 27 |
| Pinedo | Isidore | December 6, 1968 | Not recorded | Berg Altena | n/a | TD | 28 |
| Pinedo | Elisa Else Cohen Henriquez eshet Victor | Dec. 31, 1999 | Not recorded | Berg Altena | n/a | TF | 32 |
| Pinedo | Deborah Cohen Henriquez de | December 24, 1902 | n/a | Bleinheim | I | A | 1 |
| Pinedo | Abraham | September 29, 1862 | n/a | Bleinheim | I | A | 2 |
| Pinedo | Gabriel A. | June 11, 1885 | n/a | Bleinheim | I | B | 15 |
| Pinedo | Juliet D. | November 25, 1873 | n/a | Bleinheim | I | B | 16 |
| Pinedo | Eli | September 27, 1868 | n/a | Bleinheim | I | B | 17 |
| Pinedo | Celina | September 18, 1877 | n/a | Bleinheim | I | C | 43 |
| Pinedo | Abraham de Isaac | May 13, 1859 | Child | Bleinheim | I | C | 44 |
| Pinedo | Samuel Isaac | No date | n/a | Bleinheim | I | C | 45 |
| Pinedo | Richard | November 22, 1877 | Child | Bleinheim | I | G | 178 |
| Pinedo | Sara, wife of Jacob | July 21, 1779 | n/a | Bleinheim | IV | C | 677 |
| Pinedo | Iahacob | April 27, 1767 | n/a | Bleinheim | IV | C | 678 |
| Pinedo | Manuel Hisqiao | May 1, 1780 | n/a | Bleinheim | IV | C | 679 |
| Pinedo | Abraham | January 24, 1771 | n/a | Bleinheim | IV | C | 680 |
| Pinedo | Ishac, son of Gabriel | January 4, 1768 | Child | Bleinheim | V | A | 742 |
| Pinedo | Clara, daughter of Rephael | November 29, 1800 | Child | Bleinheim | V | A | 743 |
| Pinedo | Sarah, daughter of Gabriel | July 19, 1771 | Child | Bleinheim | V | E | 900 |
| Pinedo | Ester, daughter of Imanuel Hisquiau | April 18, 1760 | Child | Bleinheim | VII | C | 1146 |
| Pinedo | Sara, daughter of Imanuel Hisquiau | November 22, 1758 | Child | Bleinheim | VII | C | 1147 |
| Pinedo | Ishac de Iacob | February 2, 1788 | Child | Bleinheim | VII | C | 1153 |
| Pinedo | Jacob, Junior | July 8, 1852 | n/a | Bleinheim | IX | A | 1412 |
| Pinedo | Iacob, son of Gabriel | July 15, 1757 | Child | Bleinheim | XV | D | 2126 |
| Pinedo | Sarah de Manuel Hisquiau | August 17, 1785 | n/a | Bleinheim | XV | E | 2130 |
| Pinedo | Gabriel | July 12, 1802 | n/a | Bleinheim | XV | F | 2138 |
| Pinedo | Clara de Gabriel | June 23, 1809 | n/a | Bleinheim | XV | F | 2139 |
| Pinedo | Iahacob De Gabriel | October 30, 1802 | n/a | Bleinheim | XV | G | 2159 |
| Pinedo | Ribca de Jacob | July 25, 1834 | n/a | Bleinheim | XVI | A | 2170 |
| Pinedo | Rephael | January 29, 1812 | n/a | Bleinheim | XVIII | B | 2369 |
| Pinedo | Abigail de Rephael | September 7, 1821 | n/a | Bleinheim | XVIII | B | 2370 |
| Pinedo | Gabriel de Rephael | April 6, 1812 | n/a | Bleinheim | XVIII | B | 2371 |
| Pinedo | Gabriel de Aron | November 22, 1816 | n/a | Bleinheim | XVIII | B | 2372 |
| Pinedo | Abigail, widow of Gabriel | September 16, 1863 | n/a | Bleinheim | XVIII | B | 2373 |
| Pinedo | Abraham | January 27, 1812 | n/a | Bleinheim | XVIII | C | 2383 |
| Pinedo | Ribca Hana de Abraham | January 26, 1843 | n/a | Bleinheim | XVIII | C | 2384 |
| Pinedo | Aron | September 16, 1823 | n/a | Bleinheim | XVIII | C | 2389 |
| Pinedo | Raphael | January 25, 1871 | n/a | Bleinheim | XVIII | D | 2423 |
| Pinedo | Rebecá | February 23, 1889 | n/a | Bleinheim | XVIII | D | 2424 |
| Pinedo | Clara | September 3, 1904 | n/a | Bleinheim | XVIII | D | 2446 |
| Pinedo | | March 21, 1905 | Child | Berg Altena | n/a | TH | 39 |
| Pinedo Henriquez | Sara H. | February 19, 1882 | n/a | Bleinheim | XVIII | D | 2430 |
| Pinedo, Jr. | Rebecca Is. | August 3, 1896 | August 3, 1896 | Berg Altena | n/a | F | 2 |
| Pinedo, Jr. | Mordechay de Gabriel | November 11, 1907 | November 12, 1907 | Berg Altena | n/a | G | 24 |
| Pinheiro de Noguiera | Ribi Ishac | February 24, 1762 | n/a | Bleinheim | II | D | 279 |
| Pinheyro Nogueyra | Rachel Hana | September 13, 1757 | n/a | Bleinheim | IX | B | 1424 |
| Pinto | Ribi Semuel | April 3, 1739 | n/a | Bleinheim | XII | C | 1778 |
| Pinto | Sara, wife of R. Semuel | November 4, 1733 | n/a | Bleinheim | XII | C | 1779 |
| Pinto Wolff | Judith | March 11, 1892 | n/a | Bleinheim | XVIII | D | 2417 |
| Polak | Rev. Eliazer | January 21,1895 | January 21, 1895 | Berg Altena | n/a | C | 9 |
| Polly | Rafeal de Salomon | September 21, 1894 | September 22, 1894 | Berg Altena | n/a | D | 15 |
| Polly | Rachel S. de | Not recorded | August 24, 1898 | Berg Altena | n/a | D | 16 |
| Polly | Leonor | December 15, 1948 | December 16, 1948 | Berg Altena | n/a | N | 20 |
| Powell | Philip | January 31, 2007 | Not recorded | Berg Altena | n/a | DD | DD-A |
| Querido | Hazan David de Isaac | February 5, 1918 | n/a | Bleinheim | XIX | A | 2472 |
| Rabinovich | Sabina | May 13, 1975 | Not recorded | Berg Altena | n/a | GG | 13 |
| Rabinovich | Josef | April 16, 1966 | Not recorded | Berg Altena | n/a | HH | 12 |
| Rahan | Louis de Abraham | June 3, 2001 | June 6, 2001 | Berg Altena | n/a | MM | 35 |
| Rahan | Divi Litana Limvers | April 12, 2015 | April 15, 2015 | Berg Altena | n/a | MM | 36 |
| Renz alias Alexander | Mordechay, son of Yohanan | September 4, 1763 | n/a | Bleinheim | II | D | 277 |
| Ribero | Yacob, son of Selomoh | January 18, 1749 | Child | Bleinheim | VII | E | 1207 |
| Ricardo | Hannah Haydee Capriles de L. | May 29, 1972 | June 1, 1972 | Berg Altena | n/a | P | 8 |
| Ricardo | Louis Joseph | June 17, 1968 | June 17, 1968 | Berg Altena | n/a | P | 9 |
| Ricardo | Moises Frois | February 18, 1880 | Not recorded | Berg Altena | n/a | TC | 24 |
| Ricardo | David | January 1, 1826 | n/a | Bleinheim | II | E | 358 |
| Ricardo Capriles | Rachel | August 16, 1875 | n/a | Bleinheim | IX | L | 1511 |
| Rijk | Amelia Sara | September 27, 1942 | n/a | Bleinheim | VIII | Q | 1409l |
| Riks | Benjamin | December 4, 1960 | Not recorded | Berg Altena | n/a | HH | 20 |
| Robio de Matos | Yaacob Hisquiau | October 20, 1695 | n/a | Bleinheim | VII | A | 1068 |
| Robles | Binjamin de Abraham | January 10, 1759 | Child | Bleinheim | X | B | 1536 |
| Robles | Jacob Haim de Abraham | November 17, 1753 | Child | Bleinheim | X | B | 1537 |
| Rodrigues | Raphael | November 1, 1753 | n/a | Bleinheim | VI | A | 904 |
| Rodrigues | David [Gabriel] | May 9, 1831 | n/a | Bleinheim | XVII | C | 2278 |
| Rodrigues Brandam | Moseh Haim, son of Jacob | April 21, 1767 | Child | Bleinheim | X | F | 1566 |
| Rodrigues Brandam | Moseh, son of Jacob | February 17, 1766 | Child | Bleinheim | X | F | 1567 |
| Rodrigues Brandam | Ribeca, daughter of Jacob | April 15, 1769 | Child | Bleinheim | X | F | 1570 |
| Rodrigues Cariao | Daniel | June 26, 1738 | n/a | Bleinheim | III | G | 490 |
| Rodrigues da Costa | Ishac Haim | February 22, 1784 | n/a | Bleinheim | II | E | 325 |
| Rodrigues da Costa | Sarah | August 24, 1803 | n/a | Bleinheim | II | E | 326 |
| Rodrigues da Costa | Mordehay, son of Ishak Haim & Sarah Hana | October 22, 1757 | Child | Bleinheim | V | A | 724 |
| Rodrigues da Costa | Ribca, daughter of Isaac Haim | November 27, 1768 | Child | Bleinheim | V | A | 725 |
| Rodrigues da Costa | Joseph HIsquiau | October 25, 1764 | n/a | Bleinheim | V | A | 726 |
| Rodrigues da Costa | Imanuel, son of Isaac Haim | February 3, 1768 | Child | Bleinheim | V | A | 727 |
| Rodrigues da Costa | Aron, son of Isaac Haim | January 9, 1767 | Child | Bleinheim | V | A | 729 |
| Rodrigues da Costa | Rachel | November 18, 1772 | n/a | Bleinheim | V | E | 894 |
| Rodrigues da Costa | Mosseh | December 20, 1830 | n/a | Bleinheim | XIV | C | 2026 |
| Rodrigues da Costa | Mordechay Haim | March 8, 1824 | n/a | Bleinheim | XIV | C | 2027 |
| Rodrigues da Costa | Sarah de Mordechay | February 22, 1824 | n/a | Bleinheim | XIV | C | 2028 |
| Rodrigues Gradis | Manuel, son of Abraham | April 5, 1742 | n/a | Bleinheim | V | C | 790 |
| Rodrigues Gradiz | Abraham | November 9, 1740 | n/a | Bleinheim | XIV | D | 2053 |
| Rodrigues Gradiz | Ester, wife of Abraham | February 1, 1716 | n/a | Bleinheim | XIV | D | 2052 |
| Rodrigues Guadalupe | Iacob HIsquaiu | February 16, 1705 | n/a | Bleinheim | XV | B | 2101 |
| Rodrigues Guadalupe | Ribca | February 4, 1725 | n/a | Bleinheim | XV | B | 2103 |
| Rodrigues Mendes | Ishac, son of Abraham Michael | August 22, 1751 | Child | Bleinheim | III | G | 491 |
| Rodrigues Miranda | Mosseh | September 15, 1755 | n/a | Bleinheim | III | E | 463 |
| Rodrigues Nunes | Isaac | March 24, 1777 | n/a | Bleinheim | II | D | 276 |
| Rodrigues Nunes | Daniel | January 18, 1744 | n/a | Bleinheim | V | D | 823 |
| Rodrigues Nunes | Miriam, wife of Iacob | February 26, 1758 | n/a | Bleinheim | VI | A | 905 |
| Rodrigues Nunes | Abraham Hisquiao | January 29, 1744 | n/a | Bleinheim | VI | B | 961 |
| Rodrigues Nunes | Ieudith | January 10, 1744 | n/a | Bleinheim | VI | B | 962 |
| Rodrigues Pereira | Deborah | June 14, 1907 | June 15, 1907 | Berg Altena | n/a | H | 9 |
| Rodrigues Pereira | Abraham de Jacob Haim | December 27, 1780 | Child | Bleinheim | VI | A | 922 |
| Rodrigues Pereira | Ester Hanah | December 11, 1780 | n/a | Bleinheim | VI | B | 974 |
| Rodrigues Pereira | Yshac Hisquiau | February 14, 1742 | n/a | Bleinheim | VI | B | 975 |
| Rodriguez | Rebecca Moses | Not recorded | June 13, 1883 | Berg Altena | n/a | A | 10 |
| Rodriguez | Branca Hannah, wife of David | November 16, 1814 | n/a | Bleinheim | XVIII | A | 2347 |
| Rodriguez | Isaac David | No date | n/a | Bleinheim | XVII | E | 2333 |
| Rodriguez | Leah de Isaac | Undecipherable | n/a | Bleinheim | XVII | E | 2334 |
| Rodriguez Cuña | Ester de Abraham | April 2, 1753 | Child | Bleinheim | III | D | 429 |
| Rodriguez da Costa | Joseph | July 30, 1840 | n/a | Bleinheim | XIV | C | 2025 |
| Rodriguez Mendes | Isaac Haim, son of Abraham Micael | March 12, 1757 | Child | Bleinheim | III | E | 436 |
| Rodriguez Mendes | Sarah, daughter of Abraham Micael | October 12, 1753 | Child | Bleinheim | III | E | 459 |
| Rodriguez Miranda | Elias | February 6, 1821 | n/a | Bleinheim | I | F | 150 |
| Rodriguez Miranda | Esther, wife of Elias | March 9, 1834 | n/a | Bleinheim | I | F | 151 |
| Rodriguez Miranda | Ester, daughter of Ishac | December 16, 1763 | Child | Bleinheim | III | B | 398 |
| Rodriguez Miranda | Yacob | March 20, 1755 | n/a | Bleinheim | III | E | 462 |
| Rodriguez Miranda | Ishac de Abraham | July 3, 1733 | n/a | Bleinheim | VI | A | 912 |
| Rodriguez Miranda | Ester, wife of Ishac | October 11, 1761 | n/a | Bleinheim | VI | A | 913 |
| Rodriguez Miranda | Eliau | April 23, 1790 | n/a | Bleinheim | VI | A | 914 |
| Rodriguez Miranda | Isaac | October 20, 1874 | n/a | Bleinheim | XIX | A | 2467 |
| Rodriguez Miranda | Hanah Jesurun Henriquez, widow of Isaac, Jr | November 19, 1895 | n/a | Bleinheim | XIX | A | 2468 |
| Rodriguez Miranda | Sarah | 1882 | n/a | Bleinheim | XIX | A | 2469 |
| Rodriguez Miranda | Elias | October 13, 1905 | n/a | Bleinheim | XIX | F | 2533 |
| Rodriguez Pereira | Ribca | November 26, 1762 | n/a | Bleinheim | II | E | 323 |
| Rodriguez Pereira | Semuel | September 25, 1834 | n/a | Bleinheim | XVI | C | 2222 |
| Rodriguez Pimentel | Rachel | November 1, 1731 | n/a | Bleinheim | VI | A | 927 |
| Rodriques Silva | Jacob Haim | June 22, 1758 | Child | Bleinheim | IX | B | 1422 |
| Rodriques Silva | Iahacob Haim | October 26, 1757 | n/a | Bleinheim | IX | C | 1438 |
| Rois Mendes | Moises | May 3, 1850 | n/a | Bleinheim | VIII | H | 1342 |
| Rois Mendes | Jeudith de Abraham | June 10, 1833 | n/a | Bleinheim | VIII | J | 1351 |
| Rois Mendes | Abraham | January 11, 1840 | n/a | Bleinheim | VIII | J | 1352 |
| Rois Mendes | Isaac | August 11, 1841 | n/a | Bleinheim | VIII | J | 1353 |
| Rois Mendes | Ester de Aron | January 10, 1848 | n/a | Bleinheim | VIII | K | 1358 |
| Rois Mendes | Aaron, Jr | February 12, 1865 | n/a | Bleinheim | VIII | L | 1363 |
| Rois Mendes | Abraham Haim, Jr | April 27, 1865 | n/a | Bleinheim | VIII | L | 1363 |
| Rois Mendes | Esther Salas, wife of Iacob | June 29, 1869 | n/a | Bleinheim | VIII | L | 1366 |
| Rois Mendes | Jacob | June 4, 1876 | n/a | Bleinheim | VIII | L | 1367 |
| Roitman | Copel | April 25, 1973 | Not recorded | Berg Altena | n/a | FF | 23 |
| Roiz Gradiz | David, son of Abraham | April 27, 1728 | n/a | Bleinheim | XIV | D | 2054 |
| Roiz Monsanto | Sara | December 20, 1754 | n/a | Bleinheim | IV | C | 644 |
| Rozelaar | Marcos Simon | October 7, 1970 | October 7, 1970 | Berg Altena | n/a | G | 46 |
| Rzunzew de Karpenkopf | Esther Kajla | August 26, 1966 | Not recorded | Berg Altena | n/a | HH | 19 |
| Salas | Mauricio Solomón | September 26,1906 | September 26, 1906 | Berg Altena | n/a | G | 35 |
| Salas | David Haim | October 24, 1906 | October 25, 1906 | Berg Altena | n/a | H | 35 |
| Salas | Julio Abraham | April 12, 1961 | May 6, 1961 | Berg Altena | n/a | H | 35 A |
| Salas | Rebecca de Lima de | August 5, 1920 | September 3, 1920 | Berg Altena | n/a | H | 36 |
| Salas | Naneta | June 2, 1971 | Not recorded | Berg Altena | n/a | TA | 11 |
| Salas | Rebecca de M. | Not recorded | Child | Berg Altena | n/a | TA | 34 |
| Salas | Aron de M. | 1845 | Child | Berg Altena | n/a | TA | 35 |
| Salas | Abigail de A. | Not recorded | Child | Berg Altena | n/a | TA | 36 |
| Salas | Eduardo de A. | Not recorded | Child | Berg Altena | n/a | TA | 37 |
| Salas | Eduardo M. | February 13, 1869 | Child | Berg Altena | n/a | TA | 43 |
| Salas | Sara Octavia | September 12, 1879 | Child | Berg Altena | n/a | TA'2 | 68 |
| Salas | Jacob | May 14, 1915 | Not recorded | Berg Altena | n/a | TB | 9 |
| Salas | Moises | August 7, 1893 | Not recorded | Berg Altena | n/a | TB | 19 |
| Salas | Abigail (Roiz) Mendez | September 5, 1885 | Not recorded | Berg Altena | n/a | TB | 20 |
| Salas | Dilia V. de | March 28, 1879 | Not recorded | Berg Altena | n/a | TB | 23 |
| Salas | Abraham | June 15, 1910 | Not recorded | Berg Altena | n/a | TB | 24 |
| Salas | Eleanor de Jongh de | May 5, 1971 | Not recorded | Berg Altena | n/a | TB | 30 |
| Salas | Arnold J. | February 8, 1958 | Not recorded | Berg Altena | n/a | TB | 31 |
| Salas | Editha | October 3, 1960 | Not recorded | Berg Altena | n/a | TB | 32 |
| Salas | Margarita Valencia de | July 7, 2019 | July 9, 2019 | Berg Altena | n/a | TB | 41 |
| Salas | Abram Edgardo | July 5, 1985 | Not recorded | Berg Altena | n/a | TB | 42 |
| Salas | David Dario | August 22, 1937 | Not recorded | Berg Altena | n/a | TC | 35 |
| Salas | Raquel Noemi Salas de | August 10, 1975 | Not recorded | Berg Altena | n/a | TC | 36 |
| Salas | Isaac | March 7, 1891 | Not recorded | Berg Altena | n/a | TD | 11-A |
| Salas | Leah B. de | September 27, 1921 | Not recorded | Berg Altena | n/a | TD | 11-B |
| Salas | Alex | June 18, 1960 | Not recorded | Berg Altena | n/a | TF | 38 |
| Salas | Hubert | February 4, 1978 | Not recorded | Berg Altena | n/a | TF | 39 |
| Salas | Zillah R. | May 8, 1956 | Not recorded | Berg Altena | n/a | TG | 32 |
| Salas | Lunita A. de Lima eshet Jorge | December 22, 1927 | Not recorded | Berg Altena | n/a | TG | 33 |
| Salas | Jorge I. | December 21, 1954 | Not recorded | Berg Altena | n/a | TG | 34 |
| Salas | A., Jr. | March 9, 1905 | Child | Berg Altena | n/a | TH | 35 |
| Salas | Haim | April 18, 1899 | Child | Berg Altena | n/a | TH | 36 |
| Salas | Dilia Deborah | October 24, 1899 | Child | Berg Altena | n/a | TH | 37 |
| Salas | David | November 2, 1920 | November 2, 1920 | Berg Altena | n/a | Child D | A-1 |
| Salas | Moses | November 21, 1799 | n/a | Bleinheim | I | D | 94 |
| Salas | Ribca | April 27, 1808 | n/a | Bleinheim | I | D | 96 |
| Salas | Isaac Haim | March 7, 1829 | Child | Bleinheim | I | D | 96a |
| Salas | Lea de Isaac Haim | June 5, 1819 | Child | Bleinheim | I | D | 97 |
| Salas | Eliao Haim | December 6, 1815 | Child | Bleinheim | I | D | 98 |
| Salas | Eliao D' Isaac Haim | December 22, 1814 | Child | Bleinheim | I | D | 99 |
| Salas | Sarah Da Souza Brito, widow of Isaac Haim | October 20, 1865 | n/a | Bleinheim | I | F | 152 |
| Salas | Isaac Haim | March 10, 1841 | n/a | Bleinheim | I | F | 153 |
| Salas | S. | No date | Child | Bleinheim | I | F | 154 |
| Salas | Louise bat J. Arnold | January 10,1918 | Child | Berg Altena | n/a | TH | 42 |
| Salas | Edgardo de David Dario | March 1, 1994 | March 4, 1994 | Berg Altena | n/a | TC | 45 |
| Salas-Grijt | Theodora I. | February 22, 1974 | Not recorded | Berg Altena | n/a | TF | 37 |
| Salom | Jahacob | July 2, 1744 | n/a | Bleinheim | VI | B | 969 |
| Salom | Sara | November 14, 1754 | n/a | Bleinheim | VI | B | 970 |
| Salom | Abraham, son of Jahacob | March 31, 1713 | Child | Bleinheim | VII | C | 1142 |
| Salom | Hanah, daughter of Jahacob | March 15, 1713 | n/a | Bleinheim | VII | C | 1144 |
| Salom | Hana | October 25, 1755 | n/a | Bleinheim | VII | D | 1171 |
| Salom | Semuel Hisquiau | February 21, 1755 | n/a | Bleinheim | VII | D | 1172 |
| Salom | Lea | January 28, 1721 | n/a | Bleinheim | VII | E | 1219 |
| Salom | Abraham, son of Jacob & Sarah | December 24, 1716 | Child | Bleinheim | VII | E | 1221 |
| Salom Devalle | Abraham | Septembe 24, 1819 | n/a | Bleinheim | XVII | D | 2309 |
| Salomon Lobo | Eduardo de David | Not recorded | Not recorded | Berg Altena | n/a | Child A | 3 |
| Sarfatti | Esther Amira de Rafael | August 16, 1946 | August 16, 1946 | Berg Altena | n/a | J | 16 |
| Sarfatti | Reina Remi eshet Moshe | May 29, 1905 | May 31, 1976 | Berg Altena | n/a | Q | 24 |
| Sarfatti | Mouchon (Moises) Rafael | October 10, 1956 | October 11, 1956 | Berg Altena | n/a | Q | 25 |
| Sarfatti Romi | Salomon de Mouchon | July 17, 1998 | July 19, 1998 | Berg Altena | n/a | Q | 34 |
| Sarphati | Abraham de David | January 12, 1784 | n/a | Bleinheim | III | A | 382 |
| Saso | Samuel, son of Abraham | October 12, 1761 | Child | Bleinheim | VII | E | 1209 |
| Saso | Yosseph Haim | March 1, 1747 | Child | Bleinheim | X | C | 1543 |
| Saso | Ioseph De Abraham | April 5, 1742 | Child | Bleinheim | X | D | 1553 |
| Saso | Eliao De Abraham | April 30, 1742 | Child | Bleinheim | X | D | 1554 |
| Saso | Ribca, wife of Ioseph | February 21, 1763 | n/a | Bleinheim | XII | D | 1796 |
| Sasso | Sarah de Jos. | March 8, 1887 | March 8, 1887 | Berg Altena | n/a | A | 14 |
| Sasso | Daniel J. | September 26, 1891 | September 27, 1891 | Berg Altena | n/a | A | 17 |
| Sasso | Miriam V da. de Daniel J. | May 21, 1899 | May 21, 1899 | Berg Altena | n/a | A | 18 |
| Sasso | Jacob Joseph | Not recorded | October 20, 1890 | Berg Altena | n/a | B | 12 |
| Sasso | David Is. | July 14, 1895 | July 15, 1895 | Berg Altena | n/a | B | 13 |
| Sasso | Sarah de David Is. | December 1, 1913 | January 11, 1914 | Berg Altena | n/a | B | 14 |
| Sasso | Moses | February 21, 1903 | February 21, 1903 | Berg Altena | n/a | B | 15 |
| Sasso | Joseph Daniel | June 5, 1919 | June 6, 1919 | Berg Altena | n/a | C | 11 |
| Sasso | Hannah | February 17, 1911 | February 18, 1911 | Berg Altena | n/a | H | 17 |
| Sasso | Rebecca, relict of Mordecai | April 16, 1869 | n/a | Bleinheim | I | C | 41 |
| Sasso | Ishac Hisquiau | August 24, 1784 | n/a | Bleinheim | II | C | 244 |
| Sasso | Ieudit, wife of Abraham | July 7, 1789 | n/a | Bleinheim | II | C | 245 |
| Sasso | Abraham | February 14, 1774 | n/a | Bleinheim | II | C | 246 |
| Sasso | Hava Sarah, wife of Ievdah | November 7, 1748 | n/a | Bleinheim | IV | A | 532 |
| Sasso | Binjamin de Yosseph | July 2, 1759 | Child | Bleinheim | X | F | 1568 |
| Sasso | Hazan Jacob | January 13, 1840 | n/a | Bleinheim | XVII | E | 2323 |
| Sasso | Judith Jacob | No date | n/a | Bleinheim | XVII | E | 2325 |
| Sasso | Joseph de Jacob | May 16, 1853 | n/a | Bleinheim | XIX | B | 2475 |
| Schneider | Yocheved (geb. Becherman) | May 28, 1988 | May 31, 1988 | Berg Altena | n/a | HH | 17 |
| Schneider | Felipe | October 19, 1962 | Not recorded | Berg Altena | n/a | HH | 18 |
| Schnog | Emma M. F. Diaz eshet Alexander | April 24, 1993 | April 27, 1993 | Berg Altena | n/a | RR | 24 |
| Schonmann | Schloime | December 22, 1975 | Not recorded | Berg Altena | n/a | FF | 2 |
| Schonmann | Cipa | December 6, 1971 | Not recorded | Berg Altena | n/a | FF | 3 |
| Schulhof | Irma Lustig geb. | February 22, 1991 | February 24, 1991 | Berg Altena | n/a | J | 6 |
| Schwarts | Jeosuah Joseph Israel | January 18, 1866 | Child | Bleinheim | I | B | 14 |
| Schwartsz | Abraham | Not recorded | April 9, 1883 | Berg Altena | n/a | A | 2 |
| Seibald | Jozef-David | April 28, 2007 | Not recorded | Berg Altena | n/a | CC | 13 |
| Seibald | Liza | September 30, 2018 | Not recorded | Berg Altena | n/a | CC | 14 |
| Seibald | Fanny eshet Salomon | December 24, 1991 | December 26, 1991 | Berg Altena | n/a | FF | 15 |
| Seibald | Leon | December 8, 2008 | Not recorded | Berg Altena | n/a | FF | FF-C |
| Seibald | Salomon | November 19, 1974 | Not recorded | Berg Altena | n/a | GG | 14 |
| Seibald | Moishe Hersh | November 26, 1974 | Not recorded | Berg Altena | n/a | GG | 15 |
| Seibald | Selig | April 30, 1982 | Not recorded | Berg Altena | n/a | GG | 16 |
| Seibald | Pesi Lea | October 8, 1971 | Not recorded | Berg Altena | n/a | GG | 17 |
| Seibald | Rachel (born Landskroner) | May 18, 1905 | Not recorded | Berg Altena | n/a | HH | 14 |
| Semag Valencia | Deborah (born Senior) | July 2, 1839 | n/a | Bleinheim | XIV | D | 2058 |
| Semag Valencia | David | February 24, 1842 | n/a | Bleinheim | XIV | D | 2059 |
| Semah Aboab | Daniel, son of Ishac | September 26, 1741 | n/a | Bleinheim | V | D | 830 |
| Semah D Valenca | Sara, wife of David | July 23, 1783 | n/a | Bleinheim | II | C | 243 |
| Semah de Valencia | Isaac | October 13, 1900 | Not recorded | Berg Altena | n/a | TB | 16 |
| Semah de Valencia | Arnold | December 21, 1876 | Not recorded | Berg Altena | n/a | TB | 26 |
| Semah de Valencia | Rebeca | January 8, 1898 | Not recorded | Berg Altena | n/a | TC | 15 |
| Semah de Valencia | Julio Jacob | May 18, 1895 | Not recorded | Berg Altena | n/a | TC | 18 |
| Semah de Valencia | Abigail Semiramis Salas de | July 11, 1971 | July 15, 1971 | Berg Altena | n/a | TC | 32 |
| Semah de Valencia | Ida Lopez Penha de | September 15, 1981 | Not recorded | Berg Altena | n/a | TC | 33 |
| Semah de Valencia | Julia Henriquez de | May 8, 1955 | Not recorded | Berg Altena | n/a | TC | 38 |
| Semah de Valencia | Julia D. | September 6, 1955 | Not recorded | Berg Altena | n/a | TC | 39 |
| Semah de Valencia | David, son of Mosseh | September 22, 1791 | Child | Bleinheim | XV | C | 2117 |
| Semah de Valencia | Ribca | November 15, 17863 | n/a | Bleinheim | XVII | A | 2242 |
| Semah de Valensa | Ester, daughter of David & Sarh | November 18, 1753 | Child | Bleinheim | IV | C | 657 |
| Semah de Valensa | Abraham, son of David & Sarah | January 27, 1756 | Child | Bleinheim | IV | C | 666 |
| Semah de Valensa | Ester, wife of Benjamin | November 29, 1782 | n/a | Bleinheim | XIV | C | 2024 |
| Semah Fero | Jacob de Ishac | November 24, 1756 | Child | Bleinheim | IV | C | 649 |
| Semah Ferro | Ishac | February 28, 1755 | n/a | Bleinheim | IV | C | 645 |
| Semah Ferro | Ymanuel, son of Yacob | December 7, 1714 - January 4, 1715 | Child | Bleinheim | XV | A | 2066 |
| Semah Ferro | Gracia, wife of Yahacob | February 18, 1726 | n/a | Bleinheim | XV | A | 2078 |
| Semah Ferro | Iahacob | June 14, 1763 | n/a | Bleinheim | XV | A | 2079 |
| Semah Ferro | Imanuel | February 27, 1729 | n/a | Bleinheim | XV | A | 2080 |
| Semah Valencia | Rachel Amelia Lopez Penha de | February 10, 1941 | Not recorded | Berg Altena | n/a | TC | 17 |
| Semah Valencia | Deborah D. L. Maduro | September 27, 1933 | Not recorded | Berg Altena | n/a | TD | 2 |
| Senior | Sally de D. Abraham | Not recorded | March 10, 1902 | Berg Altena | n/a | B | 3 |
| Senior | David de Abraham | April 4, 1908 | April 5, 1908 | Berg Altena | n/a | B | 4 |
| Senior | Leah de Abraham | December 15, 1880 | December 15, 1880 | Berg Altena | n/a | B | 5 |
| Senior | Isaac de Abraham | Not recorded | December 23, 1885 | Berg Altena | n/a | B | 6 |
| Senior | Rachel de Isaac Abraham | June 19, 1918 | May 16, 1924 | Berg Altena | n/a | B | 7 |
| Senior | Flora | August 16, 1936 | August 17, 1936 | Berg Altena | n/a | B | 32 |
| Senior | Ilva | December 1, 1947 | December 2, 1947 | Berg Altena | n/a | B | 33 |
| Senior | Rosaura | October 25, 1956 | October 26, 1956 | Berg Altena | n/a | B | 34 |
| Senior | Cordelia | July 29, 1960 | July 30, 1960 | Berg Altena | n/a | B | 35 |
| Senior | Alicia | July 23, 1962 | July 23, 1962 | Berg Altena | n/a | B | 36 |
| Senior | Abigail de Abraham | November 8, 1919 | November 9, 1919 | Berg Altena | n/a | C | 13 |
| Senior | Esther Marchena de | January 6, 1892 | January 6, 1892 | Berg Altena | n/a | E | 13 |
| Senior | Haim Senior | Not recorded | September 10, 1941 | Berg Altena | n/a | E | 14 |
| Senior | Abraham Isaac | August 19, 1900 | August 20, 1900 | Berg Altena | n/a | G | 8 |
| Senior | Sarah de Abraham Is. | June 17, 1901 | June 18, 1901 | Berg Altena | n/a | G | 9 |
| Senior | Hannah de Mordechay | August 17, 1931 | August 18, 1931 | Berg Altena | n/a | G | 34 |
| Senior | Batsebath | November 10, 1908 | November 11, 1908 | Berg Altena | n/a | H | 10 |
| Senior | Isaac Josias | October 30, 1918 | December 24, 1919 | Berg Altena | n/a | K | 5 |
| Senior | Celina de Marchena de Isaac | April 5, 1963 | April 6, 1963 | Berg Altena | n/a | K | 23 |
| Senior | Rachel Edith Henriquez eshet Ruben | January 22, 2009 | January 25, 2009 | Berg Altena | n/a | M | 30 |
| Senior | Ruben Dario de Morry | May 18, 1963 | May 28, 1963 | Berg Altena | n/a | M | 31 |
| Senior | Otto de Isaac | August 8, 1989 | August 9, 1989 | Berg Altena | n/a | LL | 45 |
| Senior | Rosalynde Salas eshet Otto | February 23, 1989 | February 24, 1989 | Berg Altena | n/a | LL | 46 |
| Senior | Rebecca C. Hz de | July 15, 1910 | Not recorded | Berg Altena | n/a | TA | 18 |
| Senior | David, Jr. | May 12, 1898 | Not recorded | Berg Altena | n/a | TA | 19 |
| Senior | Alex Deitz. de Salomon | January 13, 1869 | Child | Berg Altena | n/a | TA | 39 |
| Senior | Emma | December 15, 1870 | Child | Berg Altena | n/a | TA | 41 |
| Senior | Salomon | March 28, 1908 | Not recorded | Berg Altena | n/a | TC | 27 |
| Senior | Emma Deitzelzweig de | July 27, 1876 | Not recorded | Berg Altena | n/a | TC | 28 |
| Senior | Edgar | October 16, 1905 | Not recorded | Berg Altena | n/a | TD | 6 |
| Senior | Isaac Jacob | January 1, 1906 | Not recorded | Berg Altena | n/a | TD | 8 |
| Senior | Amelie | January 16, 1946 | Not recorded | Berg Altena | n/a | TD | 16 |
| Senior | Edwin | June 19, 1957 | Not recorded | Berg Altena | n/a | TD | 31 |
| Senior | Edith Baiz eshet Alfred | Sept. 9, 1987 | September 10, 1987 | Berg Altena | n/a | TD | 32 |
| Senior | Salomon Alfred | April 26, 1973 | Not recorded | Berg Altena | n/a | TD | 33 |
| Senior | Anna-Lisa Gramkow | May 16, 1966 | Not recorded | Berg Altena | n/a | TD | 34 |
| Senior | Ellen | June 13, 1954 | Not recorded | Berg Altena | n/a | TG | 29 |
| Senior | A. H., Jr. | October 14, 1876 | Not recorded | Berg Altena | n/a | TH | 29 |
| Senior | Alex | March 1, 1915 | Not recorded | Berg Altena | n/a | Child E | 1 |
| Senior | Jacob de Jeudah | December 8, 1845 | Child | Bleinheim | I | C | 60 |
| Senior | Abigail de Selo | January 28, 1863 | n/a | Bleinheim | I | C | 62 |
| Senior | Selomoh | August 3, 1822 | n/a | Bleinheim | I | C | 63 |
| Senior | Abraham de Isaac | November 11, 1862 | Child | Bleinheim | I | C | 66 |
| Senior | Leah de Abraham | December 5, 1881 | n/a | Bleinheim | I | C | 67 |
| Senior | Abraham | October 31, 1822 | n/a | Bleinheim | I | D | 88 |
| Senior | Abraham de Mordy | January 16, 1820 | n/a | Bleinheim | I | D | 90 |
| Senior | Lea de Abraham | June 14, 1823 | n/a | Bleinheim | I | D | 91 |
| Senior | Abraham Mordechaij Haim | November 15, 1865 | n/a | Bleinheim | I | D | 92 |
| Senior | Mordy Haim | September 21, 1851 | n/a | Bleinheim | I | D | 93 |
| Senior | Leah Mordy H. | September 30, 1826 | n/a | Bleinheim | I | E | 128 |
| Senior | Mordechay H. | January 31, 1843 | n/a | Bleinheim | I | E | 129 |
| Senior | Ester de Mordechay | June 9, 1865 | n/a | Bleinheim | I | F | 136 |
| Senior | Leah de Isaac de David | January 8, 1862 | n/a | Bleinheim | I | F | 137 |
| Senior | Issac de David | March 15, 1845 | n/a | Bleinheim | I | F | 138 |
| Senior | Leah A. | July 17, 1898 | n/a | Bleinheim | I | G | 155 |
| Senior | Abraham Jacob | July 29, 1880 | n/a | Bleinheim | I | G | 156 |
| Senior | Jacob Haim | August 15, 1867 | n/a | Bleinheim | I | G | 157 |
| Senior | Mordehaij | May 11, 1881 | n/a | Bleinheim | I | G | 158 |
| Senior | Rebeca Eleonor Cohen Henriquez, w., Mordehaij | March 16, 1855 | n/a | Bleinheim | I | G | 159 |
| Senior | Esther de Abraham | July 6, 1852 | n/a | Bleinheim | I | G | 160 |
| Senior | Jacob | August 13, 1857 | n/a | Bleinheim | I | G | 165 |
| Senior | Hannah de Jacob | August 8, 1847 | n/a | Bleinheim | I | G | 166 |
| Senior | Selomoh Haim | December 31, 1849 | n/a | Bleinheim | I | G | 167 |
| Senior | Esther de Isaac | October 8, 1833 | n/a | Bleinheim | I | G | 169 |
| Senior | Isaac | December 15, 1861 | n/a | Bleinheim | I | G | 170 |
| Senior | Jacob de David | May 20, 1791 | Child | Bleinheim | II | B | 199 |
| Senior | David de Iacob | September 22, 1819 | n/a | Bleinheim | II | B | 206 |
| Senior | Sarah Hanah, wife of David de Iacob | September 8, 1780 | n/a | Bleinheim | II | B | 207 |
| Senior | Isaac de Isaac de Abraham | April 21, 1800 | n/a | Bleinheim | II | B | 222 |
| Senior | Ester, daughter of David de Isaac | August 8, 1765 | n/a | Bleinheim | II | B | 225 |
| Senior | Sara, wife of Isaac de Abraham | November 15, 1778 | n/a | Bleinheim | II | B | 226 |
| Senior | Lea, wife of Abraham de Isaac Haim | December 15, 1788 | n/a | Bleinheim | II | B | 230 |
| Senior | Abraham de Ishac Haim | June 4, 1791 | n/a | Bleinheim | II | B | 232 |
| Senior | Lea, daughter of Isaac de Abraham | April 8, 1769 | Child | Bleinheim | II | D | 309 |
| Senior | Ester De Mordechay Haim | February 13, 1786 | n/a | Bleinheim | II | E | 345 |
| Senior | Ishac Haim de Mordechay Haim | August 10, 1777 | n/a | Bleinheim | II | E | 347 |
| Senior | Selomoh de Mordechay Haim | November 19, 1781 | n/a | Bleinheim | II | E | 348 |
| Senior | Isaac Haim de Jacob | October 5, 1782 | n/a | Bleinheim | II | E | 349 |
| Senior | Hana Lea de David de Jacob | June 12, 1792 | n/a | Bleinheim | IV | A | 534 |
| Senior | Hana, daughter of Haim de Isaac Mordechay | November 22, 1760 | n/a | Bleinheim | IV | C | 635 |
| Senior | Mordechay de Ieudah | December 12, 1756 | n/a | Bleinheim | IV | C | 636 |
| Senior | Lea, daughter of David de Isaac Haim | March 12, 1752 | Child | Bleinheim | IV | C | 640 |
| Senior | Rachel, daughter of Abraham | November 23, 1744 | Child | Bleinheim | V | A | 730 |
| Senior | Abraham | March 2, 1755 | n/a | Bleinheim | V | B | 758 |
| Senior | Ribca, wife of David de Isaac Haim | July 11, 1752 | n/a | Bleinheim | V | B | 759 |
| Senior | Ishac Haim, son of Abraham De Isaac Haim | April 19, 1742 | Child | Bleinheim | V | B | 769 |
| Senior | David Abraham | December 1, 1799 | n/a | Bleinheim | V | B | 770 |
| Senior | Ribca, daughter of David De Isaac Haim | July 30, 1752 | Child | Bleinheim | V | C | 804 |
| Senior | Miriam, daughter of Abraham de Isaac Haim | February 18, 1749 | Child | Bleinheim | V | C | 808 |
| Senior | Ribca de Abraham de Mordechay | December 17, 1778 | Child | Bleinheim | V | C | 809 |
| Senior | Ester, wife of Abraham | March 30, 1748 | n/a | Bleinheim | V | C | 810 |
| Senior | Lea, daughter of Selomoh de Mordechay | September 14, 1754 | Child | Bleinheim | V | D | 826 |
| Senior | Ester, daughter of Jacob de David | October 20, 1765 | n/a | Bleinheim | V | D | 831 |
| Senior | Batsebah, wife of Iahacob | February 27, 1781 | n/a | Bleinheim | V | D | 832 |
| Senior | Mordehay Haim de Yahacob | February 15, 1757 | n/a | Bleinheim | V | D | 833 |
| Senior | David, son of Jahacob de David | February 28, 1746 | Child | Bleinheim | V | D | 834 |
| Senior | Mordehay Haim de Yahacob | January 17, 1761 | Child | Bleinheim | V | E | 856 |
| Senior | Sara, daughter of Selomoh de Mordechay | November 22, 1754 | Child | Bleinheim | V | E | 857 |
| Senior | Leah de Mordechay Haim | September 3, 1776 | n/a | Bleinheim | V | E | 861 |
| Senior | Mordechay Haim | December 30, 1750 | n/a | Bleinheim | V | E | 862 |
| Senior | Lea, daughter of Abraham de Mordehay | April 21, 1769 | Child | Bleinheim | V | E | 863 |
| Senior | Sara, wife of Mordechay Haim | May 17, 1731 | n/a | Bleinheim | V | E | 865 |
| Senior | Sara Hana, wife of David | May 8, 1730 | n/a | Bleinheim | V | E | 866 |
| Senior | David | September 13, 1749 | n/a | Bleinheim | V | E | 867 |
| Senior | David, son of Abraham | November 17, 1731 | Child | Bleinheim | V | E | 868 |
| Senior | Selomoh de Mordechay | June 12, 1725 | Child | Bleinheim | V | E | 873 |
| Senior | Lea De David De Isaac Haim | November 23, 1744 | Child | Bleinheim | V | E | 874 |
| Senior | Mordehay, son of Ÿshac Haim | May 27, 1727 | Child | Bleinheim | V | E | 876 |
| Senior | Isaac Haim de David | August 10, 173? | Child | Bleinheim | V | E | 878 |
| Senior | Jahacob de Mordechay Haim | August 29, 1731 | Child | Bleinheim | V | E | 884 |
| Senior | Batsebah, daughter of Abraham De Isaac Haim | February 10, 1746 | Child | Bleinheim | V | E | 885 |
| Senior | Rachel, daughter of Abraham | July 20, 1740 | Child | Bleinheim | V | E | 886 |
| Senior | Isaac Haim | March 11, 1742 | Child | Bleinheim | V | E | 887 |
| Senior | Lea, daughter of David de Isaac Haim | January 17, 1741 | Child | Bleinheim | V | E | 888 |
| Senior | Jacob de David de Isaac Haim | May 2, 1746 | Child | Bleinheim | V | E | 889 |
| Senior | Sara Hana, daughter of Jacob De David | August 23, 1733 | n/a | Bleinheim | VI | A | 955 |
| Senior | Sara Hana, daughter of Iacob De David | February 18, 1735 | Child | Bleinheim | VI | A | 956 |
| Senior | Lea Hana, wife of Iacob De David | August 15, 1745 | n/a | Bleinheim | VI | A | 957 |
| Senior | Iahacob | October 9, 1768 | n/a | Bleinheim | VI | A | 958 |
| Senior | Rachel, wife of Ishac Haim | July 14, 1746 | n/a | Bleinheim | VII | A | 1031 |
| Senior | Ishac Haim | April 17, 1726 | n/a | Bleinheim | VII | A | 1034 |
| Senior | Selomoh | November 28, 1758 | n/a | Bleinheim | VII | A | 1037 |
| Senior | Ribca, daughter of Jacob de David | April 14, 1742 | Child | Bleinheim | VII | A | 1058 |
| Senior | Ribca, daughter of Jacob | June 24, 1739 | Child | Bleinheim | VII | A | 1062 |
| Senior | Ishak | June 25, 1693 | n/a | Bleinheim | VII | B | 1096 |
| Senior | Mordochay de Selomoh | June 11, 1711 | Child | Bleinheim | VII | B | 1101 |
| Senior | Ester S. | June 28, 1902 | n/a | Bleinheim | VIII | B | 1265 |
| Senior | Jael Senior, widow of Jeudah | August 8, 1902 | n/a | Bleinheim | VIII | B | 1266 |
| Senior | Jeudah | January 22, 1896 | n/a | Bleinheim | VIII | B | 1267 |
| Senior | Leah H. | August 27, 1888 | n/a | Bleinheim | VIII | B | 1268 |
| Senior | Sarah Penso de | March 15, 1921 | n/a | Bleinheim | IX | E | 1458 |
| Senior | Sarah, widow of David | April 20, 1833 | n/a | Bleinheim | XVI | C | 2205 |
| Senior | David de Abraham | October 22, 1808 | n/a | Bleinheim | XVI | C | 2206 |
| Senior | Ester, wife of Isaac de Abraham | April 29, 1816 | n/a | Bleinheim | XVII | B | 2258 |
| Senior | Isaac de Abraham | October 23, 1821 | n/a | Bleinheim | XVII | B | 2259 |
| Senior | Abigail Cohen Henriquez, wife of Abraham Haim | December 7, 1850 | n/a | Bleinheim | XVII | B | 2261 |
| Senior | Abraham Haim | December 1, 1854 | n/a | Bleinheim | XVII | B | 2262 |
| Senior | Sarah de Isaac | September 28, 1856 | n/a | Bleinheim | XVII | B | 2265 |
| Senior | Jacob H. Senior . . Child of Jacob & Rachel | February 26, 1854 | n/a | Bleinheim | XVII | B | 2266 |
| Senior | Mordecai J. | May 10, 1860 | n/a | Bleinheim | XVII | B | 2267 |
| Senior | Ametyste | April 13, 1804 | n/a | Bleinheim | XVII | B | 2269 |
| Senior | Rachel Pardo, relict of Jacob David | September 2, 1884 | n/a | Bleinheim | XVII | C | 2289 |
| Senior | Jacob of David | May 5, 1856 | n/a | Bleinheim | XVII | C | 2290 |
| Senior | Rebecca | September 6, 1910 | n/a | Bleinheim | XVII | C | 2293 |
| Senior | Priscilla | December 30, 1897 | n/a | Bleinheim | XVII | C | 2295 |
| Senior | Leah | May 5, 18903 | n/a | Bleinheim | XVII | C | 2296 |
| Senior | Agath | March 31, 1904 | n/a | Bleinheim | XVII | C | 2298 |
| Senior | Esther Jacob | October 2, 1880 | n/a | Bleinheim | XIX | C | 2493 |
| Senior de Casseres | Sarah | April 19, 1881 | n/a | Bleinheim | XVII | C | 2291 |
| Senior-Penso | Selina | November 4, 1966 | Not recorded | Berg Altena | n/a | TD | 5 |
| Senyor | Ester, wife of Selomoh | December 4, 1714 | n/a | Bleinheim | V | E | 871 |
| Senyor | Jahacob | November 15, 1718 | n/a | Bleinheim | XIII | A | 1856 |
| Serano | David | December 27, 1758 | n/a | Bleinheim | IX | C | 1439 |
| Serano | Hana, wife of David | August 27, 1756 | n/a | Bleinheim | IX | C | 1440 |
| Serphos | Mozes (Morris) de Nathan | August 13, 1985 | August 16, 1985 | Berg Altena | n/a | RR | 13 |
| Serphos | Mark de Nathan | June 29, 2010 | July 1, 2010 | Berg Altena | n/a | SS | 9 |
| Shalom Delvalle | Debora de Selomoh | June 13, 1819 | n/a | Bleinheim | XVII | D | 2305 |
| Shalom Delvalle | S. | May 18, 1838 | n/a | Bleinheim | XVII | D | 2308 |
| Shu Tong | Griselda Namias de Crasto | June 15, 1961 | June 15, 1961 | Berg Altena | n/a | O | 34 |
| Shuman | Leo | February 28, 2007 | Not recorded | Berg Altena | n/a | DD | 17 |
| Silberstein | Saul | June 2, 1905 | Not recorded | Berg Altena | n/a | CC | 5 |
| Silberstein | Jo | June 9, 1905 | Not recorded | Berg Altena | n/a | CC | 6 |
| Silberstein | Sheindl | June 11, 1968 | Not recorded | Berg Altena | n/a | II | 6 |
| Silberstein | Samuel | November 28, 1978 | Not recorded | Berg Altena | n/a | II | 7 |
| Silberstein | Anita | Not recorded | Not recorded | Berg Altena | n/a | AA | 23 |
| Silva Leiba | Ester de Mosseh | October 4, 1834 | n/a | Bleinheim | IX | E | 1452 |
| Sitzer | Ioine | August 14, 1987 | August 16, 1987 | Berg Altena | n/a | DD | 6 |
| Smunis | Jack | July 23, 1992 | July 27, 1992 | Berg Altena | n/a | DD | 19 |
| Smunis | Bernardo | March 8, 1969 | Not recorded | Berg Altena | n/a | II | 2 |
| Snoek | Levy H. | Not recorded | May 11, 1882 | Berg Altena | n/a | A | 3 |
| Spierenburg | Frida Cohen Henriquez eshet Piet | February 17, 1970 | Not recorded | Berg Altena | n/a | TC | 44 |
| Spritzer | Wolf | August 12, 1953 | August 13, 1953 | Berg Altena | n/a | J | 26 |
| Spritzer-Weiss | Rachel | December 22, 1974 | Not recorded | Berg Altena | n/a | J | 25 |
| St. Croos | Isaac I. | Not recorded | July 15, 1942 | Berg Altena | n/a | A | 0 |
| St. Croos | Jacob Israel | June 10, 1888 | June 11, 1888 | Berg Altena | n/a | A | 1 |
| Steiger Gartner | Shirley Theresa | May 10, 2016 | May 13, 2016 | Berg Altena | n/a | GG | 18 |
| Sterental | Bernardo (Berel) | February 21, 1970 | Not recorded | Berg Altena | n/a | FF | 5 |
| Sterental | Mali Clara | August 16, 1993 | August 22, 1993 | Berg Altena | n/a | FF | 7 |
| Strauss de Groder | Regina (Ruchla) | December 4, 1940 | December 5, 1940 | Berg Altena | n/a | B | 47 |
| Suares | Esther Henriquez Moreno | March 8, 1913 | Not recorded | Berg Altena | n/a | TG | 8 |
| Suares | Rachel P. Brandao de | March 16, 1904 | Not recorded | Berg Altena | n/a | TG | 17 |
| Suares | Jacob | November 14, 1890 | Not recorded | Berg Altena | n/a | TG | 18 |
| Suares | Ribca, wife of Iacob David | December 19, 1764 | n/a | Bleinheim | II | B | 219 |
| Suares | Iacob de David | March 14, 1775 | n/a | Bleinheim | II | B | 220 |
| Suares | David de Iacob de David | May 28, 1779 | n/a | Bleinheim | II | B | 223 |
| Suares | Deborah, wife of David | February 12, 1778 | n/a | Bleinheim | II | C | 270 |
| Suares | Sara, daughter of David de Iacob Hisquiau | November 26, 1762 | Child | Bleinheim | VII | B | 1107 |
| Suares | Ester de Benjamin | September 18, 1872 | n/a | Bleinheim | VIII | E | 1308 |
| Suares | Benjamin | April 14, 1860 | n/a | Bleinheim | VIII | E | 1309 |
| Suares | Ribca de Binjamin | June 15, 1763 | n/a | Bleinheim | X | H | 1585 |
| Suares | Iahacob | February 5, 1771 | n/a | Bleinheim | X | H | 1586 |
| Suares | Ester | April 29, 1757 | n/a | Bleinheim | X | H | 1587 |
| Suares | Ishac | September 11, 1775 | n/a | Bleinheim | X | J | 1589 |
| Suares | Abraham Haim | January 30, 1768 | n/a | Bleinheim | X | J | 1590 |
| Suares | Abraham Jesahyau, son of Jacob Hisquiau | January 20, 1751 | n/a | Bleinheim | XI | B | 1632 |
| Suares | Semuel de Jacob de Abraham | April 5, 1741 | Child | Bleinheim | XI | B | 1633 |
| Suares | Lea Jael | March 10, 1746 | n/a | Bleinheim | XI | B | 1635 |
| Suares | Sarah Hana, daughter of Jacob & Ester | December 26, 1745 | n/a | Bleinheim | XI | B | 1636 |
| Suares | Abraham | May 12, 1730 | n/a | Bleinheim | XI | C | 1658 |
| Suares | Ester | December 10, 1722 | n/a | Bleinheim | XI | C | 1659 |
| Suares | Sarah, wife of Ishac Hisquiao | January 10, 1759 | n/a | Bleinheim | XI | C | 1660 |
| Suares | Ishac Hiscoviao | August 19, 1712 | n/a | Bleinheim | XI | C | 1661 |
| Suares | Jacob | September 22, 1819 | n/a | Bleinheim | XVIII | A | 2349 |
| Suares | Miriam de Jacob | August 31, 1823 | n/a | Bleinheim | XVIII | A | 2350 |
| Suarez | Semuel De Jacob | January 27, 1747 | Child | Bleinheim | VI | B | 981 |
| Suarez | Jshac de Jacob | June 17, 1745 | Child | Bleinheim | XI | B | 1634 |
| Suchar | Philip | November 13, 1977 | Not recorded | Berg Altena | n/a | EE | 3 |
| Suzarte | Abraham | September 9, 1805 | n/a | Bleinheim | VIII | F | 1330 |
| Szmuckler | Sara Hamer Szmuckler | March 5, 1937 | March 6, 1937 | Berg Altena | n/a | B | 45 |
| Szmuckler | Hersz Szmuckler | October 8, 1953 | October 9, 1953 | Berg Altena | n/a | B | 46 |
| Sztam | Tauba | May 10, 1998 | May 12, 1998 | Berg Altena | n/a | EE | 8 |
| Sztam | Zelik | July 12, 1984 | Not recorded | Berg Altena | n/a | EE | 9 |
| Taboada | Rachel, daughter of Moseh | May 18, 1762 | Child | Bleinheim | II | B | 218 |
| Taboada | Manuel Haim Hisquiau | April 6, 1752 | n/a | Bleinheim | X | G | 1575 |
| Taboada | Rachel, wife of David | January 4, 1787 | n/a | Bleinheim | X | K | 1596 |
| Taboada | Jahacob, son of Moseh | July 26, 1751 | Child | Bleinheim | XIV | A | 1962 |
| Taboada | Hana, wife of Mosseh | November 26, 1790 | n/a | Bleinheim | X | K | 1597 |
| Telles Da Costa | David, son of Iahacob | October 28, 1699 | n/a | Bleinheim | XV | B | 2091 |
| Thouro | Deborah, duaghter of Ieuda De Abraham | February 10, 1732 | Child | Bleinheim | VI | C | 1023 |
| Tobles | Rachel Hanah | September 21, 1759 | n/a | Bleinheim | IV | A | 524 |
| Toirra | Ribca | March 17, 1702 | n/a | Bleinheim | V | E | 880 |
| Toirro | Yahacob, son of Yehuda | July 18, 1700 | n/a | Bleinheim | V | C | 795 |
| Toura | Debora | March 30, 1726 | n/a | Bleinheim | XII | A | 1715 |
| Toura | Ester | January 8, 1704 | n/a | Bleinheim | XIV | B | 1992 |
| Toura | Sara | October 7, 1692 | n/a | Bleinheim | XIV | B | 1996 |
| Touro | Yeudah | Undecipherable | n/a | Bleinheim | V | E | 881 |
| Touro | Abraham de Yeudah | November 18, 1698 | n/a | Bleinheim | V | E | 882 |
| Touro | Lea, widow of Ieudah Israel | March 25, 1775 | n/a | Bleinheim | VI | A | 952 |
| Touro | Yevdah Ysrael | July 27, 1728 | n/a | Bleinheim | VI | A | 953 |
| Touro | Leah Sarah, daughter of Ishac De Semuel | February 8, 1753 | n/a | Bleinheim | VI | B | 960 |
| Touro | Semuel | July 19, 1749 | n/a | Bleinheim | XII | A | 1707 |
| Touro | Lea, wife of Semuel | August 7, 1725 | n/a | Bleinheim | XII | A | 1708 |
| Touro | Debora, wife of Mosseh | September 28, 1740 | n/a | Bleinheim | XII | A | 1709 |
| Touro | Selomo Rephael | March 9, 1726 | n/a | Bleinheim | XII | A | 1714 |
| Touro | Sara Lea Abigail Toura, wife of Yshac | March 20, 1726 | n/a | Bleinheim | XII | B | 1750 |
| Touro | Jshak | September 26, 1737 | Child | Bleinheim | XII | B | 1751 |
| Touro | Abraham, son of Yosseph Ysrael | October 27, 1740 | Child | Bleinheim | XII | C | 1770 |
| Touro | Yshack de Yeuda | December 15, 1740 | n/a | Bleinheim | XII | C | 1783 |
| Touro | Ester Sara | April 14, 1779 | n/a | Bleinheim | XII | C | 1784 |
| Touro | Josseph Jsrael | February 28, 1747 | n/a | Bleinheim | XII | C | 1785 |
| Touro | Clara, wife of Yeudah De Yshac | October 4, 1735 | n/a | Bleinheim | XII | C | 1786 |
| Touro | Ephraim Israel | March 31, 1731 | n/a | Bleinheim | XII | C | 1787 |
| Touro | Clara de Isaac | No date | n/a | Bleinheim | XII | C | 1795 |
| Touro | David | December 6, 1777 | n/a | Bleinheim | XII | E | 1816 |
| Touro | Mosseh | August 14, 1763 | n/a | Bleinheim | XII | E | 1818 |
| Touro | Iahacob | June 17, 1762 | n/a | Bleinheim | XII | E | 1819 |
| Touro | Isaac | December 10, 1790 | n/a | Bleinheim | XII | E | 1821 |
| Touro | Rubi Ieosuah Hisquiau | March 8, 1789 | n/a | Bleinheim | XII | E | 1823 |
| Touro | Sarah Leah, daughter of Yosseph Ysrael | May 26, 1735 | Child | Bleinheim | XIII | A | 1838 |
| Touro | Aron Haim | March 24, 1726 | n/a | Bleinheim | XIII | A | 1840 |
| Touro | Abraham Hysqvyav | August 23, 1714 | n/a | Bleinheim | XIII | A | 1841 |
| Touro | Sarah, daughter of Josseph & Ester | March 19, 1742 | Child | Bleinheim | XIII | A | 1848 |
| Touro | Yacob, son of Mosseh & Sara | May 4, 1744 | Child | Bleinheim | XIII | D | 1891 |
| Touro | Yacob, son of Mosseh & Debora | July 17, 1740 | Child | Bleinheim | XIII | D | 1896 |
| Touro | Iacob | September 21, 1692 | n/a | Bleinheim | XIV | A | 1979 |
| Touro | Yshack | January 22, 1695 | n/a | Bleinheim | XIV | B | 1993 |
| Touro | Eliao Hiskiao | August 5, 1674 | n/a | Bleinheim | XIV | B | 1994 |
| Touro | Eliao | March 18, 1692 | n/a | Bleinheim | XIV | B | 1995 |
| Uieira | Sara | August 28, 1729 | n/a | Bleinheim | V | E | 844 |
| Ulloa | Grasia Sarah | February 28, 1755 | n/a | Bleinheim | IV | A | 567 |
| Ulloa | Jahacob | December 12, 1757 | n/a | Bleinheim | IV | A | 568 |
| Ulloa | Abraham Israel de David | March 5, 1730 | n/a | Bleinheim | XII | B | 1747 |
| Ulloa | Sara Ulloa, wife of Abraham Hisquiau | September 27, 1730 | n/a | Bleinheim | XII | B | 1749 |
| Ulloa | Leah | March 28, 1732 | n/a | Bleinheim | XII | C | 1780 |
| Ulloa | Ester, wife of Iahacob | May 18, 1732 | n/a | Bleinheim | XIII | A | 1835 |
| Uziel Cardozo | Ester, wife of David | October 11, 1741 | n/a | Bleinheim | VI | A | 911 |
| Uziel Cardozo | Sarah, daughter of David | May 16, 1751 | Child | Bleinheim | XII | B | 1744 |
| Uziel Cardozo | David | September 8, 1751 | n/a | Bleinheim | XII | D | 1808 |
| Uziel Cardozo | Daniel, son of David | October 20, 1731 | Child | Bleinheim | XIII | A | 1839 |
| Vaez | Rahel | January 21, 1690 | n/a | Bleinheim | VII | D | 1181 |
| Valencia | Alberto S. de | September 6, 1888 | Child | Berg Altena | n/a | TA'2 | 58 |
| Valencia | Sybel | September 22, 1933 | Child | Berg Altena | n/a | TA'2 | 73 |
| Valencia | David de Isaac | August 24, 1930 | Not recorded | Berg Altena | n/a | TB | 7 |
| Valencia | Henny Alvarez Correa de | May 3, 1916 | Not recorded | Berg Altena | n/a | TB | 8 |
| Valencia | David P. | February 28, 1937 | Not recorded | Berg Altena | n/a | TC | 31 |
| Valencia | Arnold | November 19, 1965 | Not recorded | Berg Altena | n/a | TC | 34 |
| Valencia | Oscar Semah | October 12, 1952 | Not recorded | Berg Altena | n/a | TC | 37 |
| Valencia | Oscar | February 7, 2002 | February 14, 2002 | Berg Altena | n/a | TE | 41 |
| Valencia | Rachel, relict of David Jr. | March 25, 1874 | n/a | Bleinheim | I | A | 3 |
| Valencia | David Jr. | February 20, 1870 | n/a | Bleinheim | I | A | 4 |
| Valencia | Sarah | No date | n/a | Bleinheim | I | E | 102 |
| Valencia Eddine | Oscar (Yoel) de Oscar | September 18, 1992 | October 11, 1992 | Berg Altena | n/a | TE | 39 |
| van der Kwast | Elaine | May 20, 2003 | May 23, 2003 | Berg Altena | n/a | RR | 5 |
| van Embden | Ruben Mozes | May 2, 1889 | Not recorded | Berg Altena | n/a | TA | 1 |
| van Gelderen | Isaac Marcus | May 14, 1910 | May 15, 1910 | Berg Altena | n/a | H | 16 |
| van Lier | Sara (geb. Salomon) | October 30, 1891 | Not recorded | Berg Altena | n/a | TD | 15-A |
| van Lier | Eduard I. | October 14, 1906 | Not recorded | Berg Altena | n/a | TD | 15-B |
| Vas Faro | Aharon Haim | May 29, 1736 | n/a | Bleinheim | XII | A | 1720 |
| Vas Faro | Selomoh Rephael | December 8, 1775 | n/a | Bleinheim | XII | B | 1764 |
| Vas Faro | Ribca, wife of Mosseh | June 16, 1745 | n/a | Bleinheim | XII | B | 1765 |
| Vas Farro | Mosseh Hisquiau | January 10, 1747 | n/a | Bleinheim | XII | B | 1766 |
| Vas Martines | Semuel Haim | March 2, 1746 | n/a | Bleinheim | V | E | 848 |
| Vas Martines | Abraham | January, 1729 | n/a | Bleinheim | V | E | 849 |
| Vas Martines | Rachel | September 3, 1735 | n/a | Bleinheim | VII | B | 1087 |
| Vas Martines | Iacob | June 18, 1692 | n/a | Bleinheim | VII | B | 1088 |
| Vas Nunes | Sarah, wife of Abraham | April 24, 1698 | n/a | Bleinheim | V | E | 890 |
| Vas Nunes | Abraham | August 11, 1705 | n/a | Bleinheim | V | E | 891 |
| Vas Nunes | Ester, wife of Daniel | January 9, 1741 | n/a | Bleinheim | V | E | 892 |
| Vaz | Roselfina C. de A. | September 25, 1880 | Not recorded | Berg Altena | n/a | TB | 28 |
| Vaz | Isaac P. A. | January 25, 1871 | Not recorded | Berg Altena | n/a | TB | 29 |
| Vaz Faro | Amaskil Venabon Selomoh | August 6, 1728 | n/a | Bleinheim | XII | A | 1728 |
| Vaz Faro | Sarah, daughter of Binjamin | December 12, 1747 | Child | Bleinheim | XII | A | 1724 |
| Vaz Faro | Jacob | December 14, 1731 | n/a | Bleinheim | XII | A | 1727 |
| Vaz Faro | Sarah | February 9, 1738 | n/a | Bleinheim | XII | A | 1729 |
| Vaz Faro | Ester, wife of Binjamin | September 7, 1747 | n/a | Bleinheim | XII | C | 1794 |
| Vaz Farro | David Israel | June 30, 1732 | n/a | Bleinheim | XII | A | 1721 |
| Vaz Farro | Raghel, wife of David | April 24, 1754 | n/a | Bleinheim | XII | A | 1722 |
| Vaz Martines | Reyna | March 20, 1771 | n/a | Bleinheim | VIII | C | 1289 |
| Vaz Nunes | Haim Abraham | March 9, 1791 | n/a | Bleinheim | V | E | 893 |
| Ventura | Ioseph | May 7, 1749 | n/a | Bleinheim | IX | B | 1423 |
| Vintura Goudeket | Rachel | March 18, 1951 | Not recorded | Berg Altena | n/a | TD | 29 |
| Vlhoa | Ribca Vlhoa, wife of Abraham Ysrael | March 10, 1751 | n/a | Bleinheim | XII | B | 1746 |
| Vlhoa | David | July 10, 1766 | n/a | Bleinheim | XII | E | 1817 |
| Vlloa | Yahacob | April 2, 1713 | n/a | Bleinheim | XIII | A | 1836 |
| Vlloa | Abraham Qviskiiahu | November 23, 1725 | n/a | Bleinheim | XIII | A | 1837 |
| Vorona | Lisa | September 16, 1978 | Not recorded | Berg Altena | n/a | DD | 5 |
| Vorona | Fanny | May 4, 1967 | Not recorded | Berg Altena | n/a | II | 12 |
| Vreugdenhil | Frans | November 28, 1984 | December 3, 1984 | Berg Altena | n/a | NN | 1 |
| Vreugdenhil | Irma Pardo eshet Frans | Not recorded | February 8, 1984 | Berg Altena | n/a | NN | 2 |
| Vreugdenhil | Vilma | May 20, 1933 | May 21, 1933 | Berg Altena | n/a | Child E | 8 |
| Vziel Cardozo | Ribca, wife of Aron | August 16, 1779 | n/a | Bleinheim | VI | B | 965 |
| Vziel Cardozo | Son of David | July 23, 1726 | Child | Bleinheim | XIII | A | 1844 |
| Waas | Eddie | January 28, 2010 | Not recorded | Berg Altena | n/a | CC | 29 |
| Weinberg | Samuel | April 11, 1952 | n/a | Bleinheim | VIII | Q | 1409n |
| Weisinger | Cily | August 18, 1980 | Not recorded | Berg Altena | n/a | FF | 10 |
| Winkel | Mercedes da Costa Gomez eshet Chris | December 4, 2005 | December 7, 2005 | Berg Altena | n/a | LL | 33 |
| Wiznitzer | Abraham ben Jehuda | June 6, 1995 | June 8, 1995 | Berg Altena | n/a | EE | 15 |
| Wiznitzer | Moses | May 23, 1998 | May 25, 1998 | Berg Altena | n/a | DD | 21 |
| Wiznitzer | Salomon | October 13, 1994 | October 16, 1994 | Berg Altena | n/a | EE | 21 |
| Wolf | Bertha Kornmehl | February 27, 1959 | February 28, 1959 | Berg Altena | n/a | Q | 28 |
| Wolf Reisel | Paul | July 2, 1958 | July 3, 1958 | Berg Altena | n/a | Child G | 8 |
| Wolf Weisinger | Mozes (Wilu) | September 8, 1976 | Not recorded | Berg Altena | n/a | FF | 11 |
| Wolfenzon | José de Abraham | May 1, 1941 | n/a | Bleinheim | VIII | Q | 1409b |
| Wolff | Ralph | December 26, 1854 | n/a | Bleinheim | XVIII | D | 2418 |
| Wolff | Jacob | March 5, 1890 | Not recorded | Berg Altena | n/a | TG | 20 |
| Wolff Moreno Henriquez | Rachel | October 13, 1905 | n/a | Bleinheim | X | L | 1599 |
| Wolfson | Dina | March 25, 1999 | March 29, 1999 | Berg Altena | n/a | DD | 7 |
| Wolfson | Jacobo | June 30, 1989 | July 3, 1989 | Berg Altena | n/a | DD | 8 |
| Wuhl | Hanah Bassia | July 17, 1981 | Not recorded | Berg Altena | n/a | CC | 7 |
| Ydanha | Yshac | December 20, 1718 | Child | Bleinheim | XIII | F | 1942 |
| Ydanha De Casserez | Saul | April 5, 1727 | Child | Bleinheim | XIII | E | 1924 |
| Ydanha De Casserez | Sara | October 3, 1732 | n/a | Bleinheim | XIII | F | 1935 |
| Ydanha De Casserez | Binjamin | February 3, 1736 | Child | Bleinheim | XIII | F | 1936 |
| Ydanha De Casserez | Rachel | April 14, 1727 | Child | Bleinheim | XIII | F | 1937 |
| Ydanha De Casserez | Sarah | April 4, 1727 | Child | Bleinheim | XIII | F | 1938 |
| Ydanha De Casserez | Binjamin | 1722 | Child | Bleinheim | XIII | F | 1939 |
| Ydanha De Casserez | Ribca | April 10, 1727 | Child | Bleinheim | XIII | F | 1940 |
| Yohai | Isaac Samuel | January 30, 2001 | February 5, 2001 | Berg Altena | n/a | SS | 5 |
| Yohai | Beatrice Friedler eshet Isaac | March 2, 1995 | March 5, 1995 | Berg Altena | n/a | QQ | 6 |
| Yohai | Isaac de Castro de Hisquio | April 27, 1978 | April 30, 1978 | Berg Altena | n/a | QQ | 7 |
| Ysrael de Zarate | Arophe Amubak [Dr.] Yosseph | October 18, 1728 | n/a | Bleinheim | XIII | A | 1851 |
| Ysrael Monsanto | Yahacob | May 3, 1740 | n/a | Bleinheim | III | E | 437 |
| Ysrael Ricardo | Lea, wife of Daniel | September 7, 1786 | n/a | Bleinheim | II | E | 341 |
| Ysrael Santacroos | Rachel | April 8, 1753 | n/a | Bleinheim | IV | B | 572 |
| Ysrael Santacroos | Mosseh, son of Aharon | March 3, 1742 | Child | Bleinheim | VII | C | 1121 |
| Ysrael Santacroos | Jeudit de Aharon de Mosseh | April 12, 1746 | Child | Bleinheim | VII | C | 1131 |
| Ysrael Santacroos | Simha Sarah | May 10, 1728 | n/a | Bleinheim | XIV | A | 1982 |
| Ysrael Santacroos | Elaiu de David | September 7, 1731 | n/a | Bleinheim | XIV | A | 1983 |
| Zahavi | Esther | September 3, 2004 | Not recorded | Berg Altena | n/a | EE | 10 |
| Zahavi | Yair | March 8, 1987 | March 10, 1987 | Berg Altena | n/a | EE | 11 |
| Zonenschain | Leib | October 21, 1977 | Not recorded | Berg Altena | n/a | FF | 4 |
| Zonenschain | Schloime | July 8, 2006 | Not recorded | Berg Altena | n/a | GG | 3 |
Donate to the Memorial Fund to help ease costs of maintenance and upkeep of the cemeteries